28 years. That's how long I've been a motorcyclist. And 24 of those years I've spent in the motorcycle media, yet, I have never attended Daytona Bike Week. Big rallies have never been a draw for me. The crowds, the drinking, the congestion, the scantily-clad women, the showboating—none of this represents what I love about motorcycling.
That said, when I updated our WomenRidersNow.com (WRN)'s events calendar with the Sturgis Buffalo Chip Biker Belles Daytona event, my interest was piqued. I decided it was finally time to experience Daytona Bike Week in 2023. So, with an itinerary to cover as many women-centric events for WRN I could find, I hit this year's rally.
The Races—and Women Racers
You can't go to Daytona and miss out on all the epic racing action. Bike Week begins with motocross at the Daytona Speedway and Billy Lane's Sons of Speed races at the New Smyrna Speedway. This year there were more women racing the 1920's-era motorcycles than ever before—twice as many as last year's race!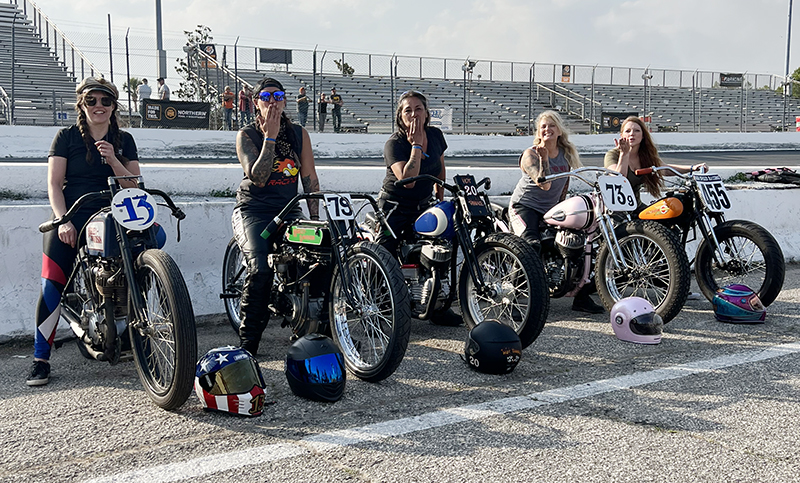 Hanging out in the pits with all the racers and their crew, it's easy to feel the unique bond the lovers of vintage race bikes share. They exchange laughs, cold drinks, and tools. And when someone loses an exhaust on a practice run, another person runs to a swap meet to see what they can find. Blown engine? No problem, "so-and-so has a bike we can take one from." These are the kinds of things I heard about, deepening my curiosity and affection for the culture surrounding vintage motorcycles.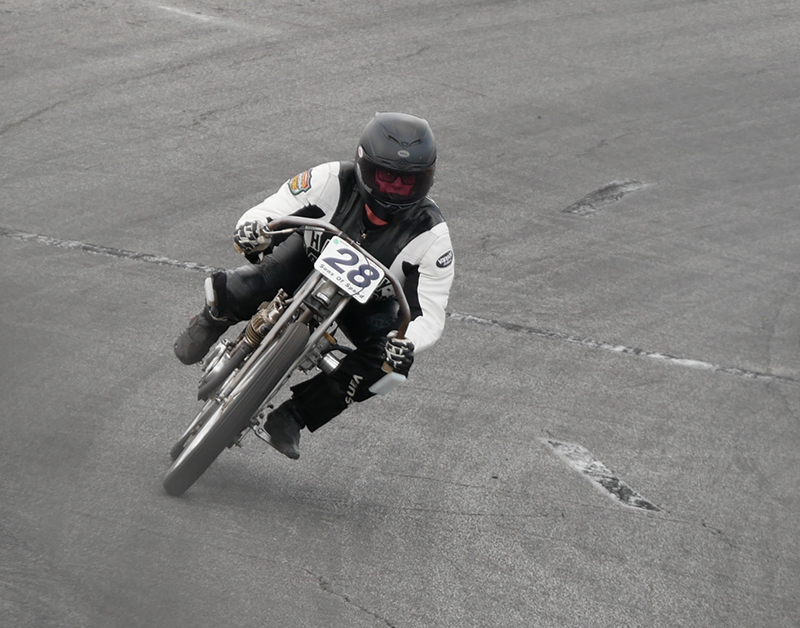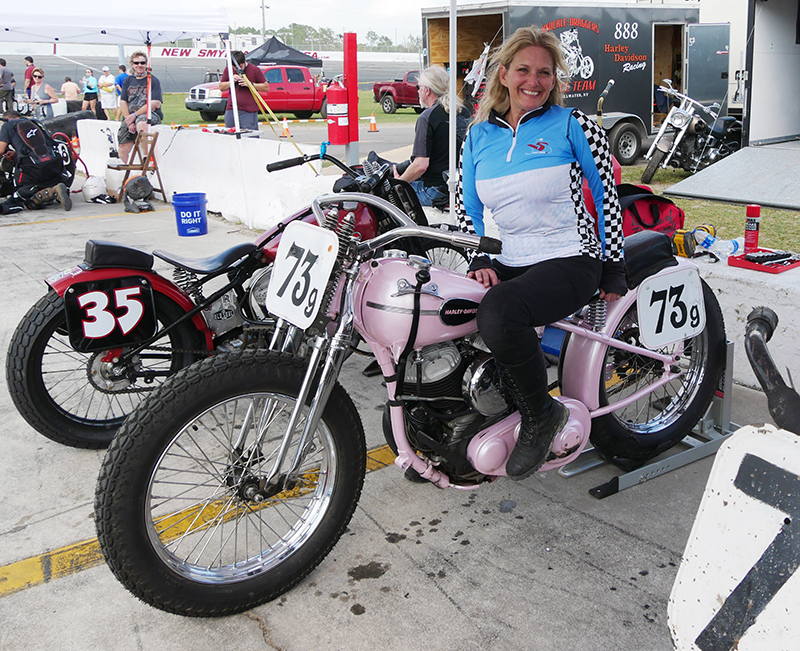 Later in the week at the Daytona Speedway I was able to catch more racing action. MotoAmerica's "Mission King of the Baggers" is just that—heavyweight Harleys and Indians duking it out on the racetrack. It's fascinating (and a little scary) how fast these bikes can go. The baggers are lifted for more cornering clearance and modified with all the "go fast" parts you'd expect. Watching baggers fly past me on the straightaway at nearly 180 mph is invigorating!
Women like me are in awe of Patricia Fernandez, who has been racing an Indian Challenger in prior years. This year she is racing with her Saddlemen team on a souped-up Harley-Davidson.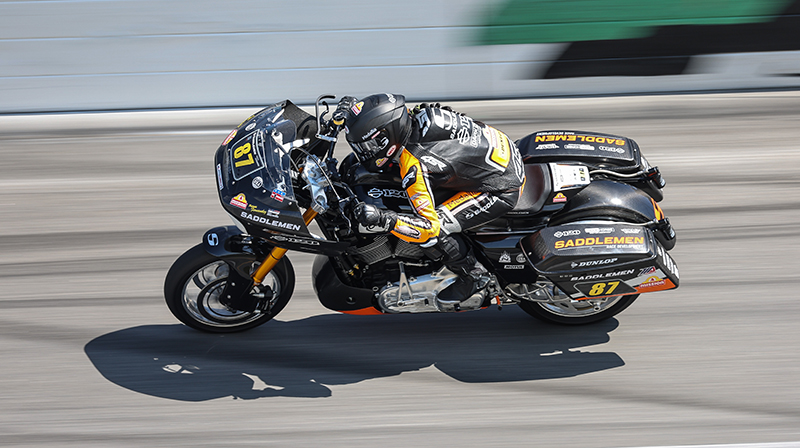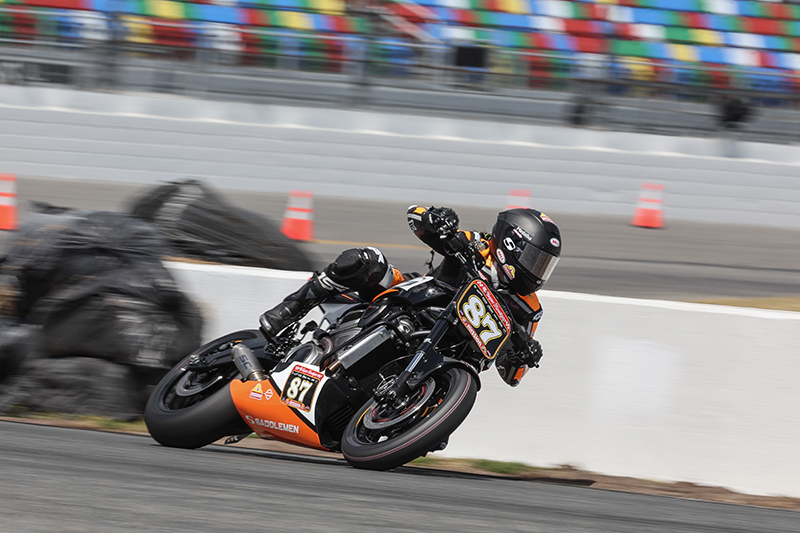 Women's Motorcycle Club Events
Leather & Lace MC has an amazing clubhouse and grounds in nearby Edgewater. Each year they open it up to non-club members for several events during Bike Week. Their delicious pancake breakfast is followed by a bike blessing. Later in the week all are welcome to partake in a motorcycle rodeo. Where else can you go to watch the "shovel race?" No, not Harley-Davidson Shovelheads racing…I'm talking about bikers who rig a garden shovel to their bikes and pull a "friend" who rides the shovel. First one past the finish line wins!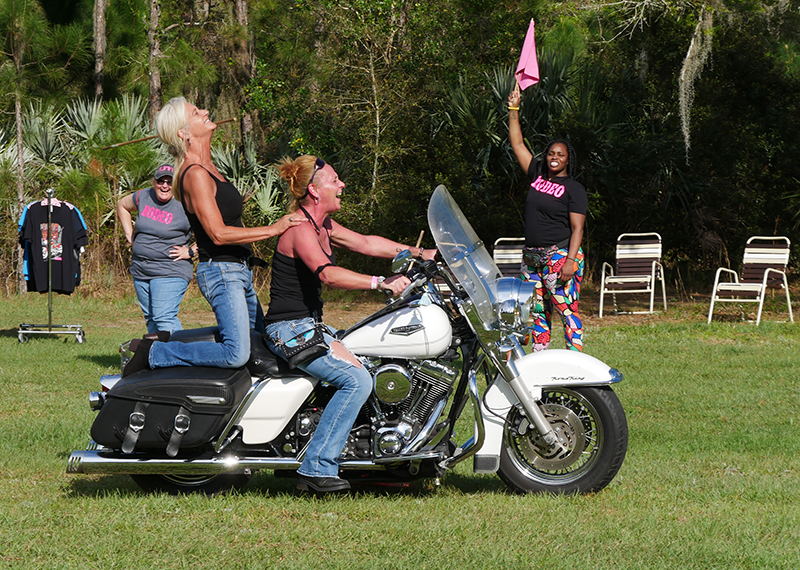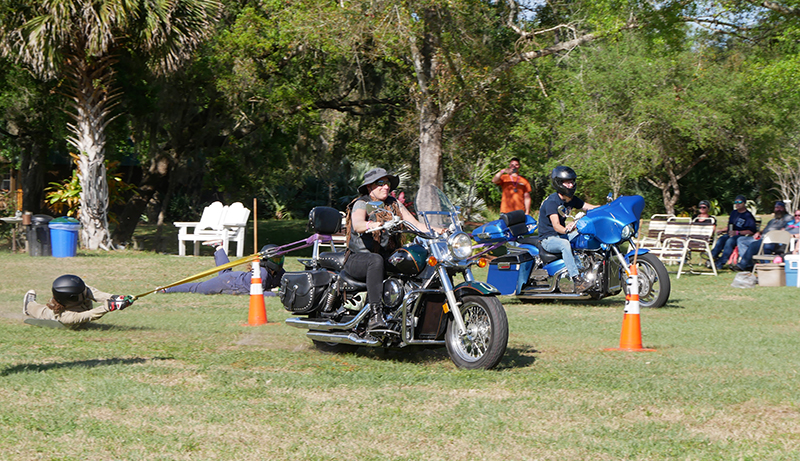 Stilettos on Steel Female Riders Group also hosts a meet and greet during Daytona Bike Week. I jumped in on their breakfast and ride around the Ormond Loop Scenic Loop. While Florida's roads are pretty much flat and straight, this loop offers beautiful scenery for a cruise. You meander along the Halifax River, marshes, lush trees, and the Atlantic Ocean.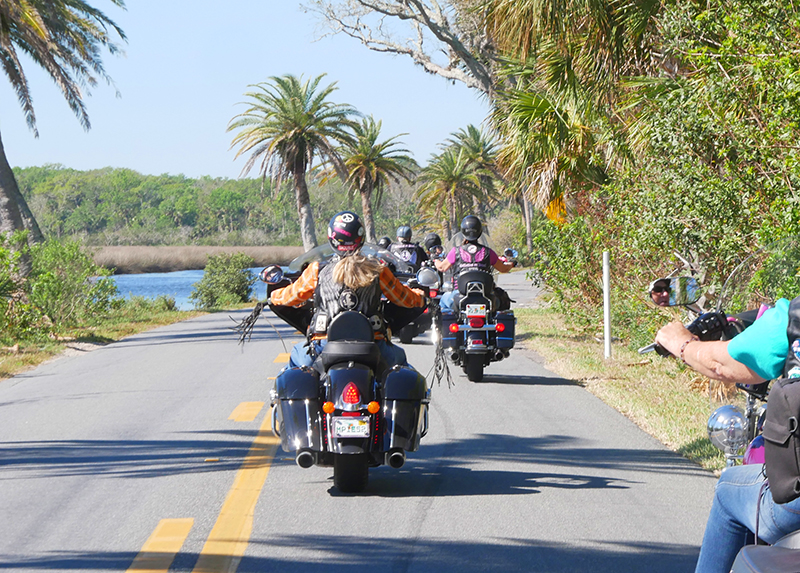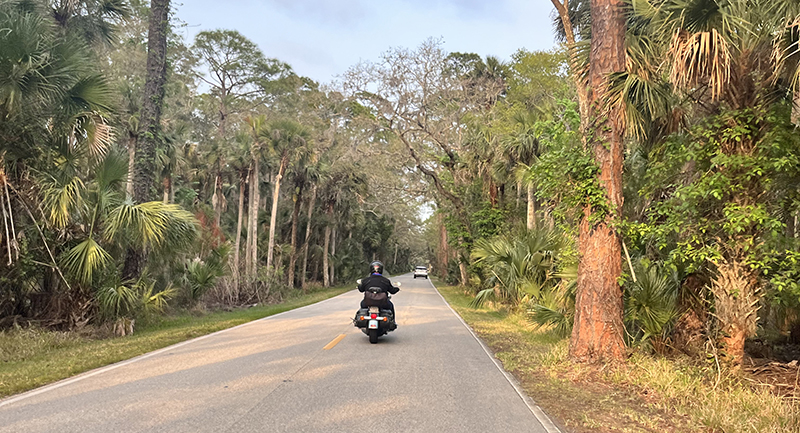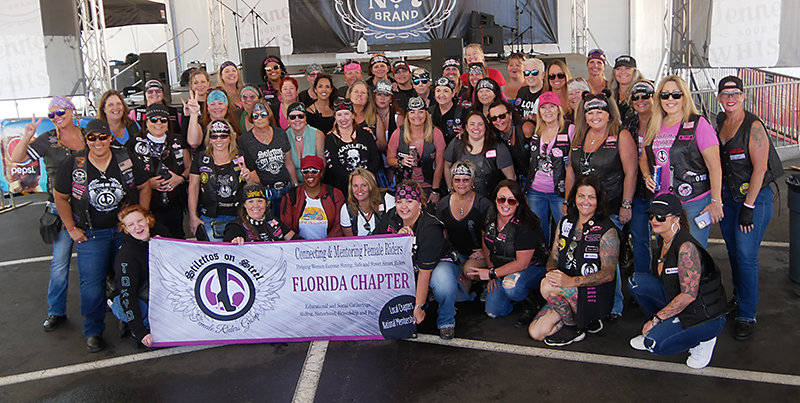 Harley-Davidson Biker Belles—The Morning Ride
On Wednesday, Harley-Davidson teamed up with the Sturgis Buffalo Chip Biker Belles for The Morning Ride at Daytona Bike Week. The special ride is led by some of our industry's most well-known women. Content creator Maggie Hicks and land speed record holder and Sturgis Museum Hall of Famer Laura Klock were the ride's co-captains, with Harley-Davidson's Karen Davidson next in line with about 50 riders following. The Daytona Beach area police escorted us for the 1.5-hour ride, which meant legally blowing through red lights and stop signs. Now that's the way to ride!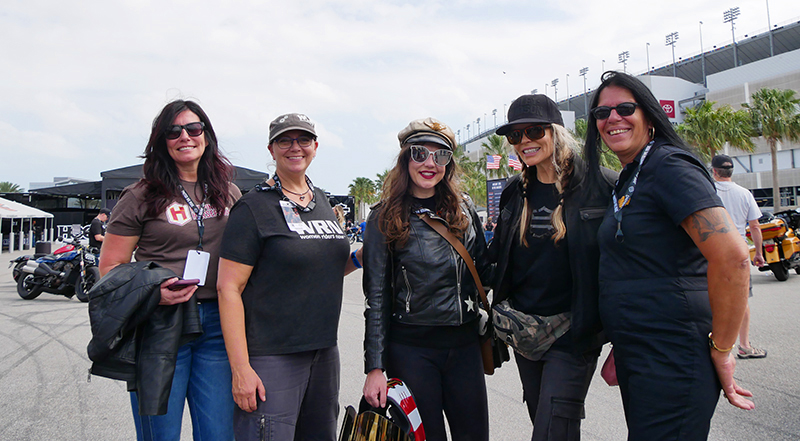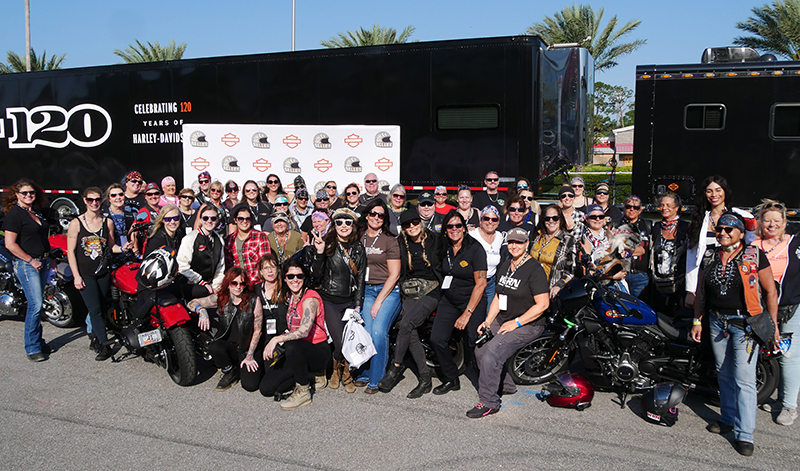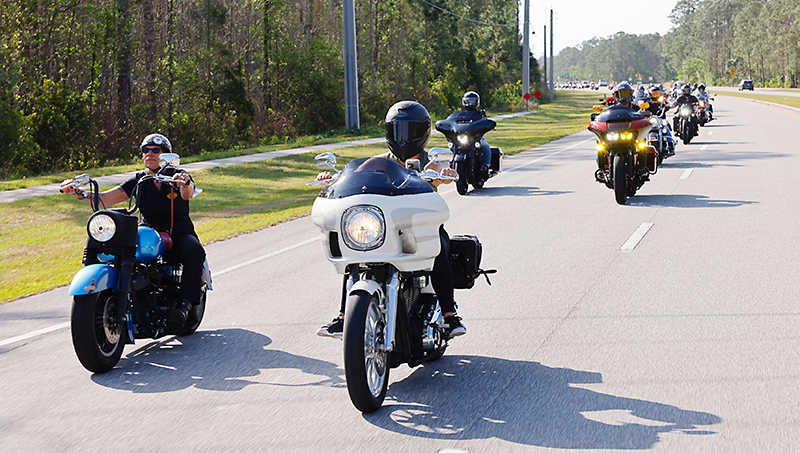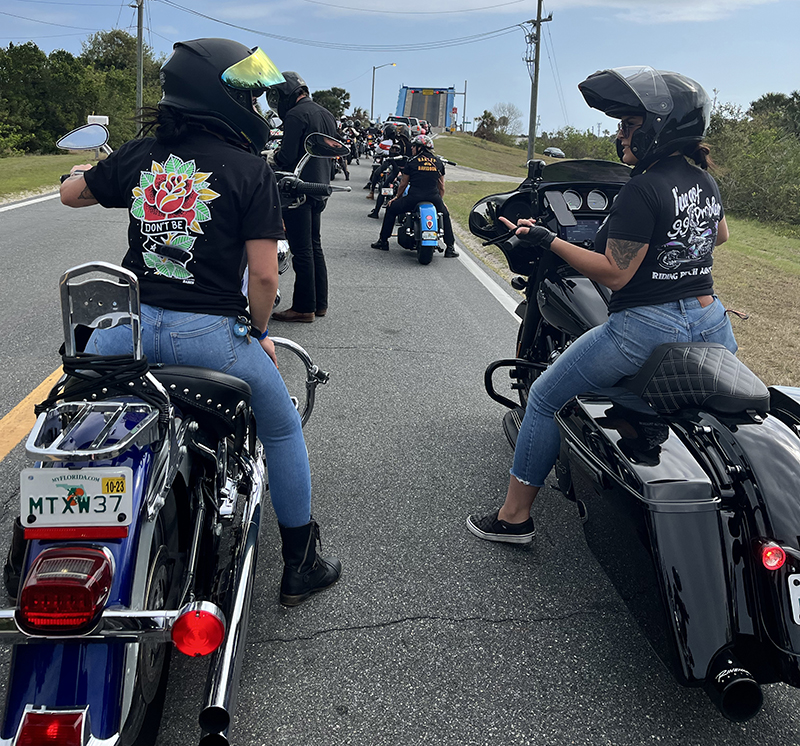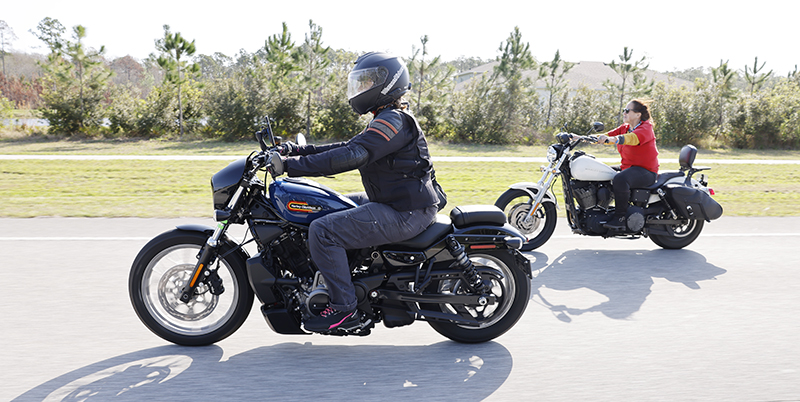 Following the ride were raffle drawings, precision riding demonstrations, a ride-in bike show, and Maggie took a turn at showing us how to properly pick up a motorcycle.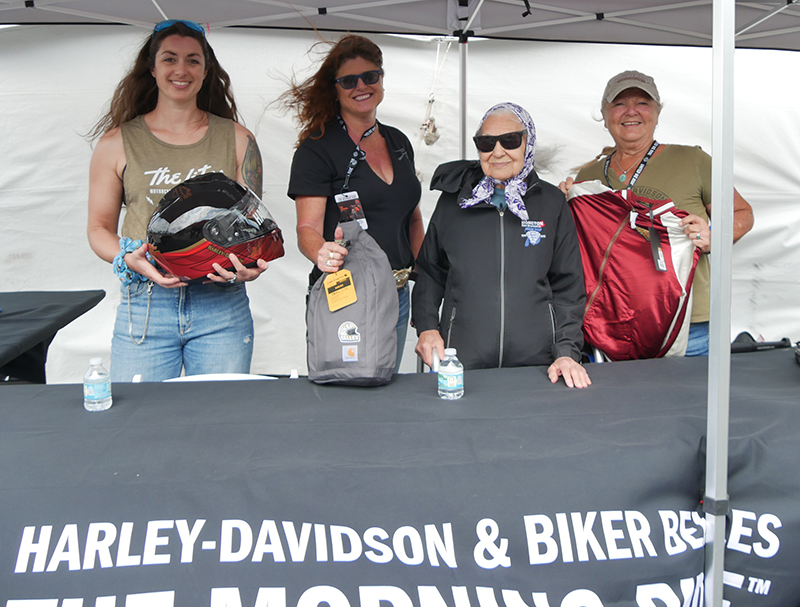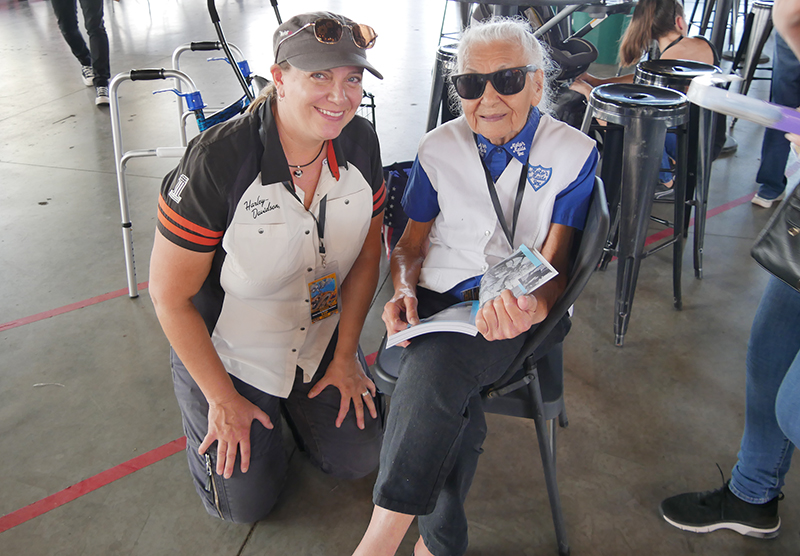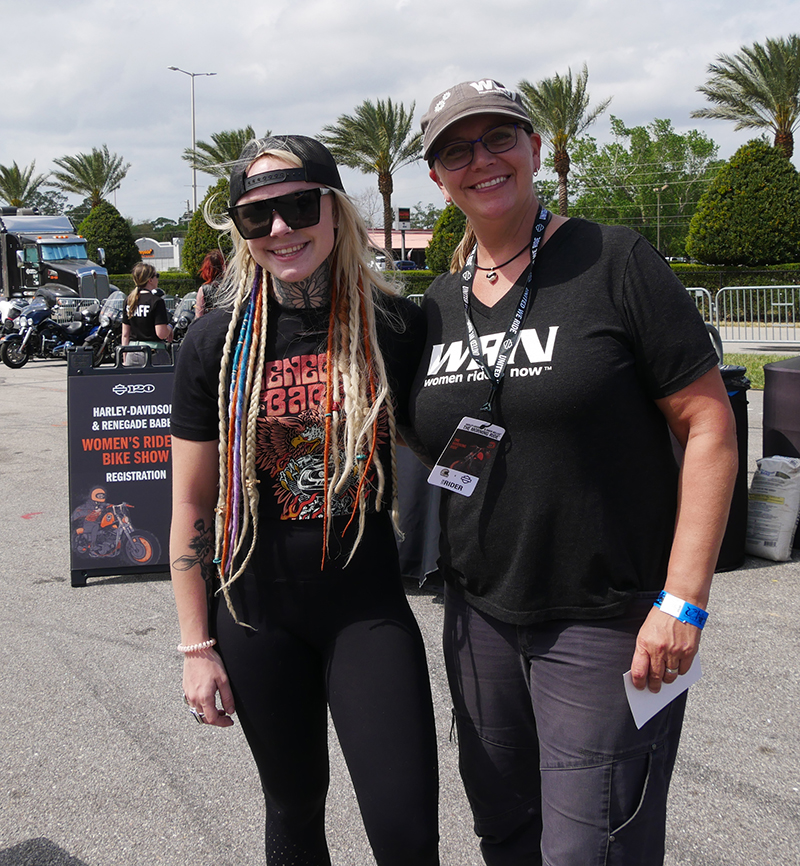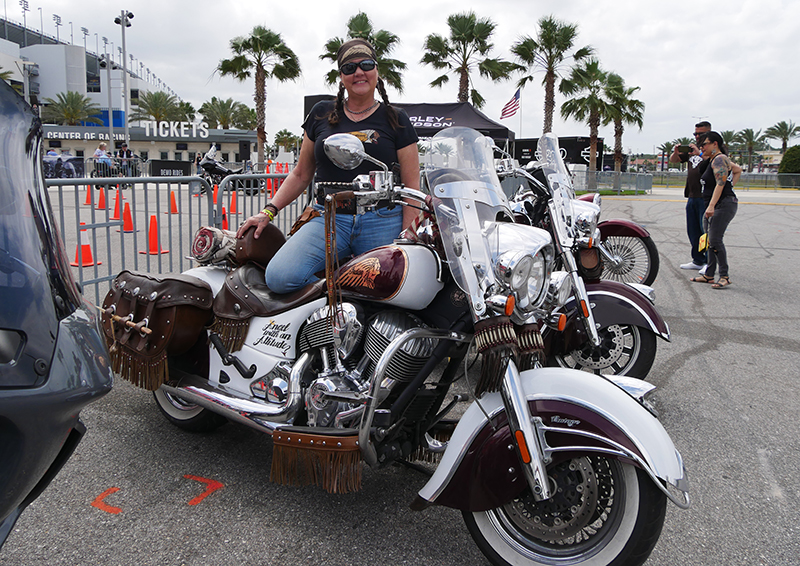 I would be remiss if I didn't check out the shenanigans on Main Street while attending Daytona Bike Week. I know many people are drawn to the live music, bars, shops, and downtown mayhem. Doing my journalistic duty, I checked it out a couple times and did enjoy the people-watching. Even just watching the variety of machines ride by is worth the $5 parking fee.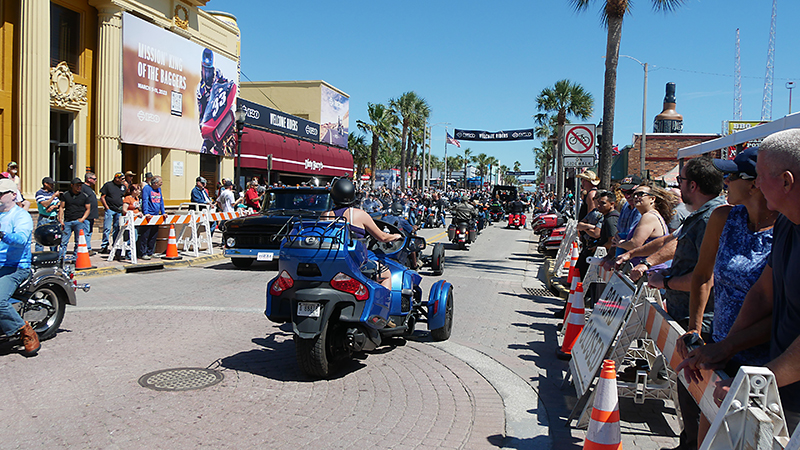 WRN has always promoted Jasmine Cain in our "What to do in Daytona" articles, and checking out her show at the Boot Hill Saloon, I see why she is such a draw.