Would you let your 16-year-old daughter race a motorcycle going faster than 100 mph? Well, Laura Klock, a 40-year-old mother of two girls raised a few eyebrows in 2007 when she allowed her daughter Erika (16 at the time) to compete for a land speed record at the Speed Trials by BUB, held at the Bonneville Salt Flats in Utahs northwest corner. Then in September of 2008, her youngest, Karlee, 15, joined her sister and mother on the Salt Flats gunning for a record of her own. What inspires and motivates a mother to watch her two children participate in what many consider a very dangerous endeavor? Lauras response, "To see them out there riding is such a blessing, Im so proud of them, just to have the courage to go out there and even try it."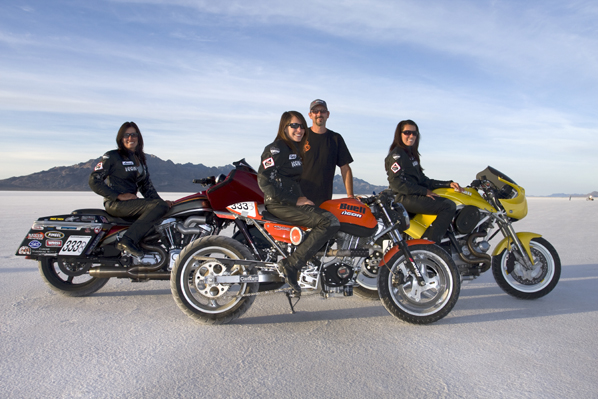 "Huh?" you may be asking yourself. "What is Laura made of?" To put her answer in context, it helps to know Lauras background. In 2006 Laura became well-known in motorcycling circles when she set a world record racing a customized Harley-Davidson Road Glide on the Bonneville Salt Flats going 143.659 mph in 2006. She was racing for Klock Werks Kustom Cycles, the company she owns with her husband, Brian Klock. In 2008, she broke her own record with a top speed of 153.906 mph, and a new record of 153.592 going into the books. Speed is in her blood, something she has no problem passing on to her children. But where did Lauras love of speed come from?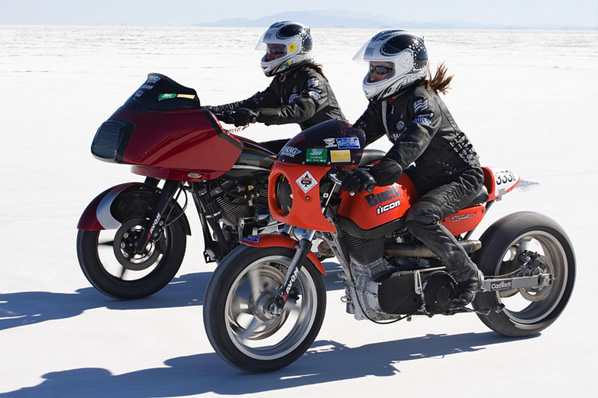 As a young girl growing up in the Wisconsin countryside Laura was surrounded by motorcycles, ATVs, and snowmobiles. She not only loved to ride, both she and her brother loved to take apart anything they could get their hands on to see what made them tick. "My dad loved stock car racing, and spent many hours in the garage working on his racecars and hot rods," Laura remembers. "Starting at a very young age, hanging out in the garage with my dad became one activity that brought some closeness between us."
This relationship was important to Laura since her folks were divorced when she was in the 3rd grade. "I come from a dysfunctional family," she shares. "There was alcoholism, and fighting just bad stuff, but I didnt come out of that not having love for my mom and dad. In fact, Ive been able to use those less fortunate life experiences to help others who are struggling. God never wastes a hurt."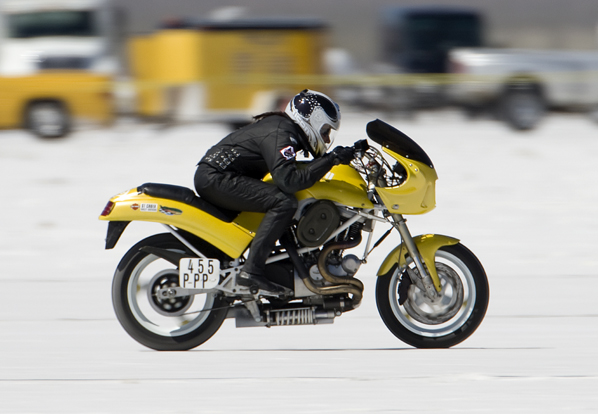 Just like their mother, the girls became fond of motorized things at an early age. It wasnt long before they had their own dirt bikes spending countless hours exploring the nearby wilderness. Karlee was just 5 years old the first time she rode. Lauras marriage to the girls father did not work out. She became a single mother when the girls were just 3 and 6 years old.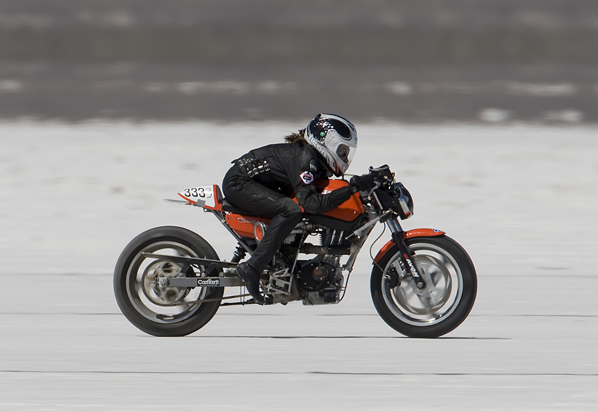 She met her current husband, Brian Klock, in 2003 in Milwaukee at Harley-Davidsons 100th Anniversary celebration. In 2005 she packed up and moved to Mitchell, South Dakota, a place she and the girls now call home with Brian. The move some 300 miles west did not dampen the girls appetite for motorcycles. It only amplified it. Laura explains, "The girls showed an interest in circle track racing I guess they just have it in their blood," she laughs. "Brian and I took them to see what it would take to get involved in that type of racing. After watching some of the ATVs on the track it really scared me as a mom. Those are pretty big machines, and theyre bumping into each other. For the most part they are all pretty capable riders, but theyre riding right next to each other and accidents do happen."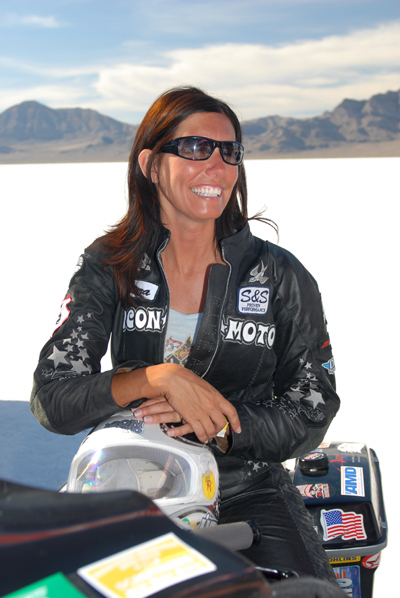 That was in the summer of 2006. By September 2006 Laura was participating in her first land speed racing campaign on the bike the Klock Werks Krew built for the Discovery Channels Biker Build Off TV Series. Knowing that some form of racing was in the girls future Laura and Brian kicked around the idea of having them participate in land speed racing.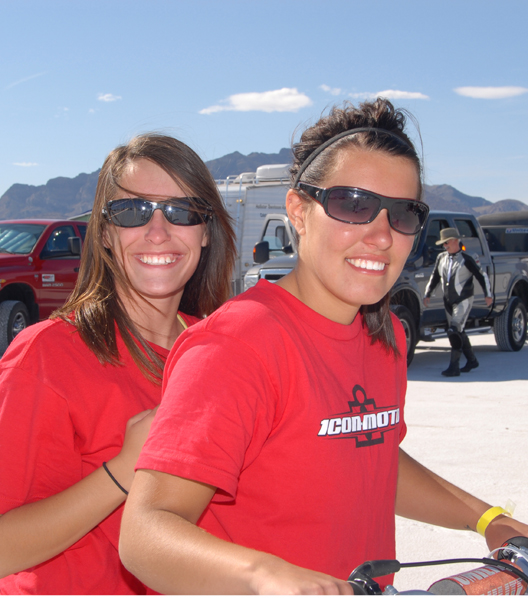 For those unfamiliar with motorcycle land speed racing at Bonneville, the competition is held on a five-mile-long, wide, straight track, with a surface that is you guessed it salt. A single competitor leaves the starting line (there is only one racer on the track at any given time), and brings his or her machine through the gears and up to speed. By the time the bike reaches the beginning of the two-mile mark the rider should be running at top speed. If all goes as planned the rider keeps this speed constant between mile two and mile three, (the measured mile as its called) where the motorcycle is timed by officials who preside over the event. Once the rider reaches the beginning of mile three he or she backs out of the throttle and has a two-mile stretch in which to slow the motorcycle down.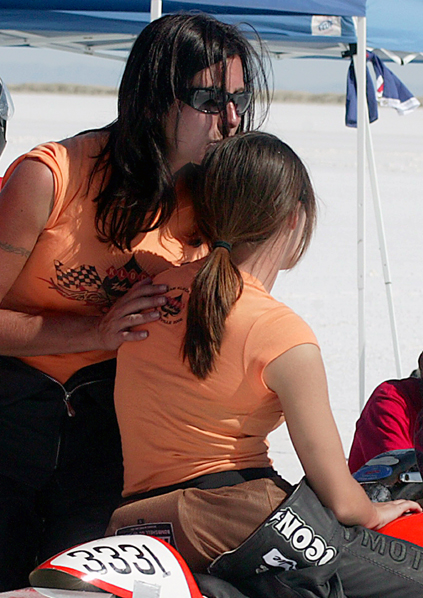 If the run was fast enough to challenge the existing record, the rider then makes a return pass in the opposite direction. Upon completion of the second pass, the speed of the two runs is averaged. If the average speed is higher than the existing record, a new record is established pending a technical inspection of the motorcycle, and certification of the governing body that oversees the record.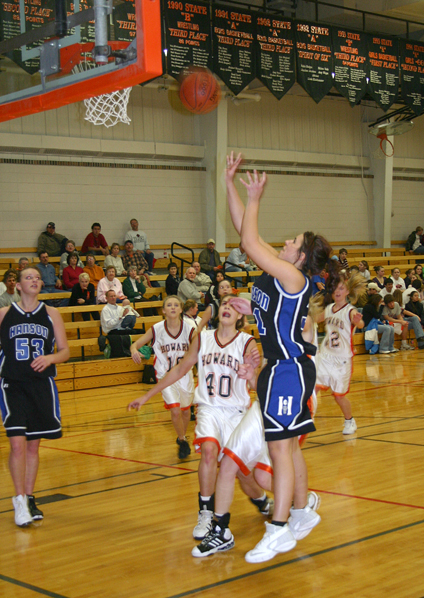 After Lauras first racing endeavor on the salt she felt confident in exploring the possibility of her daughters participating in this type of racing. "After doing it myself I told the girls that although you can reach some high speeds this is a pretty safe form of racing. Youre not right next some one. Theres not a wall next to you to run into. Its a very controlled environment." With this explanation barely out of Lauras mouth, Erika and Karlee whole-heartedly agreed that it was something they wanted to be part of.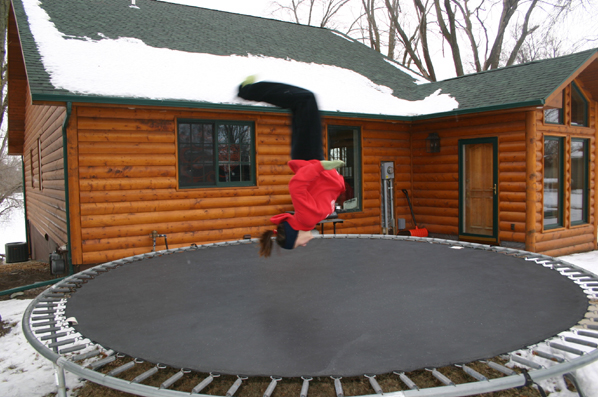 Laura learned all thats required to race at Bonneville is a valid state issued drivers license. In addition your motorcycle needs to meet certain minimum safety requirements and youre required to wear approved riding gear. This meant that for the 2007 Bonneville event Erika could race since you only need to be 14-years-old to obtain a drivers license in South Dakota – which she did. Karlee would have to wait another year before she had a license.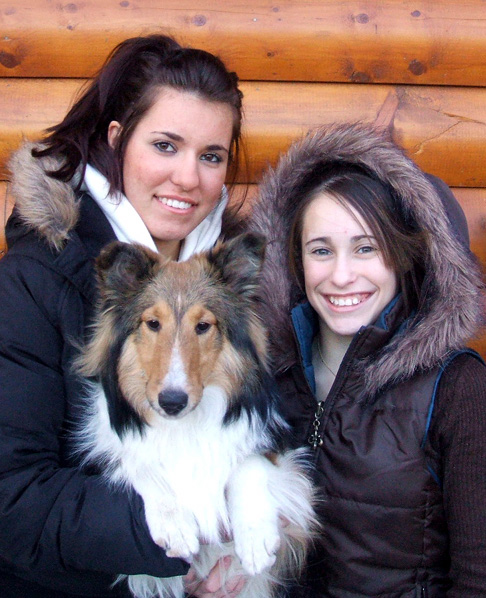 In 2007 when Erika was ready to make her first pass on the salt, Laura remembers she felt sick to her stomach asking herself, "What am I doing putting her out there? I was scared to death, but I didnt want her to be scared. If its not meant to be, her bike wont start or there will be some other type of divine intervention."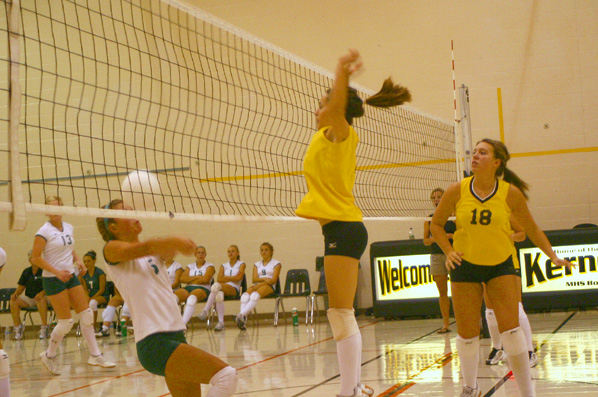 Laura continues, "Ive grown a lot in my faith and I pray a lot, especially out there. I have to turn it over to God. We had done the practicing, they knew their bikes, and their gear was good and safe. You just have to let them do their thing because if you make them nervous because you are, thats worse. I just give them a kiss on their helmets and let them go. Ill admit I hold my breath until I know theyve cleared the mile. It becomes a faith and a trust thing, you have to trust in them, and everything you taught them about riding."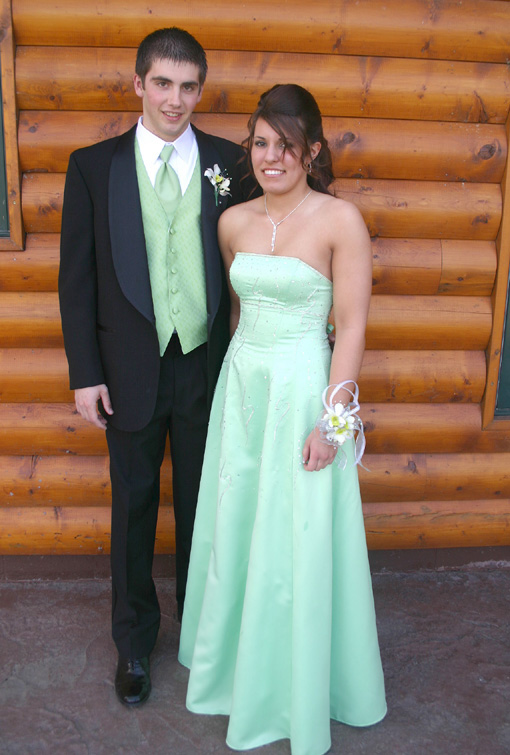 Laura sees her daughters racing experience as much more than trying to set records. "They learn so much about themselves. They learn about other people; these are things they are gong to use in their lives. Its not just about motorcycling and thats the part that I really love as a mom."nbsp;nbsp;
Related Articles
Fastest Motorcycling Women on the Planet
Sturgis Womens Day Award Winners
Womens Events Happening in Sturgis
Women Build Bikes in Record Time