Want to share your story? Click here to find out how.
My husband has always had motorcycles, from dirt bikes as a child to owning a few when we were first married. With the thoughts of our little girls at home, I never liked being a passenger.
But the little girls grew up and left the nest, leaving us with time to figure out what hobbies wed enjoy together. Being big eBay buffs, we just happened to find motorcycles for sale. Christmas eve 2005 we placed a bid on a custom Sportster and won, of course; who bids on these things on Christmas Eve? We rode all summer 2006 on that little Sportster. But it seemed somewhat small for two people and that led us to buy a Harley Ultra. That really gave us both the riding bug, especially me! Id ride on the back snuggling my husband and thinking this is too much fun. I wonder if I could do it too.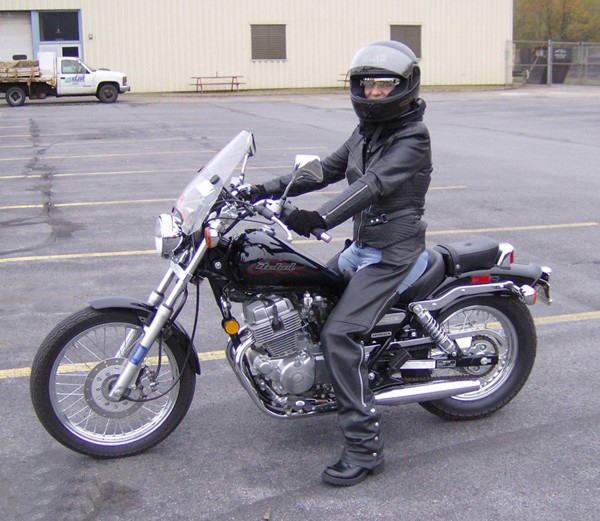 I mentioned to him how I think Id like to try; just try no commitment. Right away he found a Honda Rebel for sale and urged me to buy it. But that is a commitment right? He tells me that I can always sell it if I dont like it. That sounded reasonable.
During November 2007, at 45 years young, I take my first ride on a motorcycle. He rode it to an empty parking lot and let me try it out. First time ever in the riders seat! I was so scared! I think that knowing how to drive a standard transmission in a car really helped with my perception of using a clutch. Mind you, I didnt take it out of second gear, but it was such scary fun! I knew there would be so much to learn, but I had all winter to think and read about it.
During the spring of 2008, I had my permit and took the MSF basic rider course. I was so nervous! I can never say enough about how great the instructors are, so patient. And my husband was right by my side, taking the course with me.
I was doing well with the riding course. The instructor called me "Miss Quick Stop" because I did them so well. Although, once I locked up the front brake on an emergency stop and went over the bike. Thank heavens I didnt hurt the bike! I really wasnt hurt either, just a skinned knee, twisted wrist and a really bruised ego. I pulled over to the side, shaking. The instructor asked if Id like to continue and for a moment I thought, "No thank you." I knew if I didnt keep trying, Id have huge regrets! After 5 minutes I joined the class again. This had to happen right before we were to be tested. I wasnt sure I was going to pass. The written test I aced with 100 percent. The riding course was a different story. I did pass, but not with flying colors because of being badly shaken. But they stamped my permit! There was another girl taking the course and she passed as well. It took us a minute for it to sink in and then we started hugging each other and yelling yipee!
I rode my Rebel for a few weeks after that being a "baby duck" to my husband on his Ultra. Following behind and learning from him. But I felt that my Rebel wasnt big enough to keep up with him. I had a hard time pushing my Rebel at 55 mph. It just didnt want to go that fast and it didnt feel good to me. I mentioned this to my husband and once again he finds a motorcycle; this time a gently used Sportster Hugger.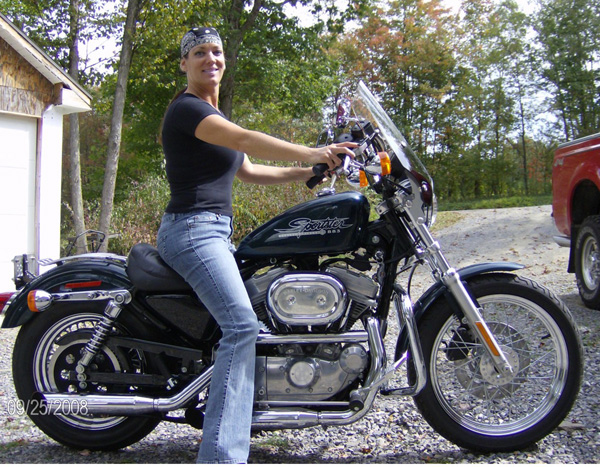 My first Harley! I am so excited! We get it home and I will never forget the date – June 21st, summer had officially begun. We had all summer to ride together. He was apprehensive about my riding it without an engine guard but I assured him that Id just take a quick ride on our back road. Sadly that didnt happen. I didnt even get to start my new bike. Our drive way is gravel, and Im always careful in gravel but my excitement got the best of me. I was backing my Sportster out of the drive when my foot slipped and I lost my balance. I tried desperately to regain my footing but down I went, on my left foot. I had my riding boots on but that didnt stop all the weight of the bike from landing on it.
After a trip to the ER, I learned that I had broken three bones in my foot. It would be at least two months before I could even think about riding again. I was so disappointed and kept thinking that maybe it was a sign. Im not the most coordinated person on the planet and I do trip over the pattern on the floor. Maybe this wasnt for me? We had all ready made plans to go to Sturgis. I watched so many women ride their motorcycles. I so wanted to become a "lady rider" too! Thanks to all the support from an understanding husband/friend, I got back on that Sportster (equipped with engine guard) in August, and have been having the time of my life. I still have a long way to go with lots to learn, but Im doing it. Under the WRN list ofTop 10 Things to Expect for Beginners Ive done every single one, especially and always number 9 and 10!
Want to share your story? Click here to find out how.