Meet the WRN team, including our Leadership Board members and staff! These women and men play a variety of roles in the motorcycle community, but whether their specialties are test-riding new motorcycles or documenting their riding adventures for our readers, they're all part of what makes Women Riders Now (WRN) the definitive source for women and motorcycling news. Read these bios to learn more about our contributors' backgrounds, and be sure to check out the page for WRN Founder Genevieve Schmitt.
Leadership Board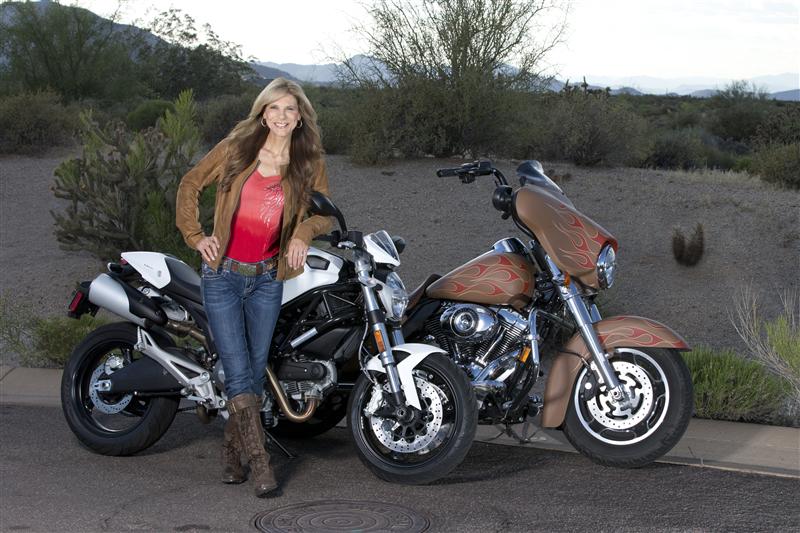 Genevieve Schmitt, Founder
Genevieve is a leading expert on the subject of women and motorcycling, and has been working full-time as a journalist covering the women and motorcycling "beat" since 1999. A two-time Motorcycle Hall of Fame inductee, in 2019 she was named one of the "Top 100 Leaders in Powersports" by Dealernews, a leading powersports industry trade magazine. The recognition comes just three months after Genevieve was named the 2019 recipient of the prestigious Bessie Stringfield Award by the American Motorcyclist Association (AMA). Read More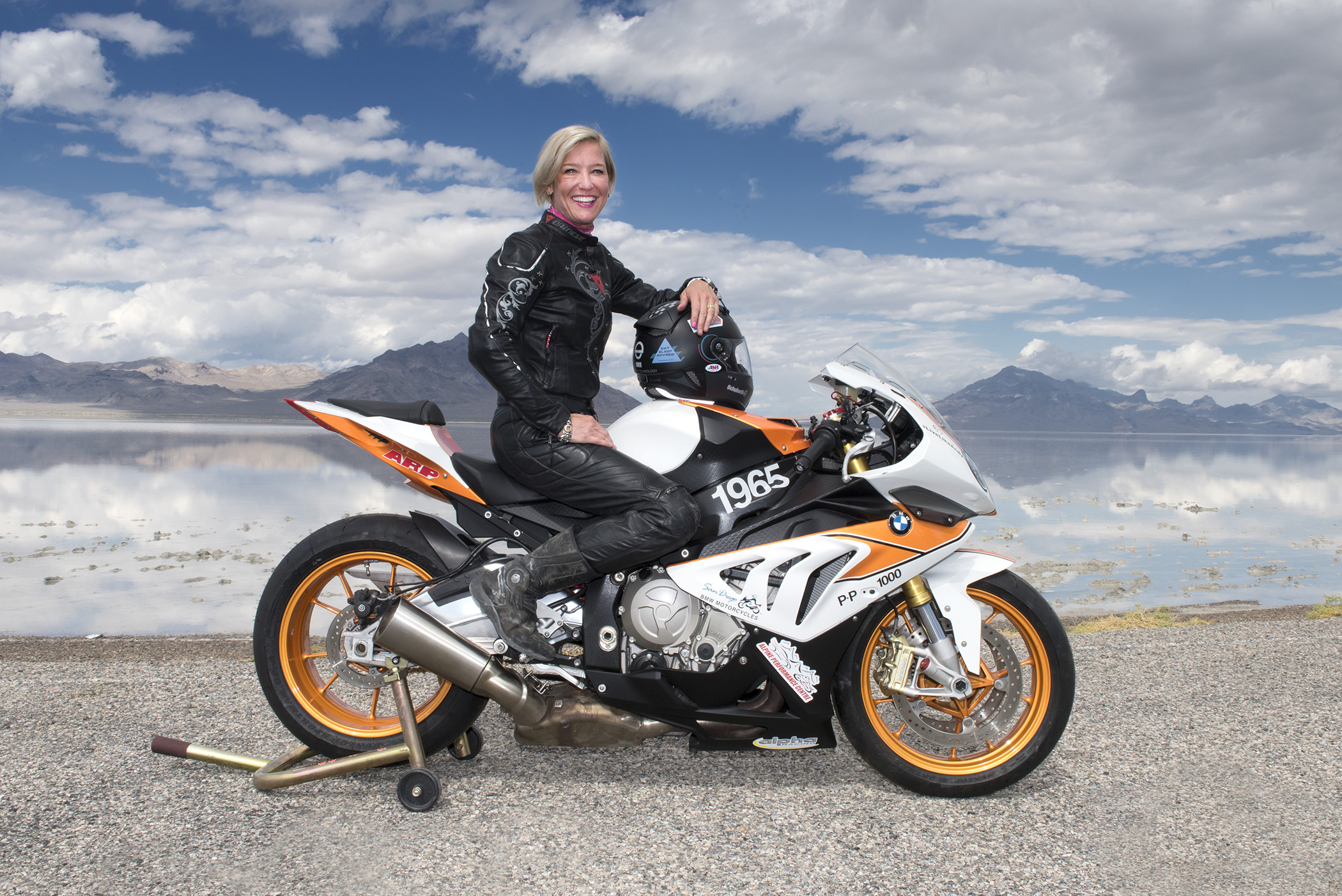 Erin Sills, Co-Chairwoman
Erin is a 41-time world and national land speed motorcycle record holder and an off-road adventure riding coach. In her professional life, she spent 30 years in marketing and advertising, most recently as Global Director of Insights for Facebook, Inc. In 2016, she packed away the corporate attire to pursue life on two wheels full-time.
Erin has been named the American Motorcyclist Association's "Female Athlete of the Year" for her motorcycling accomplishments and the American Marketing Association's "Woman to Watch" for her business accomplishments. In 2014, Erin was named University of Cincinnati's Lindner College of Business "Alumni of the Year." Erin and her team at Hunter Sills Racing have set two Guinness Book World Records, and she is a member of the Bonneville 200 MPH Club, the El Mirage 200 MPH Club, the Bonneville Motorcycle Speed Trials 201 MPH Club, and the Mojave 200 MPH Club with her fastest average speed of 238 mph to date.
Always seeking a way to give back to the industry, Erin currently serves on the AMA Specialist Sport Commission, the FIM Women in Sport Commission, and the AMA Heritage Foundation board. At heart she is an avid sport-touring traveler, having journeyed over 300,000 miles since she began riding at the age of 35. Erin enjoys advocating for women in motorcycling and, with her late husband Andy Sills, she founded the sheEmoto Scholarship to support women in the sport.
In 2022 Erin was named one of the "Top 100 Women in Powersports" by Dealernews, a leading powersports industry trade magazine.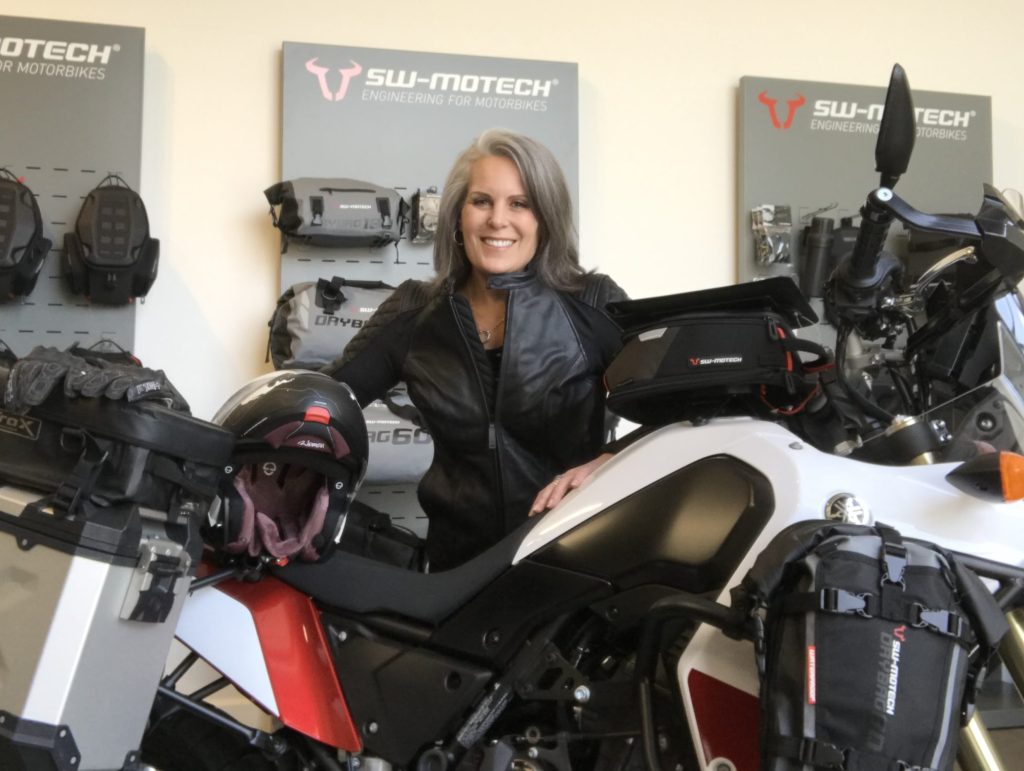 Sarah Schilke, Co-Chairwoman
Sarah is an avid street and off-road rider who has more than two decades in the motorcycle industry under her kidney belt. She originally got into the motorcycle field as a Motorcycle Safety Foundation (MSF) RiderCoach and continued her career in motorcycling from there, working with several aftermarket companies, including Hein Gericke and Schuberth, as well as the American Motorcyclist Association and the International Motorcycle Shows. Most recently she led BMW Motorrad's marketing team and later transitioned to an Aftersales Area Manager with BMW Motorrad until moving into her current position as Vice President of SW-MOTECH USA.
Sarah was the first woman to be elected to the Board of Directors of the Motorcycle Industry Council (MIC) and was an original member of the International Motorcycling Federation's (FIM) Commission on Women in Motorcycling. She is a lifetime member of the AMA and has received numerous leadership awards in motorcycling including "Powersports Industry Leader" by Powersports Business and was named one of the "50 Makers of Motorcycling" by Bonnier Motorcycle Group. In 2019 she was named one of the "Top 100 Leaders in Powersports" by Dealernews, a leading powersports industry trade magazine. And in 2022, Sarah was named one of the "Top 100 Women in Powersports" by the same publication.
Finding inspiration in the excitement of people entering the sport, Sarah continues to mentor novice riders, especially women riders, and enjoys meeting new friends through the bonds of the international motorcycling community. When she isn't on two wheels, Sarah enjoys family time, cultural arts, a Rotary service club, a local MINI Motorist's group, and a German language group.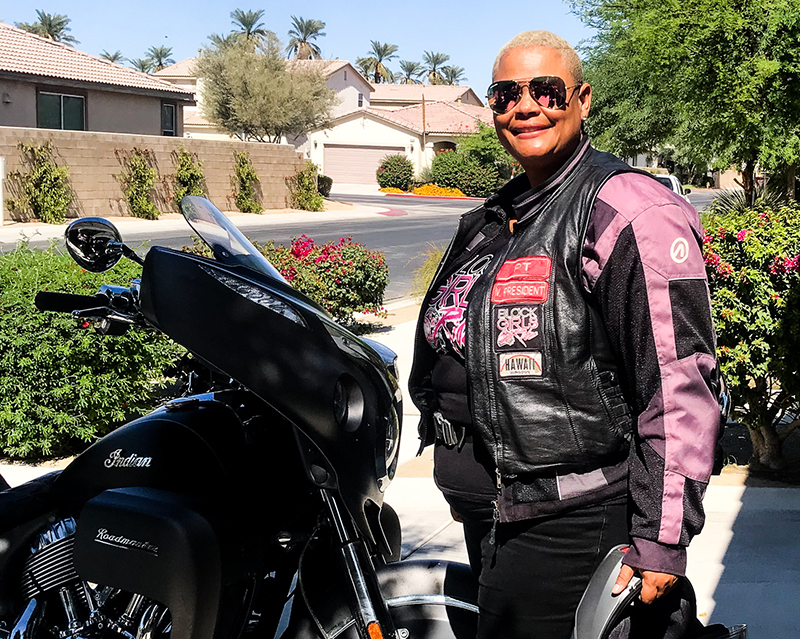 Porsche Taylor
Porsche Taylor is the founder of the groundbreaking Black Girls Ride magazine, an online publication serving the underserved market of African-American riders. She is also an "Iron Butt" rider (one who rides long distances over a short amount of time), and is a highly visible fixture on the women and motorcycling scene with her unique social media and event outreach initiatives like the Beautiful Bikers Conference, now in its sixth year.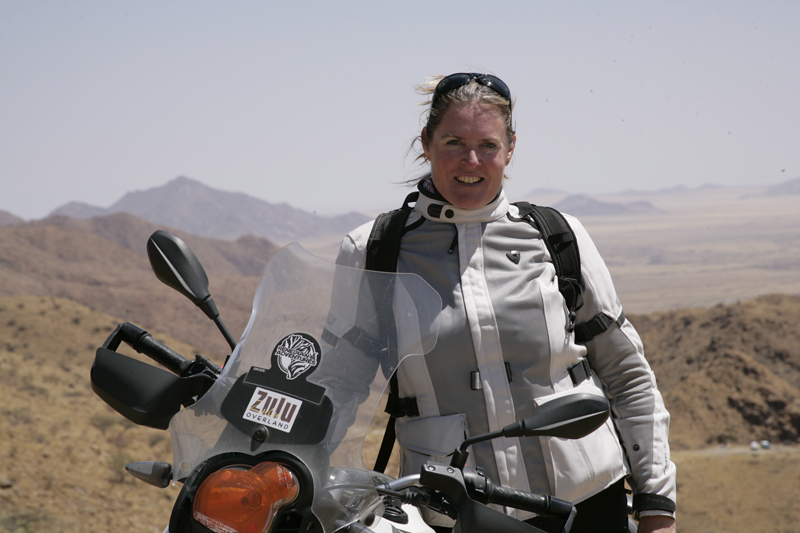 Alisa Clickenger
Alisa Clickenger left the corporate world more than a decade ago to follow her dream of riding a motorcycle for a living. In the years since, she's established herself as a respected motorcycle journalist and tour leader. In addition to owning Women's Motorcycle Tours, a motorcycle tour company for women, she is asked to lead tours all over the world. She most recently added "author" to her name writing a book about increasing confidence through motorcycle riding. Clickenger is also known for organizing commemorative cross country riding events such as the Sisters' Centennial Motorcycle Ride, in 2016, which garnered national media attention, and the Suffragists Centennial Motorcycle Ride coming in 2020.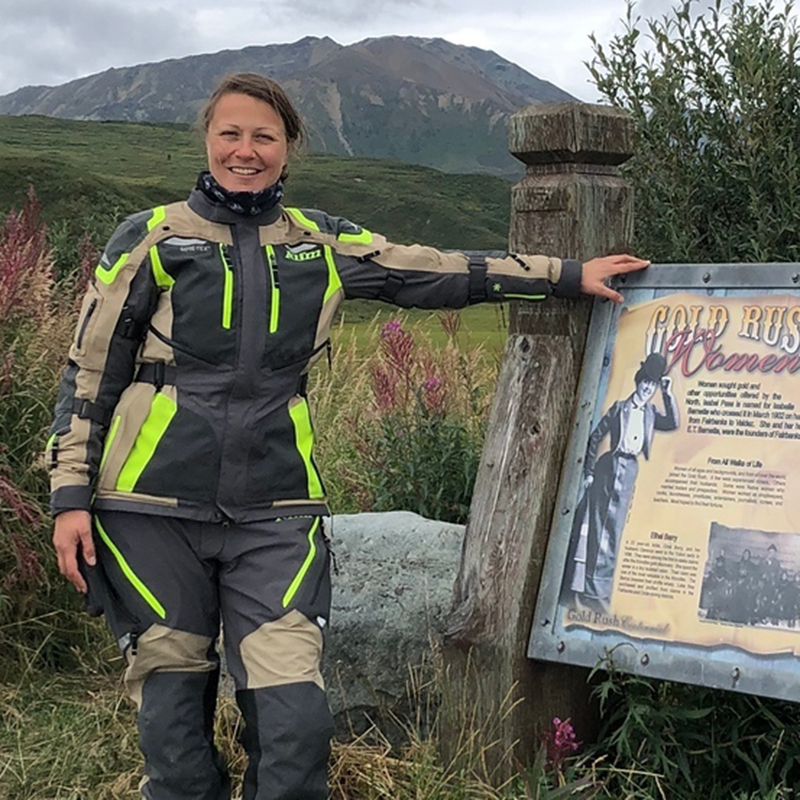 Robyn Kocienski
Robyn Kocienski is a motorcycle tour guide with Motoquest Tours, a highly respected 21-year-old international motorcycle tour company, where she leads women-only tours as well as routes for all riders. Kocienski's passion to make a difference has led her to be active in legislative pursuits benefitting the motorcycling community throughout the U.S. As a newer rider, Kocienski brings the perspective of beginning rider to the WRN Board, which is a strong focus of WRN's overall mission.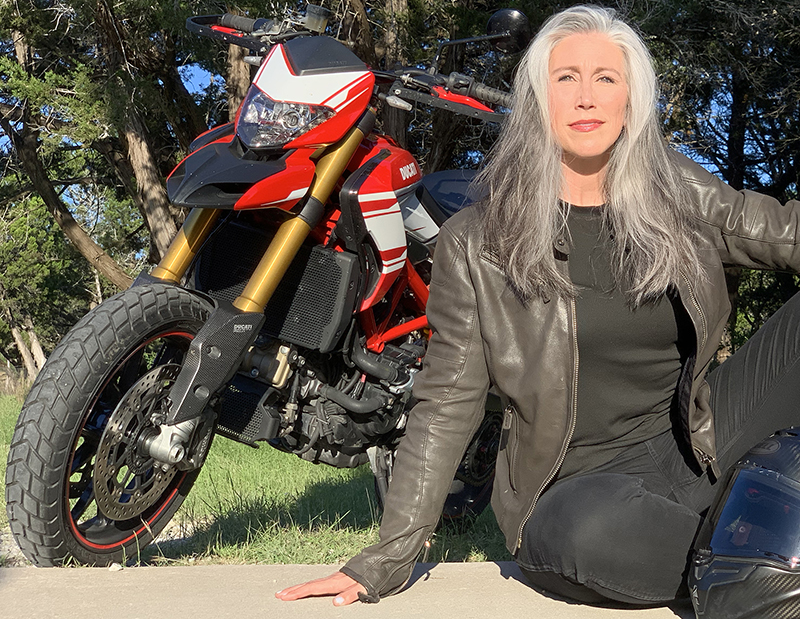 Moira Zinn
Moira Zinn is founder of Powertrip Industries, an event management and experiential marketing agency that provides turn-key event production. Motorcycles are what got her traction managing events for major vehicle manufactures. Specializing in live experiences and social interaction, Powertrip Industries creates exceptional consumer experiences for their clients. A perennial voice in the powersports community, Zinn also is a public speaker, Master of Ceremonies, trainer, frequent radio and podcast guest. With a multifaceted skill set and her finger on the pulse of motorcycling, it's no wonder that her two daughters share the same passion for two wheels.
---
Staff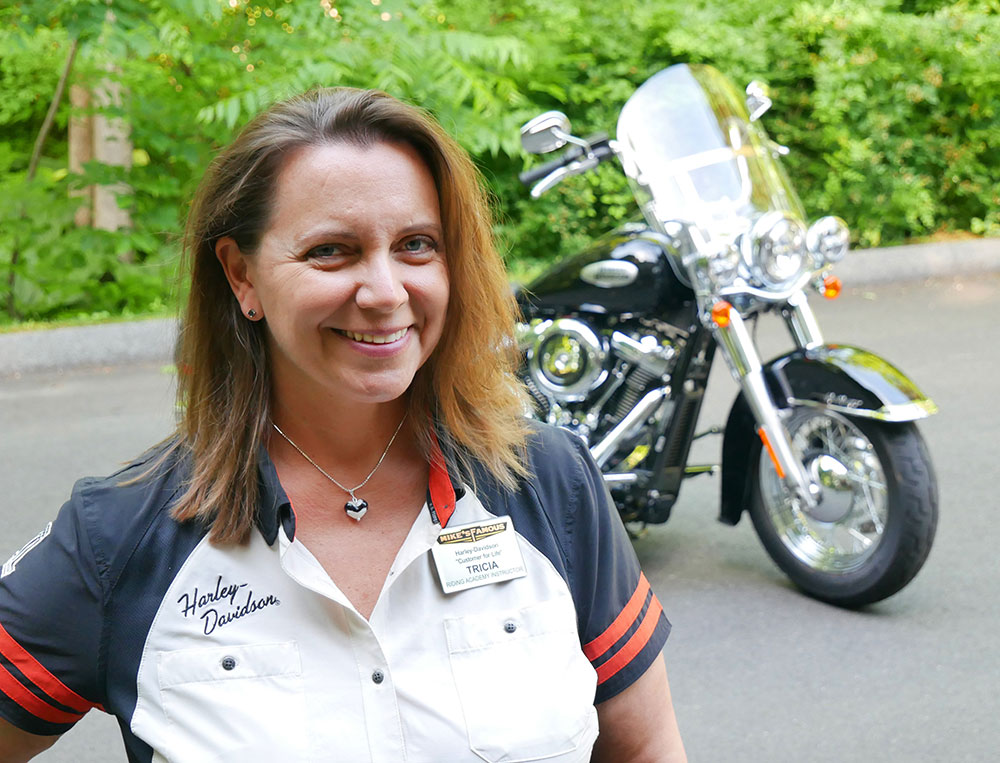 Tricia Szulewski, Editor
Tricia has worked full-time in the motorcycle publishing industry for more than 21 years as Creative Director, Photographer, and Staff Writer for TAM Communications, publisher of numerous retail print motorcycle magazines, including American Iron Magazine, Motorcycle Tour & Cruiser, RoadBike, Motorcycle, Garage Build, and more. Tricia has written hundreds of stories for all of these titles, from motorcycle reviews to gear reviews, tech and how-to installs, riding skills, and road trips. She began sharing her stories and photos with WRN in 2014 and today heads up the editorial department as WRN's Editor.
Tricia began riding motorcycles in 1995. She became a MSF RiderCoach in 2008 and manages Connecticut's Fairfield range where she runs an annual women-only Basic RiderCourse. In 2021, Tricia became a Harley-Davidson Academy Coach and, in addition to her MSF classes, she trains new riders at Mike's Harley-Davidson in New London, Connecticut.
In 2022 Tricia was named one of the "Top 100 Women in Powersports" by Dealernews, a leading powersports industry trade magazine.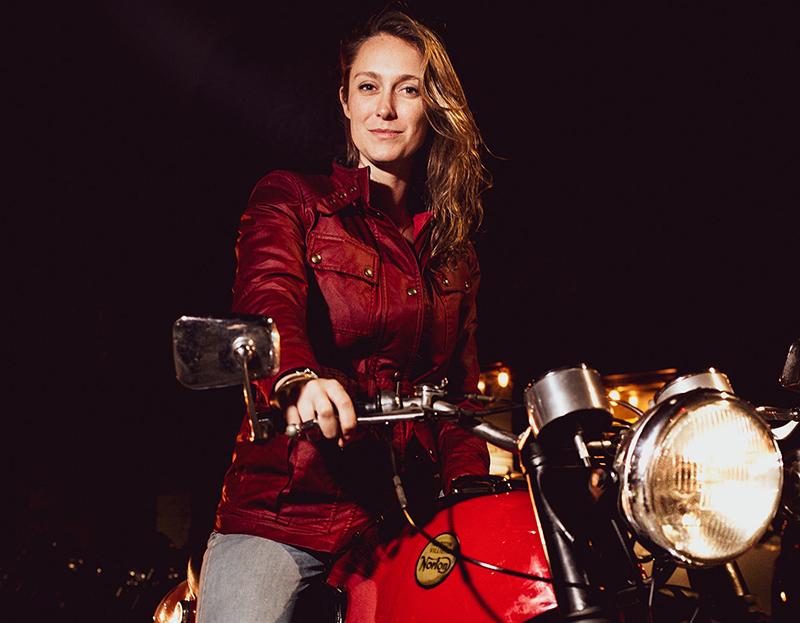 Kirsten Midura, Marketing Program Manager
In the few years that she has been riding, Kirsten Midura has become fully immersed in the motorcycle world. Kirsten is an entrepreneur, presenter, producer, motojournalist, photographer, and much more. She founded Engines for Change, an organization that brings motorcyclists together to enact positive change through beach cleanups, blood drives, fundraisers, and COVID relief efforts. She also co-founded Moto Market NYC, a seasonal, NYC-based swap meet and community event that builds connections and supports small, local businesses in the powersports industry.
Kirsten is a NYC team lead for both The MotoSocial and for the Distinguished Gentleman's Ride. She is an active member of the Miss-Fires, a bi-coastal, all-women's motorcycle group, and a committee member for Motos & Photos NYC, a local, off-season event series celebrating the work of NYC-based visual artists with a focus on motorcycles.
Kirsten has presented at events such as Women's Motorcycle Conference Online and was a keynote speaker at the 2020 International Women's Day event at Octane Lending. Besides WomenRidersNow.com Kirsten has written for American Iron Magazine and NYC Motorcyclist, and produced the film, The Distinguished Gentleman.
In 2022 Kirsten was named one of the "Top 100 Women in Powersports" by Dealernews, a leading powersports industry trade magazine.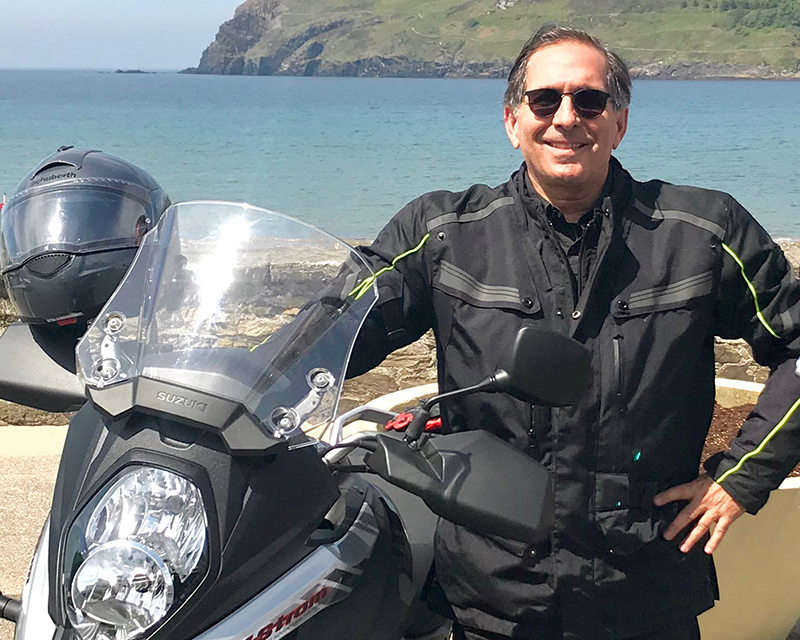 Andrew Capone, Senior Advisor for Strategic Partnerships
Andrew Capone is a veteran media industry senior executive, motorcycle business owner, part-time journalist, and passionate motorbike enthusiast. Andrew joins us as an advisor with more than three decades of marketing, sales, and business development leadership positions at NBC, Comcast and Charter-owned NCC Media, and Advance Media, the parent company of Conde Nast. He is the current co- owner and CEO of apparel and accessories company British Motorcycle Gear, and motorcycle industry consultancy Bray Hill Media. He is a trained Isle of Man TT Race Marshal, and attends, sponsors riders, and covers the storied event each year for motorcycle.com. He began his motorcycle journey at 12 years of age with a Yamaha Mini Enduro, and currently owns "a few too many" vintage and modern bikes, according to his family.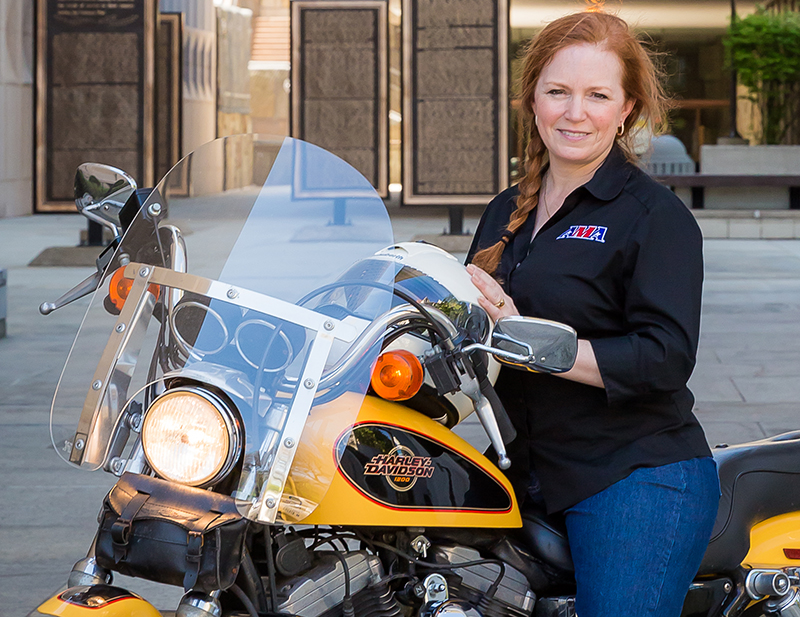 Maggie McNally, Director of Rider Outreach
Maggie McNally has been an avid motorcyclist for decades. She's been an advisor, member, and volunteer for numerous motorcycle clubs and associations and has been a MSF RiderCoach for more than 13 years. In 2013 she became the first woman to lead the American Motorcyclist Association Board of Directors in the association's then 89-year history, playing an invaluable role in the stewardship of the AMA representing and promoting female ridership across all disciplines of motorcycling. Maggie has lead initiatives that have markedly grown women's involvement in the sport, including launching the AMA International Women & Motorcycling Conference.
Maggie hails from Albany, New York, and has led a distinguished career in information technology with the New York state government. In January 2014, she was featured as a "Board Member Making a Difference" by Associations Now magazine. In 2019, she was named one of Dealernews' "Top 100 Leaders in Powersports." Maggie has presented at numerous events such as AMA's annual Hall of Fame induction ceremonies and the Americade motorcycle rally.
Maggie has appeared in numerous tv, web, and audio productions, including NBC's The Today Show with her then 8-year-old daughter in the family sidecar. She also loves to teach Irish step dancing.
---
Related Articles
About Women Riders Now
About WRN's Founder & Editor
WRN in the News