Genevieve Schmitt is a leading expert on the subject of women and motorcycling. Genevieve is founder of Women Riders Now (WRN), this online magazine, the only large scale all-brands online motorcycle magazine for women, and has been working full-time as a television and print journalist since 1986. She's been specifically covering the women and motorcycling "beat" since 1998 when she was asked to turn around a fledgling women's motorcycle magazine.
In 2017, Genevieve handed over ownership and management of Women Riders Now to a new team. Below is her biography with highlights from a 34-year print and broadcast journalism career, with the last 22 years focused specifically on women and motorcycling. To learn more about the new team, visit the About Us page on WRN.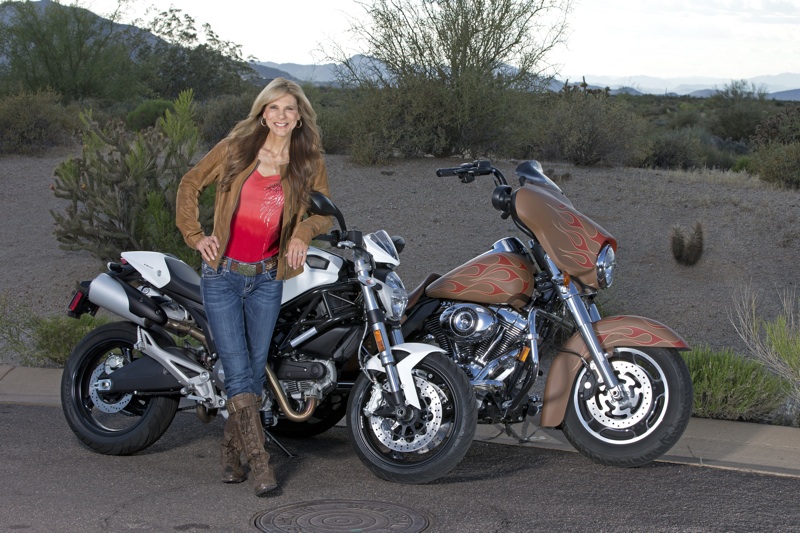 Top 100 Leader in Powersports
In May 2019, Genevieve was named one of the "Top 100 Leaders in Powersports" by Dealernews, a leading powersports industry trade magazine. The recognition comes just three months after Genevieve was named the 2019 recipient of the prestigious Bessie Stringfield Award by the American Motorcyclist Association (AMA).
Dealership owner and industry veteran Bob Althoff, who led the selection team for the Top 100 List, wrote this to the recipients: "Your work over the years, today, and on into the future is absolutely crucial to our shared success. Your failure to lead might similarly be the reason we all fail."
"I am humbled to be included in the first ever Top 100 Leaders in Powersports list," said Schmitt. "I certainly appreciate the recognition of years and years of hard work making sure women motorcyclists, as well as those seeking to ride, have a resource that speaks to them and their experience. I've also enjoyed supporting the powersports industry in a wide variety of ways over the last two decades as it has all been a labor of love and passion for me."
2019 AMA Bessie Stringfield Award Recipient
In February of 2019, Genevieve was selected to receive the 2019 AMA Bessie Stringfield award. This award, which memorializes the accomplishments of AMA Motorcycle Hall of Famer Bessie Stringfield, recognizes efforts to introduce motorcycling to new or underserved markets. Because of Genevieve's endeavors in putting the spotlight on women and motorcycling, theboard of directors of the American Motorcyclist Association (AMA),chose Genevieve as the 2019 award recipient.
Genevieve was presented with her award in September 2019 at the American International Motorcycle Expo. In her acceptance speech she thanked God for directing her steps to success during her prolific media career. She then went on to explain how the seeds were planted for her to focus her motorcycling journalism career in the womens space. She then compared women in motorcycling to men in the kitchen, ending her comments with, "Lets make women and motorcycling as commonplace as men in the kitchen." To listen to her full 20-minute speech, click here to go to the video on the Women Riders Now Facebook page.
Two-Time Motorcycle Hall of Fame Inductee
The AMA honor comes on the heels of her induction into the Las Vegas Motorcycle Hall of Fame in 2017, again in recognition of her journalism work and marketing efforts in raising awareness of women and motorcycling. This induction made her a two-time female motorcycle hall of famer, a distinction held by just eight women in motorcycling history.
Genevieves first motorcycle hall of fame recognition came in 2001 when she was inducted into the Sturgis Motorcycle Museum Hall of Fame, an honor that preceded her creation of this website, WomenRidersNow.com. At that time, Genevieve had really just begun what would become a hallmark of her media and journalism career, creating a motorcycle magazine / media resource dedicated to the female rider. In 2001, she founded Woman Rider magazine.
How It All Began
Genevieve pioneered the online experience for women who ride motorcycles with her vision of creating an information resource for female riders in 2006 when she launched WomenRidersNow.com. This online magazine provides articles and reviews from a female point of view, something lacking in the motorcycle industry at the time. As a spokesperson for the sport—through her articles and speeches—Genevieve has inspired, and continues to inspire, thousands of women to ride their own motorcycles each year.
Over the years Genevieve has been quoted as an expert in numerous articles, radio shows, and television documentaries on the topic of motorcycling, including articles in the New York Times, BusinessWeek, USA Today, and the Chicago Tribune. She's been interviewed by NPR and BBC World Radio, and included in a TV segment onFox News Channels Geraldo At Large (clip below). For a list of recent media for which Genevieve has been interviewed, visit the WRN In The News page.
Heres the Geraldo Rivera Fox News clip that aired in 2007. Genevieve is interviewed at 2:44.
Turning Her Attention To Women and Motorcycling
A longtime professional television and print journalist, Genevieve began focusing her efforts in the "women and motorcycling" space in 1998 when she was asked to turn around a fledgling women's motorcycling magazine called Asphalt Angels. Two years later, she founded Woman Rider, a magazine she edited for four years before it was shuttered by its parent company in 2005.
Genevieve then branched out on her own, forming her company, Solitude Ranch Communications, LLC (SRC), publisher of WomenRidersNow.com (WRN). Through SRC, Genevieve made it her business to be a leader in all things related to women and motorcycling. This includes staying on top of the latest news and trends in motorcycling, and conducting market surveys of women riders. The results of those surveys were, and still are the only surveys known to have polled women riders on a large scale to date.
During her time leading Women Riders Now, Genevieve organized seminars and events for women riders and consulted with powersports companies to help them reach female customers. She has been invited to speak at more than 50 motorcycle dealership events and rallies since she started giving speeches in 2005.
In addition to her work with Women Riders Now, from 2005 to 2012 Genevieve served as the women's point-of-view editor for American Iron Magazine, the largest V-twin motorcycle magazine on U.S. newsstands, authoring a monthly column called "The Way I See It." She also contributed motorcycle feature articles and product reviews. Some of Genevieves columns can be downloaded here.
From 2007 to 2009, Genevieve contributed motorcycle business articles to Dealernews, a powersports trade publication, in addition to writing a monthly column called "Selling to Women." Information from some of those articles has been repurposed here on WRN.
In the early 2000s, while building Women Riders Now, Genevieve used the opportunity to contribute a monthly column to Friction Zone and Midwest Motorcyclist, both regional motorcycle consumer magazines, to help spread the word about her new online magazine.
Working as a journalist in the motorcycle industry since 1991, Genevieve has contributed articles to nearly every motorcycle publication, including American Iron Magazine, Rider, American Rider, Powersports Business, Dealernews, Cruising Rider, Easyriders, VQ, Harley-Davidson Enthusiast, Hot Rod Bikes, Thunder Press, RoadBike, and Motorcycle magazine.
She has authored both business and trade articles including interviewing some of the top leaders in the motorcycle industry. She has ridden and tested many motorcycles over the years contributing reviews not only to WomenRidersNow.com, but also to mainstream motorcycle magazines. And she's written hundreds of features stories on everything from rider profiles, motorcycle tour reviews, product and apparel reviews, and custom bike stories.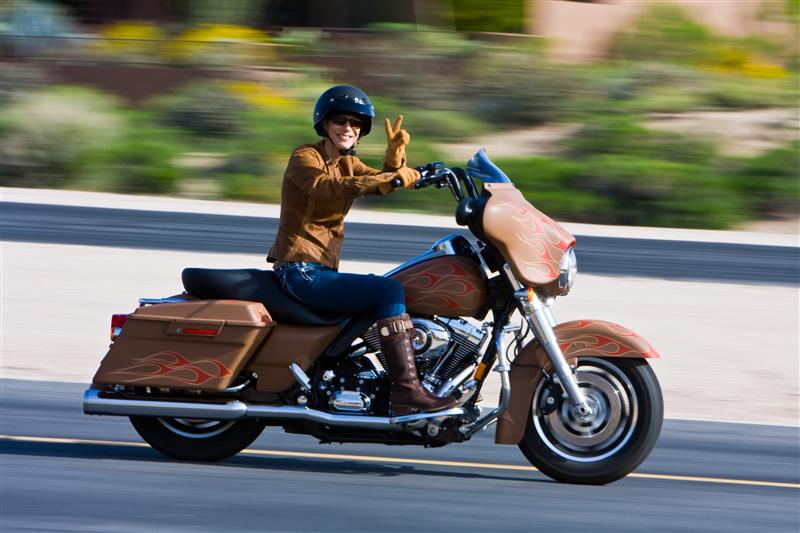 Genevieve riding her 2008 customized Harley-Davidson Street Glide. Read about the modifications and the suspension adjustments she's made to this bike.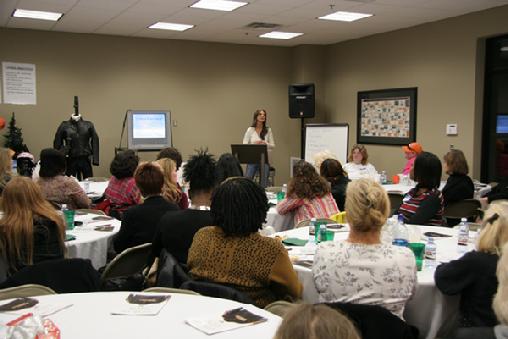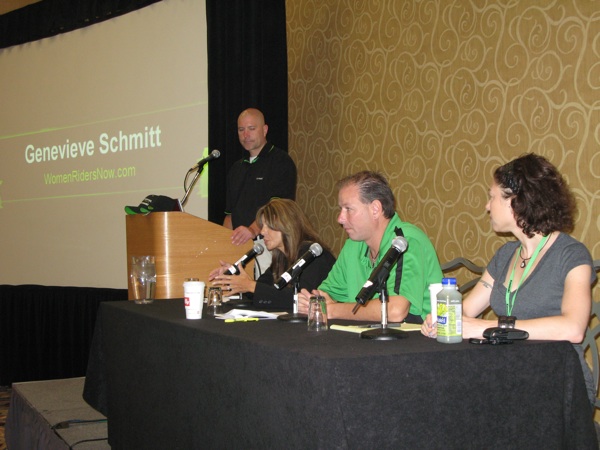 Genevieve being introduced as part of the "Retailing to Today's Female Motorcycle Customer" panel at Kawasaki's dealer show in 2010.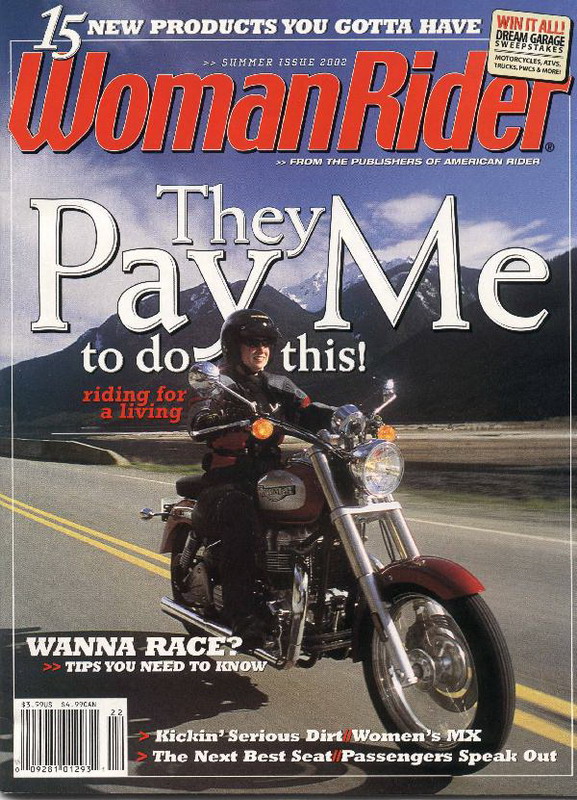 Before Online Publishing
Before turning her editorial eye to internet publishing in 2005, as mentioned earlier, Genevieve served as editor of Woman Rider, a national all-brands motorcycle magazine, a concept and name she conceived and founded in 2000. Woman Rider, which published quarterly from 2000 to 2004, won gold and silver editorial and design awards from the Minnesota Magazine Publishers Association under her direction.
Prior to conceiving Woman Rider, Genevieve was asked to turn around a fledgling women's motorcycling magazine called Asphalt Angels. From 1999 to 2000, Genevieve revamped the focus, and edited two year's worth of this bi-monthly magazine that served a readership of 20,000.
A bit of history here: the original title of Asphalt Angels magazine was Harley Woman, which is the first print magazine in motorcycling history to serve women riders. It launched in 1985, founded by two two-time motorcycle hall of famers, Cris Sommer Simmons and Jo Giovannoni. It published continually since its launch changing hands two times before Genevieve was asked to take over editorial operations.
Television Roots
A little-known fact about Genevieve: She is the first female reporter to ride a motorcycle on television while reporting about the motorcycling lifestyle. This historical milestone occurred while she was working for Speedvision cable network (later Speed Channel, now Fox Sports Net) from 1997 to 2003 on the show "Bike Week." Genevieve traveled all over the U.S., and Europe, reporting from motorcycle rallies, events, and trade shows.
During that time, Genevieve also had the opportunity to report for "ATV Magazine Television," a show that aired on the Outdoor Life Network (OLN, later Versus Channel, now NBC Sports Network). Her stories had her traveling the U.S. to ride an all-terrain vehicle while covering ATV tour stories. She'd do her reports from the saddle of an ATV sharing with viewers all the new and different uses of this burgeoning powersports segment, and is the first woman to do that, report from the saddle of an ATV on television.
Genevieve knew at an early age that she wanted to work in broadcasting. At 16 years old, Genevieve asked her dad to take her to the local radio station so she could inquire about working there. She ended up getting a weekend news anchor position at the station, the CBS affiliate in Kingston, New York, WKNY. The news director took her under his wing and taught her the basics of on-air news reporting. This experience spring-boarded her to work in a variety of on-air radio news positions while in college.
After graduating from the University of Florida with a Bachelors degree in Broadcast Journalism, Genevieve moved to Atlanta, Georgia, to work as an intern with CNN specifically working on the "Larry King Live" and "Crossfire" shows. After CNN, she moved to West Palm Beach, Florida, and got her first news producer position with WPEC-TV producing the weekend 6:00 p.m. and 11:00 p.m. news shows.
In 1989, Genevieve went to work for the ABC network morning show "Good Morning America" producing the personal finance reports with Steve Crowley, a well-known syndicated money reporter. It was then that she was exposed to motorcycling for the first time. Her boss at "Good Morning America" asked her to produce a segment on women and motorcycling in 1990 after they'd seen a survey about women and truck ownership. Genevieve called local motorcycle dealerships to help her round up women who ride their own motorcycle for interviews. After the shoot, Genevieve was hooked. She took the Motorcycle Safety Foundation beginning rider course, got her license, and bought her first motorcycle, a 1982 Honda Shadow.
She then moved to Los Angeles to work as senior producer for E! Entertainment Television where she was nominated for a Daytime Emmy award for her work on the show "E! News Daily." After four years working at the early days of E!, helping to establish it as the well known cable network it is today, Genevieve transitioned to the syndicated news magazine show "EXTRA" where she worked as a field producer. At all the television outlets where Genevieve worked, she'd manage to find a way to produce segments on some facet of motorcycling, be it covering a motorcycle rally like Sturgis or interviewing celebrities who ride, all in an effort to share with mainstream television viewers the fascinating world of motorcycling.
Over the years, Genevieve has worked in many facets of local and network television news including roles as segment producer, field producer, and show producer with credits that include NBC, VH1, WPEC-West Palm Beach, and WCPO-Cincinnati.
Genevieve has been riding a motorcycle since 1990 and currently owns a 2008 Harley-Davidson Street Glide. Her previous motorcycles include the aforementioned 1982 Honda Shadow, a 1993 Harley-Davidson Sportster 1200, a 1994 Dyna Low Rider, and a 1995 Dyna Super Glide.