Baggers, dressers, touring motorcycles—whatever you call these hard-saddlebag-wearing, rear-tour-pack-packing powerful machines, they are often the last motorcycle a rider will end up owning. Why? Because as solo riders, most of us dont choose a bike that has all that storage space and protection before we know we need it. As new riders without any road experience, we tend to choose motorcycles that fit us as much as possible in stock condition, make us feel good and look cool, and can handle comfortably. We dont know what we actually need until weve had some decent seat time. The exception to this is the riders who will be traveling two-up most of the time. In these situations, a dresser is usually considered right away no matter how long someones been riding. Its ideal for two people because of all the storage and seating capacity.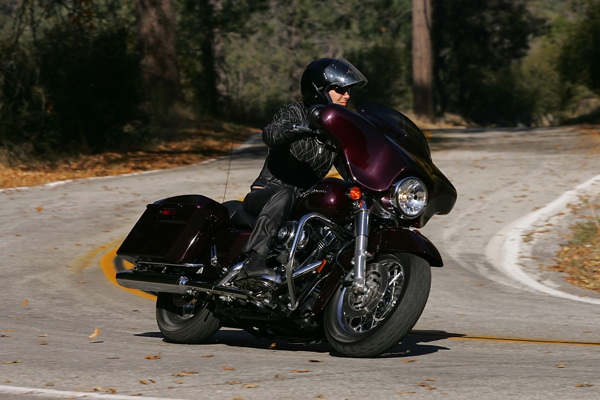 To me, a dresser represents a "coming of age" for a motorcycle rider. As a woman, if you ride a full-dressed motorcycle, you must be an experienced rider with lots of confidence because most women have a difficult time handling the large size. With that said, of all the women Ive met who ride a dresser, every one of them has had to lower the seat height to handle the weight of the bike safely. Only really tall women can handle the stock height and weight of these motorcycles in all types of riding conditions.
I recently joined the bagger brigade by buying my first bagger—or dresser, as theyre called—a 2008 Street Glide, my fifth motorcycle. Some of you, like me, may have a hard time calling the Street Glide a full dresser because it doesnt have a rear tour pack (although its set up to accept one). Its still a touring bike loaded with creature comforts youdnever find on a Softail or Dyna, like a full fairing, cruise control, ABS and a radio/CD player. Im coming off of a 1994 Dyna Low Rider Ive been riding all these years. I never thought at my ripe young age I would be ready to trade up to what used to be viewed (and maybe still is) as an older persons bike, but after spending almost 20 years riding, Im ready for the big kahuna of motorcycles.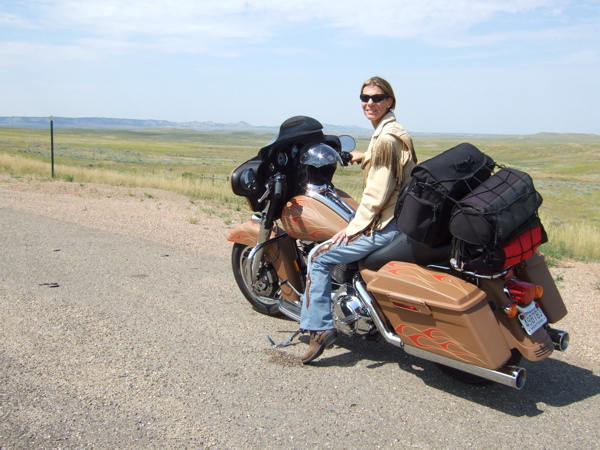 The reason I went with the touring bike at this stage in my riding life (I still have a good 25 to 30 riding years left, Im sure) is because most of my saddle time these days is spent touring. When I get on my bike, I plan to be on it all day, pushing back 450 miles or so for several days where my bike is my suitcase. I was craving more storage, more wind protection and more stability on the road from a larger chassis. Knowing this would probably be my last motorcycle, or at least one Ill own until the end of time, I splurged on a few things.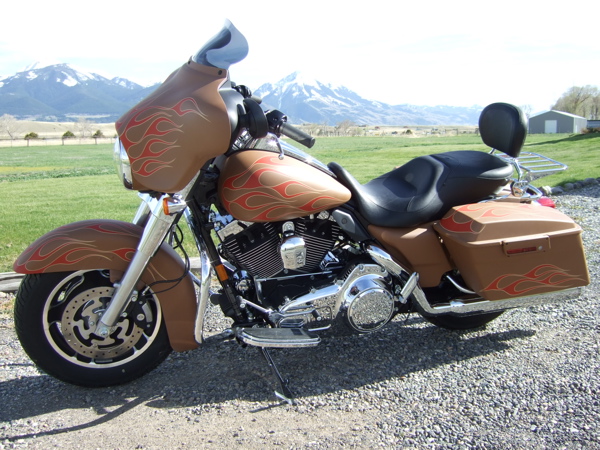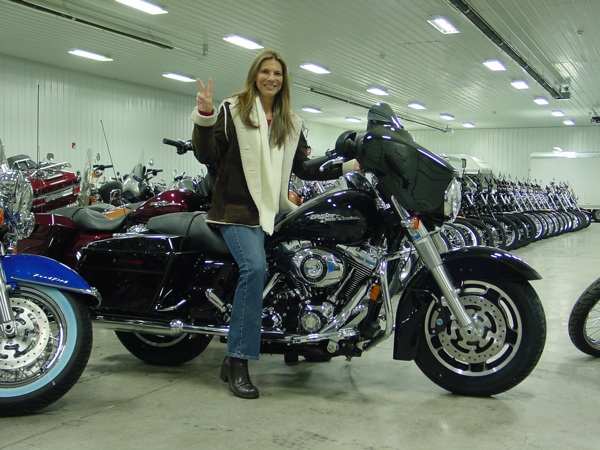 My amazing custom paint job was done courtesy of the talented JoAnn Bortles of Crazy Horse Painting. I love that my motorcycle is now one of a kind in that way. Knowing I was going to put on aftermarket exhaust pipes, I had a Stage 1 kit from Harley-Davidson installed so the bike would breathe better. I also got the Screamin Eagle Race Tuner so the power output could be dialed in on the Dyno.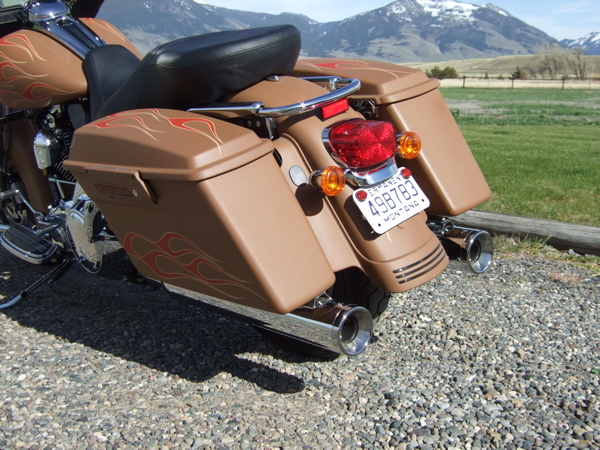 I chose Cobra True Dual Headpipes because I really liked the sound. You can check out Cobras Web site (listed at the end of this article) and listen to the sound the different exhaust pipes make. I love the smooth cadence of the True Duals. Cobra recommends you purchase its Fi2000 fuel management console. I was told I didnt need it because I already had Harleys version of that, the Race Tuner, installed.
I had heard rumblings about how Harley-Davidsons new 96-inch Twin Cam motor put out a lot of heat, so I wasted no time ordering heat deflectors that help dissipate the heat from the engine so my legs dont get too hot.
| | |
| --- | --- |
| You can see the black heat deflector on the left side just below the seat. Theres also one on the right side just below the seat, shown in the next picture. The heat deflectors are also available in a smoke tint. | Since installing the heat deflectors on my bike, Ive yet to experience an excessive amount of engine heat on my legs. |
I also got a backrest and luggage rack so I have extra storage space. I can attach a backrest bag to the sissy bar and an additional bag to the luggage rack. These are detachable, so I can take them off when I dont need them.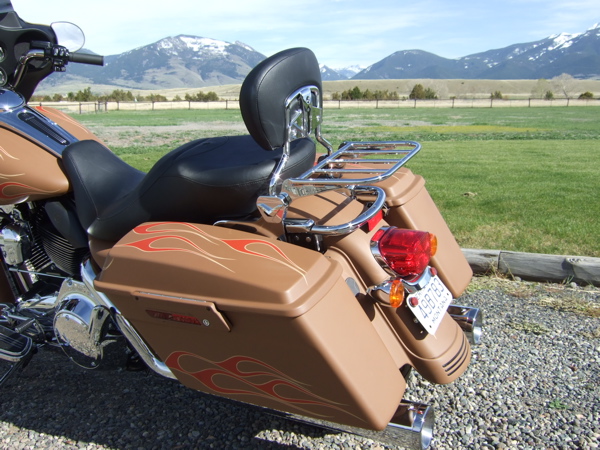 While I stand 5-foot-6.5 and have a 30-inch inseam, I still needed to lower the 700-pound motorcycle to give me extra leg length and strength. Before installing lower shocks, I looked into aftermarket seat options to lower the stock 26.3-inch seat height at least a half-inch more. While 26.3 inches is relatively low—I could easily handle that height on the narrow Sportster or Dyna models—on the Street Glide, 26.3 inches seems higher because I lose inches in the spread of the wide bucket-style saddle. Plus, having to muscle that much more bike weight means I need as much leg length and strength as possible.
Kudos to Harley-Davidson for developing the Reach Seat a couple of years ago. The Reach Seat pushes me forward about 1 inch closer to the bars, and the nose of the seat is narrower than the stock version, bringing my legs closer together and enabling me to get another 1/2 to 1 inch of leg length. The difference is noticeable. The Reach Seat is available for nearly every late-model Harley-Davidson. There are lower, flatter seats like the Brawler or Rally Runner, but they dont push you forward like the Reach does.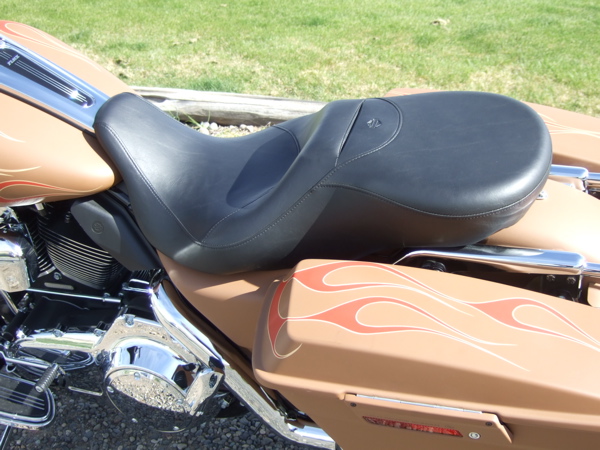 | | |
| --- | --- |
| With the Reach Seat, I am flat-flooted with a slight bend in my knee. | This shot was taken with the stock seat. Notice the difference in how my feet reach the ground. |
I also wanted more protection than the stock shorty windshield provided me. Id heard of the FLARE Windshield that Brian Klock of Klock Werks Kustom Cycles developed out of a need to keep his wife, Laura, safer while racing at high speeds on the Bonneville Salt Flats. Laura set the record while racing a bagger at Bonneville in 2006 and then broke her record this past year. The "hips" at the outer edge of the FLARE shield reroute the wind to add downforce to the front of the bike, which aids stability. The "flip" at the top of the FLARE is designed to kick the air up and then allow it to flow back as "clean" air for the rider. I was skeptical at first, as the FLARE is no higher than a stock shield, but amazingly, the flare design provides what Id call smoother air. I wasnt feeling that choppy, turbulent airflow that comes from a stock shield, and more importantly, I wasnt feeling beat up at the end of a long riding day like I did with the shorty shield.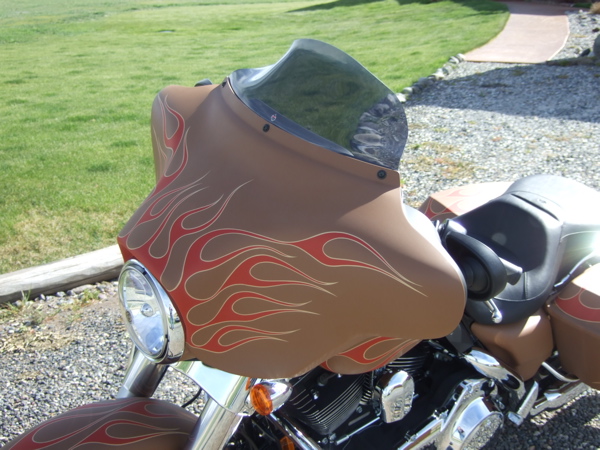 One last thing I did was reroute the antenna that normally sticks up in the back because it would be hitting the luggage rack. I purchased an internal fairing antenna from Dakota Digital that is hidden inside the fairing.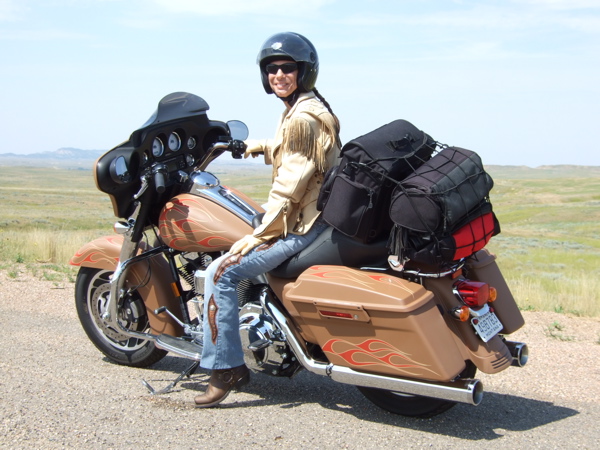 With both saddlebags packed and three bags bungeed to the back of the bike, there are about 40 to 50 extra pounds of weight, making the bike that much heavier. Riding it feels no different, but pushing it around a parking lot, I definitely feel the difference in weight. My project going into this summer is to get the bike lower so I have extra leg length and strength to muscle it around. Lower shocks should get me an additional 1/2 to 1 inch closer to the ground. Even without the additional weight, I found that moving the motorcycle around in gravel is difficult because the bike is so heavy. I need more leg strength, which should come from the extra leg length available to me.
I'm going to put on Progressive Suspension shocks, which I'm told work great on lowering a Street Glide without compromising handling. I'm also installing 14-inch apehangers, as I prefer to ride with my arms higher. I feel more in control of a motorcycle this way. I'll keep you posted.
Thank you to my local dealer, Yellowstone Harley-Davidson, for guiding me through what parts I needed and for doing all the installation work. If you're ever in Montana, be sure to visit them, as the staff there is extremely friendly and wonderful to deal with. They have rentals, too.
I'd love to hear from Street Glide owners on how they modified their Street Glides. Please send photos and information and I'll post it here. And be sure to read an article I wrote five years ago (listed below under Related Articles) when I was contemplating what motorcycle I would trade up to from my Dyna by comparing a Honda Gold Wing with a Harley Ultra Classic Electra Glide.
Here are the part numbers for everything I ordered:
Harley-Davidson Parts (Harley-Davidson.com)
2008 Touring Reach Seat: #52619-08
Midframe Air Deflectors (head deflectors): #58022-07A
Detachable Sissy Bar: #528933-97B
Top Stitched Backrest Pad: #52924-98A
Docking Hardware: #53803-06
Detachable Luggage Rack: #53001-98
Screamin' Eagle Stage 1 Kit: #29260-08
Race Tuner: #32101-01H
Other Parts
Custom Paint Job: Crazy Horse Painting, JoAnn Bortles(CrazyHorsePainting.com)
Dakota Digital Internal Antenna: #ATN-2000 (DakotaDigital.com)
Cobra Pipes: True Dual Headpipes: #6251 (CobraUSA.com)
KlockWerks FLARE Windshield: 8 inch tint (KustomBaggers.com)
Related Articles
How Genevieve Lowered Her Street Glide Even Further: Suspension Mods
Changing Your Motorcycle's Shocks to Get Lower
Trading Up to Dresser: Should or Shouldn't You?