Project RUSHMORE—its an interesting name meant to conjure up feelings of Americana (or taken more literally, to make us "rush more" on the 2014 Harley-Davidsons, unveiled Sunday). Rather than introducing all-new models, the Motor Company is using the banner "Project RUSHMORE" to unveil retooled versions of existing touring models developed from its latest customer-driven product-development efforts.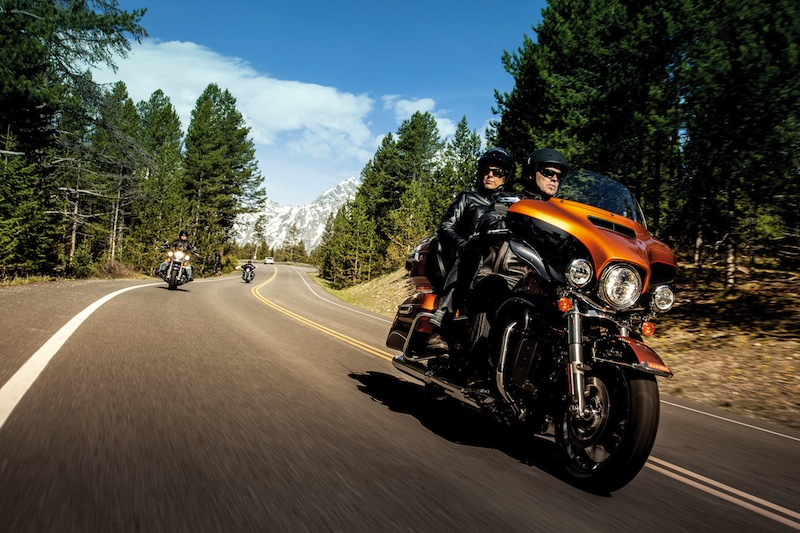 "Project RUSHMORE is a pure expression of our relationship with our customers and a shared passion for riding motorcycles," said Mark-Hans Richer, Harley-Davidsons senior vice president and chief marketing officer. "It's resulted in some outstanding innovations, but from day one we've been focused on taking the total rider and passenger experience to the next level. We come together, to quote the Beatles, through a process that uses not just formal feedback, but the kind of input we get from listening to customers out on the road, and then we blend that with our engineering and styling expertise. For years at Harley-Davidson we've been saying that we ride with you. Project RUSHMORE elevates that devotion to a higher level."
The touring and trike models receiving Project RUSHMORE enhancements are the Road King, Street Glide, Street Glide Special, Electra Glide Ultra Classic, Electra Glide Ultra Limited, Tri Glide Ultra, CVO Ultra Limited, and CVO Road King. The enhancements are slotted into these four customer-defined categories:
Control: Project RUSHMORE bikes pass faster, stop quicker, and see farther at night, according to the company's marketing notes. Each model features the new Twin-Cooled High Output Twin Cam 103 or the High Output Twin Cam 103 powertrain; both offer fuel injection, Reflex Linked Brakes with ABS, and Daymaker LED and Dual Halogen lighting. (In case you were wondering, the terms "Twin-Cooled," "Reflex," and" Daymaker" are trademarked marketing names for these new features from Harley-Davidson.)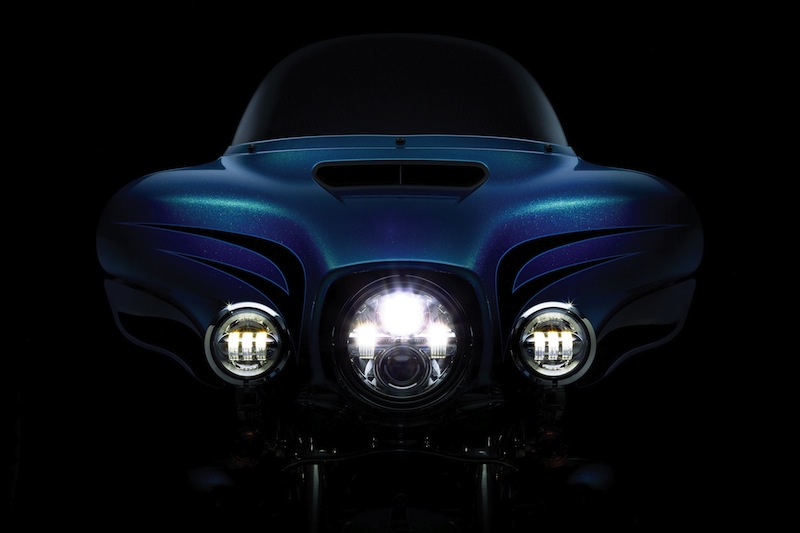 Infotainment: New color-screen Boom! Box infotainment systems feature the first original-equipment voice recognition, along with a touchscreen for music, GPS navigation, and phone-in motorcycling with quality audio. The new system also offers Bluetooth connectivity, text-to-speech technology, and support for intercom and CB communications in a single module. "Boom! Box" is the trademarked marketing name for Harley's new audio communications system.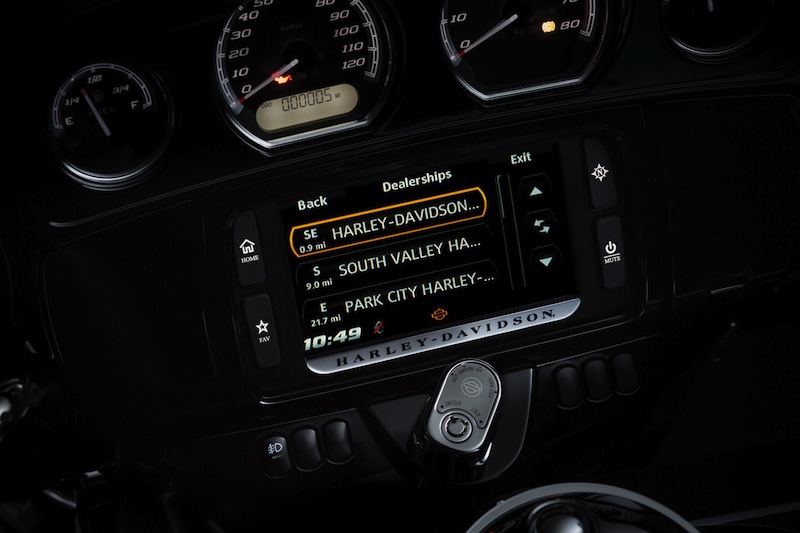 Feel: Aerodynamics and ergonomics come together to improve comfort, from the new Batwing fairing with split-stream venting, which reduces head buffeting by 20 percent, to an improved ride for passengers with wider and deeper seats and new back and arm rests.
Style: The form and the function of many components are improved including a larger tour-pak and saddlebags with convenient one-touch latches, sleeker fenders, lighter cast aluminum wheels and intuitive hand control switches.
More specifically here's what you can expect from motorcycles subject to Project RUSHMORE treatment:
New Batwing Fairing: The new fairing is the most obvious styling change for 2014, in part because its shape is so familiar to riders and non-riders alike. The new Batwing fairing represents an intense collaboration between stylists and engineers. The two teams worked together to create a shape that is a fresh yet recognizable interpretation of an iconic design, and also provides a significant reduction in head buffeting to the rider. The centered intake port for the splitstream vent transitions smoothly to the base of the windshield. Other changes to the fairing shape are more subtle including overage in front of the hand controls is slightly larger, and there is more overhang of the headlamp.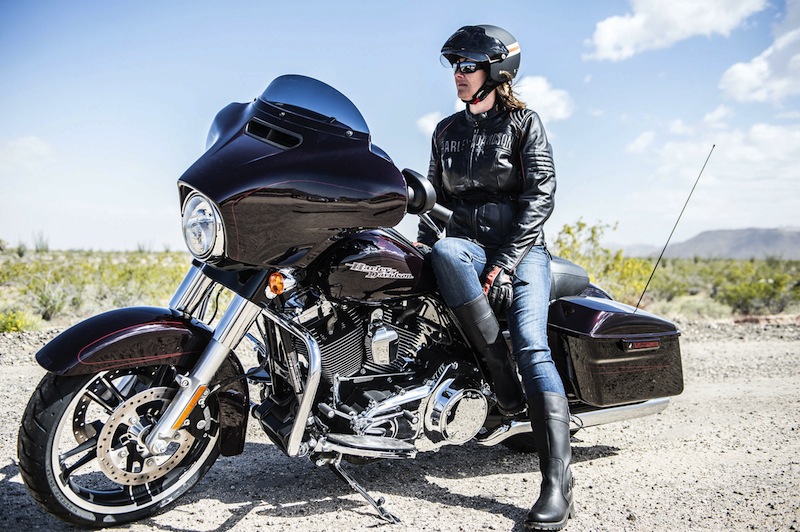 One-Touch Design: A functional element applied to the Tour-Pak, saddlebags, Jukebox, fairing lower storage compartments, and fuel tank door permits latching and unlatching with a simple press or pull of a finger.
New Tour-Pak: Its crisp new shape makes the new Tour-Pak appear more compact, but it actually offers 4 percent more capacity than the previous Tour-Pak design, and still holds two full-face helmets. New LED rear lighting is less intrusive within the rear corners of the Tour-Pak. The single One-Touch latch, and a new self-centering catch and retractable tether, makes it possible to open and close the Tour-Pak lid with one hand.
The Tour-Pak lock is now integrated into the latch. New premium hinges eliminate exposed rivets. The interior features a new liner material and a new map and tool kit pouch. The new Tour-Pak support structure looks cleaner and allows 1-inch adjustment of the Tour-Pak forward or back to reposition the passenger backrest.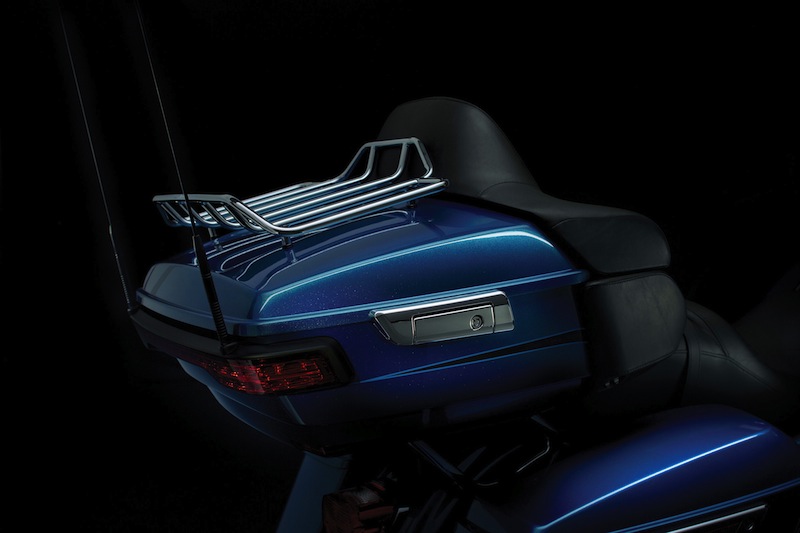 New Saddlebag Luggage: The new hard saddlebags have a sleeker shape that complements the Tour-Pak, and offer about 1 percent more capacity. New One-Touch latch handles are located between the seat and the saddlebag. A new hinge design makes it possible to open the lid with one hand.
The tubular saddlebag guards have been reshaped to increase passenger leg room while still providing
protection for the bags
. The new saddlebag supports are made of cast aluminum and are cleaner looking, lighter in weight, comprise fewer parts, and provide better bag alignment than the steel supports they replace. The new supports also accommodate easier installation of accessory docking kits for backrests and racks.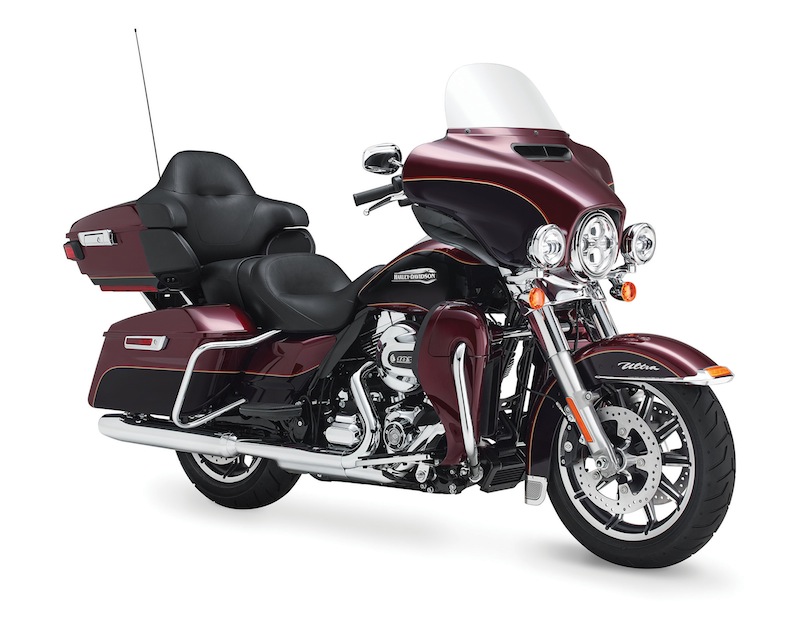 New Jukebox Compartment: The new Jukebox compartment on the fairing dash features a USB port for charging and connecting to mobile phones and other electronic devices. The Jukebox compartment features a cushioned bottom and water-resistant foam seal around the One-Touch door.
New Fairing Lowers Storage: The storage compartments in the lower fairings offer 37 percent more capacity than the previous design, and feature hinged doors with One-Touch latches. A new sliding latch for the fairing vent door is easier to use.
New Hand Controls: The shape, feel, position and function of all hand controls have been improved. Hand control buttons have a dished shape and angle that better fits the thumb or finger and provides positive engagement. Switch texture and keystroke was designed to provide better feel and feedback. The cruise control button is moved to the left hand control so the right hand no longer has to maintain the throttle and engage the control.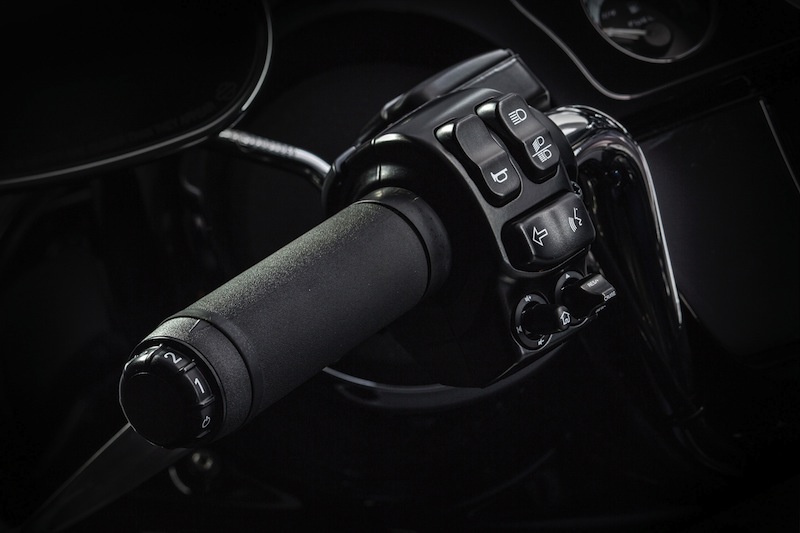 All infotainment functions are controlled through thumb-operated five-way joysticks located on the left and right hand control areas. A new trip switch trigger on the back of the left hand control cycles the LCD screen on the speedometer through odometer, trip, range to empty, clock and gear displays. Five open panel switches are prewired for installation of accessories.
New Gauges: Designed to be easier to read in all conditions, the new speedometer and tachometer on all fairing-equipped models feature a 10 percent larger viewing area and 68 percent wider numbers. Warning lights and the speedometer screen are also larger and more visible. The fuel and volt gauges are 28 percent larger. The oil pressure and ambient air temperature displays have been moved to the Boom! Box infotainment screen. The Ultra Limited gauges have an elevated and lighted "stadium" tic band around the perimeter. A larger number font is also featured on the Road King speedometer.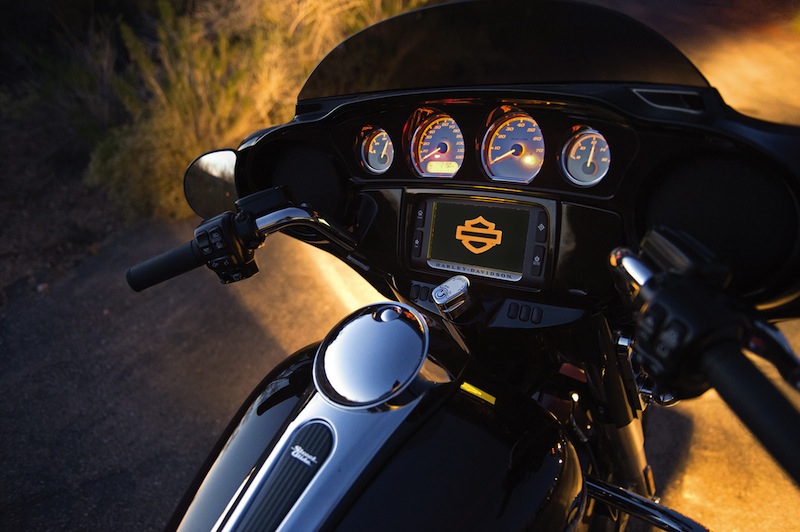 New Fenders: All 2014 Harley-Davidson Touring models feature a more contemporary front fender design. The steel fender has a streamlined shape, and the skirt has been cut higher to expose more of the front wheel. The fender is also tilted forward slightly to level it with the ground.
The rail and rubber bumper have been removed from the Electra Glide Ultra Classic and Ultra Limited models, and those models and the Road King have a sleeker tip light. At the rear, Electra Glide Ultra Classic and Ultra Limited models have the turn signals relocated to the Tour-Pak, and the rubber fender bumper has been eliminated. The rear fender rubber bumper and tip guard has also been removed from the Road King.
New Wheels
: All Touring models feature new Original Equipment cast aluminum wheels designed to be lighter and stiffer than previous wheel styles. The Street Glide and Street Glide Special models are equipped with the five-spoke Enforcer cast aluminum wheel and feature a new 19-inch diameter front wheel. These can viewed in the photo above of the Street Glide Special with the woman sitting on it. Other Touring models are fitted with the new 10-spoke Impeller cast aluminum wheels, with an 18-inch diameter front wheel. All models have a 16-inch diameter rear wheel.
Related Articles