Next week, fellow motorcycle journalist and author
Cris Sommer Simmons
and her husband, Pat Simmons (guitarist for the Doobie Brothers), are riding to Milwaukee on vintage Harley-Davidson motorcycles for
Harley-Davidson's 110th anniversary
celebration.
The two will leave Sturgis, S.D., on August 20 after having participated in the Sturgis Motorcycle Rally. Cris will be riding Effie, the name she affectionately gave to her 1915 Harley-Davidson twin motorcycle, the same bike she rode on the Cannonball Run.Pat will ride Vinnie, the name for his 1914 Harley-Davidson two-speed.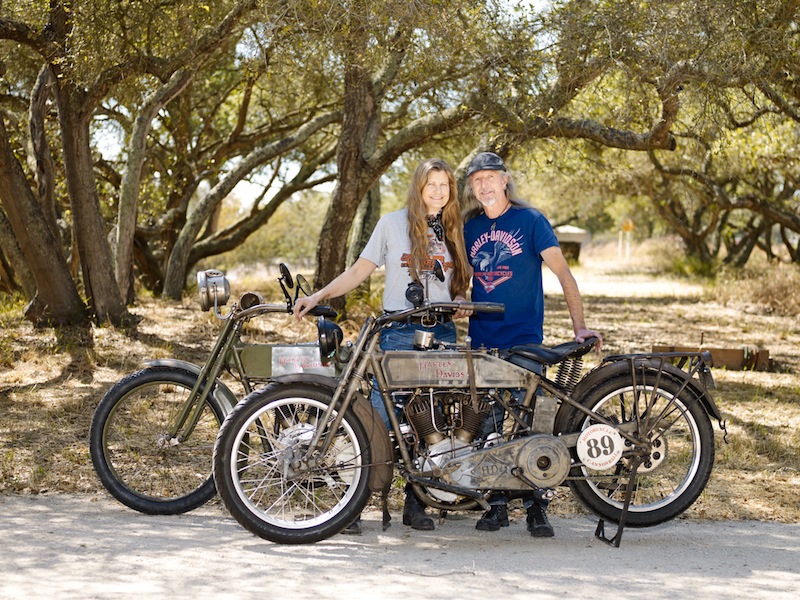 "Were not sure what to expect as we roll the 1,000 miles or so from Sturgis to Milwaukee, but were excited," said Pat. "Cris has already done this and more on Effie. She rode cross-country on the 3,330-mile motorcycle Cannonball Runin 2010. Ive never ridden this far on a motorcycle so old. It'll be a new experience for me. I know this will be a ride to remember."
Pat and Cris are using this ride as a celebration of their 24 years together. When they arrive in Milwaukee, Pat will perform with the Doobie Brothers at Harley's 110th anniversary celebration on August 29.
"The Doobies have a long history with Harley-Davidson. Besides riding, we have been performing at their events and biker parties for more than 40 years," explained Pat. "We love motorcycling and the people who ride. Its such an honor to be part of the Harley-Davidson family and the 110th anniversary celebration, and we plan to rock in overdrive that night!"