Want to share your motorcycle or product review?Click hereto find out how.
This Yamaha V Star 250 was my first bike. I bought it brand new expecting to ride it for several years, and I found it to be a great starter bike. It is lightweight and easy to handle. I did not feel intimidated learning on this bike. The ride was so smooth and easy (though I didnt realize this at the time), and I didnt know that a lot of the bumps on the road were even there. The only drawback was the light weight. Out on the highway, while meeting large trucks, the wind would actually push me to the shoulder of the road until I learned to stop letting it do that. I really loved this bike but never got a picture of it. I was too busy learning to ride to stop and take pictures.
My next bike is a 2005 Harley-Davidson Sportster 883C. I did so well on the Yamaha, Hubby thought it was time for me to move up. Then I spotted this one. It was yellow and matched my Chevy S10 almost perfectly. I had to have it, so I got it. I moved up too fast; the seat height was just too high for me to handle the increased weight. We lowered the seat a couple of inches by changing to shocks recommended by our Harley-Davidson parts department. Whether you are supposed to or not, we put the solo seat from Hubbys Nightster on it. The bike worked really well with the new seat, which dropped me down a couple more inches and slightly lowered the center of gravity.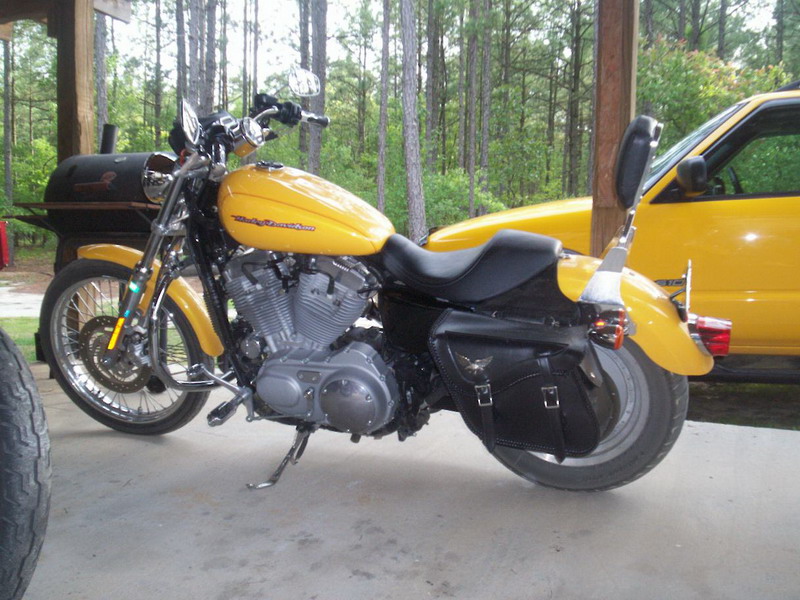 However, I just never have been able to get comfortable on the 883C. I really can't explain it. I still think if we took the riser off and put some mini ape-style handlebars on, I could handle it better and have more leverage. This bike has a really smooth ride, but the weight and longer length just kept giving me problems. The carburetor makes it hard to keep it running in cooler weather, too.
Bike No. 3 is a 2007 Harley-Davidson Sportster Nightster 1200. I wanted this one since Hubby bought it in the spring of 2007. After all, he was the inspiration for getting my own bike. The old-school look with all the newer technology on the Nightster really does the trick for me. It seems I did learn something from riding the other two
—
its all about throttle control. I was worried at first that the bigger motor would be hard for me to control, but the experience paid off. I hope the following is a lesson I never forget: "No matter what happens, dont panic or overreact. Stay calm."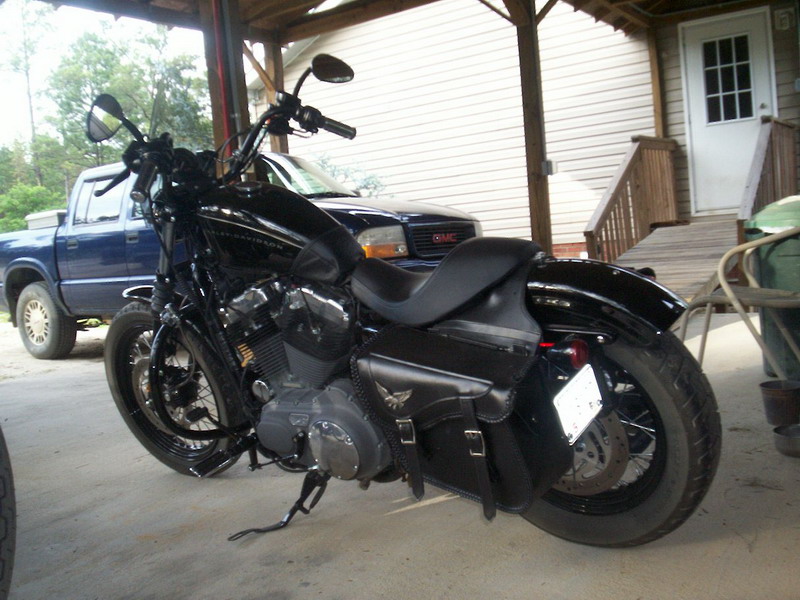 We put mini ape-style handlebars on this bike. Hubby had already added Screamin Eagle pipes and a Screamin Eagle Stage 1 air kit. We changed out the footpeg shifter and the handgrips, and added a sport windshield and saddlebags. This past Christmas, I got the new mirrors with the turn signals. I wanted to make sure every car would see me coming. The ride is not as smooth as the 883C, but the Nightster sure fits me better!
Want to share your motorcycle or product review?Click hereto find out how.
Related Articles: