Want to share your motorcycle or product review?Click hereto find out how.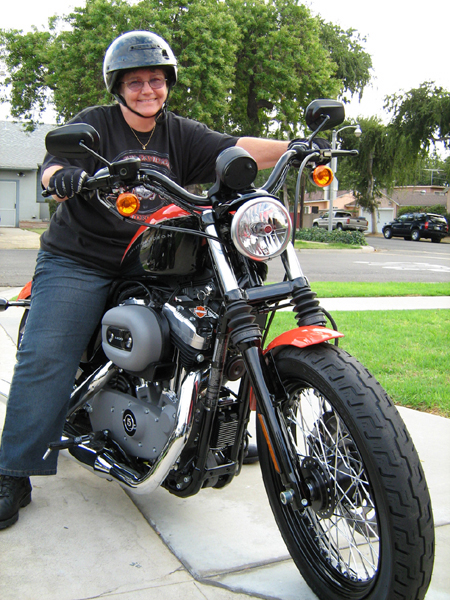 After taking the motorcycle safety training class, my girlfriend and I went out looking at bikes. Hondas, Suzukis, Yamahas—we saw lots of bikes. But she was steering me toward a Harley, so we went to the Harley dealer and I sat on a 2009 Nightster 1200. It just felt right. Im 5-foot-4, slightly overweight, and with my boots on, I can touch the ground just fine. I didnt want to buy a smaller bike, then have to sell it and buy a bigger bike, so I was determined to just start big.
With its low center of gravity, I find the Nightster very easy to handle. It turns easily and has good brakes and lots of power. My hands are kind of small, so I had to get used to the slightest turn on the throttle making it go—when I twisted my hand slightly to turn on the right turn signal, the bike would jump forward a little. But with practice, I have learned not to do that! I needed lots of practice riding on my Nightster because at 1200cc, its a powerful bike. It now has about 500 miles on it, and Im getting very comfortable on it. And I like the fact that I can keep up with my friends on their "big" bikes!
I love the look of my bike. It is gorgeous, and I get lots of attention while riding it. My bike looks so good that I dont even want to buy any custom parts for it. All I need is a little black rack on the back fender for carrying small stuff. I am so glad I bought this bike. I am turning into a real biker chick. Im always up for a ride.
Want to share your motorcycle or product review?Click hereto find out how.
Related Articles:
Motorcycle Reviews: 2008 Harley-Davidson Sportster Nightster
WRN Buyers Guide: Harley-Davidson Sportster Models