Want to share your motorcycle or product review?Click hereto find out how.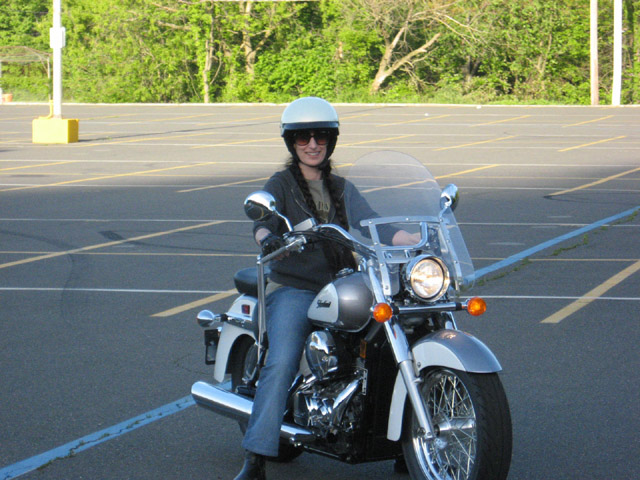 The Honda Shadow was my dream bike from the day I set eyes on it at the International Motorcycle Show in New York City. I had considered other manufacturers and styles, and had been practicing on a Honda Rebel before taking the MSF course, but once I sat on the Aero I was convinced. Not only did it fit my body type like a glove (Im 5-foot-7 and 125 pounds), but I loved the retro look and the low center of gravity. So even though my fiancé has two Harleys, he assured me that I had chosen the right bike for my interests. I wanted a cruiser for longer travel, something I could keep and ride indefinitely.
The seat height is one of the lowest, which I really like, and the forward controls are great for someone with long legslike me. However, it is the handling of the bike that is amazing. When fully gassed up, it weighs approximately 600 pounds. The Aero is so forgiving and so well-balanced that I can take the slow moves and almost come to a full stop without any problems, especially in curves and turns. It holds the road wonderfully. On the open road, it rides smoothly with no vibration, and the suspension is great when going over road imperfections and speed bumps.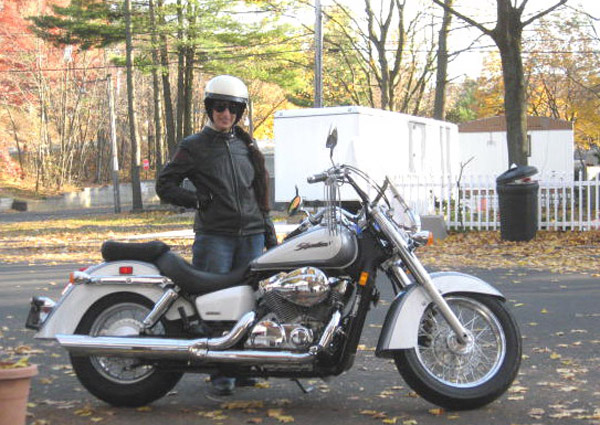 Though the bike is a cruiser and by no means a small bike, it is so agile and comfortable. The 750cc is plenty powerful, as this bike has a lot of spunk and speed for a cruiser. I just love this bike. It turned out to be a true dream bike.
I havent changed any of the stock parts, as everything was perfect for me. However, I did put on Cobra floorboards and Cobra engine guards. I added a fender rail (I dont intend to carry passengers, but maybe Ill put on saddlebags one day), a custom detachable windshield, a windshield bag and a Honda front-fender rail guard. I also found some chrome rose flower valve stem caps to add a feminine touch. I love the two-toned paint, which adds to the retro look. I cant rave enough about this bike. There isnt anything I dont like about it.
Want to share your motorcycle or product review?Click hereto find out how.
Related Articles:
Motorcycle Reviews: 2006 Honda Shadow Aero
Motorcycle Reviews: 2007 Honda Shadow Spirit C2