If youre looking for the amenities and handling of a big bike without a big price tag, then you owe it to yourself to check out the 2006 Honda Shadow Aero. Its retro-styling, extremely low seat height and big-bike handling make this 750cc motorcycle appealing for a wide range of riders. I ride a Honda Shadow Spirit 750 and have always been pleased with its performance and reliability, but I was intrigued by the additional features and handling of the Aero.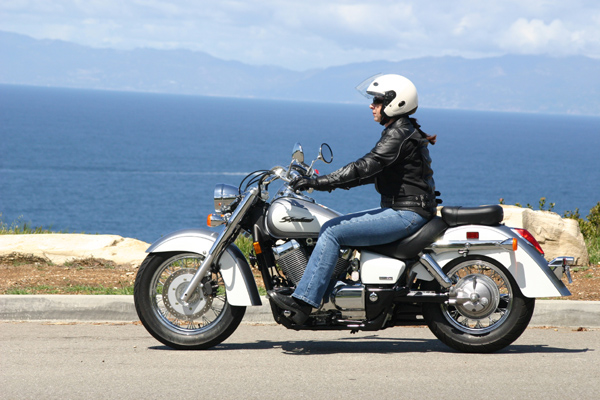 With an incredibly low seat height of 25.9 inches, fuel capacity of 3.7 gallons, and a dry weight of 519.4 pounds, the Aero appeals to a variety of riders from beginner to expert. Its easy to maneuver, extremely responsive and very comfortable.
This model is shaft driven which is low-maintenance, as opposed to a chain-driven model which requires lubing at frequent intervals. If you plan to do a lot of riding a shaft drive is definitely something to consider on any model. The single 34mm constant-velocity carburetion system provides crisp throttle response every time you crank the throttle making it a breeze for cruising along scenic country roads with the wind blowing past you. Power is delivered over a wide rpm range and theres plenty of torque at the start and mid-range, great for when youre downshifting to accelerate. The Aero shifts smoothly requiring very little clutch lever effort from the rider.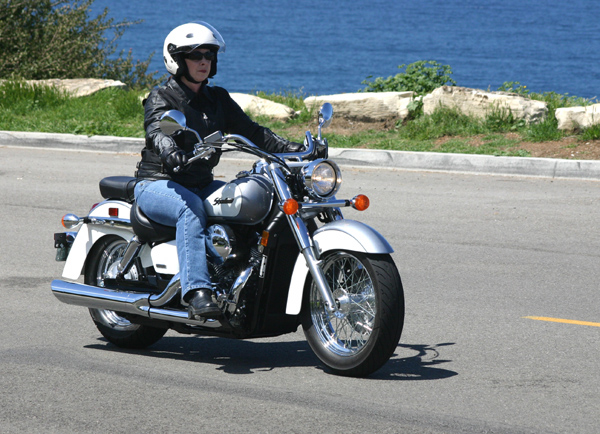 Its sturdy 41mm front fork delivers confident handling and maneuverability. While executing a U-turn on a narrow two-lane road so I could circle back and take in the breathtaking views of the Pacific Ocean on our test ride, I found the Aero had a decent radius. I was able to whip the bike around pretty easily.
A dual-shock rear suspension offers a five-position spring preload adjustment option so you can adjust the shocks when you have additional weight, like when youre packing for those long weekend getaways. For braking, the Aero uses a single 296mm disc with twin-piston calipers in the front, and a 180mm drum in the rear. The 25.9-inch seat height was perfect for me at 5 feet 7 inches allowing me to firmly plant my feet on the ground when coming to a stop.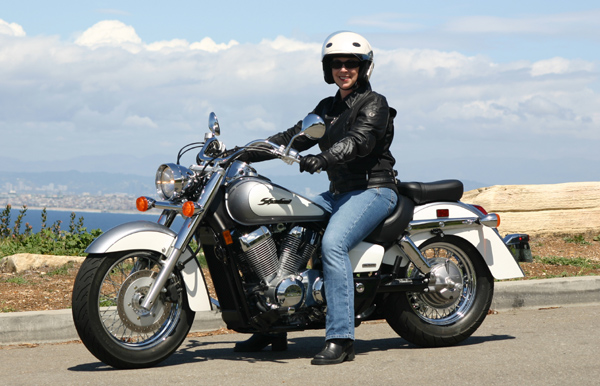 The Aero makes its footprint with a Bridgestone 120/90-17 tire in the front and 160/80-15 in the rear. Some appealing features of the Aero are the tank-mounted speedometer set in an attractive chrome instrument housing, and a striking classic-styled halogen headlight. Something I particularly liked about the Aero was the handlebar position. It had a low-and-wide feel, no uncomfortable stretch to the bars. Theyre placed right in front of you. Plus, there was little to no vibration thanks to the rubber-mounted cushioning.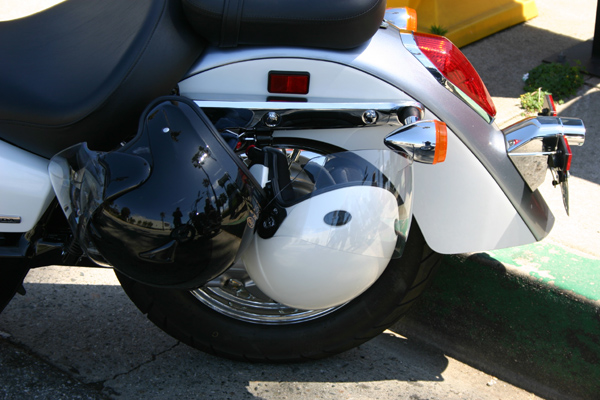 Heres an added benefit to buying a new Aero or any new Honda. Each new motorcycle purchase includes a one-year complimentary membership for an individual in the Honda Riders Club of America (HRCA). This exclusive membership includes discounts, travel benefits, roadside assistance, a one-year subscription to Honda Red Rider Magazine, access to the HRCA Clubhouse Web site, as well as access online to Honda Common Service Manual. There are a number of available accessories to outfit the Aero to suit your riding style and tastes. Visit Powersports.Honda.com.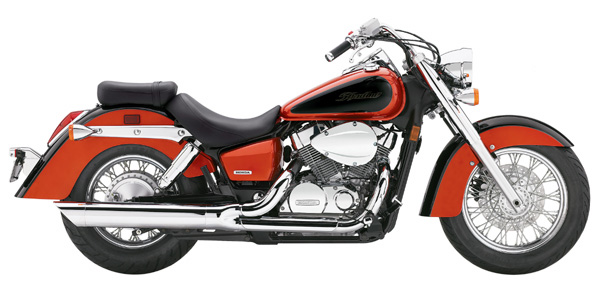 Specs at a Glance
Displacement: 745cc
Seat Height: 25.9 inches
Fuel Capacity: 3.7 gallons
Dry Weight: 519.4 pounds
Colors: Black, Candy Dark Red, Black/Candy Orange, Dark Brown/Black, and Metallic Silver/Pearl White
Price: $6,599 – $6,899
WRN Recommendation:
The Aero is suitable for confident beginners and expert riders alike. Plus, shorter riders will love it. Its that low to the ground and maneuverable. The retro-styling, and big-bike looks and performance will also appeal to advanced riders despite it being only 750cc. It glides easily in and out of turns, and the horsepower is there when you need it. The broad, low-slung scoop riders seat and detachable thick-cushioned pillion for the passenger provide enough comfort for a full day of riding. If youre looking for the most bang for your buck in a cruiser model, then you wont be disappointed with this Aero.
About the Author
Teri Conrad is a freelance writer and photographer based in Southern California. Some of her publishing credits include: Iron Horse, Ride Texas, Women Riders Now, Biker Ally, Friction Zone, Adventure Sports Outdoors, Portrait of Achievement, and Accelerate magazines. She can be reached at celebritywriter@cox.net.