With its painted flames and chopper-like profile, Hondas new for 2007 Shadow Spirit 750 C2 looks like one bad motorcycle, but it provides riders with a satisfying package of comfortable ergos, eye-catching looks and pleasing performance. Think of this new Spirit as more Casper the Ghost than Headless Horseman.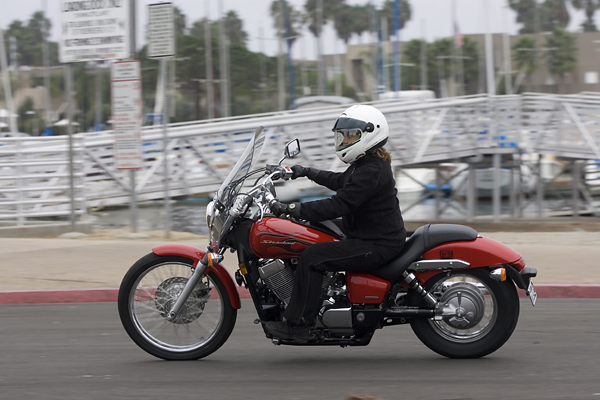 The new Shadow Spirit 750 C2 is an improvement of the existing Shadow Spirit 750 platform. Styling differences shout the loudest. The Spirit 750 C2 wears a larger 21-inch tire up front up from 18-inches of the 2006 model, giving the front end that custom, raked-out look (its the first Honda motorcycle ever to sport that size front tire). The seat has been slimmed down to a curvy, one-piece gunfighter-style.
A re-styled straight-cut rear fender adds a custom touch to the bikes backside, and an integrated taillight cleanly flows from the rear fenders bottom edge. The airbox sports a new, sexy teardrop shape, and newly designed handlebars reach comfortably back to the rider from their custom-looking upright risers. The aluminum radiator has disappeared from the bikes profile as it now sits tucked between the frames downtubes.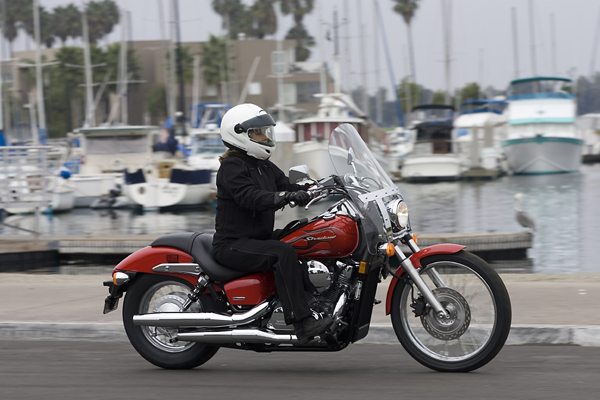 Some of the biggest news stems from switching to a nearly maintenance-free shaft drive from the current models chain drive, something Honda representatives say focus groups noted as a desirable upgrade. In addition, a new single backbone frame allows the wheelbase to stretch more than one inch longer than the current 750 Shadow Spirit while also lowering seat height nine-tenths of one inch, down to a very inseam-friendly 25.7 inches. However, in spite of these changes, the Spirit 750 C2 only gained 7.5 pounds from the current model tipping the scales at an easy-riding 503.5 pounds dry weight.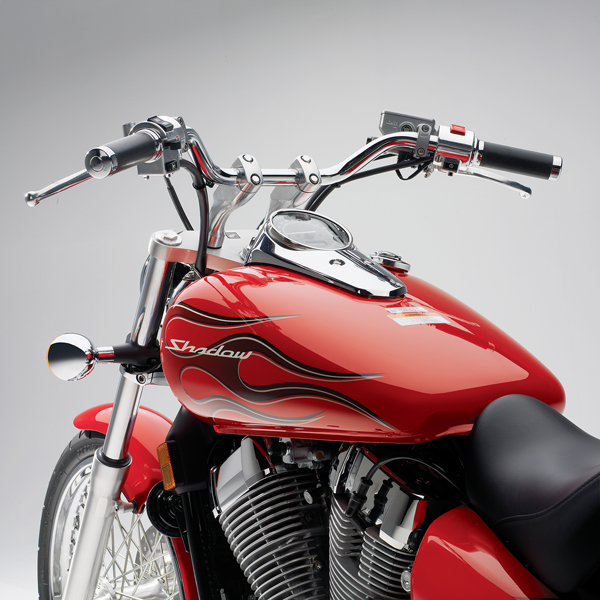 Out on the Highway
Putting the rubber to the road with this Spirit 750 C2 demonstrated the bike rides as good as it looks. Running the highways and some byways northeast of San Diego where I tested this bike, the Spirit 750 C2 felt like a larger displacement motorcycle. A surprising abundance of low-end torque from the 52-degree liquid-cooled V-Twin meant you rocketed to higher speeds quickly while also enjoying the benefits that extra-grunt provides when performing slower speed maneuvers.
Roll-on acceleration at highway speeds came when you called for it, the excellent throttle response courtesy of the single 34mm constant-velocity carburetor. The motorcycles suspension (41-mm front fork with 4.6 inches of travel and rear dual shocks with five-position spring preload adjustability and 3.5-inches of travel) soaked up bumps with a plush authority. Traveling the freeway at speeds over 70 mph produced no unduly annoying buzziness in the handlebars or footpegs.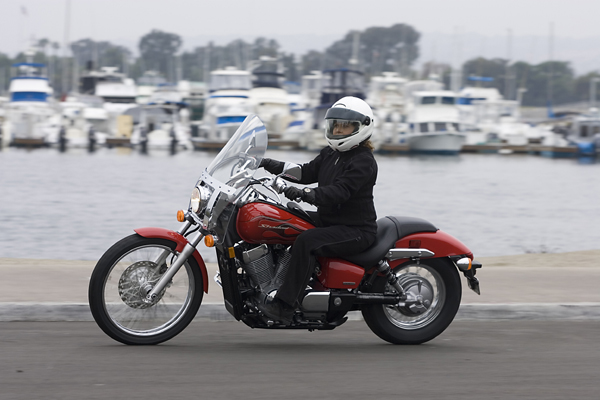 The easy handling of the 2006 Shadow Spirit 750 had always delighted, and the growth of that front tire to 21-inches on the 2007 C2 version generated curiosity. Would it fall into turns too easily? How would the handling be affected? The answer even better than before. The larger front tire (90/90-21 sized rubber) responded even more quickly to steering input, but neutrally it didnt fall or flop sideways and a rider didnt need to continually make adjustments to set a line. The rear tire is 160/80-15. Also, that usual jacking up on the rear suspension sometimes associated with a shaft drive was indiscernible.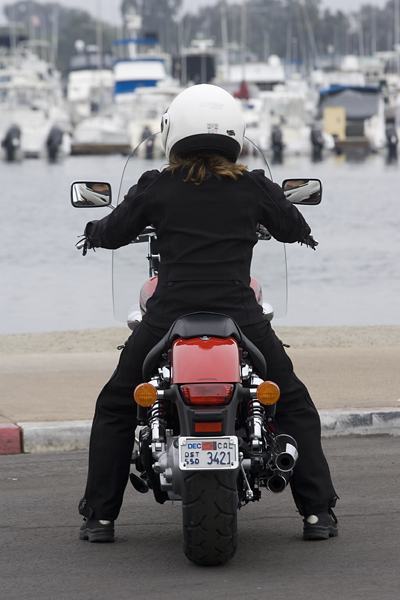 The Shadow Spirit 750 C2 has a user-friendly transmission as well. The gears of the wide-ratio five-speed snicked easily into place, aided by the excellent cable clutch that needed only the lightest of pulls to shift. Though neither the clutch nor the brake sported adjustable levers, my six-inch long hands werent sore from stretching to reach them.
The C2s stopping power comes courtesy of a single 296mm disk with twin-piston calipers up front and a drum brake in the rear. Not the fanciest stopping power available, but adequate and easy to modulate.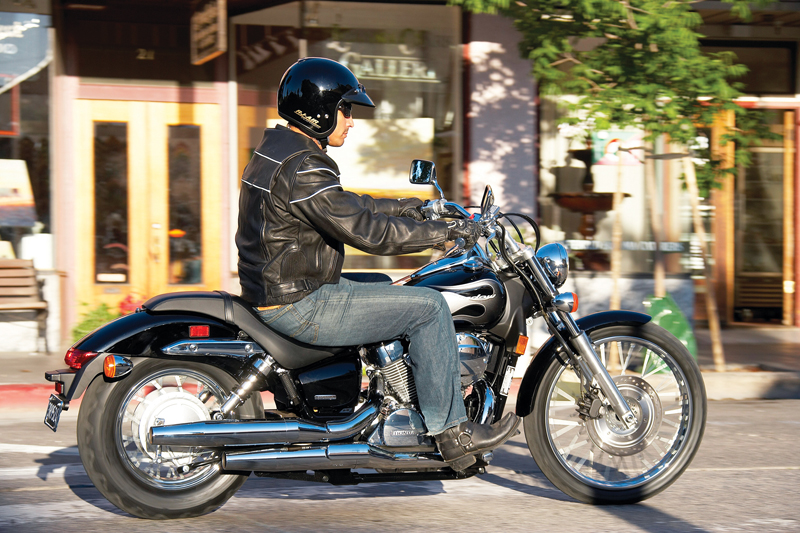 Another pleasant surprise comes from the bikes exhaust note. Low and mellow, very-cruiser like and plenty loud, it provided a great soundtrack while traveling the horse-farm and orchard-lined roads around Del Mar, California. Atop the 3.7-gallon gas tank sits a traditional cruiser style array of gauges in a chrome instrument housing.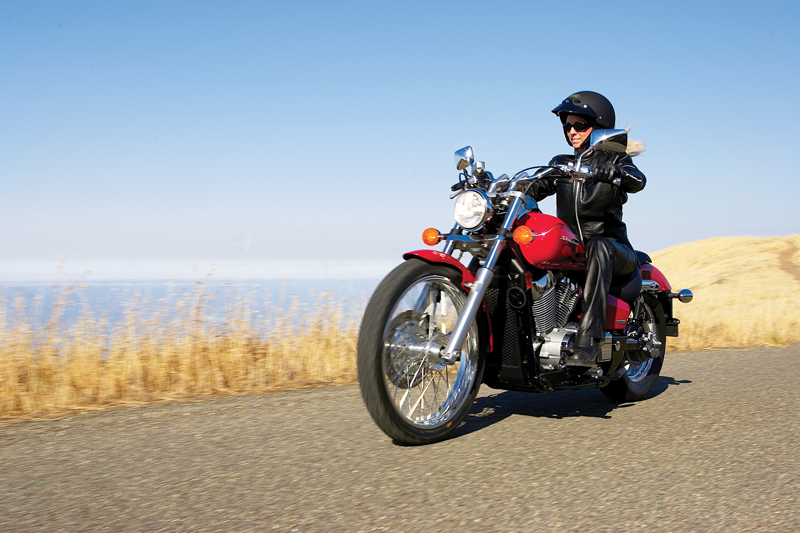 Specs at a Glance: 2007 Shadow Spirit 750 C2
Displacement: 745cc
Seat Height: 25.7 inches
Fuel Capacity: 3.7 gallons
Dry Weight: 503.5 pounds
Colors: Ultra Blue Metallic, Red/Flame, Black/Flame, Black
MSRP: $6,799 for single color; $7,099 for flamed paint job
WRN Recommendation
If youre looking for something new and different in the middleweight cruiser category, consider the C2. It works great around town, but can be turned into a long distance traveler with new accessories Honda will offer soon, including an audio system. If you were a fan of the original Spirit, youll find this one even better, getting so much more for the price.
Related Articles
READER REVIEW: Honda Shadow Spirit C2