In recognition of Black History Month, taking place in February each year, we shine the "headlight" on two pioneering female riders: one who broke barriers for women 70 years ago, and one today whos following in her "tire tracks."
In the 1930s and 40s a black female named Bessie Stringfield not only rode her own motorcycle—very uncommon for women in that day—but rode her bike across the United States eight times … solo.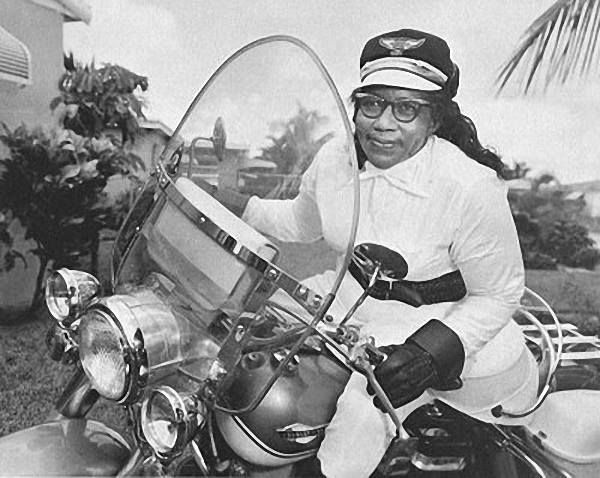 Bessie was a civilian motorcycle dispatcher for the U.S. Army and as a black woman encountered prejudice along the way. While a lot of details about Bessies life were lost in a fire, what we do know was enough to inspire a new generation of women riders to create their own motorcycle adventures.
One rider influenced by Bessies life is Sarah "SeCCRet" Moreau. The Los Angeles-based motorcyclist decided to use Bessies cross country accomplishments as a template for tracing her own two-wheeled travels. Just one year after earning her motorcycle endorsement at age 35, Sarah set out to ride from the Pacific to the Atlantic. And back. Solo. She journeyed back and forth eight more times for a total of nine, beating her heros amazing achievement.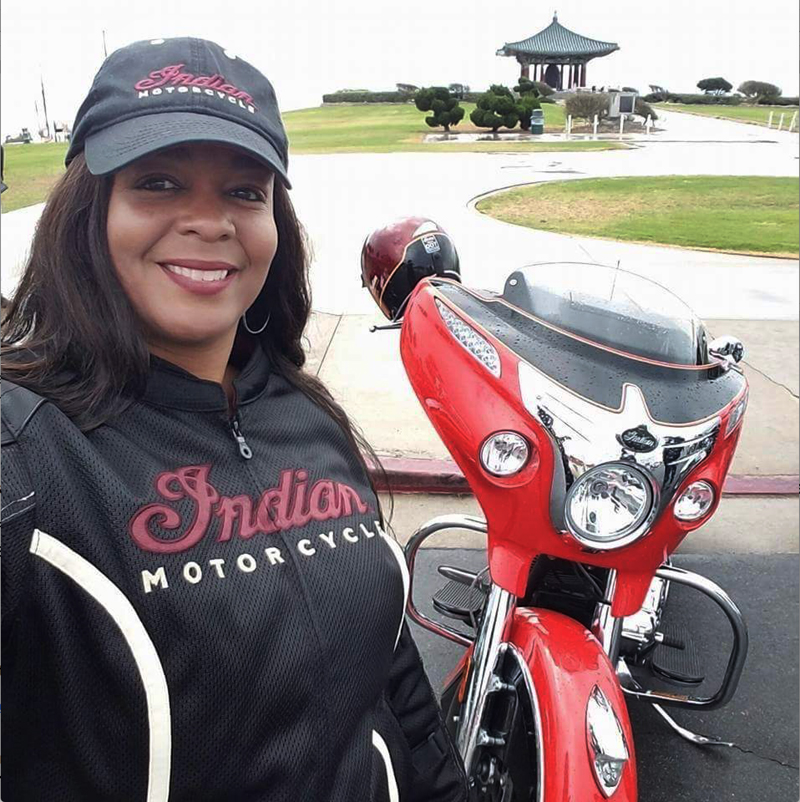 "Bessie is my road 'she-ro,'" says Sarah, now 46. "Bessie started riding at age 19 on a 1928 Indian Scout. I made the decision to bring attention to her accomplishments by breaking Bessie's personal record."
Sarah adds, "I didn't know if Bessie rode one way or round trip, so I decided to count my motorcycle rides round-trip."
Nine times across the U.S. on a motorcycle by herself in 10 years is quit a feat even today, let alone 70 years ago. We asked Sarah to share with us what motivates her to take these monumental motorcycle journeys with hopes of inspiring others to kickstart their own two-wheeled dreams.
WRN: Why did you start riding motorcycles?
SM: I've always been fascinated with motorcycles. I waited until my daughter was an adult before I took the course. She's an only child and we were close. I needed to be there for her. I had also finished my master's degree in negotiation and conflict management from California State University. Then, I needed something to do for me.
WRN: What prompted you to ride not once, but several times round trip across the United States?
SM: I decided to take a break from living inside four wall structures … the office, library, and the house. I wanted something that allowed me to escape and break free temporarily from the realities of school and work. I really liked the freedom so I decided to break Bessie's personal record.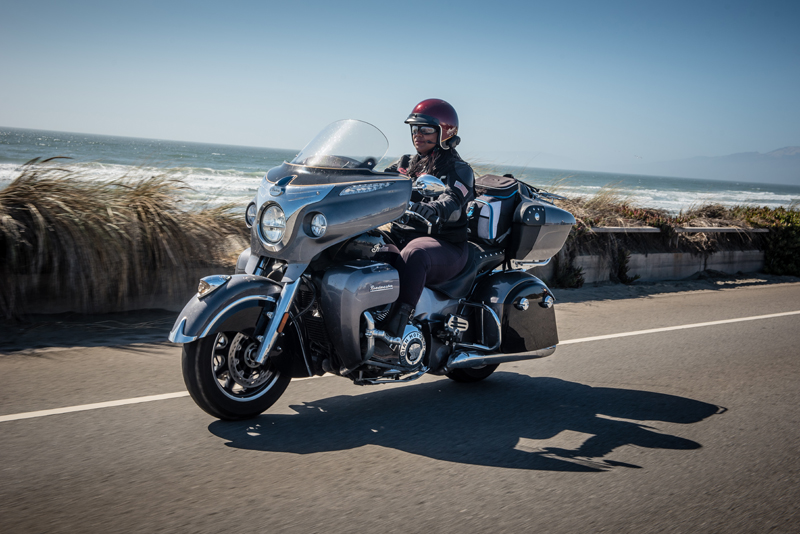 WRN: How do you pace your trips?
SM: I like to cover at least 1,000 miles within 24 hours when I travel cross country on the first day. I ride until I'm tired. I don't make plans in advance. I don't make hotel arrangements. My minimum quota of miles to ride after meeting my 1,000-mile goal is at least 700 miles per day unless I'm stopping to visit family and friends or sightseeing.
WRN: How do you choose your route?
SM: I decide based on my weather research and the time I have to travel. I choose different interstates and backroads. I always ride with a map because satellite signals for GPS are not always reliable. I've been all over the United States, from Interstate 90 at the top to Interstate 10 at the bottom. I have pictures from every trip. I think it's important to document the rides because with Bessie there's little information.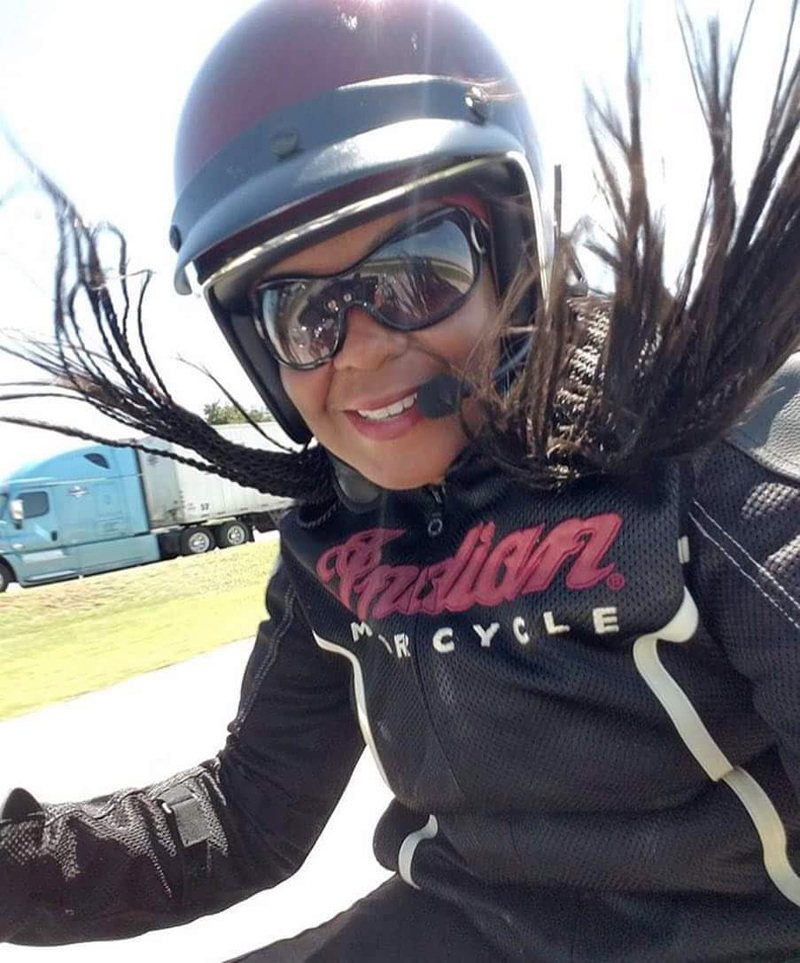 WRN: What do you think about on those long rides?
SM: I wish my helmet could record my thoughts. Motorcycle riding cross country allows me time to think about life and view situations from vastly different perspectives and develop creative solutions to approach issues from several angles. I think about how I can make my life simple so I can enjoy time on the open road with my motorcycle.
WRN: How do you keep costs down on these long distance trips?
SM: Iusually camp, spend the night with family and friends, and occasionally sleep at a hotel. I then eat enough food to fuel my body for the day.
Sometimes I actually sleep on my bike. I sit on the bike and lay up on the gas tank. I rest my head near the handlebars. In the summertime I usually don't need a blanket. I also sleep at trucker lounges. Truckers aren't usually in the lounge. You have it all to yourself. You can wake up and take a shower. It's an inexpensive way to travel.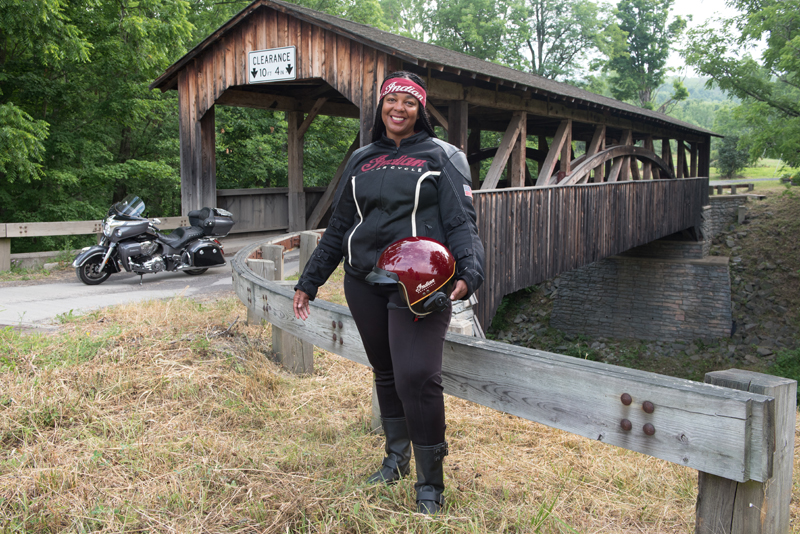 WRN:
How do you feel about traveling alone?
SM: Most of the time people are really friendly. They're in awe that there's a woman doing this. I haven't had any issues. Most people are really good people. I believe it depends on the energy you give off to people on how they treat you. You have to respect yourself. I do have a concealed weapon permit so I do "carry," but I've never been in a situation.
WRN:Whats your favorite destination so far? Where would go back again?
SM: Oregon is my favorite destination. I find peace within while riding my motorcycle on Interstate 84 surrounded by beautiful greenery, mountains, and the stunning view of Hood River.
WRN: What is one of your best motorcycle memories?
SM:
I will never forget riding a motorcycle across the United States with 100 women. I was a team leader for the the
Sisters' Centennial Motorcycle Ride
where werode from Brooklyn, New York, to San Francisco, California. The ride honored the 100-year anniversary of Adeline and Augusta Van Buren, sisters who made the same journey on their own motorcycles in 1916. It was during that ride I passed Bessie Stringfield's personal record.
WRN: You covered 13,351 miles on this monumental journey that started June 16, 2016 and ended July 24, 2016. Tell us about the route you took.
SM:
I rode a 2016 Indian Roadmaster starting in Los Angeles, California, to mile marker 0 in Key West, Florida. I left Key West and made a few stops along the way to Disney World in Orlando, Florida. Then I conquered the 318 curves in 11 miles of the
Tail of the Dragon
in Tennessee. Then onto Springfield, Massachusetts, for the Sisters Centennial Motorcycle Ride staff meeting. Then to to Brooklyn, New York, to meet the Van Buren family and to register motorcycle riders taking part in the Sisters Ride.
We then escorted those riders back to Springfield, Massachusetts, for the rides commencement before heading west across the country to the last stop, San Francisco, for the grand finale party honoring the Van Buren sisters own transcontinental motorcycle ride in 1916. From there I headed south to my home to Los Angeles.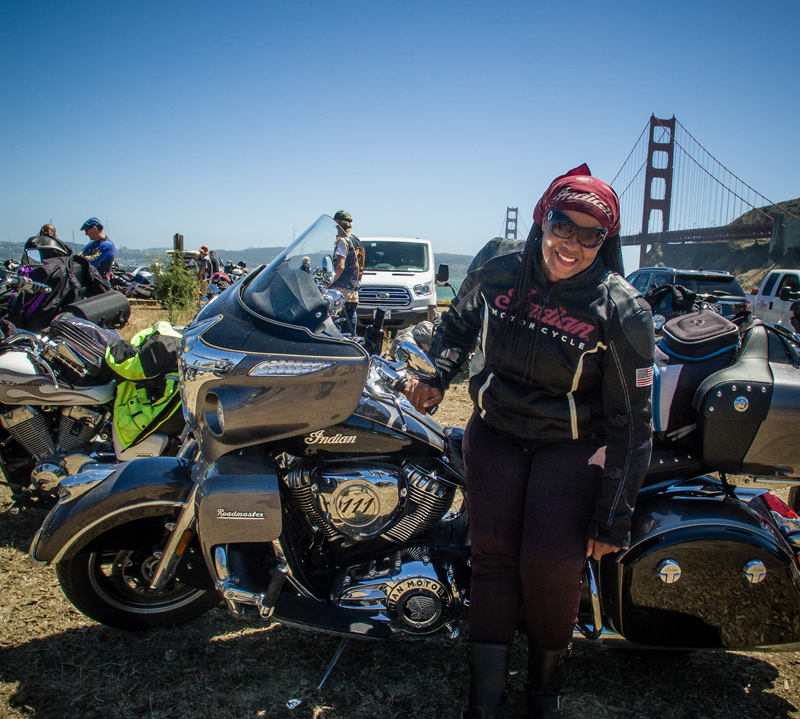 WRN:What do you think of the Indian Roadmaster that you rode on this trip?
SM:
It glides smoothly on the open highway and is very comfortable. There are floorboards for your feet, but I added highway pegs on the engine guards because I like to stretch my legs forward when I ride long distance. I was protected from the wind and rain by the fairing and adjustable windshield. And the lower, vented fairings sometimes served as an air conditioner allowing air to blow directly on my legs during hot days. For the cooler weather that I encountered, the heated seat and heated grips provided warmth.
A remote-control key fob made it easy to start the ignition and to lock the motorcycle after riding. The saddlebags and rear tour-pack storage provided plenty of room for a cross country motorcycle rider. My full-face helmet fit perfectly inside the tour pack and I still had room for other items. I really like the hidden and secure storage compartment located below the fairing to charge my cell phone and connect my iPod to the USB/Bluetooth device. The sound system was clear and crisp while riding at high speed.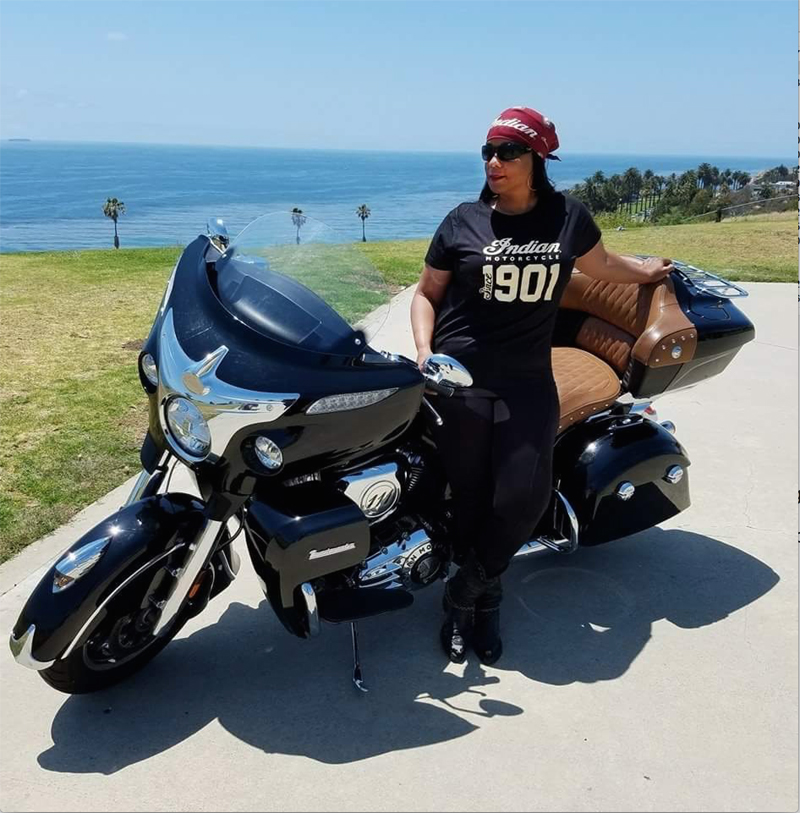 WRN:
What model of motorcycle do you own yourself?
SM: I ride a 2015 Harley-Davidson Street Glide currently. I don't own a car, by choice.
WRN: Will you ride across the country again?
SM:
I don't plan to stop cross country riding anytime soon. I'm going to continue to ride for as long as I can. I'm addicted. For now, I want to ride in other countries. I currently have my eyes set on
Cuba in March
.