More than 250 motorcycle riders are now making their way back to their homes across the U.S. and Canada after riding the final leg of a coast-to-coast motorcycle journey that ended in San Francisco Sunday, July 23.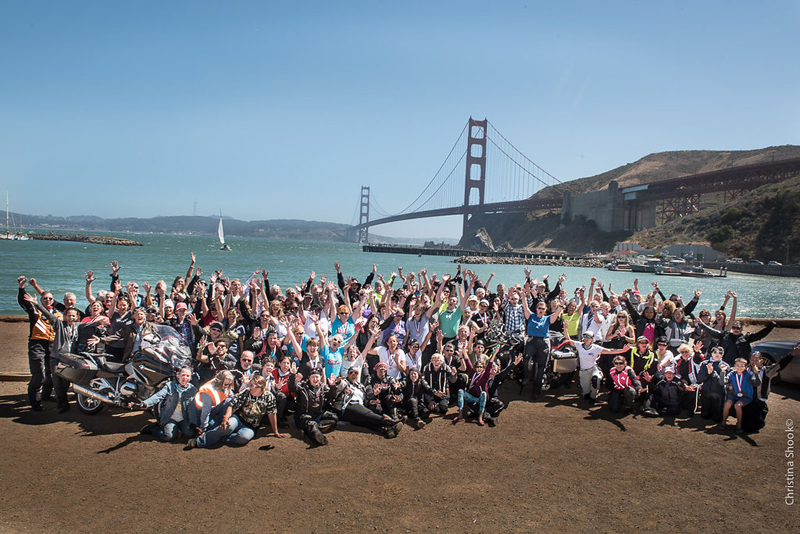 The Sisters' Centennial Motorcycle Ride Presented by BMW commenced on July 3 in Brooklyn, New York, with 68 riders, mostly women, who paid $5,725 for the fully guided and supported cross-country ride organized to commemorate another cross-country ride, the one that Adeline and Augusta Van Buren made on their motorcycles 100 years ago. That ride put the sisters in the history books as the first women to cross the U.S. on their own motorcycles.
This year's ride gave motorcyclists the opportunity be part of the Van Buren's legacy by retracing some of the sisters' route across 14 states alongside descendants of both Van Buren women, who rode motorcycles as well. Approximately 200 more motorcyclists joined the group at various spots along the way participating at different cost levels based on how much they wanted to be a part of the scheduled activities.
| | | |
| --- | --- | --- |
| This photo taken during the Van Buren's 1916 journey shows the condition of the some of the roads the sisters had to endure because of the lack of asphalt back then. | In contrast to the previous picture, today's roadways are paved and it was never far from the riders' minds the challenges the Van Buren sisters faced on their journey. (Photo by Sara Liberte/Indian Motorcycle) | We couldn't resist showing this photo of the riders in Springfield, Mass., on July 4th, riding over a rutted, potholed road that can make motorcycling even today a bit challenging! |
Mia Waller started the ride in Springfield, Massachusetts, the second launch spot on the east coast putting 4,304 miles on her 2012 Honda NC700X. "Participating in this ride was a long overdue opportunity to be part of something big—bigger than myself—and yet completely for me."
Mia hails from San Francisco so she literally rode all the way back to her hometown. "The ride was a chance to see so much of the U.S. in an up-close, personal way that only happens on two wheels."
| | |
| --- | --- |
| Many of the riders started out as strangers but bonded over shared meals and shared experiences. | Mia Waller rode her 2012 Honda NC700X coast to coast. She says, "Everyone had their own story to tell regarding signing on for such an adventure, but the one thing that tied us all together is we knew we could accomplish this. Thanks to Adeline and Augusta Van Buren we didnt need to prove ourselves worthy or capable to anyone but ourselves." |
The Sisters' Centennial Motorcycle Ride Presented by BMW was the vision of motorcycle journalist (past contributor to WRN) and entrepreneur Alisa Clickenger, who's been fulfilling dreams for herself ever since she left corporate America to ride a motorcycle for a living. Her story is partly told here in an article she wrote for WRN.
With the Sisters' Ride, Alisa created the opportunity for other women riders to fulfill their motorcycles dreams—one of them being to travel across the country on two wheels. And pulling off this monumental cross-country ride event—and convincing major motorcycle companies to come on board as sponsors—is a first for the women and motorcycling segment of the industry. Alisa tells WRN, "It occurred to me during the event that I had to stretch and grow in previously unimagined ways in order to be the person who could pull off this event. In many waysthe process of operating outside my comfort zone wasnt that much different than my journey on two wheels."
| | |
| --- | --- |
| Event organizer Alisa Clickenger leads the group of riders early on in the journey. "Following my heart and letting my passion and intuition guide me, I discovered I became more confident, stronger, and more transformed with every challenge, similar to the growth Ive achieved through riding motorcycles throughout the years," Alisa tells us. | Alisa, on a BMW F 800 GS and outfitted in BMW riding gear, poses in front an airplane statue at Westover Airforce Base. Coast-to-coast guided riders were treated to a private tour of the facility. |
Nearly $10,000 was raised from the proceeds going to two charities: Finale Salute, a national women's veterans organization that provides housing for homeless female veterans; and Women's Coalition of Motorcyclists, a group providing funding for scholarships aimed at increasing the number of female instructors and coaches for road, dirt, and track.
Alisa assembled a team of volunteers who helped her with the many aspects of the ride, some of whom are pictured in our photo gallery below. Additionally, the Sisters Ride was made possible with the support of these companies: BMW as presenting sponsor, Women's Motorcycle Tours, Indian Motorcycle, Allstate Insurance, sheEmoto, Olympia Moto Sports, Suzuki Cycles, Sena Technologies, Kuryakyn, Mustang Seats, Avon Motorcycle Tyres, National Cycle, iMobile App, Weego, Cycle Wipes, Black Girls Ride Magazine, Motorcycle and Powersports News, BMW ON Magazine, Riders of Kawasaki, LokSak, Motorcycle Shippers, Natures Bakery.
Enjoy the rest of the photos with captions that share more details and special moments from the Sisters' Centennial Motorcycle Ride. Click to view them larger in a slideshow.
| | |
| --- | --- |
| The Van Buren sisters are the first women to ride motorcycles to the top of 14,110-foot Pikes Peak in Colorado in 1916. Here the group does the same thing, motorcycling up the narrow winding road—albeit paved!—to recreate what the sisters did. Is that snow or remnants of a hailstorm we see in the photo? | This group photo at the summit of Pikes Peak in Colorado Springs shows more riders who joined at this milestone point in the journey. |
| | |
| --- | --- |
| Adeline Van Buren's grandson, Dan Ruderman, far right, atop Pikes Peak, rode the entire journey, along with his family (l-r) son Skyler, future daughter-in-law Anna, and daughter Sofié. "The ride filled me with pride and humility," he told WRN, "pride for the impact my grandmother's deeds have had on so many lives, and humility for the efforts and accomplishments of the women who made the ride this year." Dan maintains a website, VanBurenLegacy.com, to honor his relatives' achievement. (Photo by Sara Liberte/Indian Motorcycle) | Riders got to see the family resemblance when Sarah Van Buren and Sofié Ruderman, descendents of the Van Buren sisters, posed in front of photo of their great-great aunt (Sarah's), and great-great grandmother (Sofiés) at the Springfield Museum in Springfield, Mass. |
| | |
| --- | --- |
| Madella Shelton from Colfax, Calif., rode her Honda Reflex 250cc scooter (yes 250cc!) in the ride across the country. (Photo by Sara Liberte/Indian Motorcycle) | Holly Ralph, from Ancaster, Ontario, Canada, was the oldest motorcyclist at age 71, riding the entire journey on her Yamaha V Star 250. Yes, another 250 cc! "It was the most amazing event!" she tells WRN. "I made so many new friends whom I look forward to riding with in the future." She'll have logged nearly 10,000 miles by the time she returns home. |
| | |
| --- | --- |
| Women's motorcycling enthusiast Lisa Malachowsky drives the support vehicle, a BMW X501 supplied by BMW. Lisa was one of many volunteers who contributed to the event's success. (Photo by Sara Liberte) | Women and motorcycling leaders who assisted on all or parts of the ride included (l-r) Queena Deschene, a sponsored support rider from Suzuki Cycles; Gin Shear and Sue Slate from the Women's Motorcyclist Foundation; Erin Sills, land speed racer and owner of sheEmoto; Diane Ortiz, owner, Big Apple Motorcycle School; and organizer Alisa Clickenger.The women are getting ready, along with the others, to take a lap around the Mid-Ohio Sports Car Course, a perk of registration. |
| | |
| --- | --- |
| Ride organizer Alisa Clickenger holds the proclamation stating July 3 as Sisters' Centennial Motorcycle Anniversary Ride Day in Brookyn, N.Y., one of two proclamations given during the ride—the other was in Springfield, Mass.— and one of the many ways this event made its own history, in addition to garnering lots of national and regional media coverage along the way. | Indian Motorcycle, a sponsor of the ride, loaned Sarah Moreau aka SeCCRet, a 2016 Indian Roadmaster to complete her ninth cross-country motorcycle trip! The C-C-R in her nickname stands for cross country rider. (Photo by Sara Liberte/Indian Motorcycle) |
| | | |
| --- | --- | --- |
| One of the most inspirational riders was Monique Filips who started the ride from Springfield, Mass., piloting this Honda Shadow custom sidecar rig with her kids, Spencer (8) (the youngest person the ride) and Makayla (12) in tow, along with a trailer of gear all the way to San Francisco. (Photo by Sara Liberte/Indian Motorcycle) | Monique and her kids are from Los Angeles. Monique is the media coordinator for the L.A. Ride for Kids program. (Photo by Sara Liberte/Indian Motorcycle) | All the women on the tour reflect the motto of the ride, which is "Woman can if she will," a quote from Augusta Van Buren, but we think Monique embodies the motto best by sharing her passion for motorcycling with her young children. Alisa adds, "Monique is the future of motorcycling as far as I'm concerned." Indeed she is! (Photo by Sara Liberte/Indian Motorcycle) |
| | |
| --- | --- |
| Durga Krummer's pose on top of Pikes Peak sums up the feelings of her fellow riders. "We will have this ride forever, as we made history together," she shares with WRN. "Our tears are ones of joy, and our faces hurt from smiling so hard as we continue to cross borders and break records within our lives." | Durga Krummer from Alameda, Calif., rode her Kawasaki Vulcan Nomad 1600 4,362 miles coast to coast in this ride. |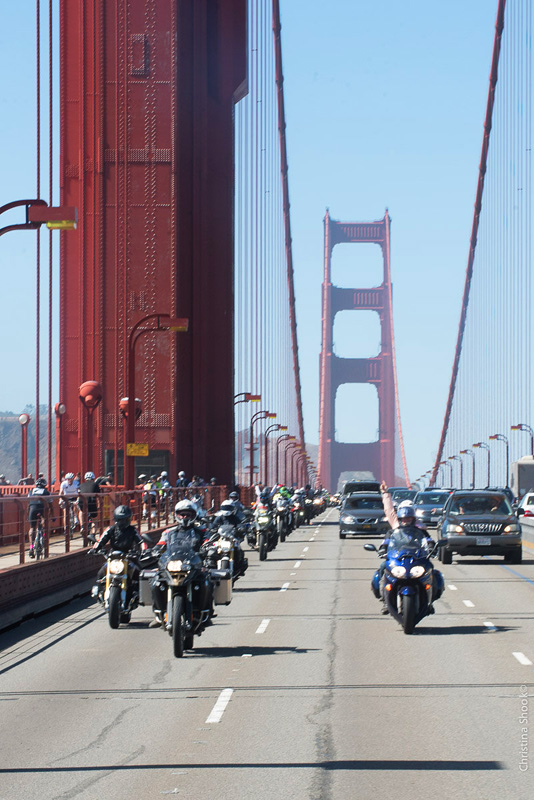 We asked Alisa her thoughts looking back on the event."Life is strung together by memorable moments, and for me one moment was riding up the West Side Highway in New York City. Thirty-five women started in Brooklyn, and the way they followed my lead and flowed through the city streets of New York in a column of perfection behind me was pure magic. The other moment was halfway across the Golden Gate Bridge—seeing more than 200 bikes in my rearview mirror, spanning the entire bridge, knowing that we did it' was the end cap on a near-perfect experience for me. Both moments brought me to tears knowing that so many women trusted me to show them the camaraderie of the sport and the magic of the road. Im not sure I can ever top either of those feelings, but I assure you I will try."
SistersMotorcycleRide.com
Related Articles
Van Buren Sisters' 1916 Cross-Country Motorcycle Ride for Women's Rights
BMW to Sponsor Sisters' Centennial Motorcycle Ride July 3-23
Women's Cross Country Ride Scheduled for July 2016
Riders Celebrate at International Women and Motorcycling Conference
WRN Calendar of Events