As a journalist observing and writing about the lifestyle side of motorcycling for the last 25 years, I've noticed a marked increase in both women and men, but particularly women, venturing out on their motorcycle to travel long distances without a riding partner.
This surge in solo travel began soon after the U.S. emerged from the last economic recession. Shortly thereafter my inbox started receiving emails from women sharing their stories of the solo trip on which they were about to embark. Since then books have been penned, Facebook pages have been created, non-profit causes have been funded, and lots of news articles written—by yours truly as well—chronicling some of the incredible journeys of female solo motorcycle adventurers thus inspiring others to do the same.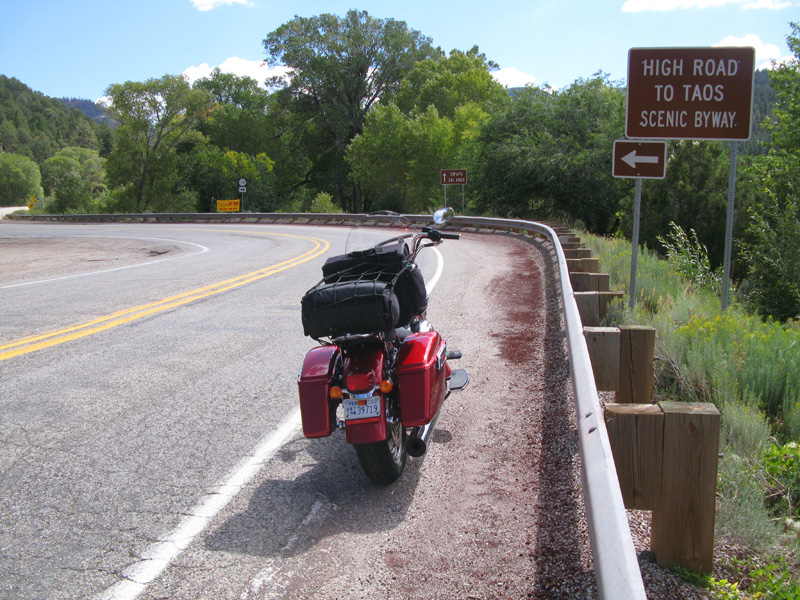 This has led to one of the most common questions I'm asked by women riders:
"Should I take that solo trip I've always dreamed about on my motorcycle?"
For those who appreciate solitude and one-on-one communion with the environment the rewards are tremendous. Aside from the fun and adventure of experiencing new places, the intrinsic rewards are perhaps the biggest draw to solo travel. Expectations of rediscovering of one's inner self, and the mastering of the unknown are what most riders seek.
A
female motorcycle-riding friend from Germany
traveling in the U.S. alone on her bike (after having spent the last four years riding around the world with a male riding friend) told me that she found Americans to be very fear based compared to the rest of the world. I believe there is an element of truth to that, but fear, that even I've experienced on some level, hasn't stopped me from doing what I want.
So the question on whether you should take that solo motorcycle trip is one I can't answer for you, but I can share what I do to mitigate risk for my personal safety while traveling on my motorcycle alone. My goal is to reduce the chances of finding myself in a compromising situation where my personal safety is at risk.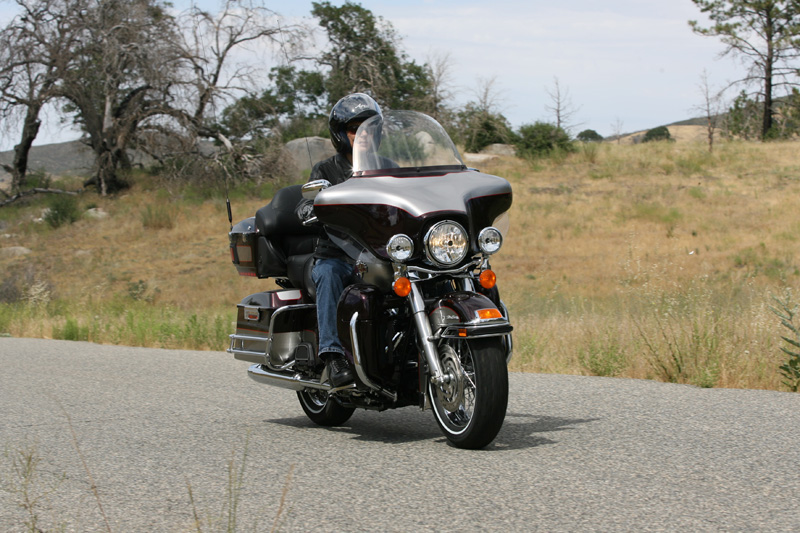 Here is my personal list of safety tips. Yours may be different. I'd love to hear from you if have something to add.
1. I leave my Calamity Jane mindset at home.
My Calamity Jane mentality, that live-free wanderer alter ego, doesnt join me on my solo trips. While I love to camp and escape the confines of necessity, I never camp when I'm alone. Unlike the infamous female pioneer who was known to lay her head down wherever her travels took her throughout the West, my body ends up in a bed in a room, not a bag in a tent.
My advice to solo riders on a budget or those desiring the "roughing it" experience, stay at a KOA or similar type campground that has a family oriented environment instead of at an isolated one like a forest service campground where there is no manager on site.
2. I stop pretending I want to be in a western movie on my solo trips.
This means I avoid lonely, desolate roads even if my motorcycle and I look amazing all alone against the incredible earthen backdrop. ("Wheres the movie camera hiding?") While I love back roads and believe like most riders do that those paths less traveled are where the neat discoveries happen I take extra caution to not get lost and to not end up on a secondary road where I'm likely the only vehicle for a long time. "Awww. That's no fun," you say. "You're a chicken, Genevieve!"
My response to that is if a secondary road looks interesting on the map and is an alternate route to my destination, I research it on the Internet to learn more about it because if theres anything worth experiencing likely another motorcycle rider has ventured down it and blogged about it. How far apart are the towns? How many miles between gas stations? What kind of scenic stops are there along the way? Is the solitude really worth the risk if the road has nothing to offer me?
3. My solitude mindset also stays at home.
I try to stop at rest stops and gas stations where there are other vehicles so should some shady characters drive in Im not alone. Sometimes this is difficult to plan and I may end up the only person at a rest stop, so if I have to stop where I'm the only vehicle, and others then pull in, I follow rule number 4.
4. I pack my Wonder Woman suit.
When its called for I don my Wonder Woman suit, meaning I wear my tough girl demeanor, respectfully smiling and conservatively engaging with others if need be. My body language shows I mean business. Remember, my goal is to mitigate the risk of finding myself in a compromising situation.
5. My invisible plane is always running.
Just as Wonder Woman can escape a sticky situation in her invisible aircraft, I always leave myself an out. So for example, if I'm sitting on a bench outside a convenience store drinking water and eating a snack I stay aware of what's going on around me, meaning I don't get lost in my emails or Facebook on my cell phone oblivious to my surroundings, even for a moment. If someone sits down next to me and engages me, I make sure a) there are others around at all times and b) I can safely get on my motorcycle to leave when I'm ready.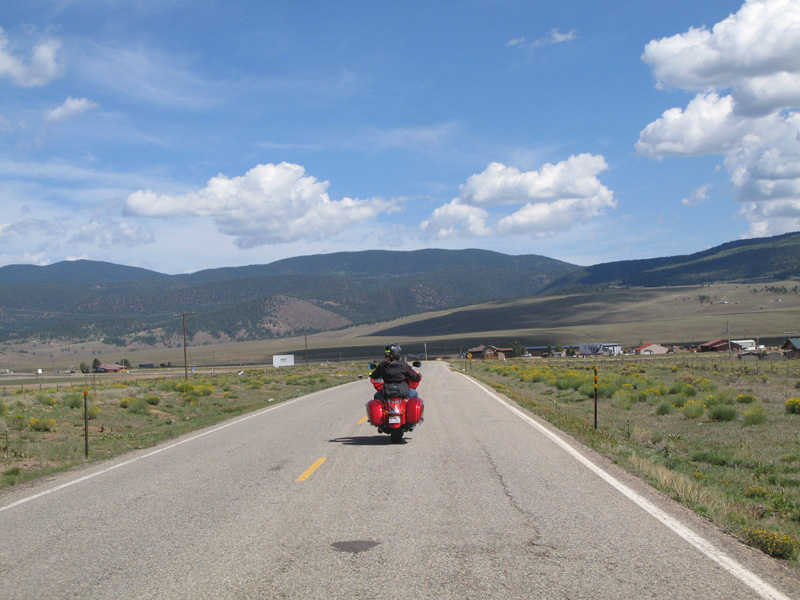 6. "Cute Genevieve" stays home.
I enjoy my Rock Revival jeans and cute shirts just like the rest of the girls, but when I'm riding my motorcycle in out of the way places, I downplay my femininity so as not to invite unwanted advances. For me, this even means the difference between wearing my fun bright red or pink lipstick versus just making it a Chapstick day. Get it?
7. I hold onto caution and dont throw it to the wind.
It's nice to say you want to "get away from it all" and park yourself in an out of the way location for the night, but a solo trip is not the time to be careless about your lodging plans. Map out your riding route such that you end up at a hotel or motel that's located in a safe part of town. How do you know if that part of town is safe? Ask people at gas stations, shops, etc., before venturing to an area with which you're unfamiliar. Most people are kind and helpful and will steer you in the right direction. My motto is not knowing is not an excuse.
8. Light is my friend.
I plan my day so I'm not pulling into a hotel lot after dark, this way I can see clearly the area where I plan to spend the night, and if I don't feel comfortable after checking in, I have the option to find another place while it's still light out.
9. I exercise my second amendment right.
The topic of whether to carry a weapon is a controversial one. Back in the day when I wasn't married to a motorcycle rider and took more trips by myself, I always carried a switchblade in my pocket and pepper spray in my purse. Say what you will, but it gave me a measure of comfort knowing I had some form of self defense at my disposal.
These days, I'm now a concealed carry weapons permit holder, and owner of a handgun. I haven't taken any solo motorcycle trips since owning the firearm and when I do, I'll likely take the gun with me, but I have driven my car alone across rural areas of Montana and Wyoming (the region where I live) with my Ruger 38 Special tucked under the driver's seat. I take it with me to my hotel room each night and I'm trained to use it for self defense if the situation arises, which it has never. It's worth mentioning that I live in Montana and having a concealed carry permit and/or owning a firearm is very common and most of my female friends have guns.
For a long time, I was of the belief that carrying a firearm "invites" bad things to happen, but in light of the world in which we live now, I see where it could save me if I had to use it. I'm knowledgable on concealed carry laws as I cross state lines and know how to use the weapon in a self defense situation. If we didn't live in the fallen world where there are bad people, I could solely rely on my rule #10.
10. Jesus is my passenger.
I pray to God each and every day and night to protect me on my travels, and I ask the Holy Spirit to guide my steps, my words, and my decisions. I also thank God for the many blessings He's bestowed upon me for that day.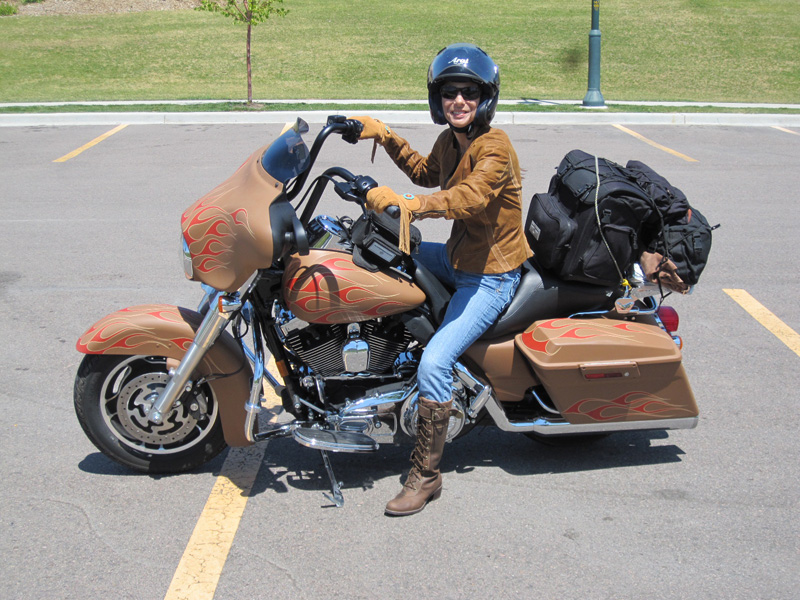 That's my short list. These actions have kept me safe for many miles of solo travel and I have never ended up in a compromising situation. Again this is my personal list.

I've started the conversation. Now I'd like to hear from you on what things you do to stay safe. Post your thoughts in the comments section below.
Related Articles
Solo Ride of America by a Polish Woman on a Bonneville
Solo Trip on a Motorcycle: Alone but Never Lonely
A New Riders First Overnight Solo Trip
Lois Pryce Tours Iran on a Motorcycle