Do you have a story to share? Please send it to us, but read these submission guidelines first.
Two years ago, I purchased a 2006 Harley-Davidson 1200 Sportsteras my first ever motorcycle. I passed the Rider's Edge course, even though my instructor knew I hated it. (I have performance anxiety. Phew!) I took 10 private lessons on my own bike with the same instructor until he told me I was good to go. By the end of that summer, I had ridden to Crater Lake, Oregon, and had zigzagged through most of the Eastern Sierra mountain passes. Ten days and 2,200 wondrous, wonderful miles alone.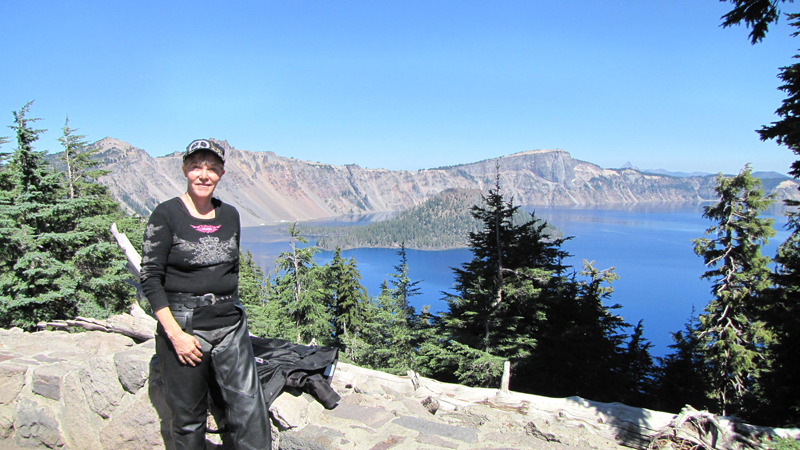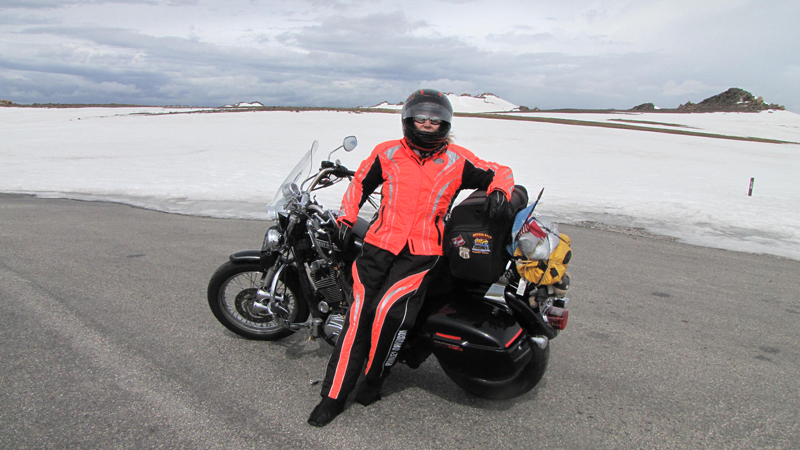 Since I was about to turn 66 years old that summer, I studied Route 66 much of the winter and was ready to go by the end of April. An inner voice worriedly asked, "How are you going to do this?" So I looked at the map and had this inner dialogue: "Reno to Carson City? Easy! I've done that a hundred times. Next is Minden? No sweat. Been there lots too. And guess what? The rest of the way is just the same! A piece of road, one mile at a time. I can do this!" That last sentence comes to mind frequently. It works!
I can do this!
I did it alone, but was never lonely. Ah, you know: all the hand greetings, the kind words, the practical exchanges, the sharing of maps and scenic routes, the hugs and the smiles. It was riding bliss!
Take a moment to be inspired. Share or Pin this inspirational quote.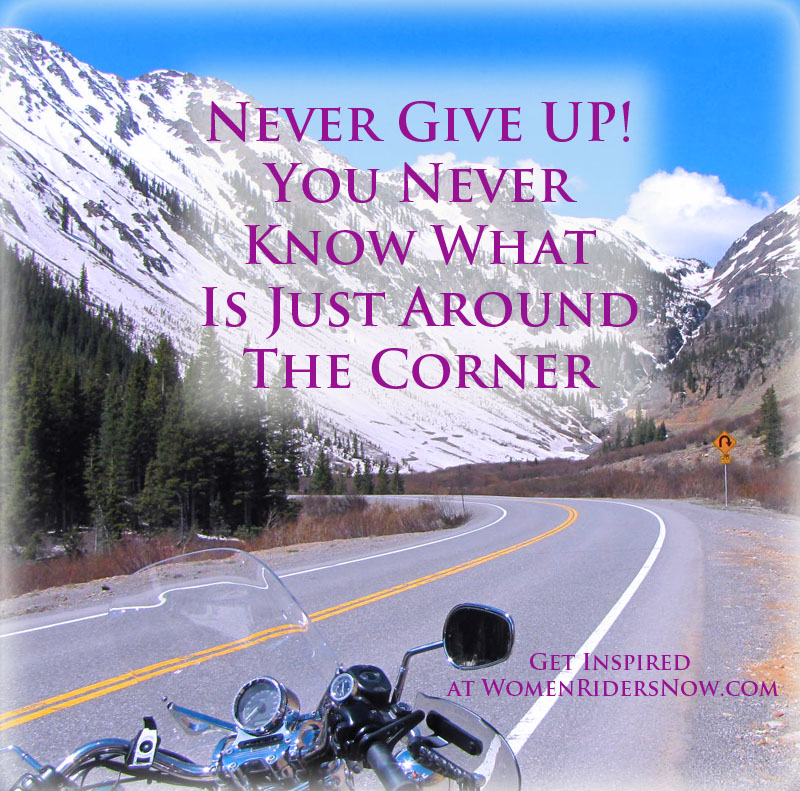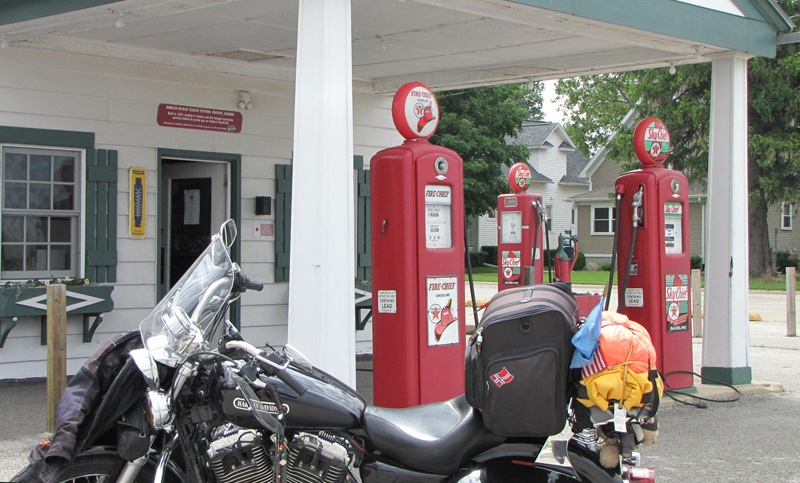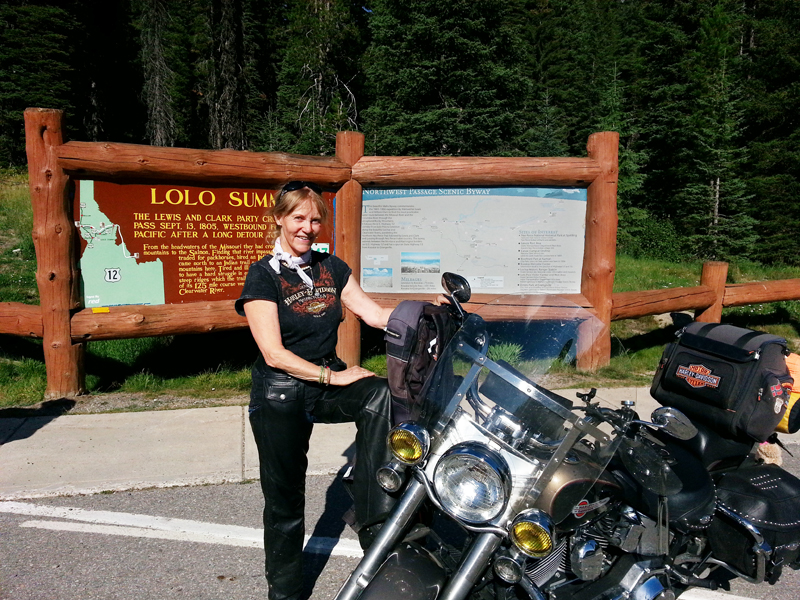 Due to tornados, I detoured north in Kansas and loved every flat, green, waving mile of it. I went from Chicago to "the cradle," Milwaukee, home of Harley-Davidson, where I was literally high from being where the adventure started 110 years ago. I had not even looked at the map to go home. I figured I would just turn around a little further north and go to Sturgis to get a t-shirt.
Visiting dealerships was like seeing family. Besides, I needed to get advice, service the bike and buy new tires. My only map was the Harley Owners Touring Handbook, which probably wasn't accurate or detailed for serious planning. But I didn't get "lost," since my agenda was to be right here, right now. Which I was!
Thanks to many good suggestions for scenic loops and byways, I got to enjoy places I would have never found otherwise.
The Black Hills particularly spoke to me. I stayed an extra day.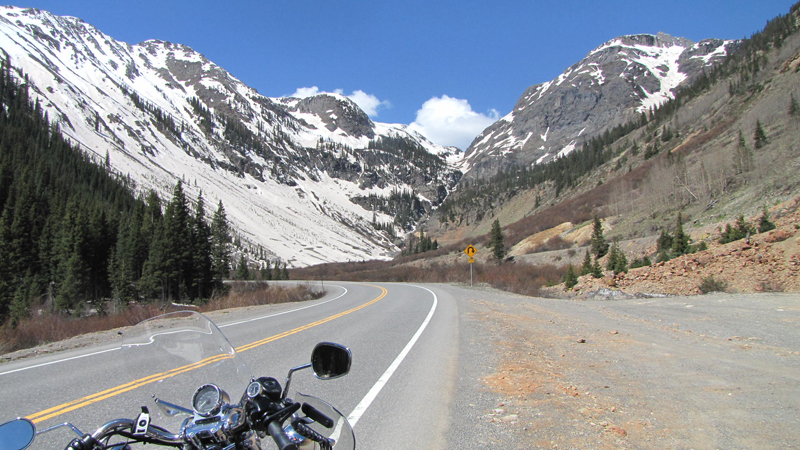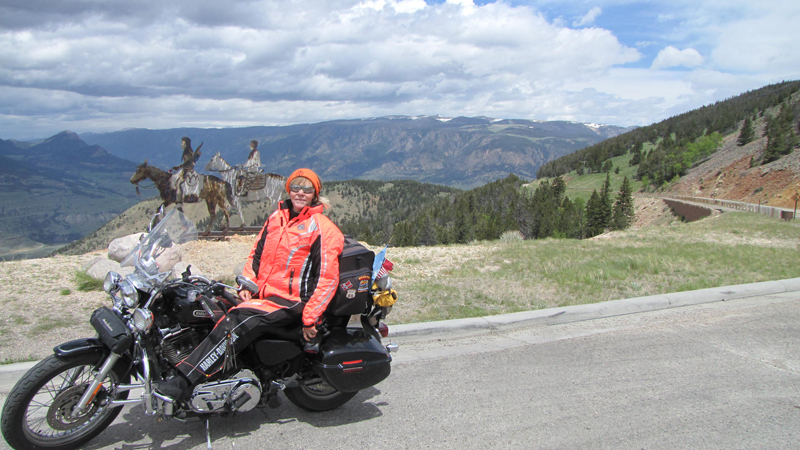 Highway 50 through Nevada was my last leg. I was worried about that part. It is called "The Loneliest Road in America." I did not like the word lonely. Sometimes reality exceeds expectations. Highway 50 was a blast, even though it was chilly and had few places to stop for gas or hot tea.
I ultimately put the kickstand down in Reno—8,000 miles in eight weeks.(Big smile, chest out.) Afterwards, I wondered if I needed a hip replacement, but my doctor said I had inflammation from all the sitting. My buddies were right—this was not a trip for a Sportster. But I did it anyway! It took me three weeks to heal and to buy a 2004 Harley-Davidson Heritage Softail. I put 12,000 miles on her before the season was over.
These rides were unbelievably comfortable and my visits to Olympic Forrest, Glacier Park, Yellowstone, California coast and Sequoia National Park left me with awe and gratitude.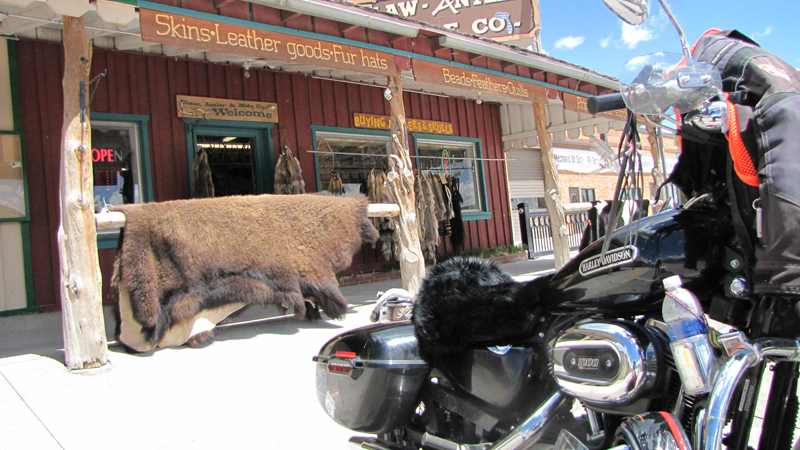 Do you have a story to share? Please send it to us, but read these submission guidelines first.
Related Articles
4 Bucket List Motorcycle Rides in the West
Reader Story: Defying the Odds on Old Route 66
Reader Story: Celebrating 50 Years with a Solo Trip