Wed love to hear your story! Find out how.

The summer of 2012 is long over and what a grand one it was! When planning our summer adventures with my husband, Jeff, and our 12-year-old daughter, Amy, we debated whether to journey to Laguna Seca, Calif., in July for the MotoGP weekend, or to go to Carson City, Nev., for the American Motorcyclist Association (AMA) International Women and Motorcycling Conference. Since the Women and Motorcycling event only happens every three years and this year it was being held relatively close to home, we opted for AMA event.
We planned to make our trip from Ventura, Calif., to Carson City an adventure. One of my motorcycle travel goals has been to cross all the major passes in the eastern Sierra Nevada mountain range. For those not familiar with this stunning range, it is home to Mount Whitney (the highest peak in the continental U.S.), the famous peaks of Yosemite National Park (including El Capitan and Half Dome), Mammoth Mountain, the Minarets, Mount Williamson, the list goes on and on. I achieved this goal and it was done on our journey to and from the AMA conference. The major eastern Sierra Nevada passes are Sherman, Tioga, Monitor, Ebbetts, Sonora, and Carson. Up until this summer, my motorcycle traveling adventures had only been over the first three passes.
On July 23, 2012, after a not-so-early start from Ventura and with a slight foggy chill in the morning air, but not a care in the world, we started our journey. "Princess Noire"—my black 1972 BMW R 75/5 "toaster tank" (so named because the fuel tank resembles a toaster)—was running happier than ever after a new clutch cable made shifting easier, and "Frau Bleu"—a blue 1973 BMW R 75/5 "toaster tank"—carrying tightly packed Jeff and Amy headed east on California State Hwy 126 to Interstate 5. We avoided the semi-truck infested interstate by taking a frontage road to Castaic Junction where we connected with the Lake Hughes County Hwy. There we were greeted by warm sunshine, comfortable riding and easy on and off throttle rolling through the long and short turns of the twisting country road. My heart yearns for this type of riding glory. We stopped for breakfast at the historic Rock Inn, which was built with rocks, rocks, and more rocks.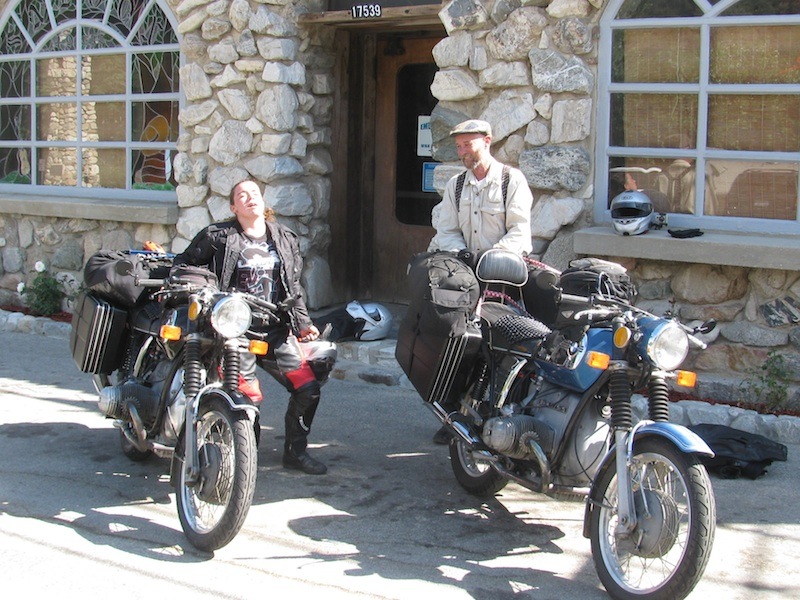 Our route then took us through the long straight side roads of the Mojave Desert to CA Hwy 14, then more hot and straight riding until Hwy 14 becomes US Hwy 395. Accompanying us on most of US Hwy 395 to the west were the majestic peaks of the incredible eastern Sierras. Most of the roads that pass from east to west over this wondrous range merge off US Hwy 395. The first pass I previously conquered was Sherman, and the ascent up to this pass is surreal—I felt like I was riding to moon. But that is another story for another time. We were on our way to our first nights destination, "Onion Valley." Out of Independence, Calif., the road to the valley is a very tight and twisty one through breathtaking scenery of rugged mountain peaks, thick forests, and waterfalls. Because its location is on a creek with proximity to the John Muir Wilderness, it is a popular hub for hikers, anglers, and photographers, and this day was no exception.
After our ride to the campground in rainy weather, we discovered there were no campsites at this cool and crowded 9,200-foot elevation campsite. We headed down the road to the Upper Grays Meadow Campground. The campground is nestled near a stream and the cool water was just what we needed for our tired and sweaty feet. We unloaded our bikes and our neighboring RV campers were impressed by the amount of gear we were able to compactly fit on two old motorcycles.
| | |
| --- | --- |
| After a long day on the road Jeff and Amy dig in at the Upper Grays campsite. | The wondrous beauty of Mosquito Lake in the Sierra Nevada mountain range. |
The next days journey was a long and tiring one, but absolutely spectacular. We left our campsite and headed north on US Hwy 395 until reaching CA Hwy 89, just barely inside the California state line and south of Topaz Lake, Nevada. The westerly descent onto 89 was a bit scary to me, as are most steep descending and twisting roads. I seem to be going either too fast or too slow, "too slow and not looking deep into the turn," Jeff tells me. After about 20 miles, we turned onto CA Hwy 4, the Ebbets Pass Hwy. The sign at the turn-off is one of a truck heading uphill on a 26 percent grade incline. This road jets up to the heart of the Sierra Nevada mountain range. It is a 61-mile stretch of glacially carved valleys, granite outcroppings, basalt columns, ancient volcanic peaks, deep river canyons, majestic stands of giant sequoia, open meadows, pristine alpine lakes, precarious drop-offs, swiftly flowing streams, cascades and rivers and some of the most dramatic and breathtaking views of the Sierra Nevada range. I was so humbled by the beauty and the challenge of riding safely on this extremely tight winding road. When we finally got to our overnight destination, Mosquito Lake, I wished I had been able to spend more time enjoying the scenery than concentrating on riding.
Once we set up camp, we were back on the bikes headed to the Alpine Lake Resort area to get some food. The resort is across from Alpine Lake, one of the larger lakes in the region and is home to a quaint mountain restaurant, a small county store and log cabins for overnight guests. We had a fun-filled evening with a campfire, night time Frisbee, and smores. Who could ask for more?
The next morning we were up early and ready to venture to Lake Tahoe on CA Hwy 49, the "California Gold" highway. There are so many towns along this route, as well as so much history from the California gold explosion. A Hwy 49 trip could be a few days, weeks, or months. It was truly unbelievable to ride the roads that twist and turn through some of the most beautiful and historic country you would ever want to see, but the 49er Route is also another story for another time.
We traveled on Hwy 49 until we reached Truckee, Nev., Incline Village—on the north shore Lake Tahoe. This was our home base for commuting to the AMA Conference. The conference was awesome, informative and inspiring—I met and spoke with so many interesting riders.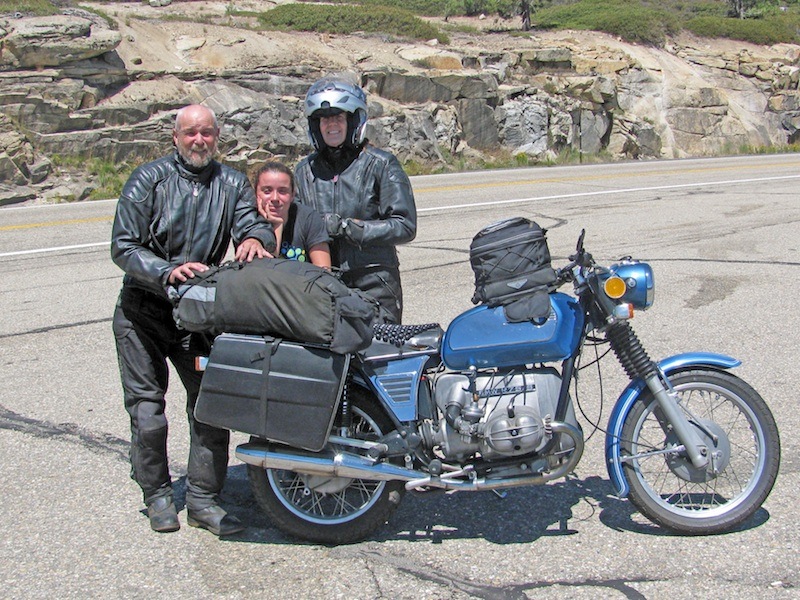 After the conference, we started our trip home leaving South Lake Tahoe via CA Hwy 89 to Hwy 88 which crosses the Carson Pass. The pass rises 8,575 feet and is named after Kit Carson, a well-known American frontiersman and guide. This historic pass was a point on the Carson Trail during the California Gold Rush. The pass offers views of ragged volcanic skylines, cool green meadows, mountain lakes, rock valleys and distant mountain peaks. We stopped for breakfast at the Kirkwood Inn and Saloon, a log cabin style restaurant that felt like we had traveled back in time to the 1800s.
We traveled on Hwy 88 until it intersected Hwy 49. We headed south on Hwy 49 until we reached the town of Sonora, Calf.. From Sonora we turned onto CA Hwy 108 which crosses the Sonora Pass. It had been a long day in the saddle and I was tired and hungry. We stopped at the campground across from the Dardanelle Resort only to find that there were no empty campsites. There are several campgrounds along Hwy 108, but I didn't want to travel further to find them also full. There was one cabin available at the resort and we took it. It was a rustic two-room cabin with a double bed and a bathroom. The Dardanelle Resort was established in 1923 at the convergence of Eagle Creek and the Middle Fork of the Stanislaus River. There is a restaurant, bar, and a general store. We had a family style buffet dinner at the restaurant after Jeff and I enjoyed some adult beverages in the bar.
The next morning our journey took us over the Sonora Pass. The pass elevation, at 9,624 feet, is the second-highest highway pass in the Sierra Nevada mountain rage; it is only 321 feet lower than Tioga Pass. Some of the peaks over the pass rise as high as 12,000 feet. I was completely awestruck by the grandeur of this pass. Riding east, the pass descends at a steep 26 percent grade on some of the tightest twisting road I have ever ridden. Our approximately 25 miles of riding on this narrow road that carved around majestic peaks, pristine mountain lakes and through rolling alpine meadows was an absolute delight. The smiles on our faces were constant. We descended the grade until we reached US Hwy 395 where we headed south to home sweet home.
| | |
| --- | --- |
| Kathy and Amy take a break on the Sonora Pass. | Sonora Pass, a daunting climb and descent for any rider. |
It was a glorious week-long adventure: fantastic mountain vistas, exploring historic California, being with family and doing what we love—riding motorcycles and meeting people who also love to ride. For me and motorcycling, there are so many roads to travel, so much to see and so much to learn.
We'd love to hear your story! Find out how.
Related Articles
2012 AMA Women and Motorcycling Conference