Kymco now has bragging rights for making the most powerful scooter available, the MyRoad 700i, introduced for model year 2014, and I had a chance to test ride it. The question I kept asking myself though, was why would someone purchase this big and powerful of a scooter when he or she could just get a mid-size motorcycle instead. Well, after I had a chance to ride the beast—and that is what it is in the scooter world—I now understand why.
I was imagining all the road trips I could take…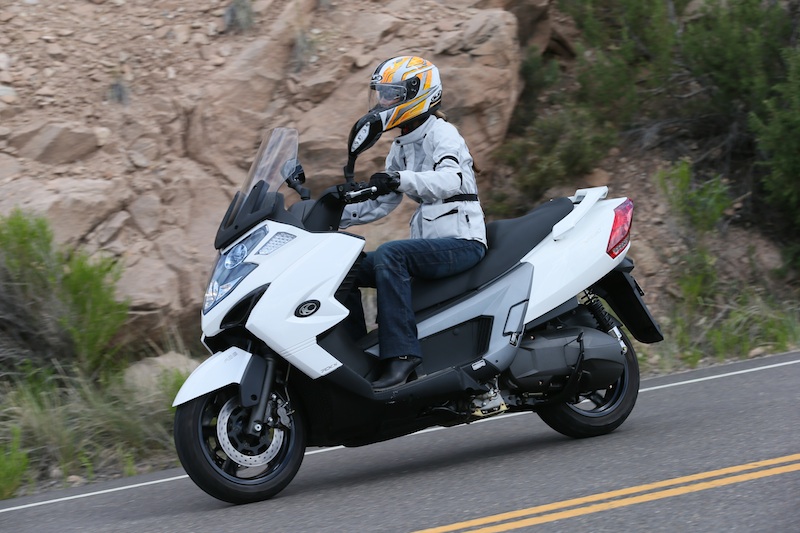 There's something refreshing about riding a scooter of this size. After spending a too-short half a day in the saddle of the large MyRoad 700i, I concluded that you can simply enjoy the ride at a different mental level than with a motorcycle. You don't have to be "aware" of what gear you are in and think about when to upshift or downshift leaving more mental energy to enjoy the scenery. I was imagining all of the road trips I could take with this comfortable touring scooter.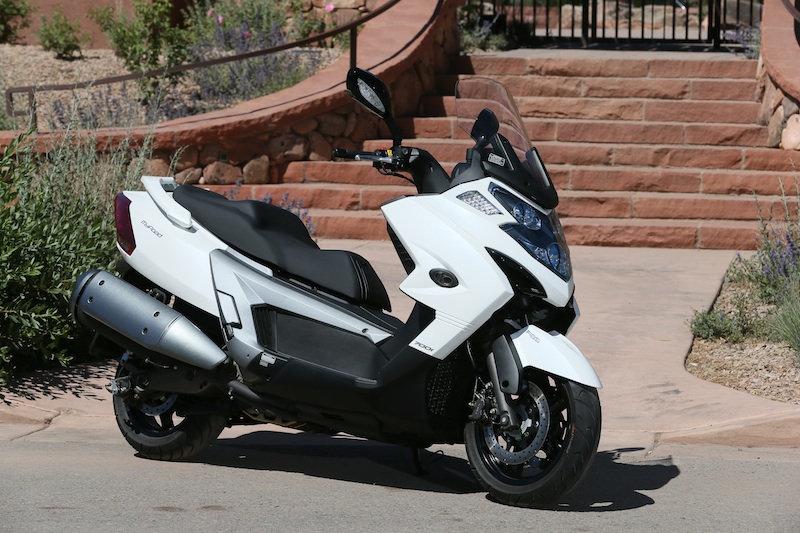 The first thing I noticed sitting on the MyRoad was its "bigness"—the big seat, the big dash, the wide handlebars and the wide profile—it was much bigger than what you would envision with a scooter. Plus, I'm used to riding larger motorcycles, as I own a Harley-Davidson Street Glide. The MyRoad is in the same class as the BMW C 650 GT, the Suzuki Burgman and the Honda Silver Wing, three leading maxi-scooters. But, even those scooters feel small in comparison to the MyRoad.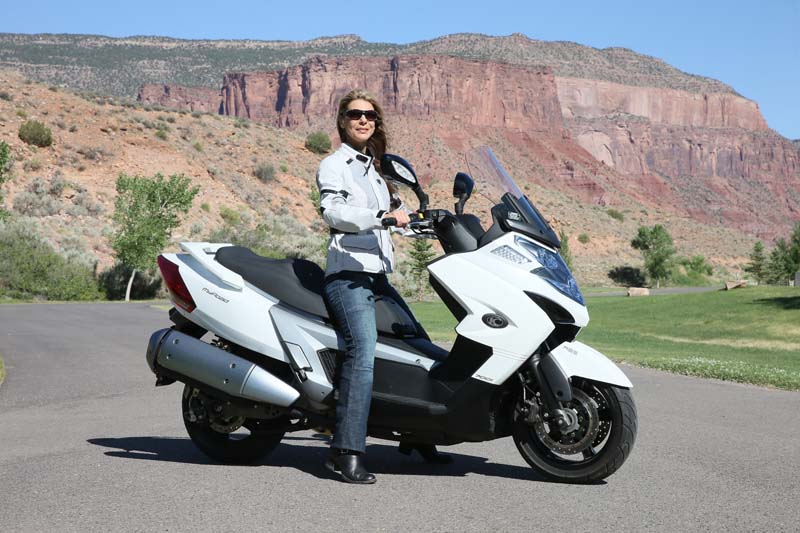 I will admit I had to be very steady when stopping the MyRoad because I could only reach my tiptoes to the ground when seated. This made me skittish when riding on heavy gravel, which I had to do a few times while test riding the MyRoad in the Rocky Mountains of Colorado. Plus, the weight distribution felt clumsy; I had to be very careful maneuvering it around in a parking lot so as not to lean it too much in one direction should it dump beneath me.
Assessing its center of gravity, I'd say it's moderate; definitely not as low as some of the big Harley-Davidson's I'm used to riding, like my own Street Glide. That said, a 30-inch seat height and higher is standard for maxi-scooters.
| | |
| --- | --- |
| Big can be a good thing when you want to spread out in comfort. I had plenty of room on the MyRoad to move my legs along the spacious floorboards. | A rider and passenger each have enough room on the MyRoad. Large grab rails are available for the passenger. Add on an aftermarket top case for storage (available from Kymco's website) and the MyRoad becomes an ideal vehicle for weekend getaways. |
I spent a lot of words discussing size because for most women riders, and some men, seat height and the physical size of a scooter (or motorcycle) is the most important consideration. Can my feet reach the ground? How large is the scooter in relation to my size? Will I be able to handle it in all situations by myself?
Did you know KYMCO stands for Kwang Yang Motor Co
.

Like all scooters, its simplicity makes the MyRoad an ideal commuter vehicle, but the MyRoad goes beyond that standard role, filling a void for single riders and couples that want to tour and travel on two wheels but are only into scooters. The MyRoad comfortably fits two people.
| | |
| --- | --- |
| A generously sized 50-liter lighted storage compartment is located under the seat, where my full-face helmet easily fits. I'm told two can fit, but I didn't try. There's also a 12-volt accessory outlet here. | Two small storage compartments are located in the rider's cockpit, one to the left of the handlebars and one between the legs. Fuel tank access is to the right of the handlebars. |
The fuel tank capacity is four gallons. Due to my short test ride, I did not get to figure out miles per gallon. But, a four-gallon fuel tank ensures you can ride at least 150 miles or more before a fill-up.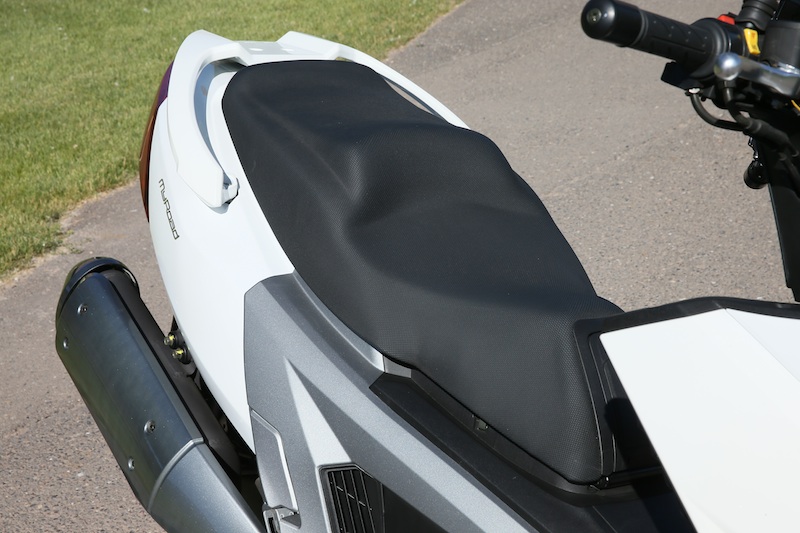 The MyRoad is powered by a 699cc DOHC 4-stroke parallel twin 8-valve engine with electronic fuel injection. The transmission is CVT (continuously variable transmission), which means there is no shifting of gears. Kymco's specs indicate the engine pumps out 59 horsepower at 7250 rpm with a torque rating of 46 foot pounds at 5500 rpm. So what does that mean in real world riding?
Well, the first thing I noticed when twisting the throttle was how much torque was available to me at the bottom end, that is, when it is moved from a stopped position. Using smaller scooters that have a lot of lag at first roll-on of the throttle as my reference point, I was impressed with how much oomph the MyRoad has coming off the line. It has to compete with other vehicles on the highway, and the MyRoad has no problem keeping up. It can easily travel at speeds exceeding 75 mph. Even passing a car, power and torque is available to you, more than you'd expect for a scooter.
Coming to a stop is smooth and strong. Four-piston radial mounted calipers up front clamp down on a two 280mm discs, while in back a two-piston caliper slows the 240 disc there. Suspension consists of 41mm telescopic forks and two coil-type shocks in the rear with electronic damping (three ride settings adjustable on the fly), which do an adequate job of keeping the ride smooth depending on your riding conditions.
| | |
| --- | --- |
| The MyRoad is equipped with a Bosch Anti-lock Braking System (ABS). I didn't have a chance to try it out, but it's nice to know that ABS is there should you need it. | Two rear spring-loaded shocks with electronic damping keep the ride smooth and allow you adjust on the fly. You can also see the center stand that comes stock, in addition to the side-stand. |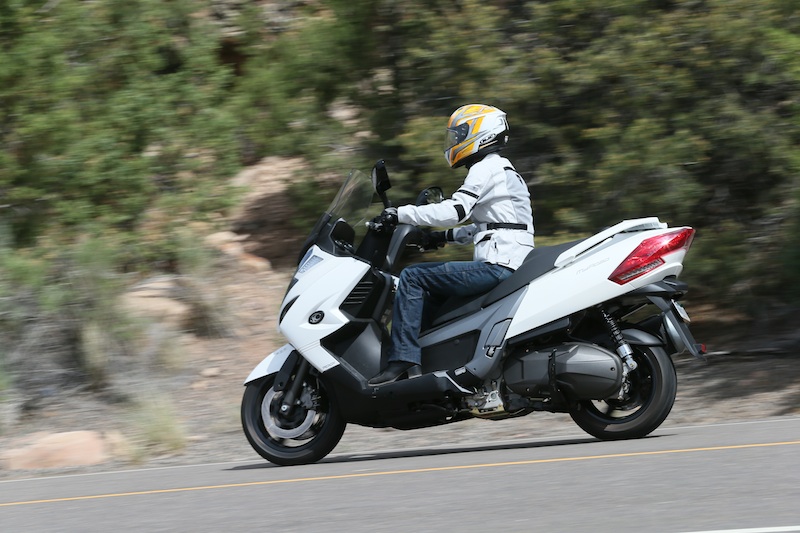 | | |
| --- | --- |
| Dual beam quartz halogen headlights are visually commanding on the front of the MyRoad. | I like the turn signal that's integrated into the back of the mirror, a custom touch that's great for safety and being seen. |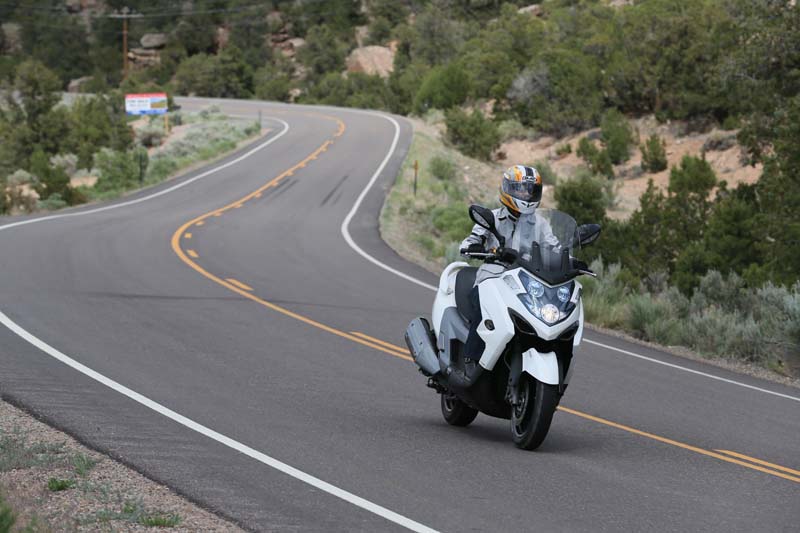 | | |
| --- | --- |
| The dash is large and easy to see with an analog speedo and tach. A digital display has a clock, a fuel gauge and a trip meter. The nonadjustable windshield (you can adjust with tools) does an adequate job of redirecting some air around you but it's not a very tall windshield, so it does not completely block the wind. | The brake levers are adjustable with four settings that let you manually move the lever to just the right position for your finger reach. |
The 2014 MyRoad 700i comes in white only and sells for $9,699, with a two-year factory warranty—a fair price for all you get. Since 2001, Taiwanese manufacturer Kymco has done a commendable job at building its presence in the U.S. with a solid dealer network supporting its reputable products. If you want a low-hassle, easy to ride, two-wheeled vehicle that can take you on adventures beyond your state lines, consider the MyRoad 700i.
Specs At A Glance: 2014 MyRoad 700i
Displacement: 699.5cc
Seat Height: 30.7 inches
Weight: 608 pounds without fluids
Price: GT: $9,699
Colors: White
WRN Recommendation
The MyRoad 700i, just like its maxi scooter predecessors from Honda, Suzuki and BMW, is another game changer in how we traditionally think of scooters. No longer relegated to urban commuting and college campuses, the MyRoad 700i is bound to have adventure minded scooterists, and open-minded motorcyclists, hopping in its saddle for overnight journeys. Just be sure to test ride one to make sure its size is right for you.
Note: Kymco is offering low interest financing deals right now on its scooters and motorcycles. Click on the banner at the top of the page to get the details. If the ad is not showing, refresh your browser a few times.
Related Articles
WRN Scooter Reviews
Review: BMW C 650 GT and C 600 Sport
Giving Kymco Scooters A Whirl
Yamaha's TMAX Super Sport Scooter
Now tell us what you think below!