When you think of BMW motorcycles, chances are an image of a GS Adventure pops in your head. After all, the German company is widely credited with creating the adventure-touring category of motorcycles. But associate BMW with scooters? Not so much. Nevertheless, the times are changing, and with annual worldwide sales of scooters topping 40 million, BMW wants a piece of the action.
For model year 2013, BMW introduced two all-new
maxi-scooters
, the C 650 GT and C 600 Sport, each offering a unique riding experience. These scooters have the power and weight of many midsize motorcycles, can go long distances, and have top speeds exceeding 100 mph (109 mph, to be exact). But because, like most scooters, the GT and Sport require no shifting, they make a great option for men and women riders who want a simpler two-wheeled experience.
| | |
| --- | --- |
| The touring-oriented BMW C 650 GT has a plush seat with a rider backrest, a power-adjustable windshield, and a generous 60 liters of underseat storage. Donya found that the agile twist-and-go GT rides like a motorcycle, easily able to take the twisties at top velocity while keeping a steady line and offering lots of cornering clearance. | The urban-commuting-oriented, aggressively styled BMW C 600 Sport has slightly less legroom and underseat storage than the GT. The Sport also has a manually adjustable windshield and, at 549 pounds, is 26 pounds lighter than the GT. Both scooters feature glove boxes and an optional rear top case for extra storage. |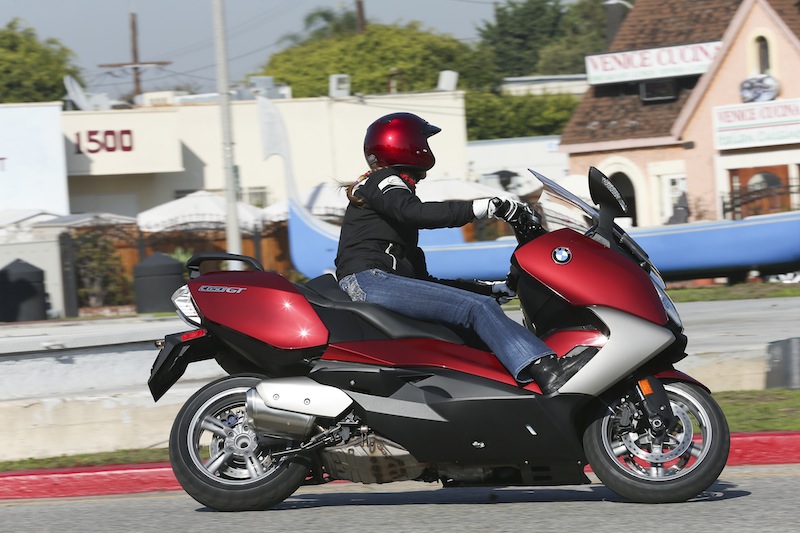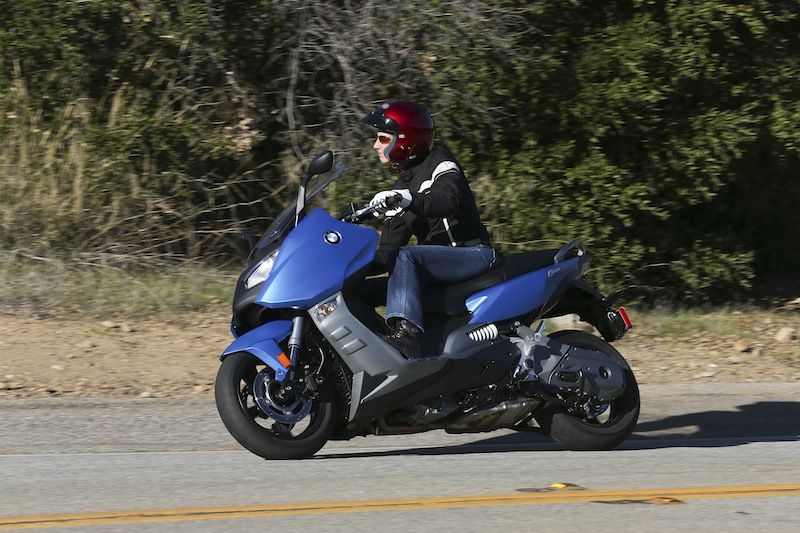 The GTshigh seat heightof 31.7 inches is a potential downside for female or male riders of shorter statures. The Sport's seat height, at 31.5 inches, is also on the high side. Fortunately, BMW offers a lower seat for both models, either as an accessory option or right from the factory. The GT lowers to 30.9 inches and the Sport to 30.7 inches, but riders should still take into account the leg inches lost in the spread from the wide-ish seat.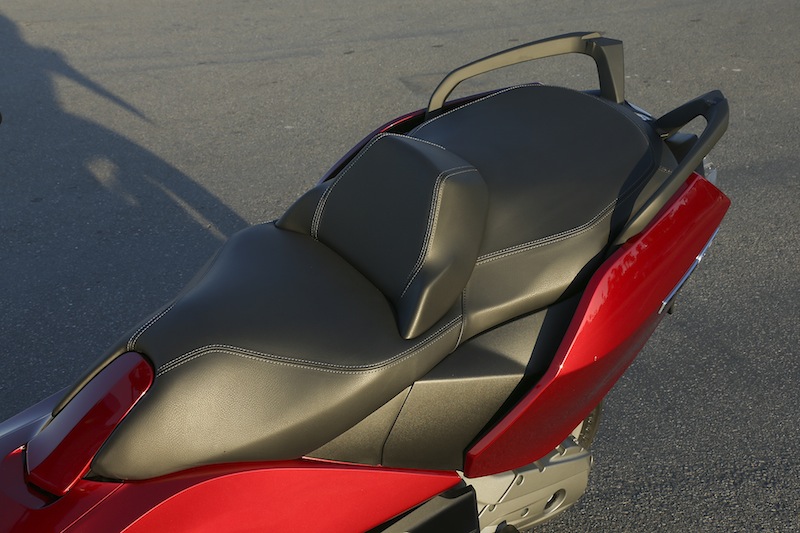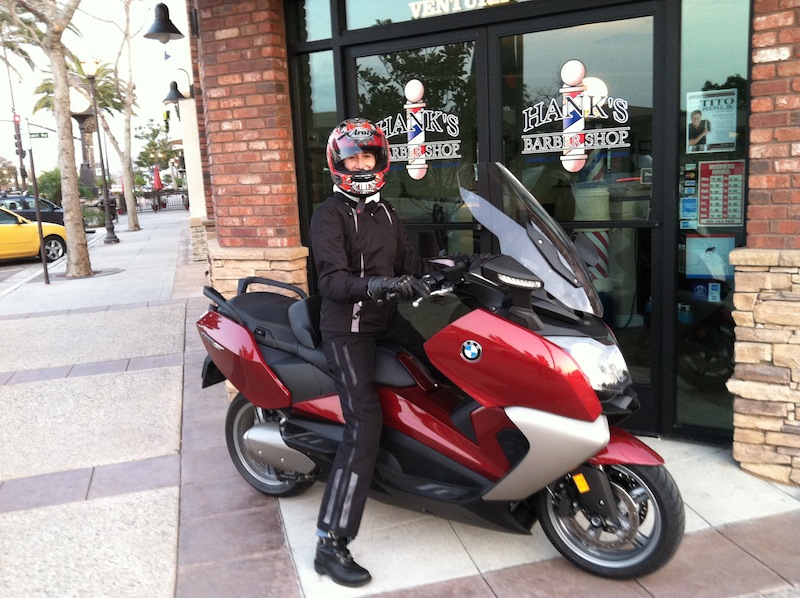 Heres a riddle for you: When is a 600 not a 600? When it's a 650, of course. Even BMW reps had trouble explaining why the Sport has a "600" written on its side panel when it shares the same parallel-twin 647cc engine as the GT. In fact, everything under the bodywork on both scooters is exactly the same. Only the outward appearances differ, and either will take you on many adventures in comfort and with sufficient packing room.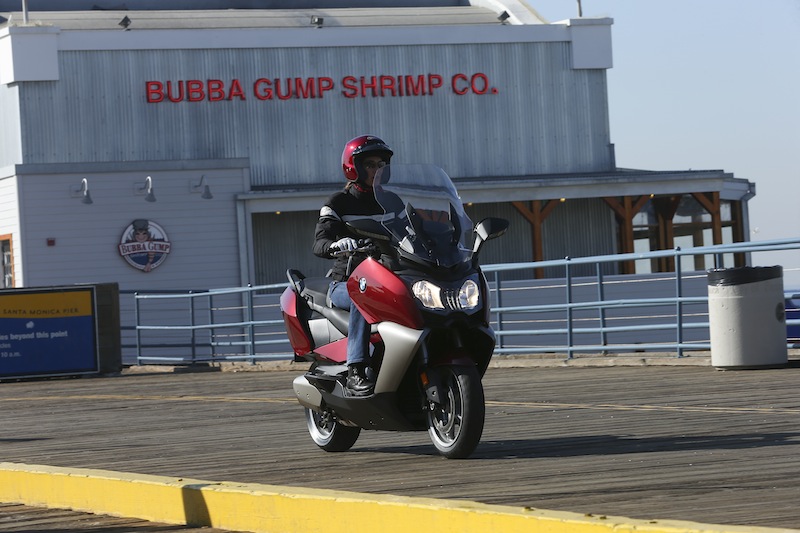 | | |
| --- | --- |
| Triple-disc brakes (two rotors with two-piston calipers upfront and a single disc with two piston calipers in back) are strong and haul the scooter down swiftly. ABS is standard on both models. | With a claimed 60 horsepower and 48 lb-ft torque, the GT and Sport offer an engine with power equivalent to many midsize motorcycles. The engine, which is angled forward for a lower center of gravity, is BMW-designed and engineered but is manufactured by Taiwan-based mega-scooter builder Kymco. |
| Donya left the GT parked in her driveway overnight, and this is what it looked like the next morning. After wiping the seat clear of ice and starting the bike, the GT instantly came to life. She used the handlebar-mounted switches to set the seat warmer and heated handgrips on high, and her hands and buns were toasty warm by the time she reached the highway onramp 1.5 miles later. In this photo, notice the control switch just forward of the grab rail, which allows the passenger to turn the pillion's seat warmer on and off. | We like the convenience of storing a jacket and gloves in a secure, locked place under the seat. BMW claims two helmets can fit under the GT's seat, but despite trying various positions and combinations, we could not get two full-face helmets to fit. A three-quarter helmet did fit alongside a full-face helmet, however. A light comes on when you pop open the seat—fabulous for those times when you reach your destination in the dark. Our test scooter's light had a blip and worked only intermittently. |
Although the C 600 Sport model has less underseat storage than the GT, its innovative "Flex Case" drops down with the push of a release lever when the scooter is parked, offering a perfect space to nestle a full-face helmet.
| | |
| --- | --- |
| The large instrument cluster on the GT is easy to read and includes an analog speedometer, multiple tripmeters, a clock, and a fuel gauge. There is also an indicator for miles per gallon, a level setting for the heated grips and seat, and an indicator for the date. The toggle switch is located on the left handgrip. | The GTs chain is enclosed in an oil bath, allowing for longer intervals between service. Power is transferred to the rear wheel via a continuously variable transmission (CVT), which means better fuel economy because the engine runs at its most efficient rpm for a range of speeds. |
| | |
| --- | --- |
| A centerstand and sidestand come standard on both scooters. The nifty parking brake is incorporated into the sidestand, so unlike on most scooters, there's no parking brake lever to remember to set. | Recommended fuel in the GTs 4.2-gallon tank is 87 octane. Our test GT averaged 46.12 mpg (high of 47.8 mpg) over 1,014 miles. |
The C 650 GT's adjustable windshield, powered by a handlebar-mounted switch on the left handgrip, adjusts up or down slowly, allowing the rider to place it in an optimal position that doesnt block the line of sight. Adjustable wind vanes on the sides of thewindshieldcan be positioned to either block the wind or allow a breeze to pass through for cooling purposes.
The C 600 Sport (left) has minimalist styling andless bodywork thanthe C 650 GT (right).
A passenger fits comfortably on both the C 600 Sport (left) and C 650 GT (right), but the GT is roomier and provides more foot space. The Sport is designed for short jaunts around town.
With no shifting required and price tags coming in at just under $10,000, these BMW scooters offer an affordable, low-key, and fun alternative to their two-wheeled Adventure cousins.
Specs At A Glance: 2013 BMW C 650 GT and2013 BMWC 600 Sport
Displacement: 647cc
Seat Height: GT: 31.7 inches (low seat option 30.9 inches); Sport: 31.5 inches (low seat option: 30.7 inches)
Weight: GT: 575 pounds; Sport: 549 pounds
Price:GT:$9,990; Sport: $9,590
Colors: GT: Platinum Bronze Metallic, Sapphire Black Metallic, Vermillion Red Metallic; Sport: Cosmic Blue Metallic Matte, Titan Silver Metallic, Sapphire Black Metallic
WRN Recommendation
We write a lot about motorcyclists who trade up to bigger and plusher machines as they gain experience, but for many riders, the perfect bike has nothing to do with adding more power and displacement. As we age, our ability to manage those big bikes becomes more difficult, both physically and mentally. Sometimes a simpler, easier to handle, and less complicated machine is just what the doctor ordered. These BMW scooters offer all that, along with great touring features and all that superb BMW technology at an affordable price. Aging riders considering trading in their motorcycle for a trike should consider these BMW scooters before giving up on two wheels.
Related Articles