"Supersport" designated motorcycles command awe and appreciation for their combination of sleek, go-fast looks and sporty, go-fast performance. On the other hand, scooters often don the less-sexy monikers of economical, practical, and even cute.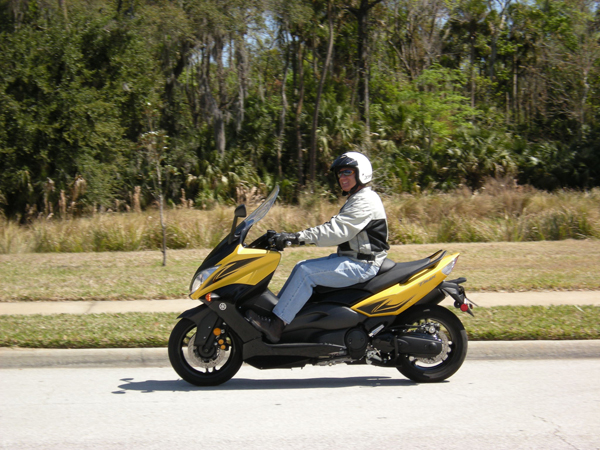 Now Yamaha has "made over" the nice-but-uninspiring scooter persona, creating a brand new scooter sub-category with its new for 2009 TMAX scooter the supersport scooter. One look at the TMAX and you know this isnt Audrey Hepburns scooter anymore. Not content to just meander over country back roads or make trips to the local market or cafe, the TMAX has its sights set on grander horizons the highway.
Four-lane interstates dont intimidate this racy two-wheeler. The TMAX gets up to speed surprisingly quickly with power generated by a liquid-cooled 499cc parallel-twin motor. The horizontally-sitting engine has a reciprocating balancer to counter vibration, meaning all the power reaches the rider with no buzziness. The engines horizontal position helps lower the scooters overall center of gravity as well. Additionally, this technologically-savvy motor uses forged pistons, carburized connecting rods, and ceramic-composite plated cylinders, fancy engineering that gives the TMAX swift, smooth and sure acceleration.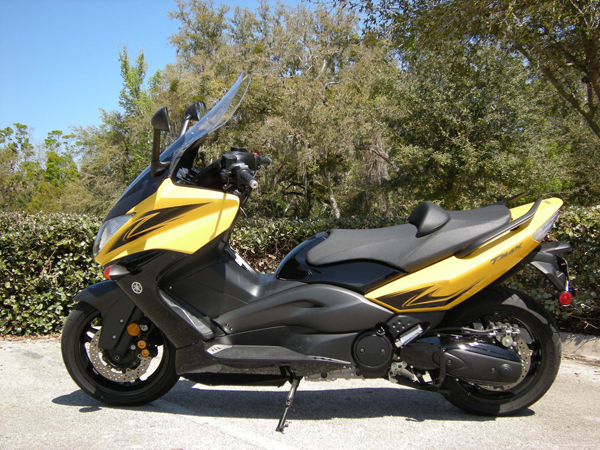 A continuously variable transmission assists the engine with its propulsion duties. The transmission connects engine power to the wet multiplate centrifugal clutch via a durable, double-cog-type rubber V-belt. A pivot coaxial drive shaft allows use of a separate swingarm to improve handling, while a two-stage, adjustment-free silent chain system transfers power to the scooters rear wheel. All of this new-fangled technology results in "twist-and-go" gaining a whole new meaning. While smooth and mild-mannered around town, the TMAX reached speeds up to 90 miles per hour very quickly. It held the road well, didnt feel bullied by the bigger vehicles or the bumps in the road, and took curves and bends with aplomb.
The excellent handling characteristics come courtesy of technology similar to what Yamaha uses in its sportbikes. A rigid, balanced, and lightweight CF die-cast aluminum frame helps the scooter admirably travel twisties. Beefy, 43mm tubes in the telescopic front forks (a feature found on many motorcycles) aided by the rear swingarm make potholes and other roadway imperfections feel not so bad.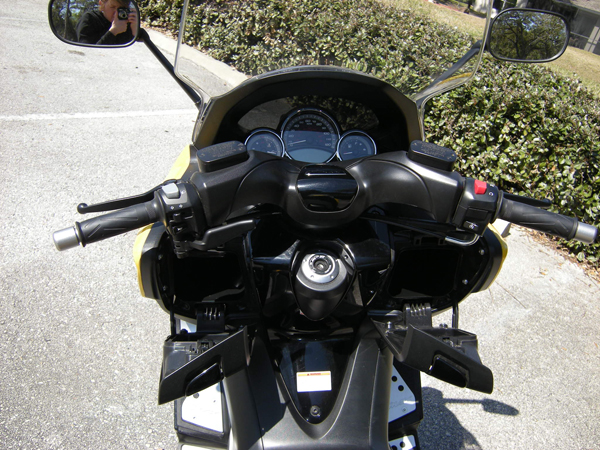 The TMAX braking system adequately slowed the scooters sprightliness. It uses a standard scooter brake layout with two (adjustable for reach) lever hand brakes. Up front two 267mm disks coupled with four-pod mono block calipers join with a rear 267mm single disk and pin-slide, one pod brake caliper to scrub off speed and slow the scooter. A reasonable pull on the levers resulted in surefooted slowing without undue grabbiness or jerking. A parking brake provides extra peace of mind for stopping on hills. The TMAX rides on 15-inch cast aluminum wheels front and rear and wears 120/70-15 67H radial rubber up front and a 160/60-15 67H radial tire in the rear.
The scooter effortlessly starts at the touch of its button, thanks to its electronic fuel injection. The dashboard display offers a variety of information including a speedometer, tachometer. The seat height, at 31.5 inches, will feel more comfortable to longer-legged types, especially when setting down one foot at a stop to prop up its weight of nearly 500 pounds. Yamaha estimates the TMAXs fuel economy at 47 mpg and it holds four gallons of gas, making longer distance touring a viable goal with this scooter.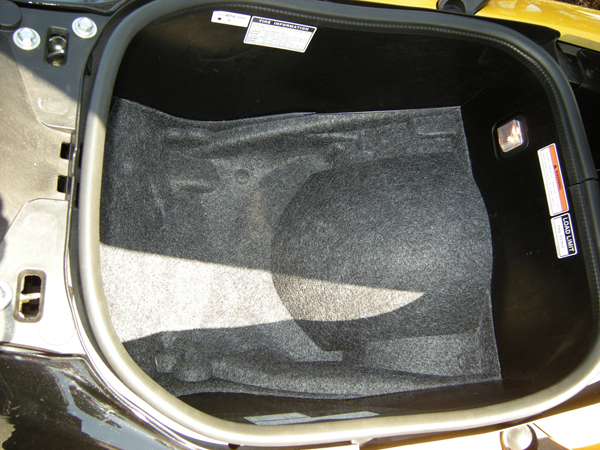 Storage abounds on the TMAX. A left twist of the key while in the ignition pops open a fully-lined, illuminated, under-seat storage area large enough to swallow a full face helmet and rated to hold 11 pounds plenty of room for groceries, picnic supplies, or to hold everyday business commuting needs. Spacious glove boxes on either side of the dash prove handy for storing smaller items. The large windscreen provides plenty of protection from the elements and offers a clear, undistorted view of the road. Comfort rates above average as the cockpit area provides ample room in which to shift or move around. The passenger enjoys a large perch as well, and the powerful TMAX easily transports extra company with no problem.
Dressed in yellow and black the TMAX looks less like a scooter and more like a sportbike-styled motorcycle, and when twisting the throttle one finds performance matching its looks. Official tester, husband Tim, claimed amazement with its road manners, swiftness, ride quality and overall sportbike feeling, something not common with most scooters, saying the TMAXs performance totally took him by surprise. Even its bright headlight, tail lamps, and upswept-muffler look superbike inspired. The TMAX looks fast, is fast, offering speedy fun and highway practicality not available on smaller displacement scooters.
Specs at a Glance: Yamaha TMAX Super Sport Scooter
Displacement: 498cc
Seat Height: 31.5 inches
Fuel Capacity: 4 gallons
Gas Mileage: 47 mpg (Yamaha estimate)
Maximum Speed: 90+ mph
Weight: 489 pounds
MSRP: $7,999 for Deep Blue, $8,099 for Cadmium Yellow
WRN Recommendation
Yes, its a scooter, but large size scooters, or maxi-scooters, are gaining a foothold in the motorcycle market because of their power, looks and touring capacity. Anyone who doesnt want to deal with the clutch/throttle action, but wants a smooth, effortless ride in a lightweight package will love a maxi-scooter. Yamahas entry into the category doesnt fall short in delivering what a large size scooter should in addition to having that supersport quality about it.