Editors Note: While not a motorcycle most women would gravitate to, we thought wed break up the slow summer doldrums with a review of a bike thats different, exciting and off our radar screens. Tricia Szulewski did such a good job reviewing it, we wanted to share this unique motorcycle with you.
I realize Im not the target market demographic Ducati intended for the GT 1000. After all, I was only about to be conceived when Ducati designer Fabio Taglioni sketched out an image of the bike that would become legendary to many motorcycle historians and the basis for this modern-day, retro-styled sport-standard.
When I was asked to test ride the GT 1000, I didnt have high expectations and wasnt excited at all. This was the kind of bike Id never look twice at. I happen to think retro-styled motorcycles are a bit hokey, and prefer modern-day styling and technical features. I imagine that the profile of buyers this type of motorcycle attracts is re-entry riders who havent yet ridden a current production bike and are hesitant to move on. Or maybe there are some who already have a full stable, and can afford the luxury of adding another whenever it grabs them.
Checking the bike over initially, I realized it was a simple package, with nothing too fancy to figure out. The ignition switch is front and center, and since the bike is electronically fuel injected, there was no need to search for a choke knob. So a turn of the key and a touch of the starter brought the GT to life.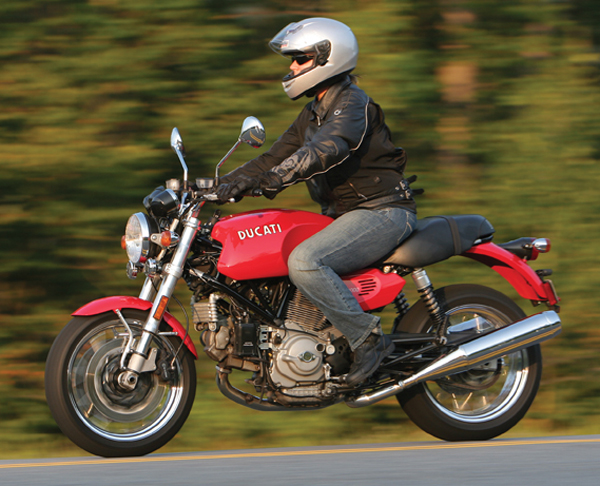 My first impression was that the bike felt extremely light and quick almost uncomfortably so. After putting a couple thousand miles on the Kawasaki Concours 14, which I just finished testing, I needed to adjust to this "un-faired" standard. However, dodging in and out of cars on a three-lane highway, I was surprised at how quick the little bike was. No, it wasnt as spot-on as the 1400, but it certainly could keep ahead of all the four-wheelers on the Interstate.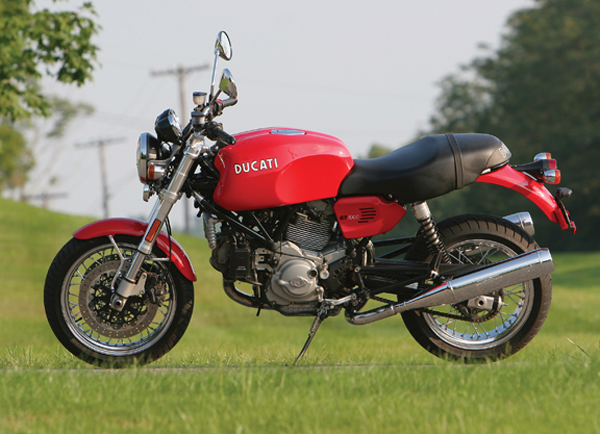 As my time with the Ducati varied from commuting to riding local back roads, I got to know the quirks of this retro scoot. First, I found that the seat is shaped in such a way that youre forced forward into the tank. Ive had this problem on other bikes, and comparatively, this one isnt the worst case, but its still annoying. Secondly, I learned that theres no good way to attach any luggage, unless you buy some Ducati aftermarket saddlebags.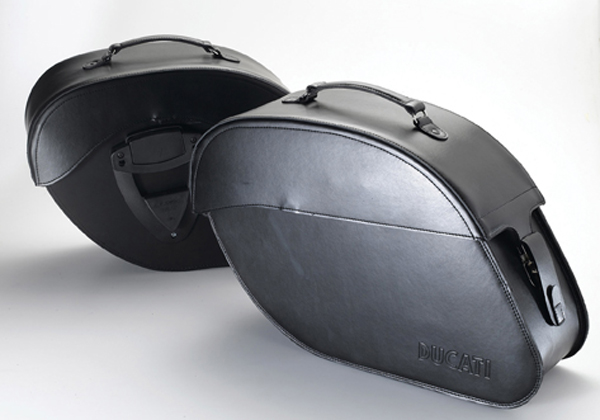 The tank is plastic, so no tank bag will do (as most stay on with magnets), and the passenger portion of the seat is too short to fit a tailbag. Not to mention the lack of bungee hooks or anything at all out back to attach them to. The seat comes off easily with the key, and the twist of a thumbscrew reveals a compartment large enough for a basic toolbag and paperwork. But backpacking is the only way to carry anything of significant proportions on the GT.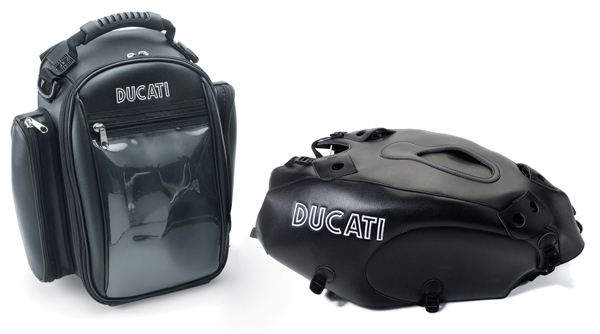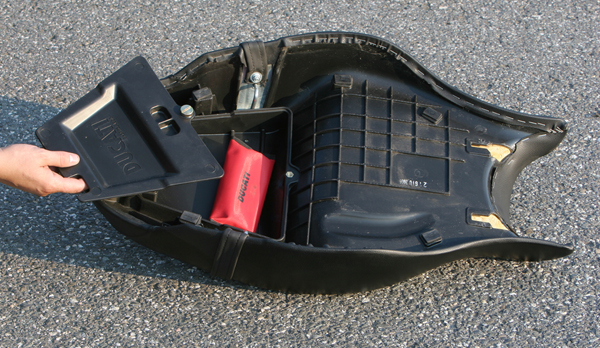 Good points worth noting: besides the peppy motor and spot-on fuel injection, the gas mileage that I clocked —51 mpg to be exact — was impressive. With oil prices as they are, I appreciated the savings, and with the 3.96-gallon fuel capacity, I could get close to 200 miles before filling up. I also enjoyed the instrument cluster. Its got everything I look for — speedometer, tachometer, high beam indicators, neutral indicator, turn signals, low oil pressure and fuel lights, and also includes a digital clock and trip meter. With two simple chrome buttons in the center of the cluster, its easy to scroll through the gauges at the pump, but inconvenient while in motion.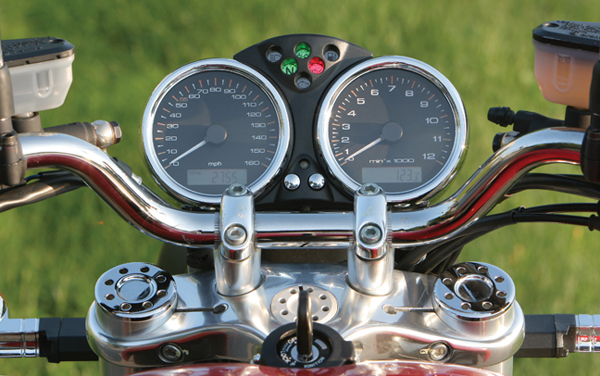 Epic Proportions
Then came the best riding day of the season. I decided to take a day off from retouching photos and doing layouts so I could accompany a friend on a blast through Connecticut. Heading northwest into New Yorks Dutchess County, we rode swiftly past green reservoirs, wooded riverbeds, and open farmland filled with sunflowers. I was having so much fun that I was actually laughing at myself. How could I have misjudged a bike so badly at first glance? While Im not one to care about how I look on a bike, I had quickly summed up what I thought of the bike before ever giving it a real run for its money. Shame, shame!
The air-cooled L-twin pumped laboriously, and the beat filled my blood with excitement that I hadnt felt all season. Now I was getting comfortable with this bike. The pegs are situated just right for my 5-foot 6-inch frame, and provided a comfortable bend without being over-aggressively positioned. While Id been annoyed before about the seat pushing me forward into the tank, I didnt even notice now, as I leaned forward to meet the wide, classic tubular handlebar.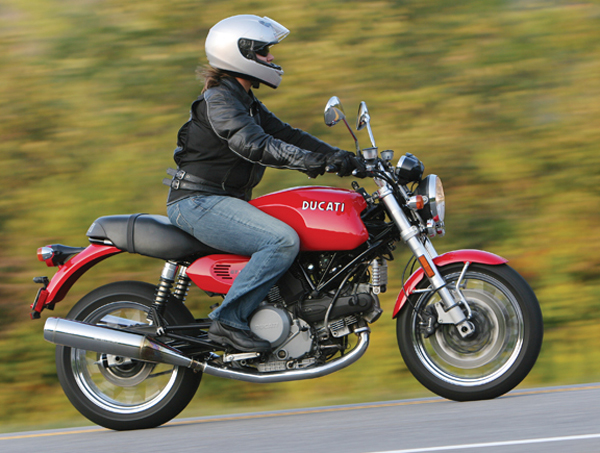 With every promise of the next tight corner, even though illustrative signs warned us to slow down, wed approach with full intentions of cranking up the throttle once we were through the apex. Over and over, all morning long, we met every great bend with anticipation of another epic entrance and exit, leaning the bikes through the curves together like a dance. The GTs wet multiplate hydraulic clutch operated effortlessly, and I had an absolute blast as I took the chain-driven six-speed over the roads it was built for.
New Age
By pushing the bike harder than I had before, I could finally feel the current-day technology at work. The signature Ducati ALS 450 steel tubular trellis frame is derived from the other members of the GT series, and is light yet rigid. It retains the classic chassis design and simple-but-functional theory, and uses the engine cases as a stressed member. Coupled with the 43mm inverted Marzocchi forks and two Sachs preload-adjustable rear shocks, the frame and suspension work well together to convey confidence-inspiring components. Initially, I was concerned about the limitations of the suspensions adjustments, and made a mental note of the visual amount of travel in the front fork. But after all the ground pounding was done, I was surprisingly pleased with the bikes stability and comfort.
The GT 1000 uses a welded steel tube swingarm with two large, rounded legs linked by an elliptical crossmember. The simple system used to adjust the chain drive tension is reminiscent of some systems on bikes from the 1970s, but is much larger and stronger for modern performance.
The GT is fitted with two Brembo floating calipers and semi-floating 320mm discs up front. The 30 and 32mm diameter pistons are thermally insulated, and bring braking into this century, thankfully. The rear brake system utilizes a floating single-piston Brembo 34mm caliper with high-friction sintered pads and a 245mm disc. Together, this combination works impressively to slow down anything the 1000 can deliver.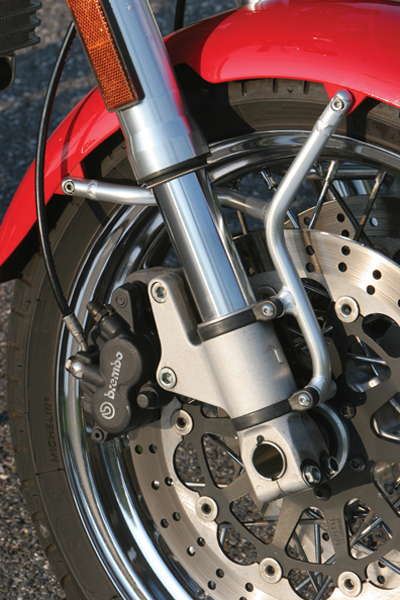 Making a Statement
The sculpted gas tank and seat, the exposed engine, the 70s-style font of the logos on the tank and stitched into the seat, the unusual bent shape of the fender support rails, the round taillight, the dual-exhaust pipes (one per side), the chromed spoke wheels, the rich red luster of the paint, and the chrome in all the right places — it makes a statement. Besides suggesting another decade of motor sports, it signifies a harmonious form that functions well, too. Its simplicity at its best. And to think that I couldve looked right past this wonderful ride, had I not been asked to write this review. It wouldve truly been a lost pleasure.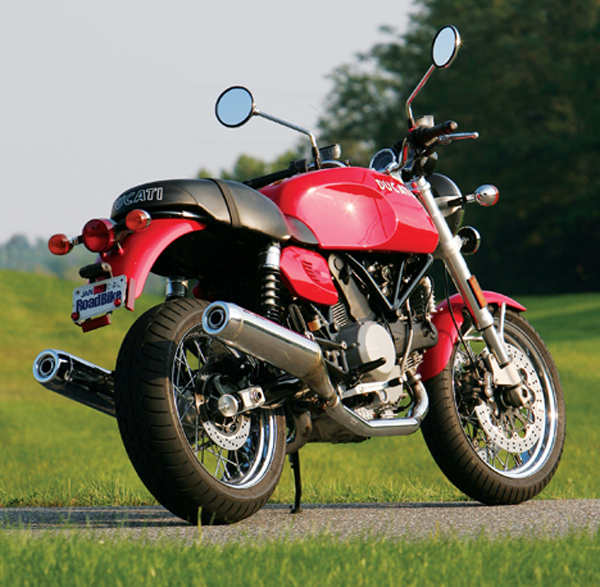 Specs At A Glance: 2008 Ducati GT 1000
Displacement: 992cc
Seat Height: 32.6 inches
Fuel Capacity: 3.96 gallons
Weight: 407 pounds;
Price: $10,995
Colors: Red, Classic Silver/Smoke Grey, Cream/Metallic Black
WRN Recommendation
This motorcycle is for those who either like to be different (and you will because hardly anyone will be riding this same bike) or for those who enjoy retro styled motorcycles. While seat height is on the high side, the bike's extremely light weight makes it a breeze to ride and zip through the corners. We love the Ducati red. If you have a penchant and the wallet to be different, go for it.
About the Author
Tricia Szulewski has maintained the woman rider's perspective in RoadBike magazine for the past 10 years. She became a certified MSF instructor in 2008, and logs thousands of miles each year on anything that shows up in the company stable. You can find some of Trish's bike reviews, adventures, product evaluations, and more at RoadBikeMag.com.