Want to share your story? Click here to find out how.
It all began at the ripe age of 65 while vacationing in Pigeon Pass, Tennessee, during the spring when bikes were abounding everywhere. I decided that riding a motorcycle would be fun. I was so enraptured that I went to the Harley-Davidson dealer there and purchased a helmet. Upon arriving home in Florida, I signed up and took the Motorcycle Safety Foundation course, which I failed by riding the bike off the course and going down.
Undeterred, I began looking for a used small bike to practice on. Not having any luck with this search and having been given the cold shoulder by the local Harley-Davidson dealer (whom I am sure thought I wasnt going to buy anything), I went to the local Yamaha dealer and purchased a new Yamaha 650 V Star. I could sit flat footed on the V Star 650. Afraid to take off on my own, my son would ride the V Star to a local neighborhood park. There was virtually no traffic and I would ride the bike around and around for about a mile in a circle. However, I must admit that I never became comfortable on the V Star—it seemed so large, intimidating and hard to handle. While riding it, I always had a death grip on the bars and prayed for the panic to end and the fun to begin.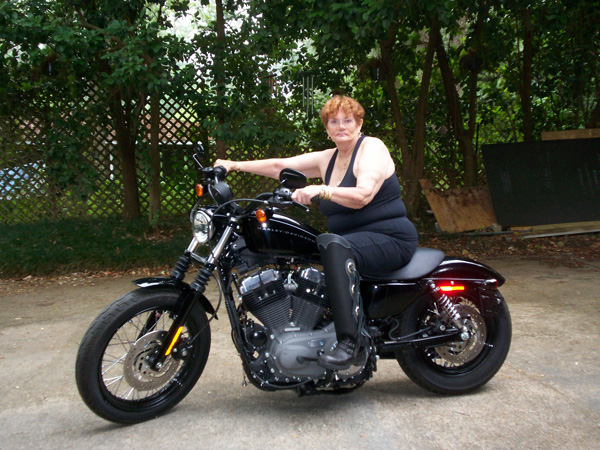 Still thinking that I would do better on a smaller bike, I began another search, which ended with the purchase of a 2004 Honda Rebel 250. I felt more comfortable on this bike. After some practice, I took the MSF course for the second time, which I failed again. At this point, my desire to ride a motorcycle had become a quest—I was going to do this, and I was going to have fun.
I began searching the Web for sites that gave information and instructions on motorcycle riding. Fortunately, I found plenty of sites, but the most helpful to me were V-Twin Mama and Women Riders Now, along with an instructional DVD, all containing lots of inspiration and practical tips. Armed with plenty of information, I began going to an empty parking lot on Sundays with my bag full of tennis balls cut in half. I marked off my course and practiced and practiced. The third time was the charm. I passed! Still not comfortable on the V Star, a special friend convinced me to go to the Harley-Davidson dealer again, which I did and was met with a new staff that was super. I purchased a new Sportster Nightster model. The difference in handling versus the V Star is like night and day, even though they both are approximately the same height and weight. So while I will always respect my Nightsters capability, I am not afraid of it. At 68, I am having a blast.
Want to share your story?Click hereto find out how.