Do you have a story to share? Please send it to us, but read these submission guidelines first.
This year was a year of firsts; my first over-5,000 mile ride on Bruno, a 2014 Ducati Monster 696, and my first presentation at the 2014 Overland Expo East in Asheville, North Carolina. I've only been riding for two years and to have these two things accomplished on my second year of riding seems almost cosmic.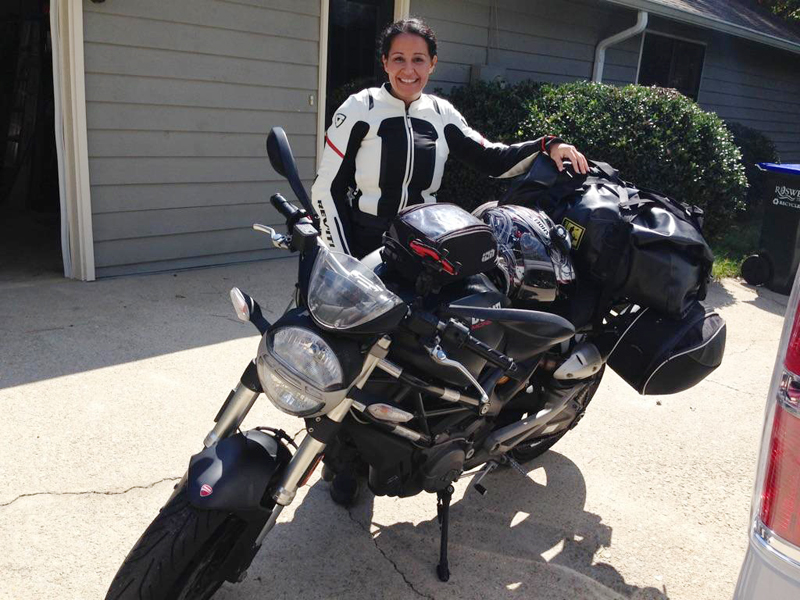 After a very hard and grueling year at work, I was ready for a break. However, my vacations were quickly cancelled to accommodate a new software implementation project. Sigh. The first vacation to go was a ride to the Tail of the Dragon in North Carolina with a group of friends. The second vacation I had planned was to Orlando, Florida, to work as a volunteer media consultant at the AIMExpo.
As I saw my vacations dwindling away and my stress increasing, I knew something had to give. Around the time the cancellations were occurring, I received an email from Overland Expo East accepting my application to be a presenter. The thrill and excitement was beyond anything I can describe! I wanted very much to accept this offer, but I needed to be sure I could follow through. I wheedled and haggled my way to get three and a half days off with the agreement that I could not take any more time off for the rest of the year. And so began my preparations to ride from central Florida to Asheville on the Monster.
When I left on the afternoon of Tuesday, September 30, it rained cats and dogs all the way to Atlanta. My Frog Toggs jacket, which I nicknamed the "bat wings" because of the way the arms flapped in the wind, worked very well over my Revit! Galactic leather jacket in keeping the rain and the cold away; my only complaint is that it had a lot of wind drag. After much rain, cold, one accident, and lots of construction, I arrived tired and hungry at my dear friend's home in Roswell, Georgia.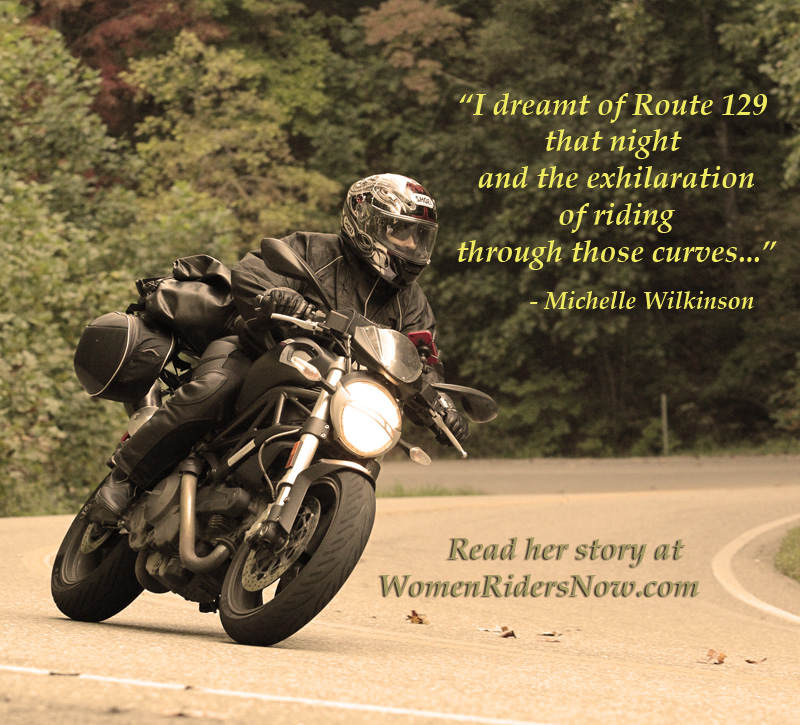 I departed the next afternoon and rode up to Robbinsville, North Carolina. The ride took me through Blood Mountain and the road was amazing! It was a preview of what I would experience on Thursday morning. I planned to take the Cherohala Skyway and Tail of the Dragon loop then wind my way through the Moonshiner 28 and on to Asheville.
The next morning, I woke up at 5 oclock a.m. and prepared myself for a very cold morning ride in the mountains. I wanted a nice big breakfast to warm my stomach and my core, so I rode to the Huddle House. At that hour of the morning, it was just me and a grumpy and grizzled gentleman with a trike having breakfast.
Waiting for sunrise, Id hoped that the road would be clear of traffic and deer. I was very nervous to be riding on such twisty roads, and the thought of the Dragon had my stomach all aflutter. I was alone with Bruno and it had never struck me more than at that moment. The sun peaked over the mountains at 7:30 a.m., so I plucked up my courage and left the warmth of the Huddle House.
I headed to 143 West and encountered fog which increased my nervousness. I had to remind myself to take things slow; there was no hurry and I just needed to be careful. My plan was to ride 143 W which turns into 165 W, then 360 N to loop into 72 E and 129 E to get the Tail of the Dragon.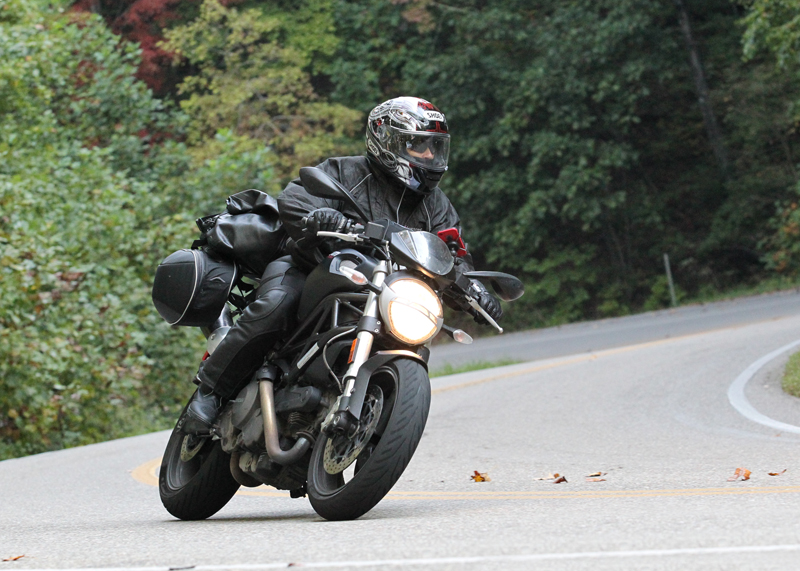 I dreamt of Route 129 that night and the exhilaration of riding through those curves; I'm smiling as I write this.
I spent the rest of the trip at the Overland East Expo, where motorcycle overlanders, 4WD, and other globetrotters congregate to share stories, their experience, and sense of adventure. I learned a lot at this event and there are a myriad of vendors. My presentation was on how to prepare a sportbike for long-distance touring if you are a newbie. I was pleased at the attendance but even more so because I was there at the expo presenting. I love the sense of community because most everyone there loves the same thing — travel, regardless of the mode of transportation theyve chosen.
Sunday began my very long trip back to Florida. I hope that I get to travel again soon on my motorcycle. In the meantime, it will be day and weekend rides, and dreaming of the road spread out before me.
Do you have a story to share? Please send it to us, but read these submission guidelines first.
Related Articles
Review: Ducati Monster 696
Motorcycle Riding on the Tail of the Dragon
Big Dreams, Big Rides: Monumental Motorcycle Journeys by Women Riders
Reader Story: Celebrating 50 Years with a Solo Trip