Its always fun to check out new motorcycle products and test ride new bikes and I did just that a couple of weeks ago in Orlando, Fla., at the debut of a new motorcycle industry tradeshow held October 16-20, 2013. The American International Motorcycle Expo, AIMExpo for short, is the first of its kind in the U.S. that welcomed dealers, members of the industry trade, media, and consumers all in one place under one roof. The first three days were open only to dealers, industry trade, and media; on the weekend doors opened to the public. This timeline makes it very efficient for vendors who want to travel to one show to reach both consumers and the industry.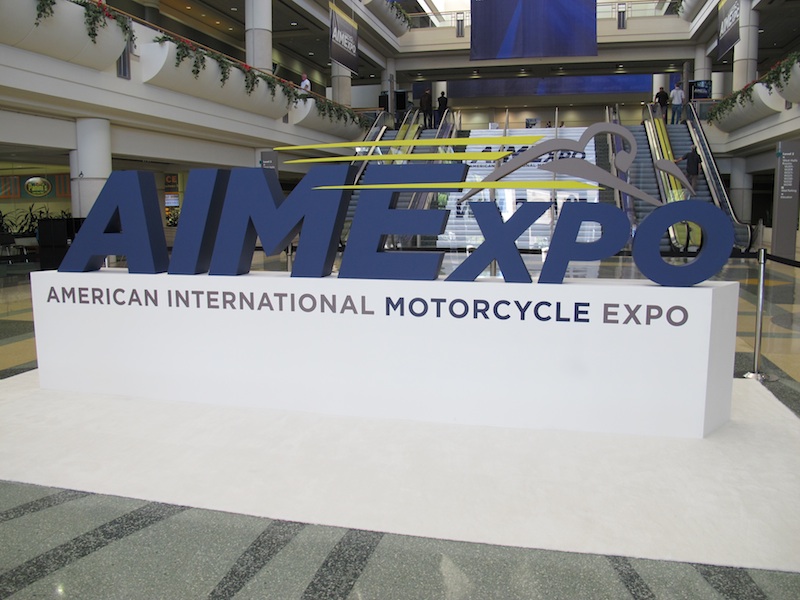 I attended courtesy of American Suzuki, which invited members of media to test ride its new entry-level motorcycle, the GW250, a day before the AIMExpo started. The GW250 is comparable to Kawasaki Ninja 300 and the Honda CBR250.
| | |
| --- | --- |
| Yes, thats a 250cc motorcycle I'm riding, the 2014 Suzuki 250. Hugely confidence inspiring for women and men desiring an upright sportier ride as their first motorcycle. My full review of this entry-level 6-speed is coming soon on WRN. | I also test rode Suzuki's longstanding entry level motorcycle, the single cylinder TU250, reaching 77 miles an hour on the interstate trying to keep up with the GW250s that were sailing smoothly ahead of me. My review coming soon on this bike as well. |
The highlight for me in attending a tradeshow like AIMExpo is that I get to search the vendors for new and interesting items that the mostly female readership of Women Riders Now (WRN) will want to know about. In addition to the separate story I wrote on Cycle Gears womens apparel, below is a photo recap of more products I found, followed by a list of AIMExpo's attendance stats and a recap video.
| | |
| --- | --- |
| The Xena jacket for women was featured at the REVIT booth. The form fitting leather is designed to move with the rider on the motorcycle. | Karen White, marketing manager for Tucker Rocky, models a new jacket from the Speed and Strength collection. |
| | |
| --- | --- |
| John Kim of Scorpion Sports shows off a new womens leather textile combo jacket called the Vixen available in February. | Karen McFarlane and her husband, Eric, are the US distributors for Oxford Essential Rider Equipment. Shes pointing out some new womens base layers for motorcycling. |
| Schuberth is offering a new light pink graphics option on white for its new C3 Pro Womens helmet. | Sena Motorcycle Bluetooth systems unveiled a Bluetooth-controlled camera that responds to voice prompts. First of its kind. Available in the spring. Can you see me in the video screen? |
| I ran into Ryan McFarland at the Strider Bikes booth. Hes the inventor of the clever no-pedal balance bikes for kids and hes holding one of the more popular models the pink Harley-Davidson labeled one. | Luke Brady of Bell Helmets is showing off the companys new line of retro looking helmets. Underneath the vintage styling and bubble faceshield is cutting edge modern helmet construction technology. |
| High visibility vests and safety apparel are what Missing Link is all about. Sharon Boatright was standing by to answer any questions. Check out our story on Missing Links reversible safety vests. | The SPOT tracker folks were there promoting their safety GPS system to motorcyclists. Check out our fun video of Gadget Man David Deep who uses a SPOT. |
| Our friend Sue Slate, of the Womens Motorcyclist Foundation, scored a heated vest from Venture Heat to test for WRN on her cold ride back home from the show in Florida to New York. We love white as a color option. | Jeanne DeMund of Vega Helmet is holding the new Phantom Open Face featuring butterfly graphics. Its a 3/4 that converts easily to this full-face by attaching the chin bar. |
AIMExpo By the Numbers:
• Total square footage of AIMExpo: 732,644
• Exhibiting companies: 392
• Total attendance: 13,219
• Consumer attendance: 7,781
• Dealer/industry professionals: 2,417
• Exhibitor attendance: 2,798
• Countries represented: 49
• Credentialed media professionals: 223

AIMExpo Recap video hosted by Greg White:

Greg White is host of his own web series called GregsGarageTV.com.You might recognize Greg as a former correspondent on Speed Channel. He and I worked together in the early 2000s as hosts and reporters for that cable network that sadly no longer exists. In September, Speed Channel was rebranded and renamed Fox Sports 1 (FS1). Just a bit of triva for you.
Resources
Suzuki
REVIT
Speed and Strength
Scorpion Sports
Oxford Essential Rider Equipment
Schuberth Helmets
Sena Bluetooth
Strider Bikes
Bell Helmets
Missing Link
SPOT
Venture Heat
Vega Helmet

Related Articles
International Motorcycle Shows Kick Off 2011
Roundup of 2011 Indianapolis Dealer Expo