Building on the success of the original
no-pedal Strider bike for toddlers
, the new Special Edition Nicky Hayden Ducati Corse Strider offers the youngest riders a bike with the true look of a motorcycle champion.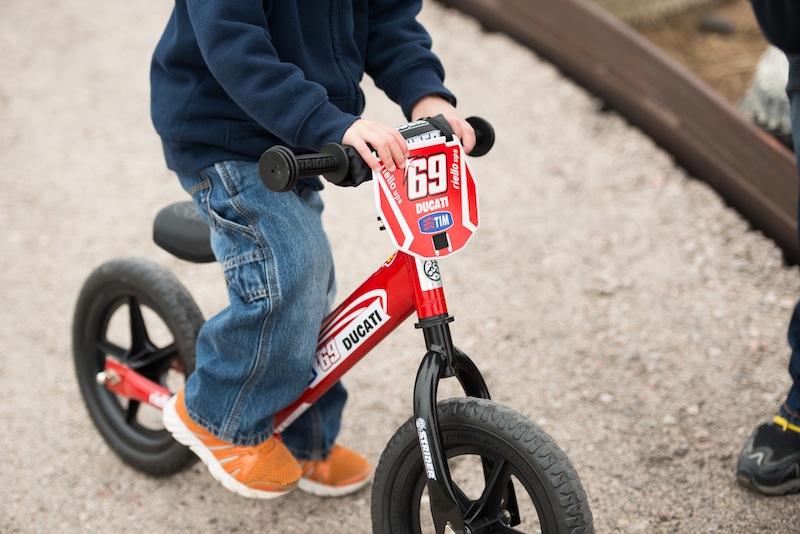 If a toddler can walk, then they can ride a Strider, and this new model will have them cruising over dirt, grass, and pavement in true "cool kid" style. The bike is mechanically the same as a standard Strider, but it's customized with graphics inspired by the livery of the Ducati Desmosedici GP13 and a number plate sporting the famous race number used by Ducati superstar Nicky Hayden.
The Ducati Corse Strider bike not only offers your kid an authentic racing look—no doubt making you the coolest parent on the block—it also works as a developmental tool for children aged 18 months to five years. It weighs just 6.7 pounds, is easy to control, and features an adjustable seat and handlebars to accommodate a growing child. Most importantly, Strider bikes teaches children balance and coordination and develop confidence not typically achieved with tricycles or training-wheel bikes.
Based on the smiles on these faces, we'd say the Ducati Corse Strider is toddler-approved!
"The Ducati Corse Strider is an exciting new addition to our line of moto branded Striders," says Ryan McFarland, founder of Strider. "The Ducati brand is synonymous with performance and passion for riding. We're thrilled to bring that trademark Ducati red and all the official logos to our Strider bike, offering the look of a true racing machine!"
To learn more about the Ducati Strider and the company's entire line of no-pedal bikes for toddlers,visit StriderBikes.com.
Related Articles