We would love to hear your story! Find out how to be featured on WRN.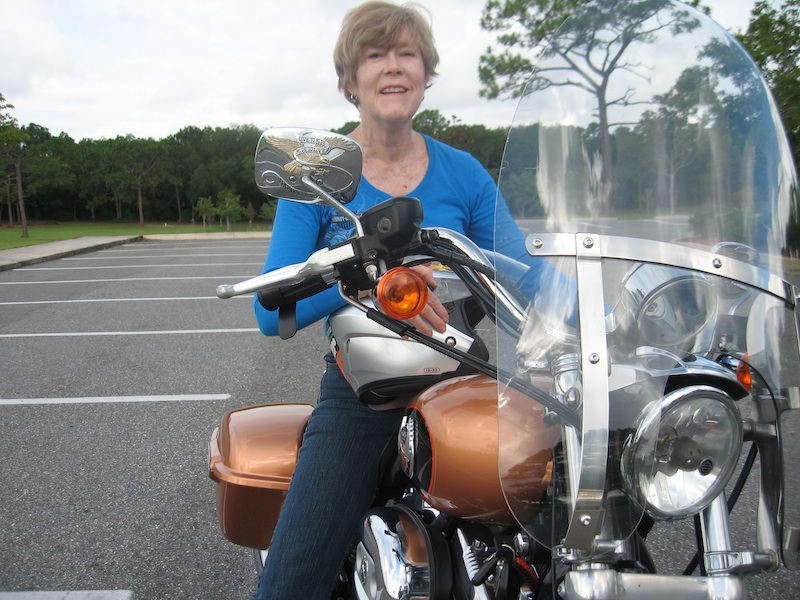 Age has never been a roadblock for reaching my goals. When I was 51, I went back to college and completed my Bachelor's of Arts degree. At age 54, I took a dog-sledding trip and slept in a tent in the snow for three days. Then, at 62, I learned to ride a motorcycle.
To paraphrase Friedrich Nietzsche, what doesn't kill you makes you stronger, and I live by that motto. I rode as a passenger with my husband for several years, and seeing other women riders, I began thinking "why not"?
Browsing websites of used motorcycles only fanned my flame of desire, and at this time, a new law in Florida required motorcycle riders to pass a safety course before riding. I scheduled the course and then began a two-day motorcycle safety class filled with nervous sweats, heart thumping and stomach-churning moments.
After dropping the small Honda 250 I was assigned, wondering how I was going to coordinate my feet and hands all while remembering the pointers, I became discouraged. The instructor wanted me to drop the course, but then I hit the jackpot. The owner of the teaching course—a former Florida highway patrolman—offered to let me learn to ride on a scooter. I decided that if I could pass the course on a scooter, I could learn how to shift later. My strategy worked and I passed the course on a scooter.
When I returned home, waving my certificate, my husband took me outside, opened the motorcycle trailer and surprised me with a used 2008 Harley-Davidson 1200L Sportster. I had fallen in love with this motorcycle two weeks before while sitting on several to find one that fit and allowed me to straddle with my feet flat.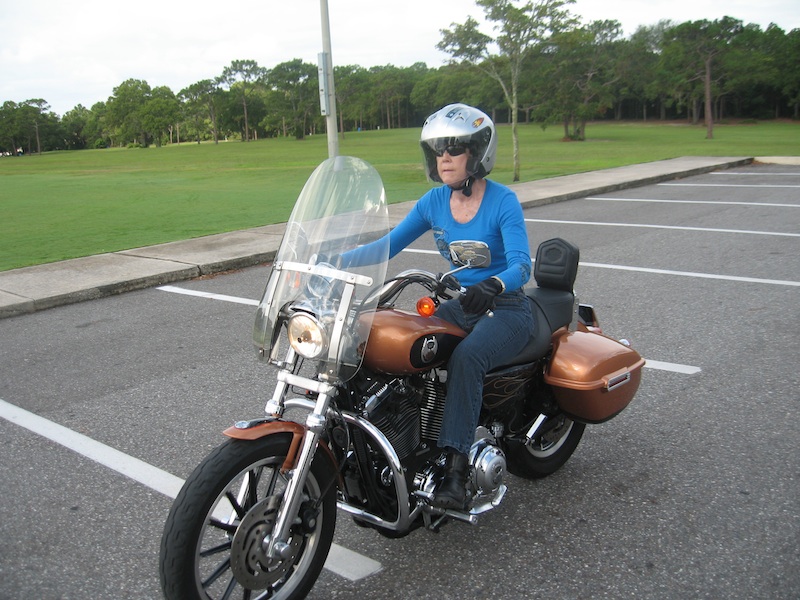 My next step was to learn how to handle the clutch, gears, brakes and steering while keeping the motorcycle upright. My husband removed the saddlebags and taped up any surfaces that could be damaged. We started practicing behind a small strip mall, but while making wide turns in first and second gears my motor revving Evil Knievel-like leap over a curb and bushes convinced him we needed more room. Bruised and sore, I waited more than a week before trying again. Finally we drove to an old abandoned airport where I practiced for several weeks, eventually moving to areas of higher traffic. The stomach butterflies still churned, but eventually subsided.
All that practice has paid off. Today, I ride through city traffic, highways along the Atlantic coast and quiet back roads in central Florida. Last summer we took our motorcycles to Tennessee. I still practice and I am still learning, but I have completely fallen in love with motorcycling. What a thrill!
After reading the stories of other women riders on Women Riders Now, I know my incidents of dropping the bike and all the stomach-churning feelings that go along with learning to ride, are not unusual. It helps to know others experienced the same feelings with learning how to ride. Thank you all for sharing.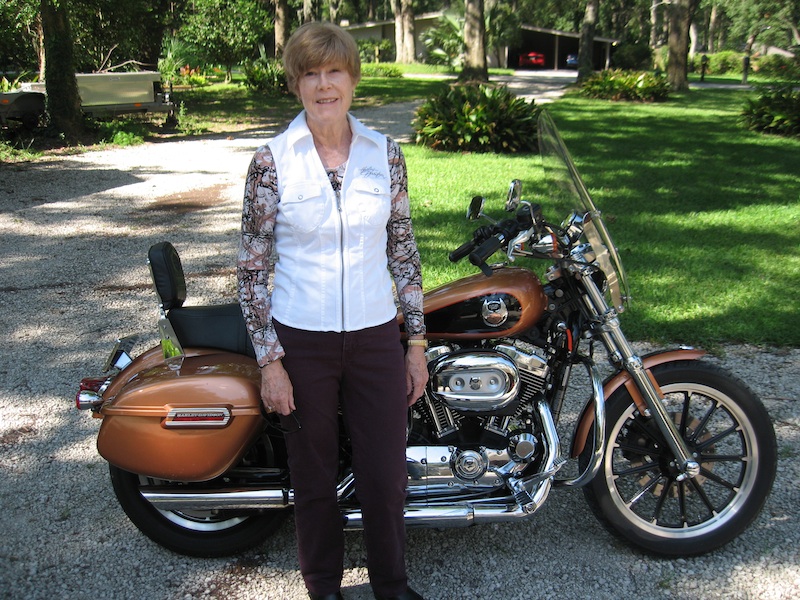 We would love to hear your story! Find out how to be featured on WRN.
If you liked this story and want to be notified by email when new stories post on Women Riders Now, sign up for our monthly newsletter here.
Related Articles
Reader Story: Starting to Ride at 68 Years Old!
WRN Beginners Guide
How to Pick Up A Dropped Bike
Reader Story: Racing on the Salt Flats at 50
Reader Story: Celebrating 50 Years with a Solo Trip