Do you have a story to share? Please send it to us, but read these submission guidelines first.
I told everyone I wanted to travel across the country on my new motorcycle. I bought a 2012 Kawasaki Vulcan Voyager in late 2013. It was brand-spanking new—so new I had to take the bubble wrap off the lights.I had test-ridden a Voyager at the AMA International Women andMotorcycling Conference in Carson City, Nevada, a couple years ago and fell in love with the big bagger.I have a bad back injury, so I knew I needed a touring suspension to aid me in any kind of long distance riding.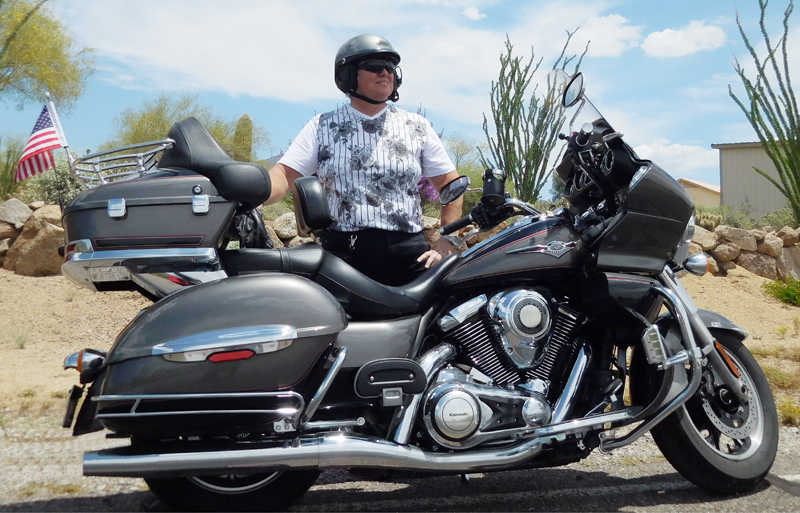 The National Vulcan Riders and National Vulcan Baggers rally—a combined event for both groups—was held in Eureka Springs, Arkansas, in July 2015. I'd heard that Arkansas was a fantastic place to ride and it was beckoning me to come. It was a lengthy ride from Arizona, but that little voice inside me said, "Kim, you've been talking about doing this for so long. If you don't do it now, you'll regret it."
I traveled from Phoenix to Tucumcari, New Mexico, the first day—637 miles. I continued the solo journey all the way to Arkansas and let the wind clear my mind and the sun bathe me in warmth and light.
I stayed off the interstate, instead sticking with historic Route 66.I discovered ancient New Mexico lava fields and quaint roadside oddities like giant dinosaurs and Indian figures, Native American jewelry stands, gorgeous rock formations, and nostalgic Route 66 truck stops.Tucumcari itself was an oddity with numerous old buildings standing empty and crumbling like ancient ruins of the 1950s and '60s.
Motoring through Texas the second day, I met a group of male riders at a truck stop. Their Harley-Davidsons were lined up and decked out in bullwhips and apehangers.I noticed one of the bikers had a Marine Corps patch on his vest, so I stuck out my hand to shake his and thanked him for his service.We shared great conversation, and it turned out that many of the club members were veterans. As a disabled veteran and former Navy combat photographer, it was easy for me to strike up conversation and share stories with them. I rode 384 miles with them to Edmund, Oklahoma.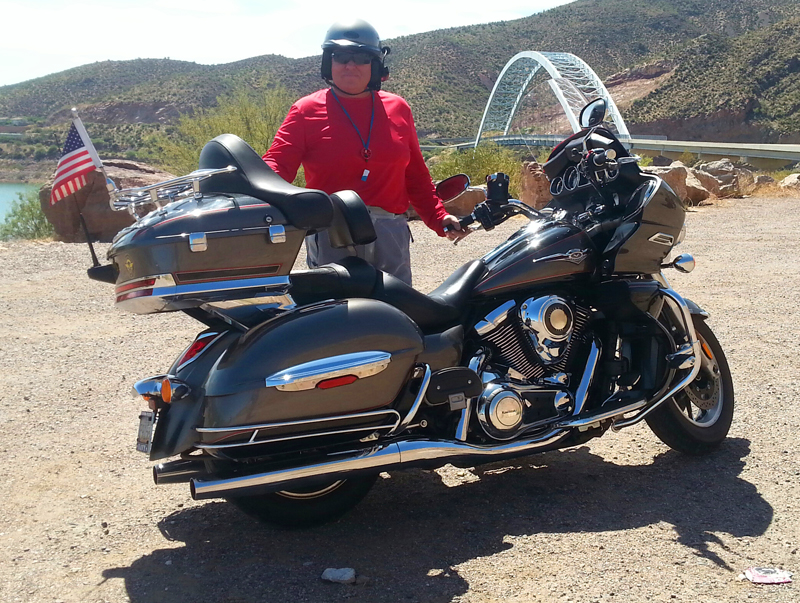 After visiting an old friend for the night, I pointed myself toward Eureka Springs and began the final 248 miles to my destination. The roads to Eureka Springs were twisty, and the scenery was breathtaking. When I arrived, I was gladly received by two of my Pheonix club members, Hornet and John.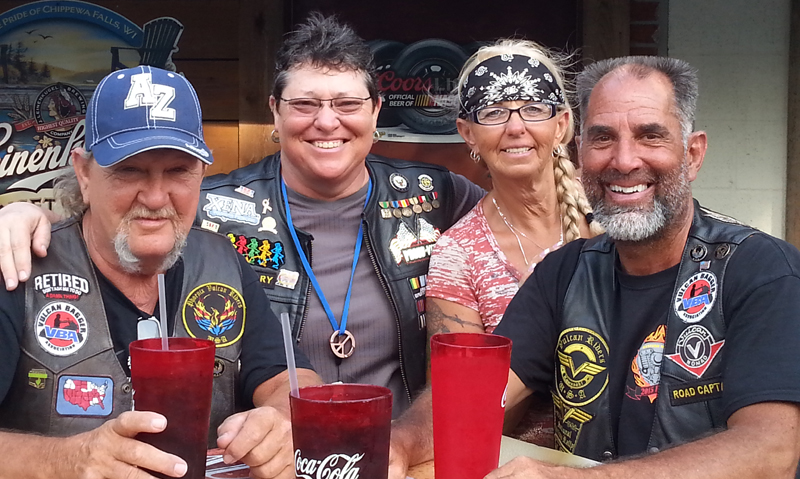 The rides over the next couple days were unforgettable. Teri Conrad, editor of Riders of Kawasakis (ROK) Accelerate magazine at the time, suggested a ride to Jasper, Arkansas. The route was called the "Jasper Disaster." She told us the famous Ozark Cafe was there, and the road was a very twisty—a challenge to ride even for experienced riders. The ride sounded like a great idea, and I was up to the challenge.
I traversed the Ozarks with my friends, riding through valleys and little towns, passing lakes and rivers, crossing bridges, and navigating through farmland, finally arriving in Jasper. Adrenaline coursed though my veins. It was one of the most memorable rides of my life. The return ride to Eureka Springs was just as amazing, and the view of the Ozark Grand Canyon is one that I'll never forget.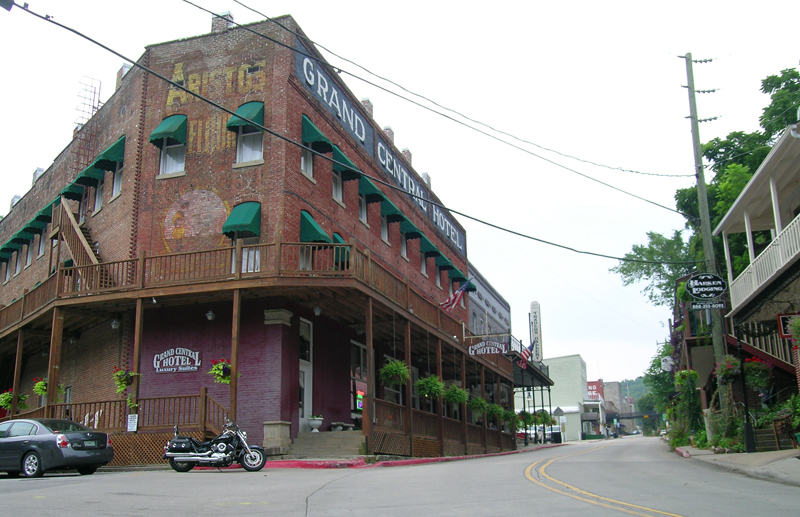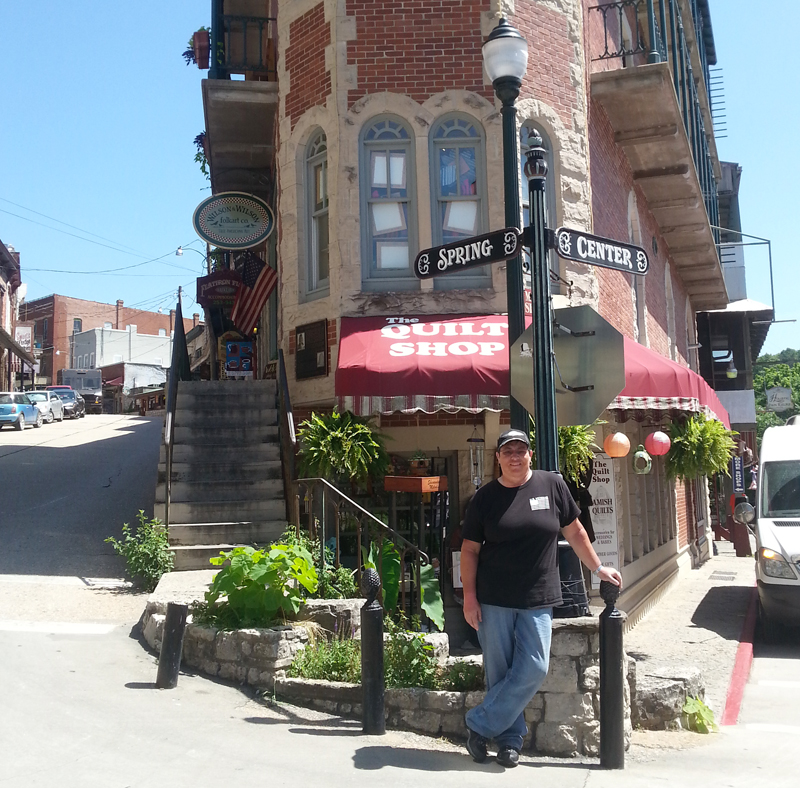 On the final night, participants gathered for the rally banquet dinner and I had a great time talking with Vulcan riders from all over the United States and Canada. I was also lucky enough to win a raffle prize—a Kawasaki Vulcan leather jacket and a motorcycle cover!
I learned a number of lessons on my first cross-country trip. Here are my top three.
1. I learned to speak up and be friendly with strangers in safe places as you never know what you might have in common, other than a mutual love for motorcycles.
2. I also realized the importance of rekindling friendships even though I thought too much time had passed by.
3. My biggest realization was not to fear the unknown road ahead of me, but to change my mindset and see life as a new, discoverable adventure instead of a risk.
Now that I've done a cross-country trip, I say, "Go for it!" Stop talking, start planning, and get on your bikes and ride! It's amazing what you can discover about yourself when you take the leap of faith and just go for it.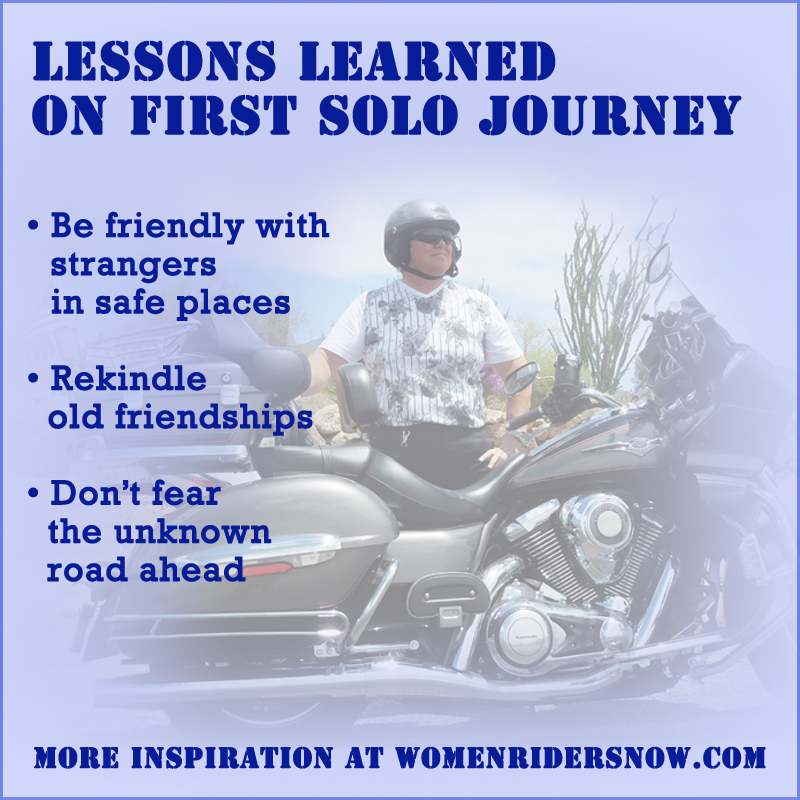 Do you have a story to share? Please send it to us, but read these submission guidelines first.
Related Articles
Top 5 Touring Motorcycles Women Ride
Solo Road Trip on a Motorcycle: Alone, But Never Lonely
Reader Story: Celebrating 50 Years with a Solo Trip
More Reader Stories