Want to share your motorcycle or product review?Click hereto find out how.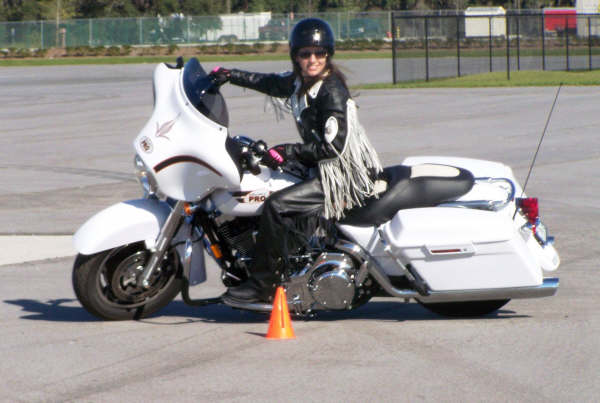 My name is Stephanie Bertsos (AKA Baby Biker). I just turned 20, and I live in sunny, ride-all-year-round Hudson, Florida. I work in the offices of Ride Like A Pro, which created theRide Like a Pro Instructional DVDs. After working here for a few months, I decided I wanted to ride a motorcycle for myself. Jerry "Motorman" Palladino, the owner, taught me the basics on a Yamaha XT 250, and then I went through the MSF course and obtained my motorcycle license.
One of the perks of working for Ride Like A Pro is that I get to ride a company bike. I started off with a 2008 Harley-Davidson Nightster, went through the Ride Like A Pro course on that bike and then took to the road. The Nightster was a great bike, though it rode a bit hard. One day I took a 2008 Harley-Davidson Street Glide for a test ride. This bike was so much more comfortable and smoother than the Nightster that I decided this was going to be my ride. Though Ive only been riding since May, I have no problem handling the 800-pound Street Glide due to the fact that Jerry taught me the motor officer techniques from Ride Like A Pro before I ventured out onto the road.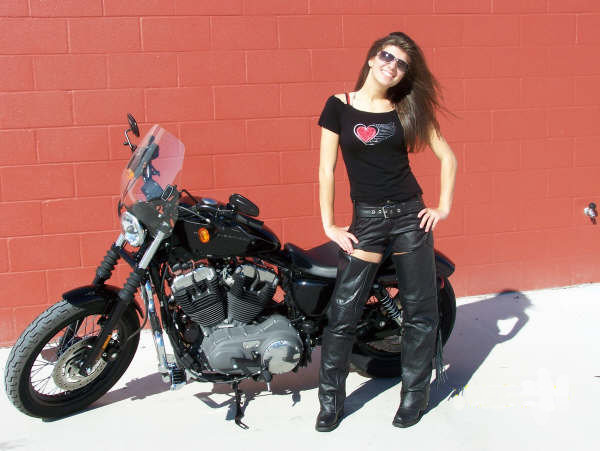 The Street Glide fit me perfectly once the stock seat was modified. The front of the seat was narrowed, and some foam was added to the rear of the seat to push me closer to the bars for easier maneuvering. We installed a 6-inch windshield to replace the stock 4-inch one. Bag guards were installed, and then Pro Guards were put in place. The Pro Guards are designed to protect the crash bars when training. They snap on easily and protect your chrome.
Im 5-foot-4 and weigh 96 pounds and can easily flat-foot the bike with the techniques Ive learned. Though Ive only been riding a short time, I can actually outride 90 percent of the so-called "experienced" riders with whom Ive come into contact. When I pull into my local bike night, Im always asked by male riders how a tiny young girl like me could possibly handle such a big bike. I tell them, "Im not pushing it or carrying it. Im riding it." So the weight of my bike and my small stature dont mean a thing. If they persist, Ill sometimes jump on the bike and whip a few board-scraping turns. I love to see the look on their faces when I do this. My goal is to eventually ride well enough to perform with the Ride Like A Pro crew in Motormans rider skills show.
I love the Street Glide. Its smooth, has lots of power, handles the twisties like a dream and I can maneuver it around at low speeds with ease.
Want to share your motorcycle or product review?Click hereto find out how.
Related Articles:
Product Review: Ride Like A Pro DVD
WRN Buyers Guide: Harley-Davidson Touring Models
WRN Buyers Guide: Harley-Davidson Sportster Models
Editors Blog: My New Street Glide
Editors Blog: First Trip on My New Custom Street Glide
Photo Gallery: Sturgis Womens Day Parade