This past week I purchased a new motorcycle. This is a big deal because I havent owned a brand new motorcycle since I purchased my 1994 Dyna Low Rider in 1994 – 18 years ago! Thats crazy! Ive been test riding new motorcycles for the past eight years so I havent really needed a new motorcycle for myself. When I was without a test bike, my Dyna filled the bill just fine.
Today, I am the excited new owner of a 2008 Harley-Davidson Street Glide. Many bikes were in the running to be my next new motorcycle most of them touring motorcycles or baggers as theyre called. In the end, the Street Glide possesses all the qualities that make it nearly perfect for me.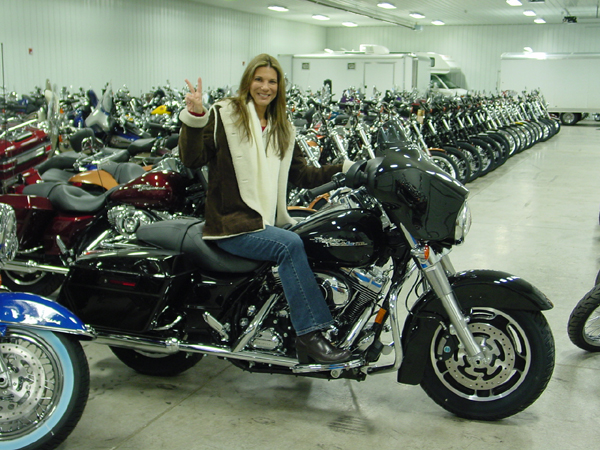 Women are constantly in search of the perfect answer when it comes to products they buy. My list of criteria for the perfect bike is long; Ill share it with you someday. Suffice it to say, my riding demands have evolved over the years now leaning towards the three Cs: comfort, convenience and character. If you read earlier articles of mine, youll learn that I wouldnt have been caught dead riding a bike that was overly comfortable right out the crate with already conveniently installed saddlebags and windshield. But now, since I mostly ride long distances when I venture out on my motorcycle (as opposed to the short hops Id take in my early riding years), my body and soul are craving the comfort and convenience of a touring motorcycle. Mine even has a radio, something I was skeptical of at first, but have grown to appreciate over time.
Every bike I choose to own must have character and ever since it was introduced a couple of years ago, the Street Glide is loaded with it. Its badass and good girl all in the same package. Its got badass character with its chopped tinted windshield, custom floorboards, footpegs, and wheels, yet is all good girl for me because I ordered it with the added safety option of ABS brakes and the comfort and covenience option of cruise control. It also has a protective large fairing, plus Ive ordered accessories of a reach seat to bring me up and down a smidge more; and passenger backrest and luggage rack to hold my additional luggage.
Im also doing something Ive always wanted to do with a motorcycle – having it custom painted. I ordered black because Im going to get a custom paint job of old-fashioned motorcycle flames done by the highly talented JoAnn Bortles of Crazy Horse Painting. Ive admired JoAnns award winning work for years. Im excited to finally have her lend her special skills to my motorcycle, the one that will take me well into my mid-life motorcycling years and beyond.
Of course, Ill post pictures of the paint job right here on my blog when its finished in the late spring just in time for riding season.