I just returned from Harley-Davidsons 105th anniversary celebration in Milwaukee, but before I blog about that, I have to catch you up on Sturgis. Harley stuff to come in a future blog.
The big talk around Sturgis this year – as well as after the rally, was about how low attendance was compared to last year. Funny, I noticed a bigger drop-off in 2007, but nobody was making a big deal about it then. I guess these things take a year to sink in. Ive been attending for the last 13 years so I feel Im qualified to judge one year to the next.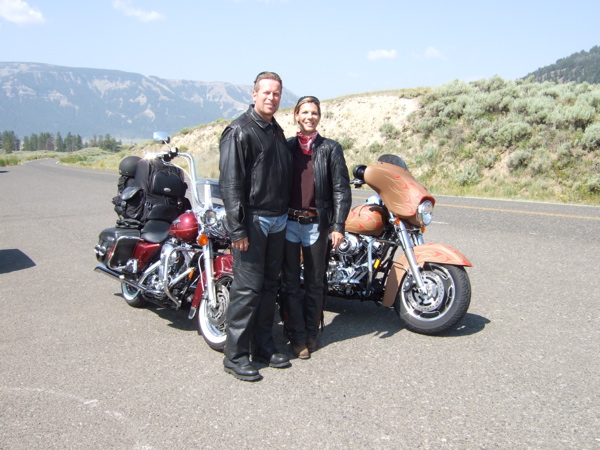 Its no secret that motorcycle sales have been off the last two years after record double-digit growth. The sluggish economy is giving people reason to hold onto their hard-earned dollars. Motorcycles are not as appealing to those who had extra cash to splurge on a luxury item – the reason motorcycle sales skyrocketed in the first place. Every Tom, Dick, Harry and Susan with money wanted a custom motorcycle like the ones they saw on Discovery Channels Biker Build Off. Next thing you know, custom shops are opening up faster than you can say biker build off and those with unique, innovative designs are getting written up in magazines. The chopper craze is here!
It all came and went, though, in the span of about five years. The tightening economy made high dollar customs lose their shine fast. What were seeing now is a thinning of the masses that flocked to buy a motorcycle because it was the cool thing to do and they had the money to play. Rallies like Sturgis, with their "lower" attendance numbers, are simply experiencing a weaning of the flock. The diehards are still coming. And those with the extra moolah to spend this time have a true desire to be on two-wheels. So what if head count is down from the half-a-million it had been during the early 2000s. The quarter of a million or so who are still coming are the real deal.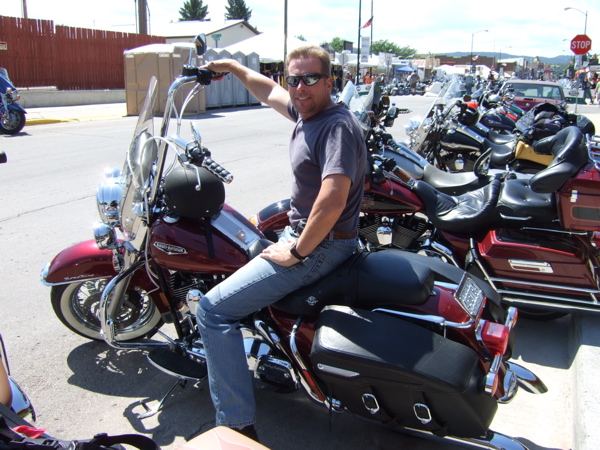 Aside from the fact that I could now get around Sturgis without getting stuck in mile-long traffic jams just from the sheer number of bikers there, this year was the first time in the 13 years Ive been going that I started feeling bored with the rally. Gosh, dare I say that! If it wasnt for the industry parties where I can hobnob with my friends, having a new motorcycle to ride there and back, and the always great, scenic route to Sturgis through Montana and Wyoming, Id probably consider not going. Not go to Sturgis! How could that be? I just think I need a break. At least thats how feel today. Well see how I feel next year.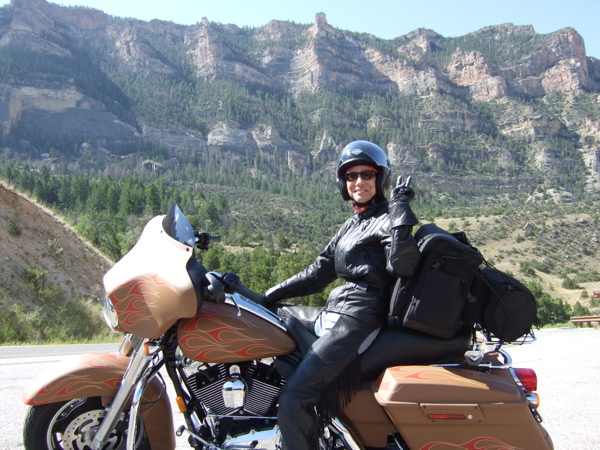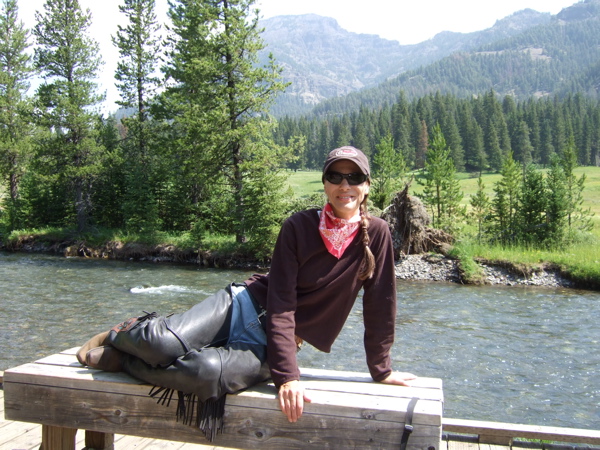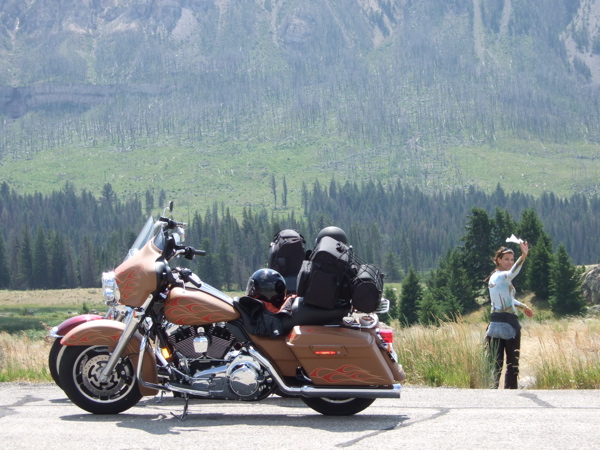 Highlights from this Years Rally
Its been interesting watching from my industry leading vantage point how this "women and motorcycling" thing is catching on in various parts of the industry. First it was in apparel; next it was in the form of its own rallies; now big rallies are creating a place for "women and motorcycling." Hats off to Tyna Bower of Independent Cycle of Rapid City, South Dakota, for creating and promoting a Womens Day at the Top 50 Rally Park, a vendor parking lot area alongside Interstate 90 between Sturgis and Rapid City. I give her an A for effort for the ambitious schedule of events and industry leading names it attracted like Jody Perewitz and Laura Klock to give a seminar.
Unfortunately, Womens Day was loosely organized and people browsing the vendors on Thursday, August, 7, the day set aside for women, had no idea it was going on because there were no signs indicating it. You would have had to know ahead of time that there was a breast cancer awareness ride in the morning, tech seminars geared for women scheduled throughout the day, an Icon fashion show, "women in the industry" awards, and a few women-focused vendors like me who came there just to capitalize on the added female foot traffic – of which there was none. Im sorry to say that, but I have to be honest.
Doing a womens day in a rally like Sturgis where events are so spread out, and there is sooooo much to do is quite an awesome task if its to be done right and one, that if I saw an opportunity all the years Ive been attending, Id have organized something myself. I just think Sturgis is a tough venue if you want your womens event to have any impact and carry momentum from year to year. Im ready to be proved wrong on this by the way.
It was nice to see the usual industry leading supporters of these womens events there for the ride people like WRNs own Betsy Huelskamp, author Sasha Mullins, Garage-Girls.coms Jody Perewitz, worlds faster bagger record holder Laura Klock, and Discovery Channels "Motorcycle Women" co-star Gevin Fax, just to name a few. Click here to read our news story on the whole event.
Harley-Davidson has been doing a womens day at its product display at the Rapid City Civic Center for two years now. Its great that the Motor Company recognizes that women come to motorcycling through a different set of circumstances than men and things like "what do I do if I drop the motorcycle" is a barrier to some women getting in the saddle of their own motorcycle. Harleys womens day includes "how to pick up a dropped bike" seminar so women can see step by step how easy it is to lift a motorcycle by ones self if it falls. You can read our feature article on the technique by clicking here. It can be found in the Feature Articles section.
I always enjoy attending the Sturgis Hall of Fame induction ceremony taking place during the rally. This year, two women were inducted: Chris Sommer-Simmons and Becky Brown both profiled in our Way To Go Girl! link. Afterwards, I stopped by the museum to check out the new First Ladies of Motorcycling exhibit celebrating firsts for women in motorcycling. You can read our story on the exhibit in our news section by clicking here.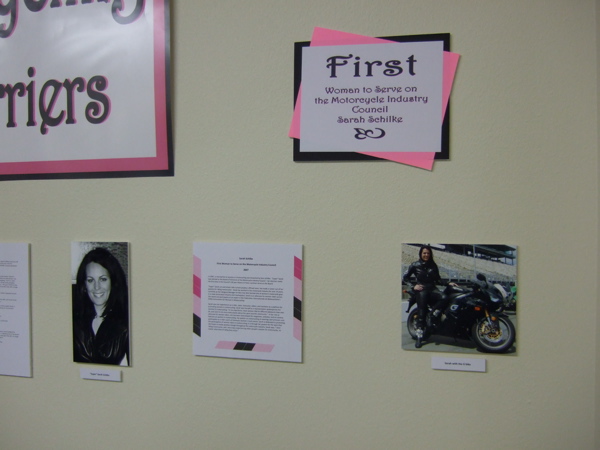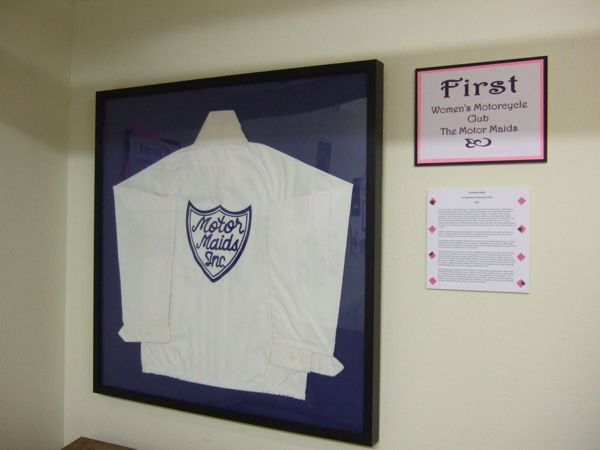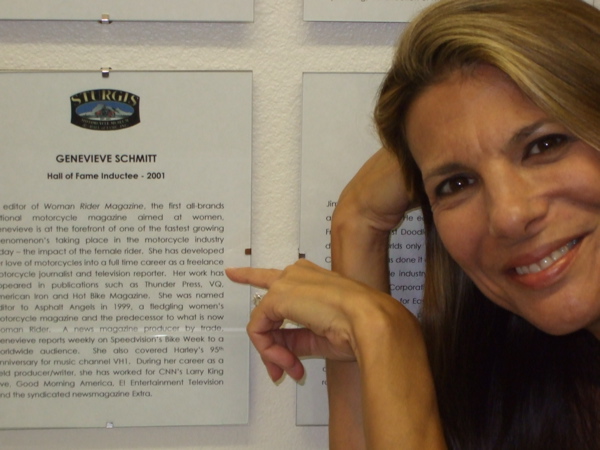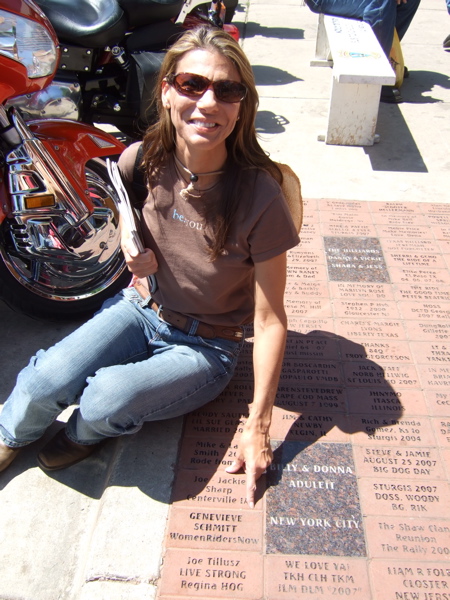 I connected with two special ladies this year. First was Laura Klock. Laura and I met briefly last year at Sturgis. When she set the record as the worlds fastest rider on a bagger motorcycle at the Bonneville Salt Flats in September 2006, she was immediately thrust into the spotlight. This year, I got to know her and her husband, Brian Klock, owner of Klock Werks.