Daytona Bike Week is the unofficial start"of the riding season for many motorcycle enthusiasts. It's a proud tradition that began 80 years ago. Bike Week 2021 begins March 5 and runs through March 14. Once again, we have a great line-up of events and information for women riders and their families. Check out last year's event article here for general information, rides, destinations, and activities you can enjoy every year. And be sure to check out Carla Kings article here about tips for staying safe during the COVID-19 pandemic.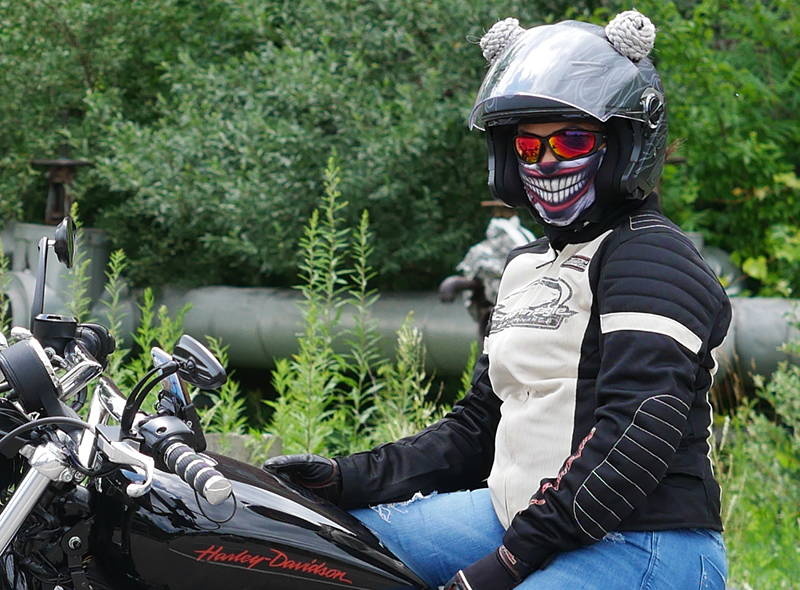 ---
General Information
Daytona Beach Main Street Safety Plan
Daytona Beach instituted its "Main Street Safety Plan" with changes intended to keep attendees safe during the 10 days of Bike Week. Curbside parking will allow for greater social distancing on the sidewalks. Overflow parking lots will be located one block north of Main Street at the Ocean Center. Outdoor parking is just $5 per bike and indoor parking on weekends for $10. This is a great deal considering in the past, you may have paid up to $20 for a parking spot in a dirt field. Merchants have worked hard to follow CDC guidelines and ensure their locations are safe. Some interior locations have reduced capacity to 60 percent. Organizers ask motorcyclists to be patient when waiting to enter. Outdoor areas will be plentiful. All local businesses want you to enjoy your visit and be safe.
New for the 80th Anniversary is a very welcome restriction—Main Street will be open to motorcycles only March 5 – 14. This has been a much-needed restriction to keep motorcyclists and pedestrians safe from cars and other vehicles.
Official Bike Week Welcome Center
The Official Bike Week Welcome Center is located at a brand-new location at ONE DAYTONA, Daytona Beach's new outdoor lifestyle and entertainment destination. Although it is located directly across from the Daytona International Speedway on One Daytona Blvd, it isn't as obvious as you may think. They are housed in a white tent with the Official 2021 Bike Week logo plastered on the side of the tent. Once you see it, you'll know you have arrived. There's plenty of bike parking but vehicle parking might be more difficult at high volume times. Parking is free.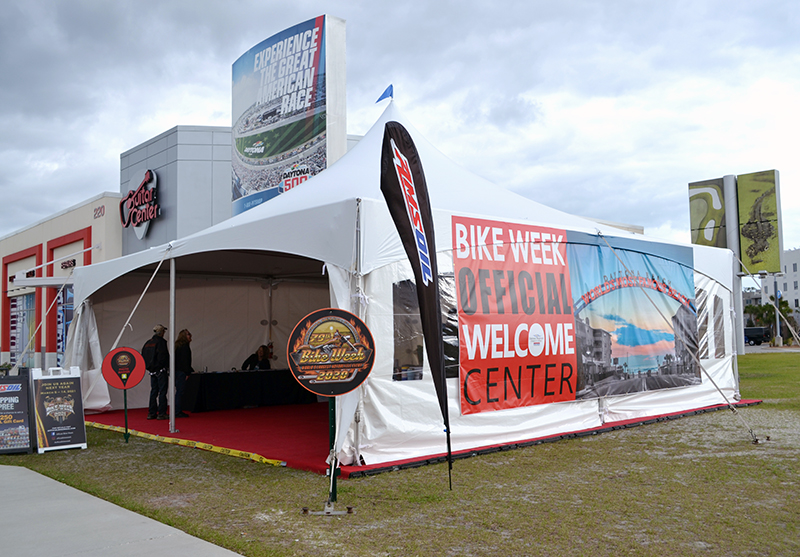 2021 AMSOIL Bike Week Treasure Hunt
Get ready to ride in the fresh open air. The tradition continues with the ever-popular AMSOIL Treasure Hunt with visits to great locations all around the area for Bike Week. Be sure to stop at each location to get your special stamp and maybe a little extra from the stops themselves. Insiders know that each stop provides an inside scoop for the best Bike Week happenings from the friendly locals themselves. Completing the AMSOIL Treasure Hunt earns you a limited-edition commemorative Bike Week 80th Anniversary coin. The coin is a numbered one-of-a-kind perfect souvenir from your trip. Details are in the Official Pocket Guide.

Don't miss the official poster, the seventh in a series of authentic art from the Hintz Studios. This year's poster also celebrates the 80th anniversary. It features the American flag and a military Harley-Davidson motorcycle. You can pick it up at the Official Welcome Center and at locations throughout the area.
---
Women Centered Events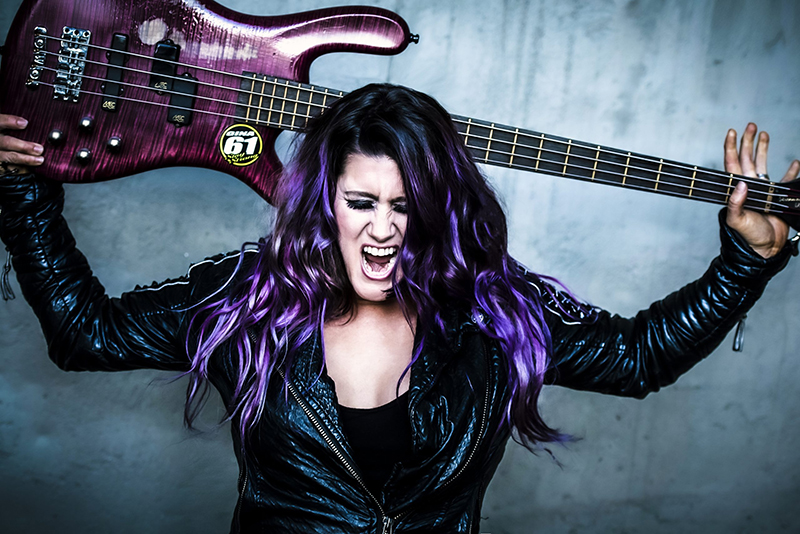 Jasmine Cain in Concert
Friday, March 5, 8:00 p.m. — 10:00 p.m.
Dirty Harry's Pub, 705 Main Street, Daytona Beach
Multi-award winning, Sturgis native, Jasmine Cain moved to Nashville in 2003 and went to work paving the way for female-fronted rock bands at motorcycle events. From classic and modern rock to revved up pop and metal, Jasmine has seven studio albums with award-winning original music with her latest release, "SEVEN." Jasmine has won more than 30 awards for her music and performances and is sure to bring down the house in Daytona this year.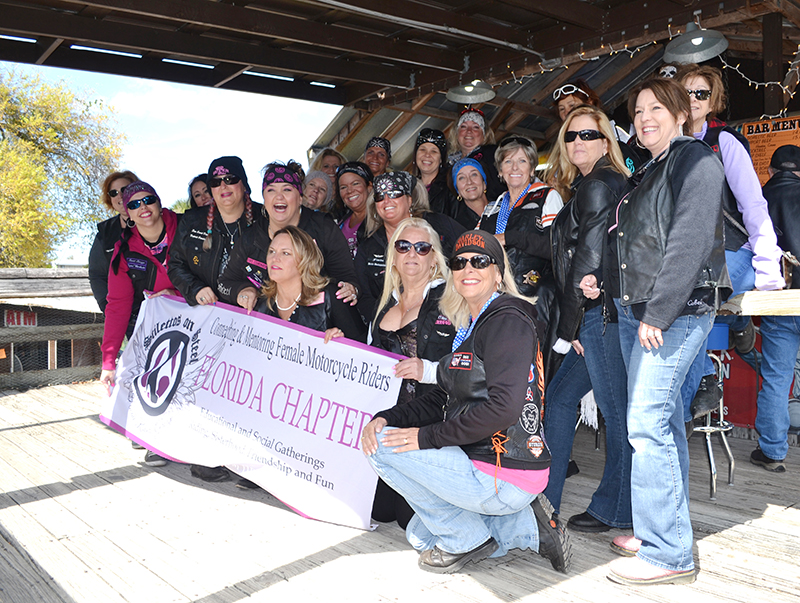 Stilettos on Steel Meet and Greet
Saturday, March 6, 12:00 p.m. – 2:00 p.m.
World Famous Iron Horse Saloon, 1068 N. US Highway 1, Ormond Beach
Come out to the World Famous Iron Horse Saloon and see what all the excitement is about with one of the fastest growing female riding groups, Stilettos On Steel. Meet these exciting, exuberant, and extra friendly women who welcome lady riders on any motorcycle and at every skill level. Join in the 50/50 raffle, smiles, laughs, and tons of fun. You won't be disappointed.
Tiffany Sweet Band
Sunday, March 7, 6:00 p.m.
Boot Hill Saloon, 300-310 Main Street, Daytona Beach
Tiffany Sweet and her band are back to rock the house during the 2021 Bike Week with a blend of classic, modern, and acoustic rock. An American rock and Nashville country artist, Tiffany is also a songwriter, born and raised in a small mud-baked North Florida town. As a child she was known to take the stage, guitar in tow, and sing with explosive passion and joy. She continues that passion today with a good-for-the-soul writing ability that captivates folks of all musical genres.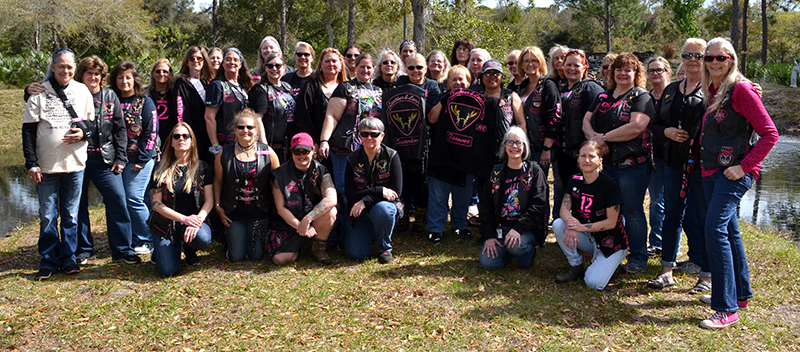 Leather & Lace Sisterhood Pancake Breakfast and Bike Blessing
Sunday, March 7, 9:00 a.m. – 12:00 p.m.
574 W. Ariel Rd., Edgewater
Start the week off with a positive and uplifting note at this popular Bike Week event with a free pancake breakfast and bike blessing that is open to the whole family. Leather & Lace is a womens motorcycle club that seeks to improve the quality of life for children while doing what they love most, "being in the wind." The group also desires to increase public awareness concerning motorcycling with members and chapters all over the United States and beyond. Women who choose to be a part of "Lace Nation" enjoy an amazing sisterhood. Come out to this as well as their other events during Bike Week and catch the spirit.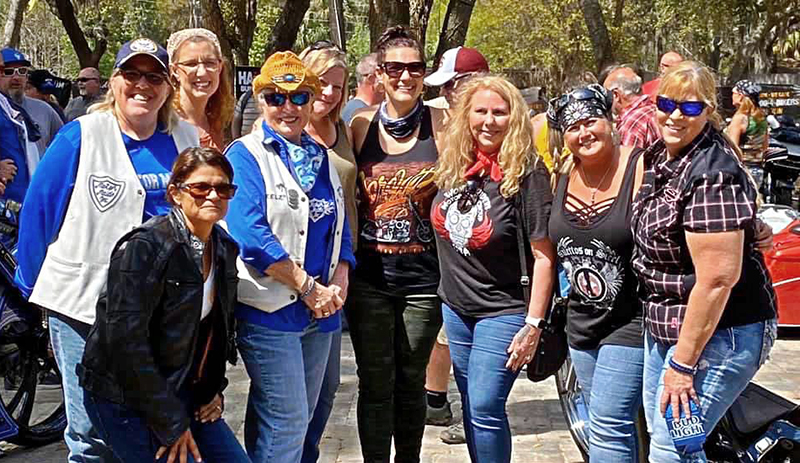 Women Riders USA Meet Up
Wednesday, March 10, 2:00 p.m.
Broken Spoke Saloon, 1151 N. Hwy 1, Ormond Beach
Free and open to all, Women Riders USA hosts a meet and greet at the Broken Spoke Saloon in conjunction with the Perewitz Custom Paint Show. Meet Sturgis Museum Motorcycle Hall of Famernbsp;Jody Perewitz. Jody paved her own way into history by becoming the first woman to ride an American V-twin powered motorcycle more than 200mph. She currently holds 16 land speed records, one of which is a world record, and has earned four AMA number one plates.
Leather & Lace Motorcycle Club Open House
Thursday, March 11, 12 p.m.
574 W. Ariel Road, Edgewater
Leather & Lace MC Open House is free and open to the public. Come out and meet like-minded women. Tour the beautiful property and see what all the excitement is about. Gates open at noon, with door prizes, raffles, 50/50, auction, food, and music.

Big Wheel Bike Show and Women's Empowerment Ride
March 12 – 13, 5:00 p.m. – 11:45 p.m.
918 N. Atlantic Ave, Daytona Beach
Big Wheel Women is a woman owned and operated business centered around creating motorcycle events for custom motorcycle build enthusiasts. The group provides support through products, encouragement, and positive representation of what female riders can be.
Big Wheel Women hosts a free annual women's empowerment ride during Bike Week through Daytona. This year's ride, called "I am strong," starts at One Daytona Place at 11 a.m. on March 12. Everyone is welcome. Women riders ride in the front and their brothers ride in the rear, please. This beautiful ride will end at the Hard Rock Hotel Daytona Beach.
Registration is required. Buy tickets here.
Big Wheel Women Present Rumble Night Bike Week
Saturday, March 13, 1:00 p.m. – midnight (times may vary)
Hard Rock Hotel, Daytona Beach
Tickets start at $25
Is your bike ready to rumble? Cash prizes, crowns, and the coveted Big Wheel Women boxing gloves. Bring your A-game, good vibes, and competitive spirit. Raffle tickets available at BigWheelWomen.us for your chance to win the 30-inch Metalsport M22 Torque Wheel or the 30-inch Don Juan Wheel. Winners will be chosen at Rumble Night. There will be entertainment, food, special reveals, a DJ and more.
---
Events for Everyone
Fastlane Campground Motorcycle Swap Meet and Burning Bike
3150 E. New York Ave., Deland
Fastlane Campground, conveniently located at the Volusia County Fairgrounds, provides camping during Daytona Bike week starting Friday, March 5 at 10:00 a.m. to Sunday, March 14. RV full hookups start at $55 per night and include entrance for two people. Primitive tent camping is $15 per night, per person, or $90 for all 10 days. Trailer parking is available and is $100 for all 10 days. Accommodations include restrooms, hot showers, and free Wi-Fi. Food, vendors, and bands play each night at the onsite Fastlane Bar & Grill. All campers will receive free entry to Fastlane's Motorcycle Swap Meet and Burning Bike.
Swap Meet
Friday, March 5 – Sunday, March 14, 9:00 a.m. – 5 p.m.
Admission $5, free parking
Burning Bike
Friday, March 12, 5:00 pm – 1:00 am

51st Annual DAYTONA Supercross
Saturday, March 6
Daytona International Speedway
1801 W. International Speedway Blvd., Daytona Beach
The 51st DAYTONA Supercross features one of the longest and most grueling courses on the circuit, designed by five-time DAYTONA Supercross Champion Ricky Carmichael. The event offers high-flying excitement and side-by-side intensity and is set for Saturday, March 6. DAYTONA Supercross is an electric event, featuring a unique layout and three types of dirt, including the signature beach sand section that tests the skill and physical endurance of every rider. From the world class pyrotechnics and dazzling lights show of rider introductions to the post-race champion celebration, it's an atmosphere like nowhere else.
Bike Week Free Outdoor Breakfast
Wednesday, March 10, 8:00 a.m. – 11:00 a.m.
Hosted by Edgewater United Methodist Church
211 N. Ridgewood Ave., Edgewater
Come out and enjoy a free breakfast of pancakes, scrambled eggs, sausages and other wonderful goodies. Outside venue, weather permitting, but will serve inside if necessary. This is an annual event that you won't want to miss. The food is delicious and will start your day off right.
DAYTONA 200 presented by Cumoto
Saturday, March 13, 1:00 p.m. – 3:00 p.m.
Daytona International Speedway
1801 W. International Speedway Blvd., Daytona Beach
The 2021 DAYTONA 200 presented by Cumoto, America's most historic motorcycle road race, held at the iconic Daytona International Speedway, will take place on March 13. The 57-lap race, 200-mile event will showcase 600cc sportbikes on the Speedway's 3.51-mile DAYTONA road course.
Volusia Half-Mile I and II Doubleheader
Friday, March 12 – Saturday, March 13
American Flat Track – Volusia Speedway Park
1500 FL-40, De Leon Springs
The season will launch with a reprise of the Volusia Half-Mile I & II doubleheader on Friday, March 12 and Saturday, March 13 during Daytona Bike Week.
For more information, visit Daytona Bike Week's site here.
---
---
Related Articles
Daytona Bike Week 2020: Motorcycle Destinations and Deals
National and Regional Women's Riding Clubs
WRN Calendar of Women's Motorcycle Events