Women are participating in powersports activities more than ever before. As we reported here, the most recent annual Motorcycle Industry Council (MIC) survey shows that women make up 26 percent of the motorcycle market. Several motorcycle brands are paying attention, the latest being Indian Motorcycles' parent company, Polaris. Its new initiative, called Empowersports Womens Riding Council, brings together 12 powerful women of diverse backgrounds with experience on asphalt, dirt, sand, and snow. As champions for advocacy, their talent and passion helps empower women, build community, spark adventure, and foster safety.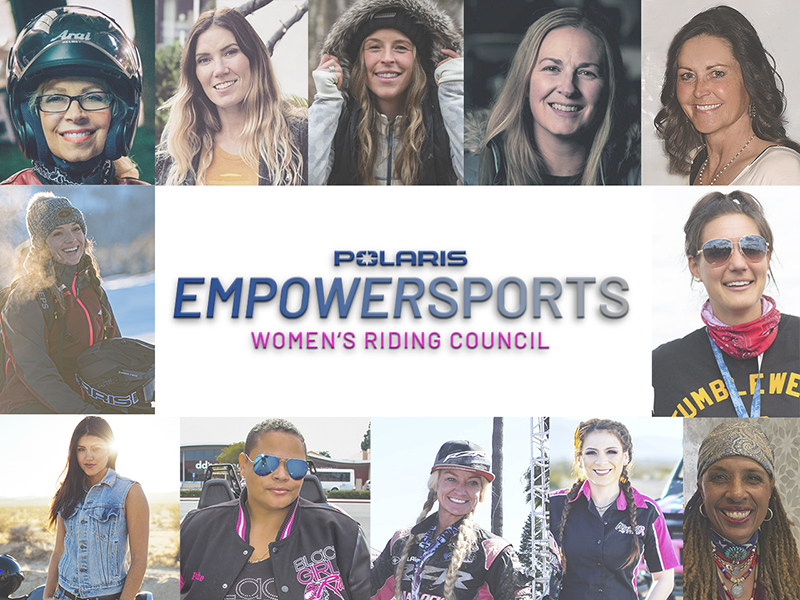 The goal of Polaris' Empowersports Women's Riding Council is to uplift the passions that fuel women and put forth deliberate efforts for increased representation, inclusion, and participation of women in powersports.
The 12 women include Women Riders Now Leadership Board member and Black Girls Ride founder Porsche Taylor (who recently reviewed the Indian Motorcycle Challenger here; custom motorcycle builder, racer, and Sturgis Hall of Famer Jody Perewitz; Wild Gypsy tour creator Kelly Yadzi; founder of International Female Ride Day Vicki Gray; actor and musician Gevin Fax; RZR racer Michelle Barraza; dirt bike racer and Tour of Idaho finisher Carrie Barton; stuntwoman and motocross champion Jolene Van Vugt; professional RZR racer and SCORE Baja 1000 champion Kristen Matlock; professional snowmobiler Julie-Ann Chapman; professional mountain athlete skier and guide Amy David; and rodeo champion, rancher, and Polaris Ranger ambassador Lisa Lockhart.
"For more than 65 years, Polaris has created new ways to connect riders with the outdoors on all terrains, and we are committed to inviting more people to join powersports for work and for play," said Polaris Chief Customer Engagement and Growth Officer Pam Kermisch. "We are so honored to have these trailblazing women join in this initiative, not only to inspire and empower more adventure-inclined women to enter the space, but also to lead industry improvements for the women already immersed in powersports culture."
Learn more about Polaris Empowersports Women's Riding Council here.
---
Related Articles
Indian Motorcycle Reviews
New Mentorship Program Launches to Help Women Experience the Open Road
Confidence Corner: Stretching Beyond Your Motorcycle Comfort Zone
Women Riders Now Expands Leadership Board with Three Key Influencers
Five Things To Know About International Female Ride Day