Let's just go ahead and get it out in the open. From the moment the Indian Challenger was introduced, everyone was quick to compare it to the Harley-Davidson Road Glide. Both are fixed fairing baggers built to go the distance. Harley has had decades to establish itself in this category, but Indian's new bagger has issued a call to arms (with a name like Challenger, it's hard to ignore). Is the Indian Challenger just a knockoff of the Harley-Davidson Road Glide, or has it set a new standard for the American bagger?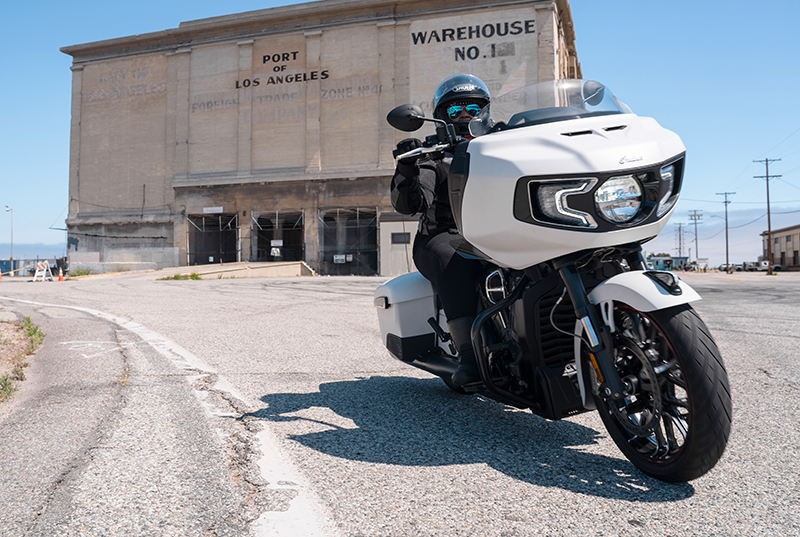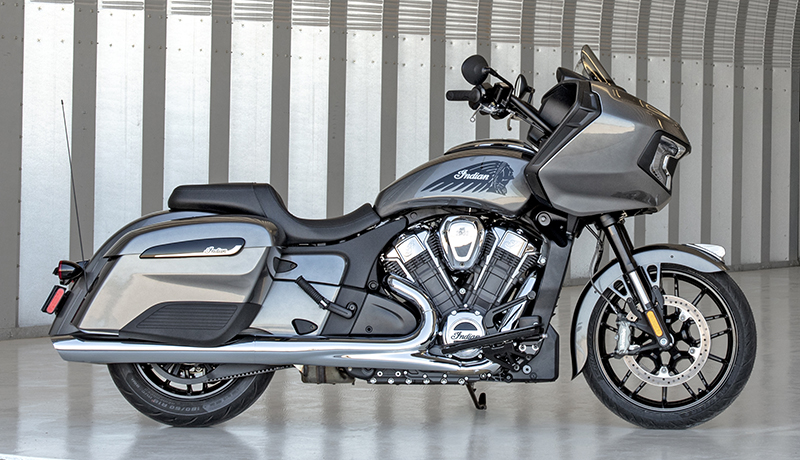 The Challenger is equipped with all the best features riders want on a touring bike: cruise control, LED lighting, ABS, keyless ignition, electronically adjustable windscreen, 100 watt audio system with AM/FM Bluetooth, USB, and smartphone compatible input, 6-gallon fuel tank, and huge waterproof saddlebags with power locks. Two upgraded models are offered: Dark Horse and Limited. These versions add more color and finish options, as well as Indian's Ride Command System and Smart Lean Technology. (More on these features later.)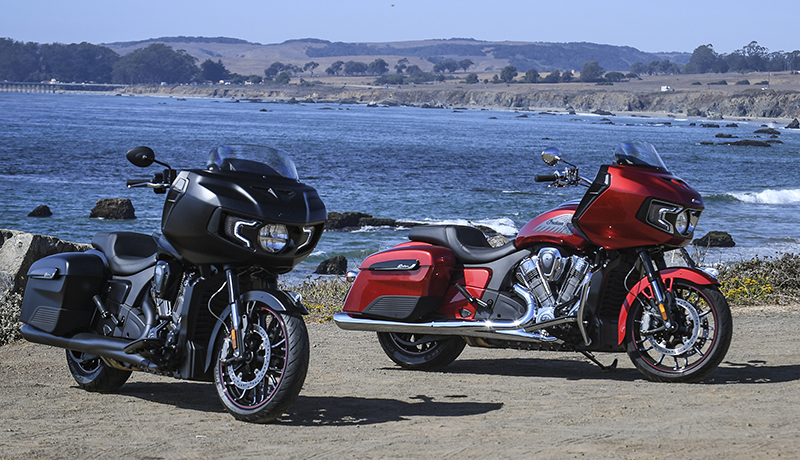 The Challenger Has Heart
At the heart of the Indian Challenger is the all new liquid-cooled PowerPlus 108-inch V-twin engine. The new motor's name is a nod to Indian Motorcycle's iconic history, paying homage to the Indian PowerPlus motorcycle produced from 1916 to 1924. It was inspired by the Indian Scout's liquid cooled 60 degree V-twin, but comparisons end there. The result is a smooth and powerful engine, designed to handle any challenge thrown its way. From a rider's perspective, you immediately notice how effortless it is to get up to cruising speed.
After spending a lot of time on the Indian Chieftain, which would get uncomfortably hot in traffic, even with cylinder deactivation that shuts off the rear cylinder, I specifically noticed the lack of heat coming from the Challenger's PowerPlus engine. With liquid cooling keeping the engine heat at bay, there's no need for cylinder deactivation on this bike. This will be a welcome bonus when riding across the country in 108-degree weather when I lead the Black Girls Ride to the March on Washington in August from Long Beach, California, to Washington, D.C.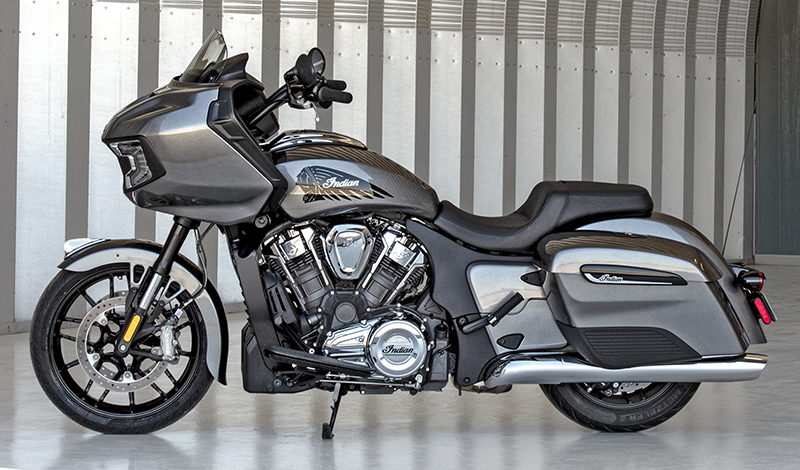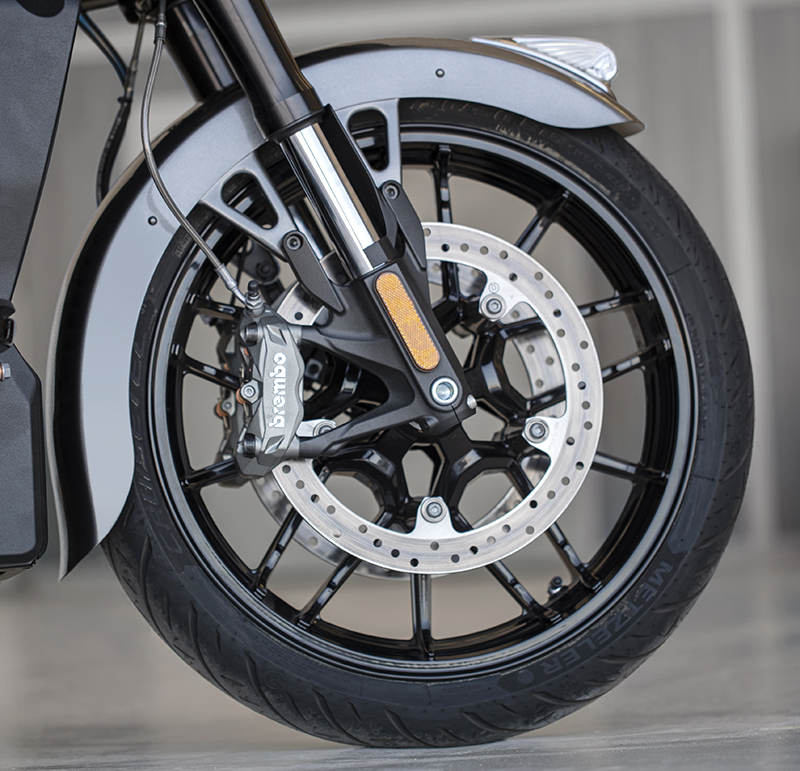 Large powerful engines often come with stiff clutch springs, making it difficult to engage and disengage the clutch smoothly. The Challenger is equipped with Indian's Assist Clutch feature, which offers effortless clutch lever pull with slick smooth engagement. Women with small hands will especially appreciate the lack of effort required on the lever. Having a clutch that's nearly effortless to pull in means you can more easily manage the powerful engine, and switching gears while commanding the curves is just plain fun.
I'm happy to see Indian's throttle mapping ride modes that have been updated from the Chieftain Limited we reviewed here added to the Challenger. Riders can choose "Rain" (a stable, comfortable ride, great for wet weather or windy days); "Standard" (lots of power for maneuvering your long distance ride); and "Sport" (hold on tight, and get ready to blast off!). Each mode gives the bike a new personality, and has been engineered with its own distinct traction control setting to align with each model's specific throttle mapping.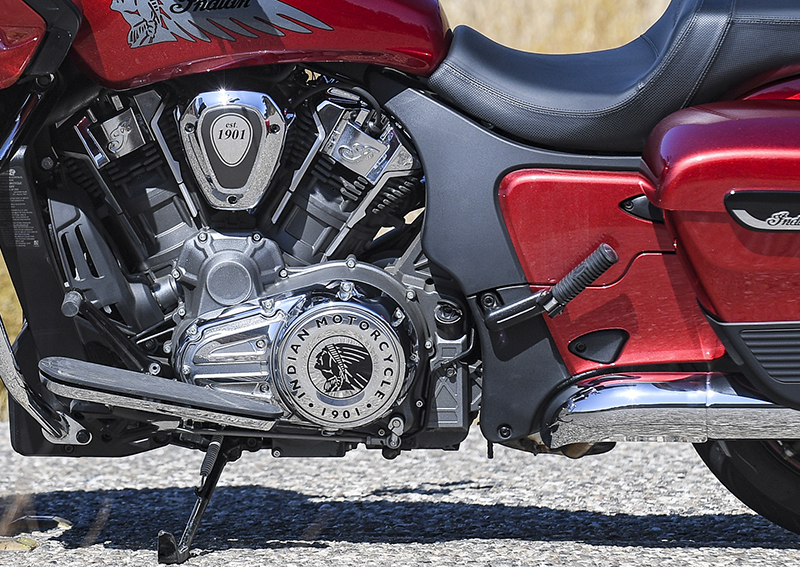 Fixed Fairing vs. Fork Mounted Fairing
Baggers with fork mounted fairings (think Indian Chieftain or Harley-Davidson Street Glide) have the fairing mounted to the forks of the bike. As you steer the fairing moves with the forks. Fixed fairing baggers like the Challenger (think Honda Gold Wing, BMW K 1600 B, Harley-Davidson Road Glide) have their fairings mounted to the frame of the bike. As you steer, the fairing remains fixed to the frame, pointing ahead even when you push or pull the handlebar. Fixed fairings take the weight off the bike's forks, making the steering feel lighter, quicker, and more nimble in curves.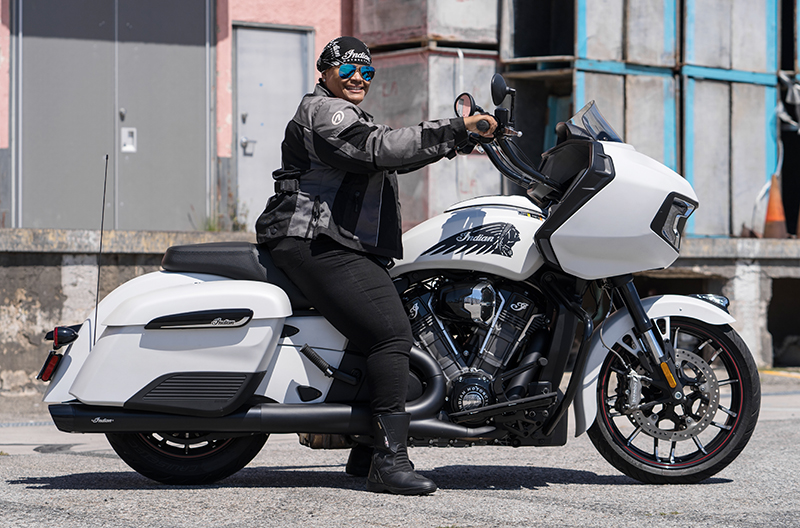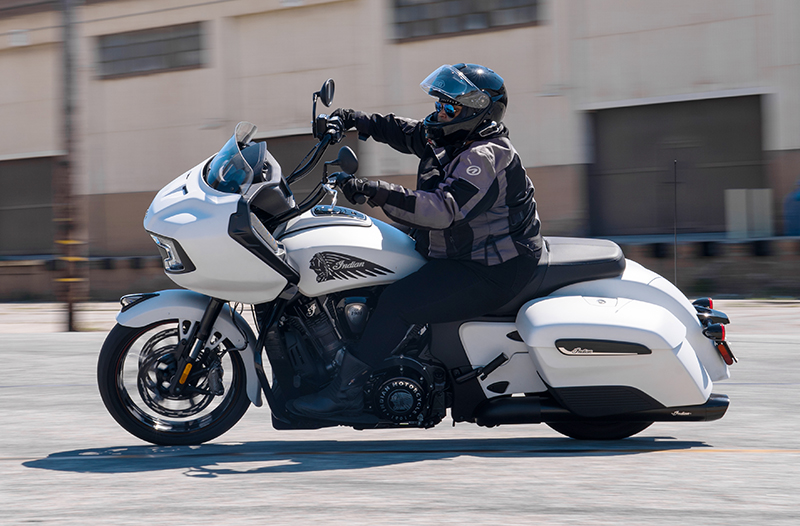 I took the Challenger for a spin on Ortega Highway (California Route 74), known for its twists and hairpin switchback turns. The Challenger handles beautifully in the turns and is a lot of fun to ride. I immediately noticed the added stability the fixed fairing provides. Even weighing 848 pounds, the tourer performs well as a sport bike. It feels light and agile, cutting through wind like a breeze.
Smart Lean Technology Changes the Game
Available on the Dark Horse and Limited versions, Indian's new Smart Lean Technology uses a Bosch Inertial Measurement Unit (IMU) which measures lean angles and acceleration to add cornering control to the dynamic traction control and ABS, as well as Drag Torque Control which reduces excessive rear wheel slip when decelerating rapidly. Smart Lean Technology enhances the safety of the ABS and traction control systems by tuning the performance based on the vehicle lean angle. Imagine you are cornering through the mountains when suddenly you come upon a sharper turn. The Smart Lean Technology will go to work, helping to keep you stable throughout the turn. It considers the lean angle, amount of torque, brake pressure, and downshifting to ensure the bike stays smooth and upright along the way. You don't even know you need it until you need it!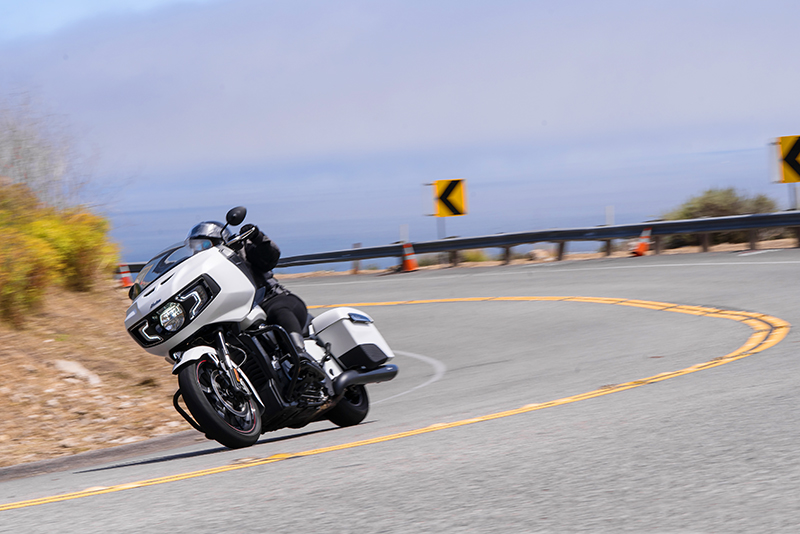 To learn more about Indian's Smart Lean Technology, watch this short video.
Ride Command Keeps You Connected
My favorite tech feature on many Indians is the Ride Command system, and I'm happy to see that it has made its way to the Challenger. The screen has glove-touch technology and is programmable on the fly, allowing you to customize your screen to display the info you need. The Challenger's new quad-core processor loads its navigation system in seconds (much faster than previous versions). You can now also opt in for live weather and traffic updates. In fact, it integrates seamlessly with your phone, allowing you to take phone calls and read texts through its interface. This means no more fumbling with your phone while on the ride, so you can keep your hands on the bike and eyes on the road. Quite simply, Indian's technology just works when you need it most.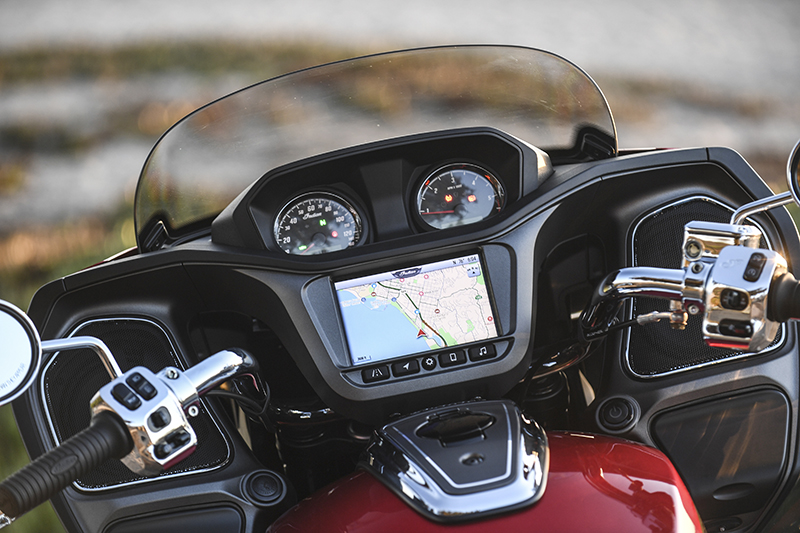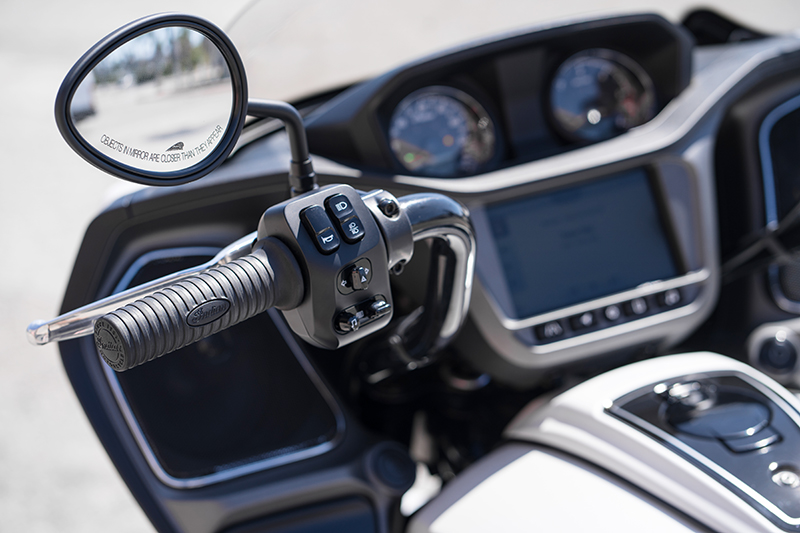 After 500 miles on the ground, I walked away excited and looking forward to taking this bike on a longer cross-country ride. The Indian Challenger has the power to go the distance on the open highway and the agility and stability to handle whatever curves come your way. With the cutting edge technology of the Ride Command System, the bar has indeed been raised. The Indian Challenger is a true contender for anyone in the market for a new bagger.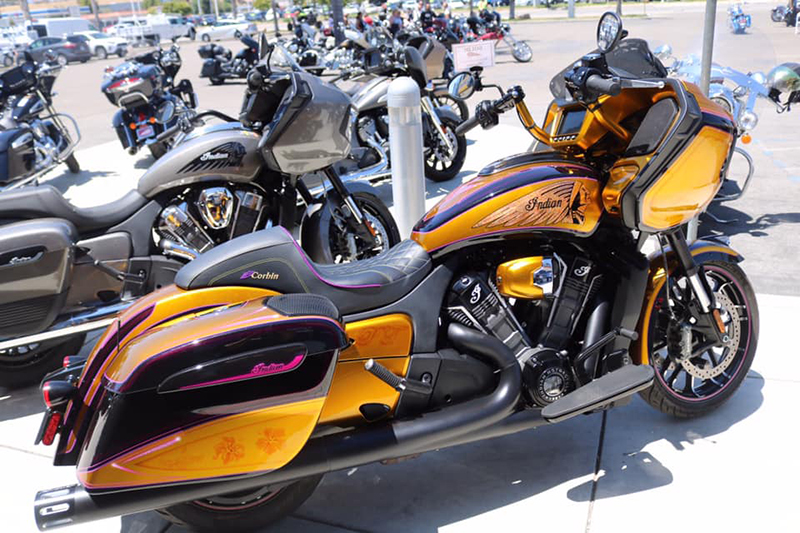 For more info, visit IndianMotorcycle.com.
Specs At A Glance: 2020 Indian Motorcycle Challenger
Engine Size: 108ci (1768cc)
Seat Height: 26.5 inches
Fuel Capacity: 6 gallons
Dry Weight: 831 pounds
Colors/MSRP: $21,999 (Titanium Metallic); $27,499 (Dark Horse: Thunder Black Smoke, Sandstone Smoke, or White Smoke); $27,999 (Limited: Thunder Black Pearl, Deepwater Metallic, Ruby Metallic)
Porsche Taylor is Founder and Editor-In-Chief of Black Girls Ride Magazine. It's more than a magazine, it's a movement.
Related Articles
Review: 2019 Indian Chieftain Limited and 2020 Updates
More Cruiser Reviews