The motorcycle that literally created the touring category while making it exciting to travel long distances on two wheels gets its first major redesign after 17 years. The Honda Gold Wing GL1800 gets a complete makeover and, while the name is the same, it is essentially a new motorcycle from the ground up. Load it with gear and a passenger and it handles better than ever. Even in its previous iteration, the Wing is so easy to ride that it lays claim to being one of the top 5 touring motorcycles women are riding now.
This brand new reincarnation of the Honda Gold Wing gets more than 90 new Honda parts creating a motorcycle that is more compact, lighter, and packed with upgrades and new technology. All this brings the big tourer to a whole new level of comfort, rideability, safety, and two-wheeled excitement that both experienced and new Gold Wing riders will appreciate.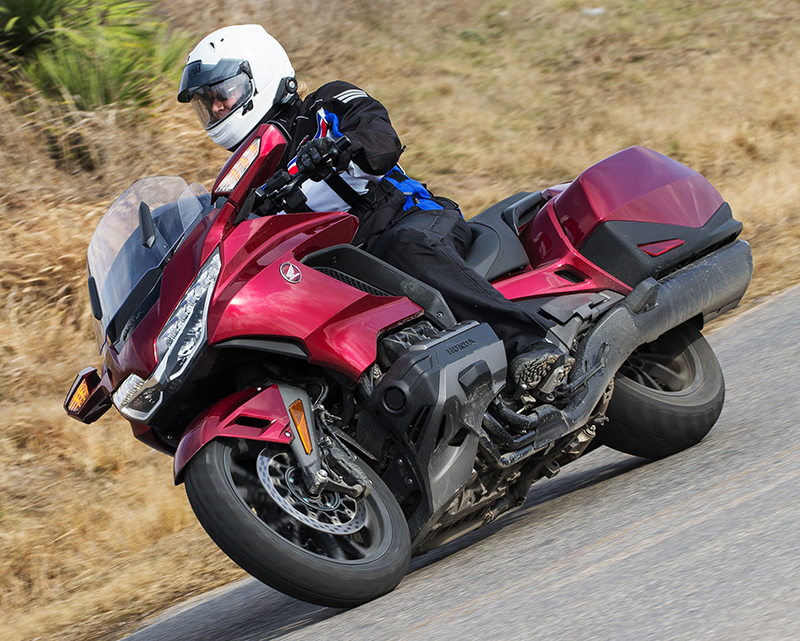 There are five trim levels available for the 2018 Gold Wing: Gold Wing, Gold Wing DCT, Gold Wing Tour, Gold Wing Tour DCT, and Gold Wing Tour DCT Airbag. Prices range from $23,500 for the base model to $31,500 for the top-of-the-line Airbag model.
New Features Women Will Love
Here's our list of the new features on the 2018 Gold Wing we are especially excited about for women riders. Every item listed makes the big tourer more user-friendly and easier to handle.
Lighter with a 90-pound weight loss
More compact profile
Center of gravity is lower and more centered
Hill Start Assist feature makes it easier to start on a hill
Walking Mode helps riders creep forward and backward in tricky parking lot scenarios. Our video later on in the story shows this cool feature in action.
DCT option allows for automatic shifting
Assist slipper clutch on manual shift models reduces clutch lever effort by 20 percent
Seat position brings riders 36mm closer to the bars
Electrically-adjustable windshield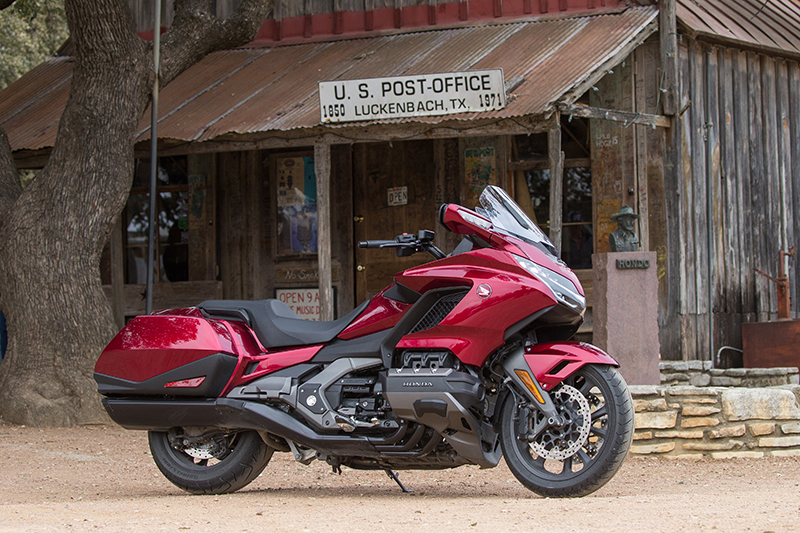 The Gold Wing DCT is almost identical to the base Gold Wing, except that it has Honda's 7-speed Dual Clutch Transmission (DCT), which adds 13 pounds and $1,200.
"DCT" stands for Dual Clutch Transmission. When this mode is engaged, it works like an automatic transmission, meaning there's no clutch lever or shifter peg. The transmission shifts itself quickly and smoothly. This is Honda's third generation DCT, the first 7-speed DCT, and certainly the most advanced. Passengers will appreciate this transmission because it shifts so smoothly they'll never bump helmets with the rider again.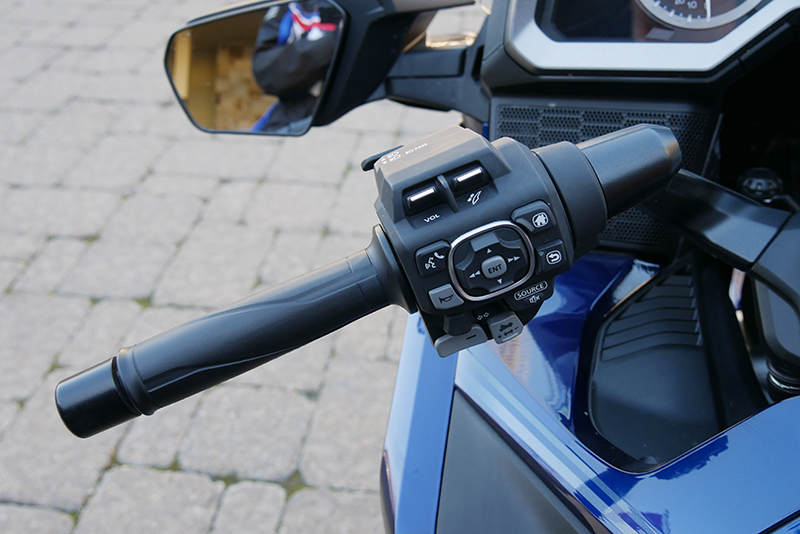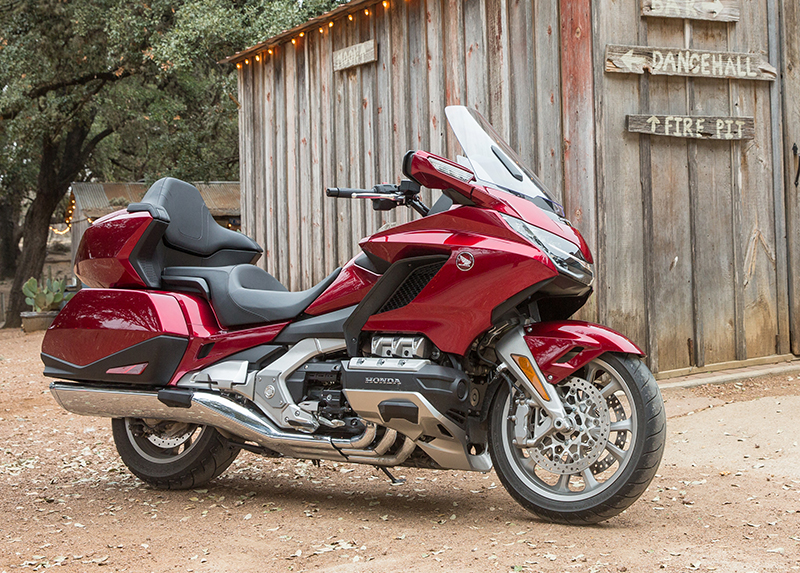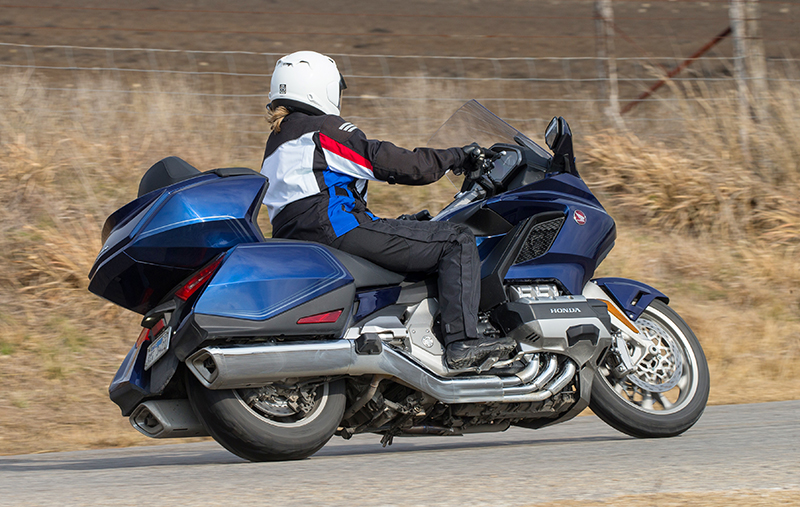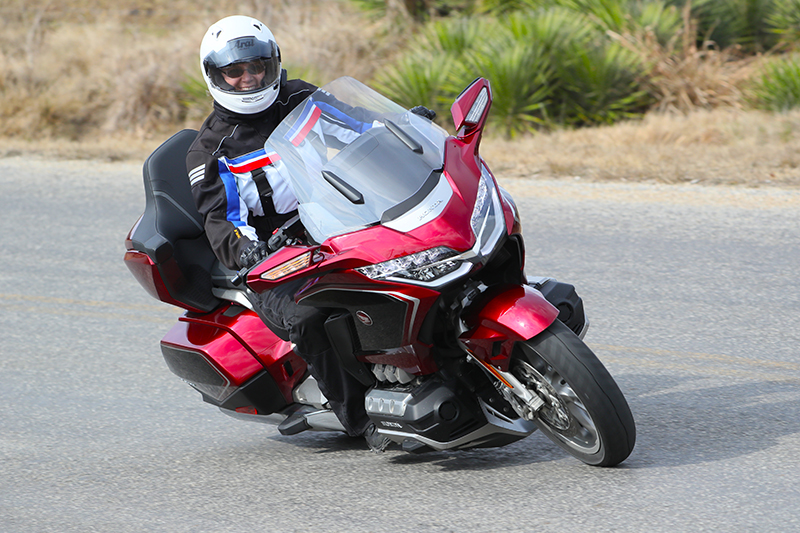 [page break]
New Technology
All the new Gold Wings are powered by a completely redesigned 1,833cc horizontally opposed flat six cylinder engine that's lighter, stronger, and sits further back in the frame. The motorcycle is also 20 percent more fuel efficient than the previous model, allowing engineers to reduce the size of the fuel tank from 6.6 to 5.5 gallons without affecting fuel consumption range.
An all-new lighter weight chassis features a double-wishbone front suspension. This means it's easier to steer the new Gold Wing, and road bumps are not transmitted through the bike to the rider as much as the previous Wing. This "shock" factor has been reduced by 30 percent. What does this mean? I like to say that you can balance a cup of coffee on the handlebar while you're riding—that's how smooth it is!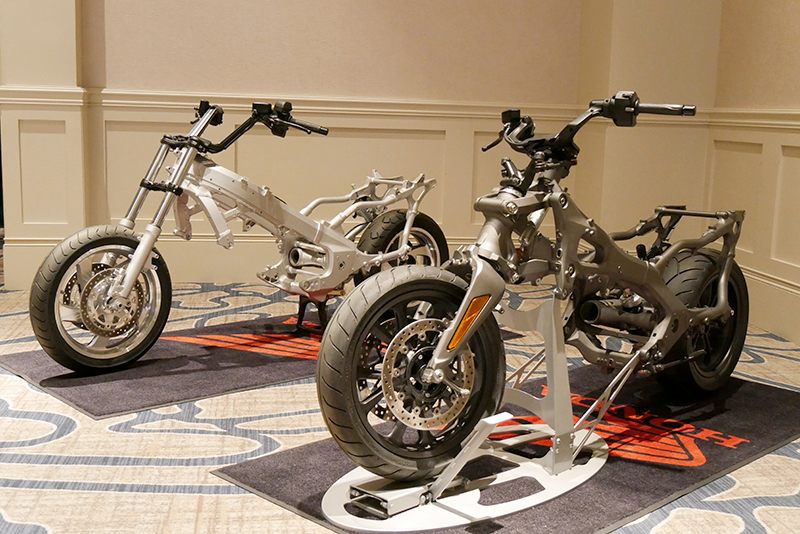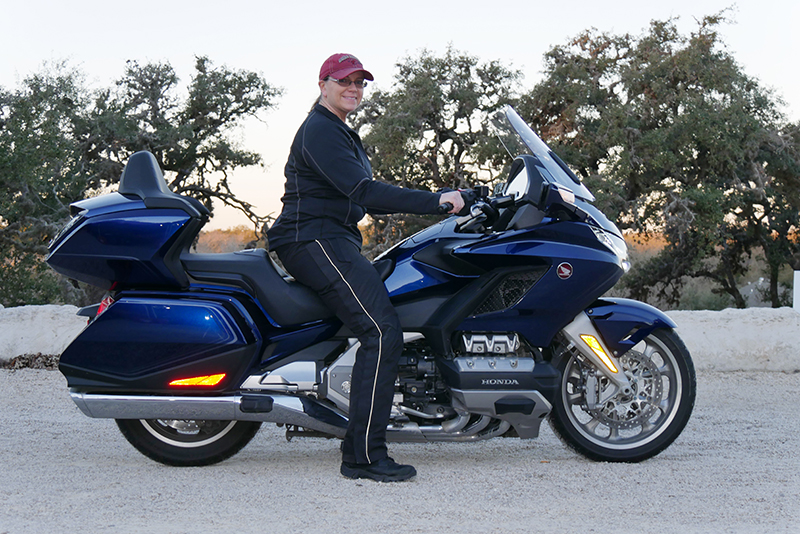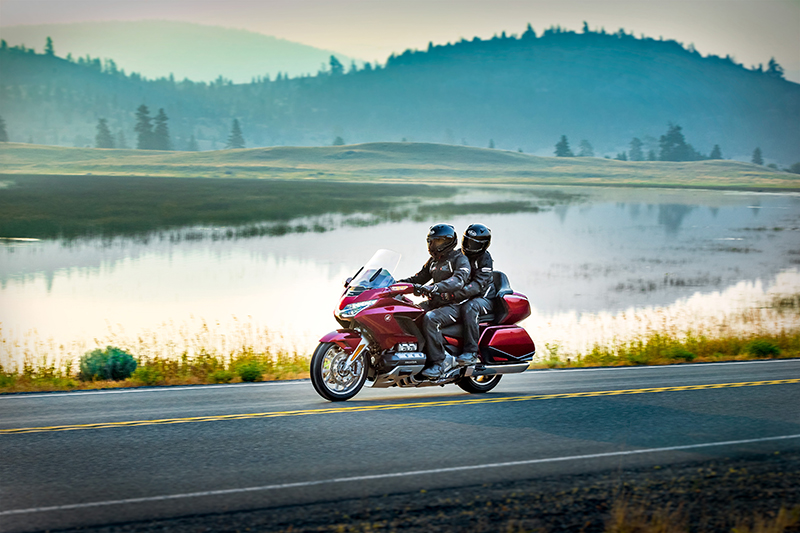 New electronic technology brings the 2018 Wing into the modern era with throttle-by-wire and four riding modes (Tour, Sport, Econ, Rain) that alter the engine response for specific riding conditions. On Gold Wing Tour models each mode has distinct settings that change the throttle input, torque-control settings, DCT shift maps, and suspension damping.
Tour mode is the default and offers a comfortable ride with standard throttle response. The first half of my test ride included wet roads, so changing into Rain mode offered a less touchy throttle response and softer upshifts and suspension settings designed to provide the best traction for slick conditions.
Hill Start Assist is a fantastic feature new to the Gold Wing this year. I also have it on my manual-shift Jeep Wrangler and really appreciate its benefits. On the Gold Wing, when the rider releases the brakes on a slope the ABS modulator generates hydraulic pressure on the rear brake caliper. This prevents the bike from rolling backward if the rider uses the throttle within three seconds.
Another fantastic new feature is what Honda calls Walking Mode. We've prepared a short video demonstrating how it works to easily move the motorcycle around at a slow rate of speed. This comes in really handy in hilly or gravel parking lots or in the garage.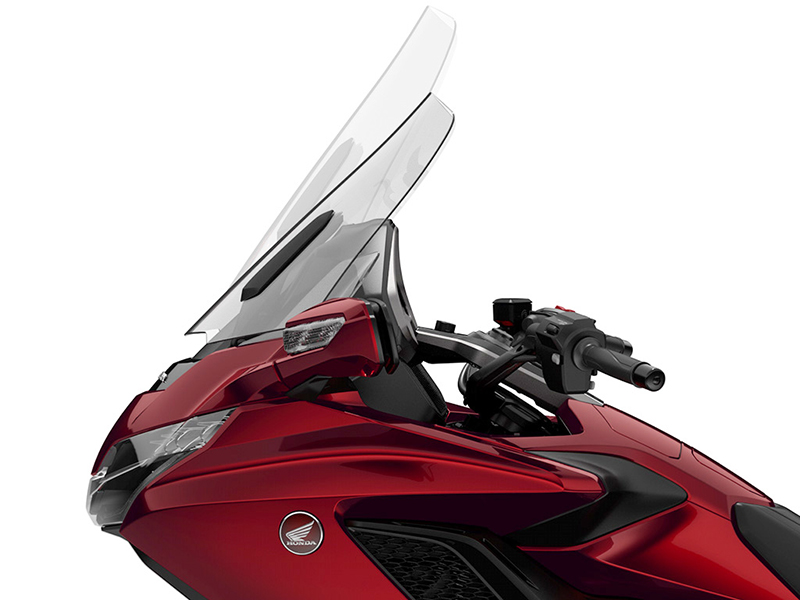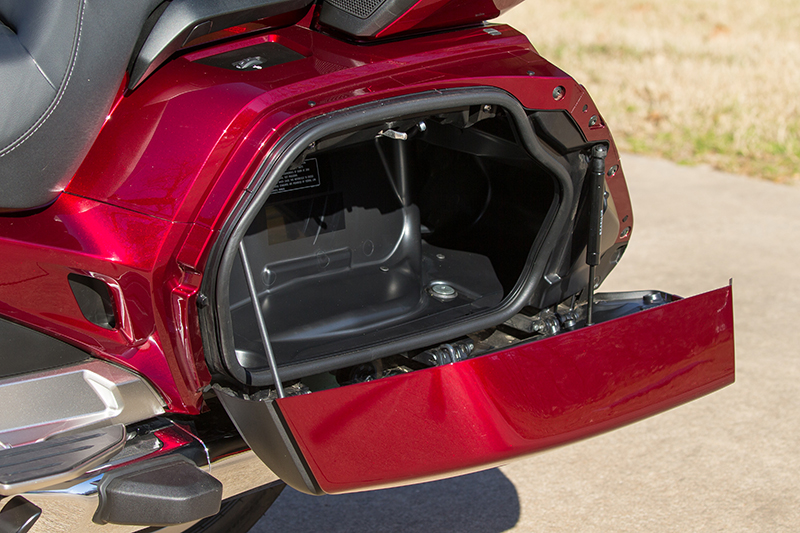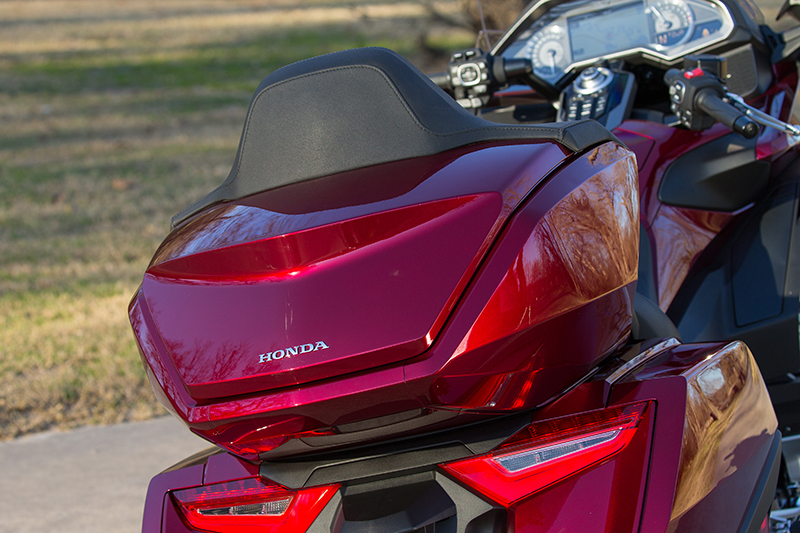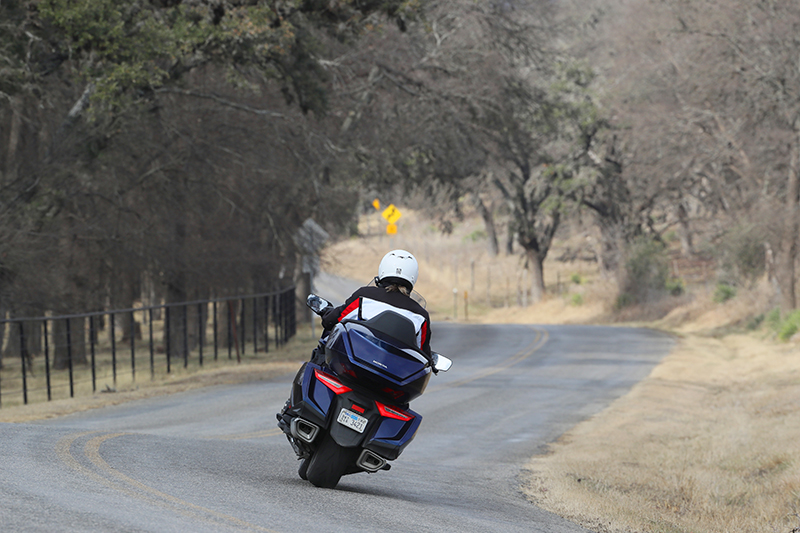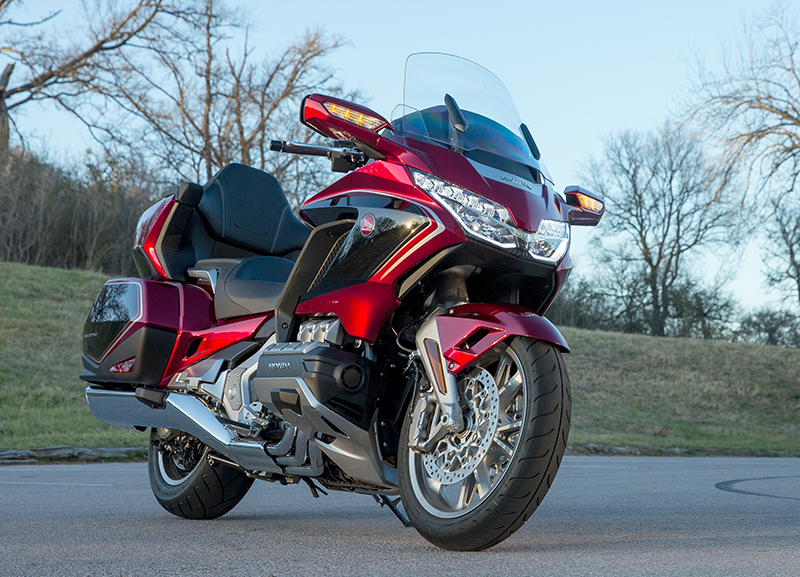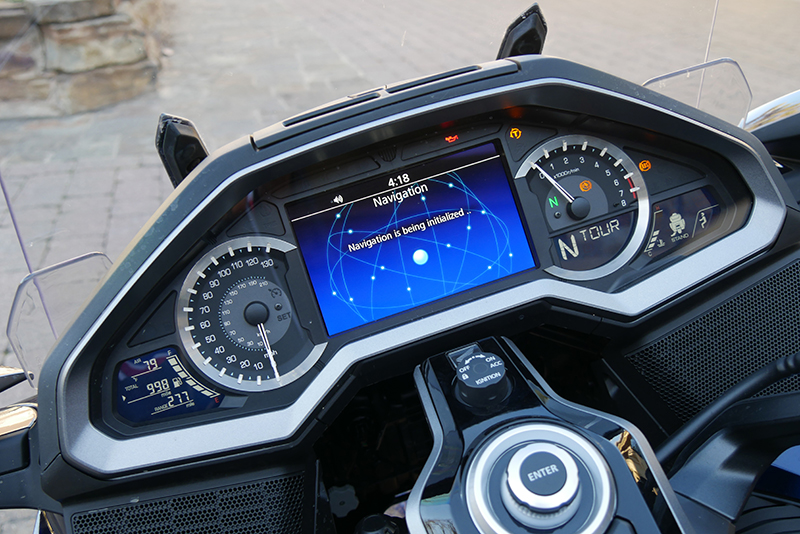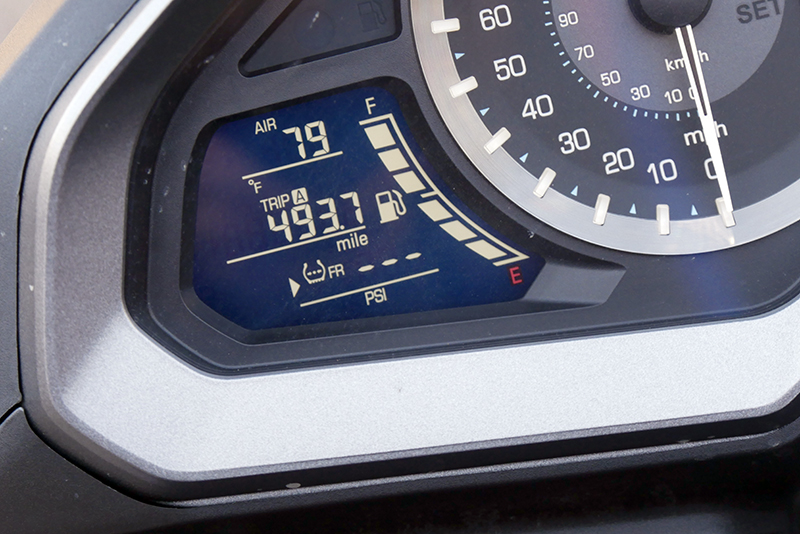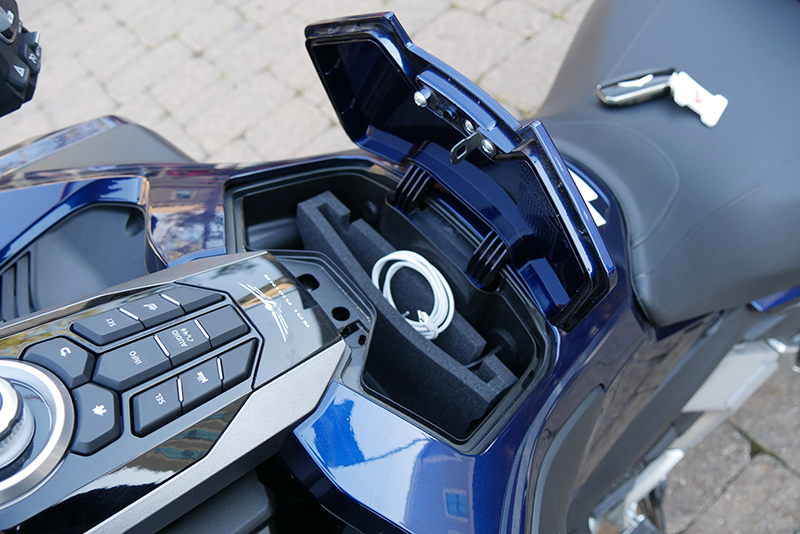 Testing all the new infotainment features required connecting my Sena 20S Bluetooth headset with the motorcycle. The pairing process is a little complicated, but once it's set up it takes about a day to play with all the settings and buttons to feel comfortable.
With my helmet mounted headset connected I was able to use the Apple CarPlay to listen to my music or an app like Pandora, receive and send verbal text messages, make phone calls, use the iPhone's map app, and more. But, then again, I'd always done that with my Sena 20S anyway. But paired to the bike, I'm able to visually see a graphic and list of what is playing or being sent to the headset on the screen. So there are advantages to the system.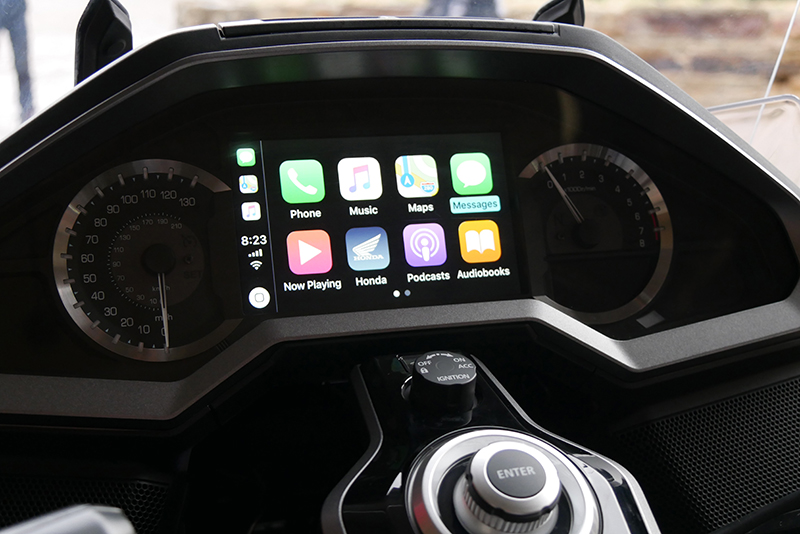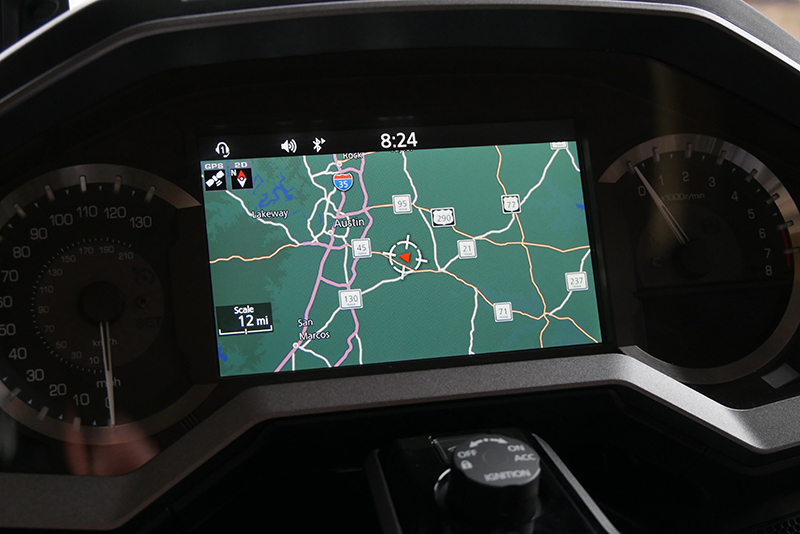 While the Honda Gold Wing has been a longtime favorite motorcycle of mine, this new version has me especially jazzed. I can live with losing some cargo space because everything else is so vastly improved. The slimmer design makes it easier to maneuver around in the garage, and riding the heck out of it is just so much fun. And with all the new creature comforts, we are WRN certain that more women will love the 2018 Gold Wing.
Specs At A Glance: 2018 Gold Wing; Gold Wing DCT
Engine Size: 1833cc
Seat Height: 29.3 inches
Weight: 787 pounds; 800 pounds (DCT)
Fuel Capacity: 5.5 gallons
Colors: Candy Ardent Red, Matte Majestic Silver, Pearl Stallion Brown
Price: starts at $23,500; $24,700
Specs At A Glance: 2018 Gold Wing Tour; Gold Wing Tour DCT; Gold Wing Tour DCT Airbag
Engine Size: 1833cc
Seat Height: 29.3 inches
Weight: 833 pounds (Tour & Tour DCT); 842 pounds (Tour DCT Airbag)
Fuel Capacity: 5.5 gallons
Colors: Candy Ardent Red, Pearl White, Pearl Hawkseye Blue
Price: starts at $26,700 (Tour); $27,700 (Tour DCT); $31,500 (Airbag)
Related Articles
Top 5 Touring Motorcycles Women are Riding Now
2006 Honda Gold Wing Passenger Seat Test Ride
More Motorcycle Reviews
Touring & Adventure