Full disclosure right off the bat. I have
gadget-phobia
. If I had my way, I'd be stuck in the stone ages with my tube TV and my Sony Walkman. However, as part of my job as a journalist in the motorcycle industry I must stay on top of the latest gear and gadgets that make their debut each year that are supposed to make our motorcycling lives more exciting and fulfilling.
I get dizzy thinking about all that's available these days to communicate and record video while riding my motorcycle. In spite of my brain spinning I dove in head first and accepted an offer to test the latest Bluetooth helmet communication system from Sena, along with its POV (point of view) camera, the Prism, to record an upcoming motorcycle trip to Italy. Afterall, this was the first time my company, Women Riders Now, was bringing nine motorcycle riders to
Italy on a tour
, and I really should record it. Right?
In retrospect, I'm glad I endured the steep learning curve of the Sena devices because the results were worth it. Here are the two products I tested, which can work independently — but also together — and is the main reason I succumbed to having not one, but two gadgets attached to my helmet on this tour of central Italy.
| | |
| --- | --- |
| This is the Prism, a Bluetooth camera, from Sena. Bluetooth allows it to wirelessly connect to your helmet mounted Bluetooth communicater so you can control it from the knobs on your Bluetooth. | This is the 20S, a motorcycle Bluetooth communication system that works with other Sena Bluetooth products. Directions indicate it can pair with non-Sena Bluetooths as well. I tried it with my Cardo Scala Rider Bluetooth but it wouldn't pair. I followed the directions, but gave up after several attempts. |
The main reason I was interested in the Sena Bluetooth camera set up was because I could record my voice from the 20S microphone onto the video that was recording on the Prism. Recording on the fly! But wait, there's more! I could even record the voice of the person with whom I'm communicating, in this case my assistant editor Tricia Szulewski, who was also outfitted with a 20S on her helmet. So we recorded our on-the-fly live conversations while riding our motorcycles in Italy.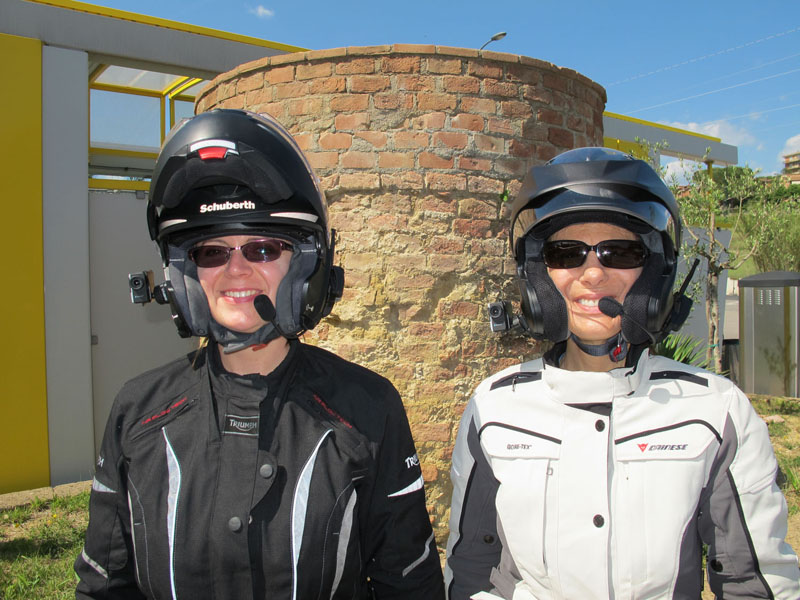 Watch this video that shows the quality of the video and our on-the-fly review of the system. The video is set to wide angle and the audio is set to the low internal gain setting. Its also worth noting the original video is sharp and clear and very high resolution. The video here, uploaded to YouTube, is low res and therefore has rendered a bit fuzzy in some places.
The best way to report my findings on using the Sena products is to sum them up here in a pros/cons list.
Pros:
1.Having a camera with Bluetooth ability. Once I got everything paired and understood what I was doing, being able to set the camera to record mode from the knob on the 20S and getting a verbal confirmation from the system on what I'd just done is a huge benefit to me. The system tells me through the small speakers I mounted inside my helmet cues like, "Prism connected," "recording stopped," "low battery" and other helpful user information. I don't have to guess if the camera is recording, an advantage over other devices that don't have the Bluetooth feature.
2.High quality audio. There are three gain settings for the audio recording (off, low, and high) so you can control what you want to hear more. I had it set to the low internal gain so I could hear more of my voice and less wind noise. You be the judge on the audio recording from the video above relative to the wind.
3.Superb video quality. The video record quality is very good. Good color, good light, and good stability, something action cameras have had to refine over the years. You don't get that "jumpy" feeling watching video from the Prism. It also allows for full 1080p high definition recording if you want it, which I did.
4.Long battery life. The Prism comes with one battery, but I always had a spare with me just in case. A good journalist's equipment never runs out of juice. I never used that spare battery, which I ordered separately. The Prism ran all day long, on and off during an 8- to 10-hour day, and still had a charge left in it at the end of the day. So did the 20S. I made sure I shut both off at lunch stops, but other than that, the charge from the night before lasted for a full day of riding.
5.Bluetooth phone feature and more. I tested the ability to answer my cell phone and make calls from the helmet-mounted Bluetooth, and while it works well, and the person with whom I was conversing could hear me just fine while I was riding, I'm not a fan of talking on the phone while cruising on my motorcycle. However, Tricia uses this feature regularly with her Sena 20S. "I like that I can hear the sound notifying me that Ive received a text through my helmet speakers. With the press of one button on the 20S, Im connected to my iPhone 5S voice prompt, where I can then command it to play new text messages, send new messages, and more," says Tricia.
I also tested the FM radio feature on the 20S and the sound quality is wonderful. You can also pair a Bluetooth GPS and hear the voice navigation through the 20S earbuds.
Lastly, an MP3 player can be plugged into a small port on the 20S and that music pumps through the 20S speakers in your helmet. So, say youre a solo rider and dont need to talk to anyone, the music capabilities alone on the 20S are awesome for riders who dont have a radio or another way to listen to music on their motorcycle.
Tricia uses her iPhone or a Bluetooth iPod to send music wirelessly to her helmet speakers. "I always pair my phone to my 20S before starting a ride. Then, if I decide to listen to an artist or a song or playlist that I have on my phone, I use voice command to start playing the tunes. No stopping of the motorcycle required," she says.
6.Good instructions. Techies will love the flowchart for the Prism's settings (which I referred to often). The detailed owner's manual for the Prism doesnt come in the box; it must be downloaded from Senas website. But both manuals, the 20S and the Prisms, are detailed and well-written. Take the time to follow the directions instead of trying to figure it out for yourself.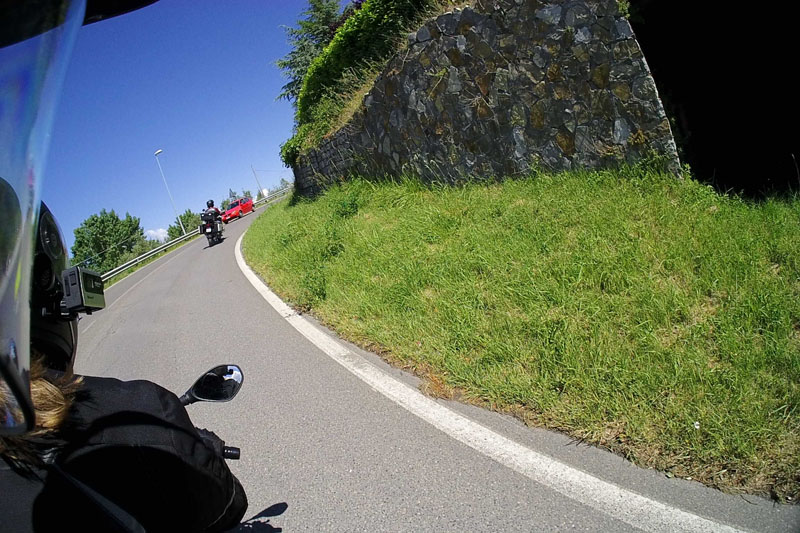 Cons:
1.A lot to learn. I felt there was a bit of learning curve in order to effectively use this system. I've used Bluetooth helmet communicators before, but this time with the Sena products, there was the added feature of the Bluetooth camera I had to get to know intimately if I was going to use the camera and the 20S together and remember what functions are assigned to the one dial knob, and the three buttons while riding my motorcycle through Italy.
2. Second audio track weak. Tricia's audio feed from her S20 that was recording on my camera was a bit low and muffled as you can hear in the video. Not sure if this was because she wasn't speaking loudly enough, or her microphone was not optimally placed. I'm sure if we futzed with a few of these variables her voice feed could be amplified and sound better.
3. Apps pairing added confusion for me.
There are Sena apps for both the camera and the 20S, which I downloaded onto my smartphone. But you have to pair your phone with the device in order for the apps to provide the latest information about the Sena product, like what firmware version is installed on the device, and what the current settings are for the camera. Tricia says, "I only used the Prism app once, to see what it was all about. Turns out, there isn't anything special that the app does. In fact, changing settings on the Prism itself gives the user more options than the app."
I found that having my smart phone paired to the devices, if I was not going to make and receive calls, only complicated things — like the system telling me what was paired, not paired, and what buttons activated what when. I'm sure with some more patience I could have muddled through it all, but since I didn't plan on talking on the phone while riding, I unpaired my mobile phone so I no longer had access to the latest info on the apps. If I need that information (like what's the latest firmware that's installed on the device) I can re-pair the phone.
And therein lies one of the conundrums for me, all the options with this system. I'm really a person who likes things simple. And as I get older, more options on anything from a blender to a boom-box, scare me off. And that's why I initially had reservations about diving in to using this system — all the different things I could do with it, but didn't need to.
The solution is to decide what you want to do and focus on learning how to use that function. I wanted to be able to record video and audio and talk to my riding buddy. That was it. For Tricia, she likes the features of using her phone while riding, and listening to music. So, for all that you can do with this Sena setup, I give it a big thumbs up on versatility.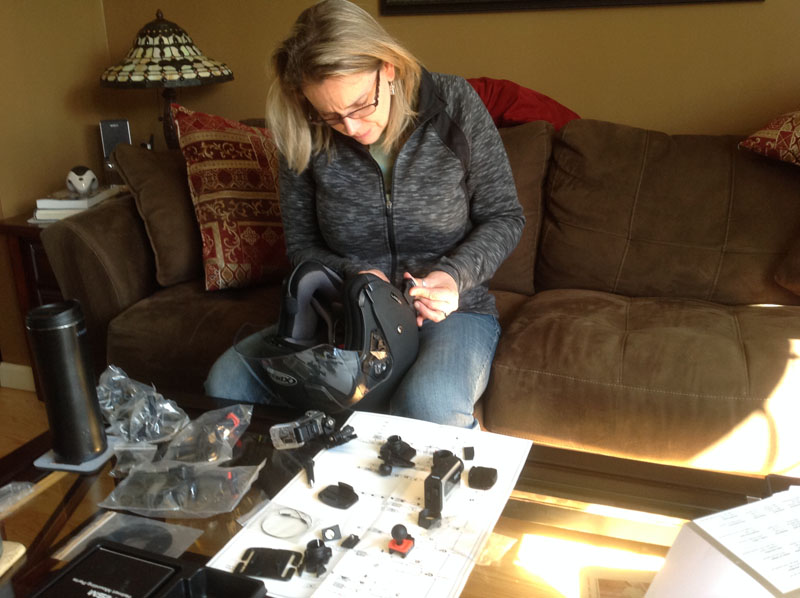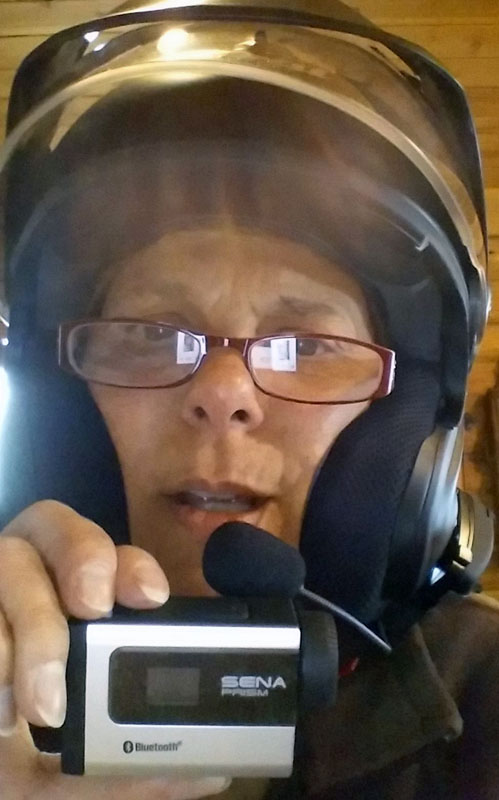 Recommendations:
1.

Watch the tutorial videos.
Sena's website has some helpful videos explaining things you'll need to know about using the system. Take the time to watch them. Don't try to figure it out yourself.
2.

Practice before going on a big ride.
I practiced using the system on a quiet familiar road by my house before I got to Italy. I wanted to be sure my fingers got used to which of the three buttons and one knob I needed to use in order to stop and start the video, the main feature for which I was using the 20S Bluetooth. I didn't want to be fumbling with it on foreign roads in a foreign land.
3.

Be sure to upgrade the firmware.
This is easy to do by connecting the devices to your computer so you'll get the latest system updates for both devices. Again, just follow the directions.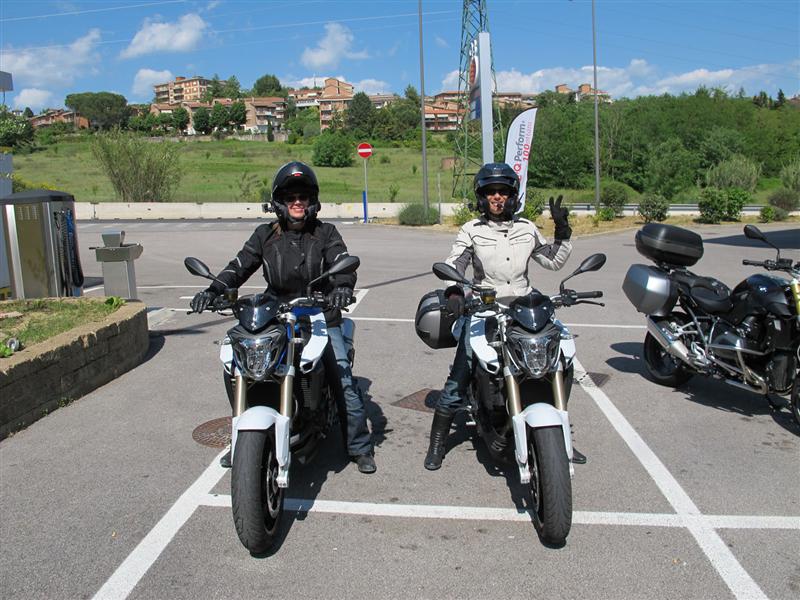 Summary
Sena's products now have me hooked on using a Bluetooth communicator and a camera that connects wirelessly to it. The video it produces is superb creating lasting memories. Hearing mine and Tricia's on-the-fly banter is also priceless! We can either be all-professional and narrate for a story we're doing, or simply just be in the moment and see what rolls off our tongues, which we did most of the time. As one of our tour participants said when she saw our first video and heard our voices on it, "You had your own separate adventure going on!" We sure did.
However you use the camera and audio recording, there are huge benefits to it for self-professed techies like me and Tricia. And now that I took the time to learn how to use the whole system, I don't plan on abandoning it anytime soon. In fact, I'll be getting a 20S to mount to my husband's helmet so he can hear me yack on our ride all day long.
I spotlighted the main benefits of this set up, but if you're interested, there are a lot more features you can read about on
Sena's website.
The 20S runs $299, and the Prism (which comes with a waterproof case) retails for $249.
Related Articles
Review: Scala Rider G4 Powerset Helmet Communication
Video: Meet Motorcycle Gadget Man!