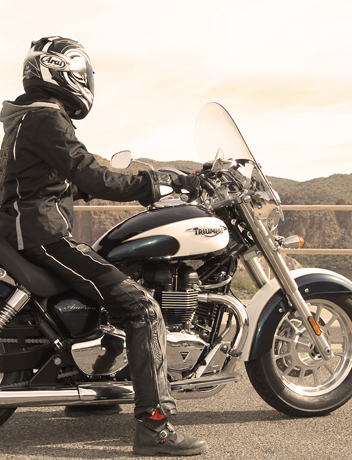 Dear WRN,
After six months of riding on my Honda Rebel 250, I got a brand new Triumph America LT. I love it and feel good on it. On my first longish ride out with my husband we were stopped at a light. We stagger when riding and never ride right next to one another. The light turned green, he went and I waited a split second for my place. Before I could even hit the throttle, the woman behind me sideswiped me. Broken bones in my leg, ankle, and foot and cosmetic damage to my brand-new-less-than-100-miles-on-him-motorcycle.
That day I wanted nothing more than to get back on Blue and start riding again. Now, a few weeks later, I get so nervous thinking about riding and being in traffic. The more I think about it, the more scared I get. "Is my bike too big?" "Can I get away from another car?" "Maybe I shouldnt ride anymore."
I dont understand why I am more scared now than right after it happened. I cant think of anything I couldve done except not been there. I have a great riding support system, but I feel myself withdrawing. I dont want to be scared. Im usually so strong and independent.
Karen