Seven years ago I became a motorcycle granny. I decided to take up motorcycle riding a couple years after my divorce when I was looking for some adventure. I was stuck in a rut and needed a change.
The resolution to ride was not easy nor was it made with years offorethought and planning. Yet, it has dramatically changed my life in ways I could never have imagined.
Women Riders Now E-Newsletter
Stay up-to-date on all things motorcycle! Latest gear, bikes and products reviews. Travel ideas, great product giveaways, and more.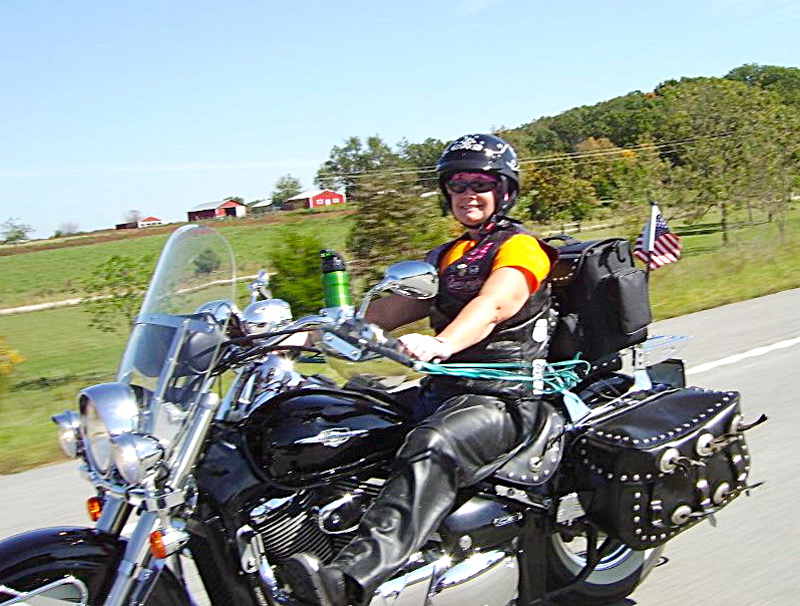 The easiest part of this decision was actually learning to ride a motorcycle. Motorcycle Safety Foundation (MSF) classes are offered locally, where riders are instructed on proper riding technique on provided motorcycles. Confidence in your ability to handle a bike is continually stressed. This was key to my success as a rider; I needed to believe in myself. After a weekend of training, I received a motorcycle endorsement on my driver's license.
Believe me when I tell you that I heard all the negatives about riding from my kids and family. "Those things are dangerous." "You'll get yourself killed." And, "Mom, you don't need a bike!"
The hardest part of the decision to ride was making the financial commitment it takes to pull off the dream. I needed a motorcycle of my own and all the safety gear, none of which is cheap! I purchased my first bike from an eBay auction, sight unseen — a 2006 Suzuki Boulevard, with all the trimmings.
A quick trip to Omaha and $6,000 later she was mine. She was perfect, black and chrome, and she fit me to a tee. I joined a local motorcycle club as a full member and learned from more experienced riders and met new people with a similar passion. Your local club is a great source of support for new and less-experienced riders.
After a few months of practice I rode with friends to the Black Hills of South Dakota. This was in June and we rode through all kinds of weather. I quickly learned the value of a good rain suit and heated gear. We rode to Sturgis and Montana, stopped at Devil's Tower, and toured the area around Mount Rushmore. I learned to just relax and enjoy the ride. My motorcycle offered me total freedom with my knees in the breeze and wind in my hair.
| | |
| --- | --- |
| Shelly put lots of miles on her Suzuki Boulevard, enough to know that she required a bit more power. | Similarly styled to the Suzuki, this Harley-Davidson Road King offers Shelly more touring comfort and horsepower. |
I found that I really enjoyed the long rides and traveling to interesting places with no real destination in mind. This type of riding required a bigger bike with more horsepower. So, I sold my Suzuki and purchased a new Harley-Davidson Road King. Now with the motorcycle of my dreams, I immediately began planning a trip to the east coast.
This trip took place in July, and the temperature went into the hundreds. I traveled through a "blast furnace," making regular stops for ice, which was stuffed into every part of my outfit. During one of these stops while pumping gas, I heard, "Hey, does your husband know you have his bike out of the garage?"
Now picture me; hot, sunburned, sweaty, dirty, and bone tired. I looked over my shoulder to see a mid-fortyish, greasy, long-haired dimwit standing there, to which I instinctively replied, "You @#%!, this ain't my ol' man's Harley!"
Generally speaking, you meet the most interesting and friendly people on your travels. Unfortunately for him, I was not feeling friendly. I experienced several near-misses during this ride; you know, the ones that cause you to suck in your breath and use the brakes hard while praying your guardian angel is paying attention.
By now, most of you probably think that I'm a bit crazy! My Road King (Big Blu) is always testing and daring me. My decision to become a biker granny may not have been the wisest in my life, but it has been one of the more courageous. As a rider, you must always be prepared and watchful, yet learn to relax and enjoy the ride.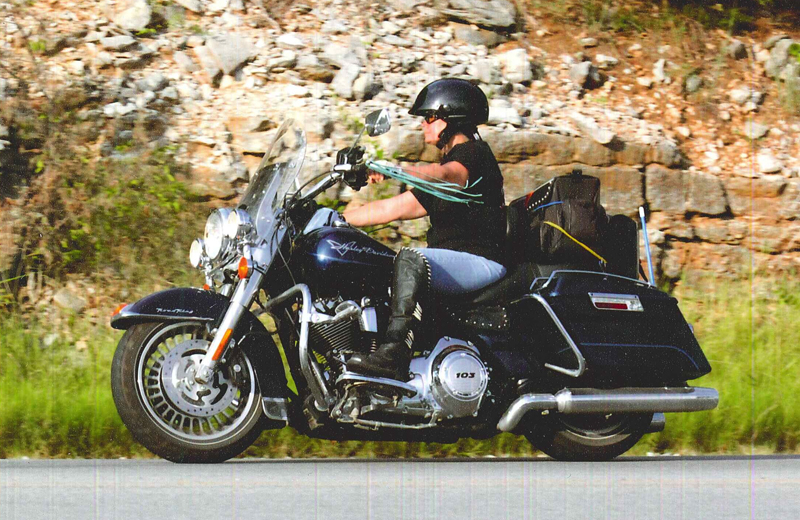 Do you have a story to share? Please send it to us, but read these submission guidelines first.

Related Articles
Reader Story: "I Ride Because I Can"
Reader Story: Never Too Old to Ride a Motorcycle
More Reader Stories