This review focuses on a purpose-built motorcycle boot I discovered this summer that combines two key features I want in a boot (that I've yet to find in my 25 years of riding until now): a decent-heeled boot — more than 2 inches — that's waterproof!
"I love a heeled boot, on and off my motorcycle!"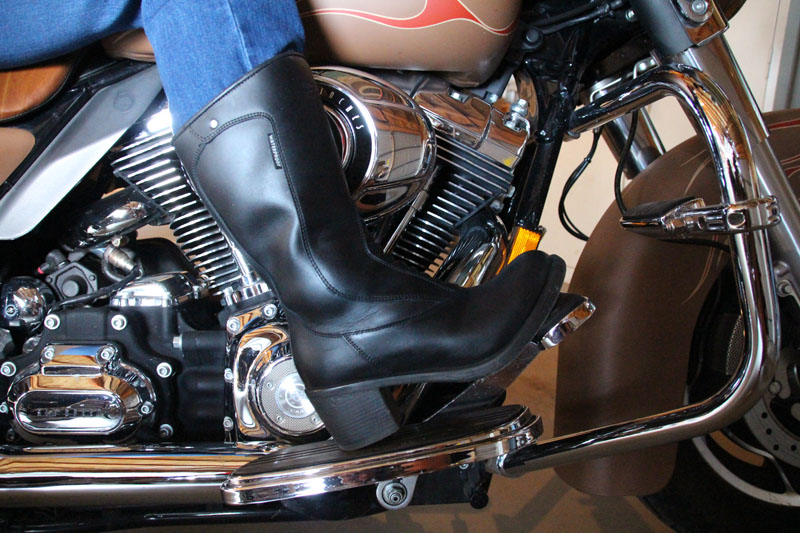 Some background: Purpose-built women's motorcycle boots (like TCXs Lady Aura boots reviewed here on WRN) are constructed with a low heel, or no heel — just a notch in the arch. Some are waterproof and some are not. In the 20 years I've been reviewing women's motorcycling gear, I've yet to find a waterproof boot that has more than 1-inch heel, the kind of boot I like to wear when I ride my Harley-Davidson Street Glide.
I love a heeled boot, on and off my motorcycle. How high? At least 2 inches. This high of a heel can also help shorter women who ride the higher suspension sporty motorcycles reach their feet flat on the ground.
If you're like me, then you can relate to this dilemma: When I'm riding on a multi-day trip where the weather may change, I'll wear either my cute brown Red Wing lace-up boots or my aged brown Fry boots — neither of which are waterproof or purpose-built motorcycle boots — and stuff my saddlebags with one of the few no-heeled waterproof motorcycle boots I own, like the
Harley-Davidson Hennies
, to use if I find myself faced with a long day of wet riding. Yes, I have waterproof boot gaters that I cover my Red Wings or Fry boots with when it rains, but wouldn't it be nice to have one stylish heeled boot that's waterproof too, so you don't have to think about stopping to cover them up or change boots when it starts to rain?
Well, I found the solution: the Lady Classic boot by TCX, made of full grain waterproof treated black leather.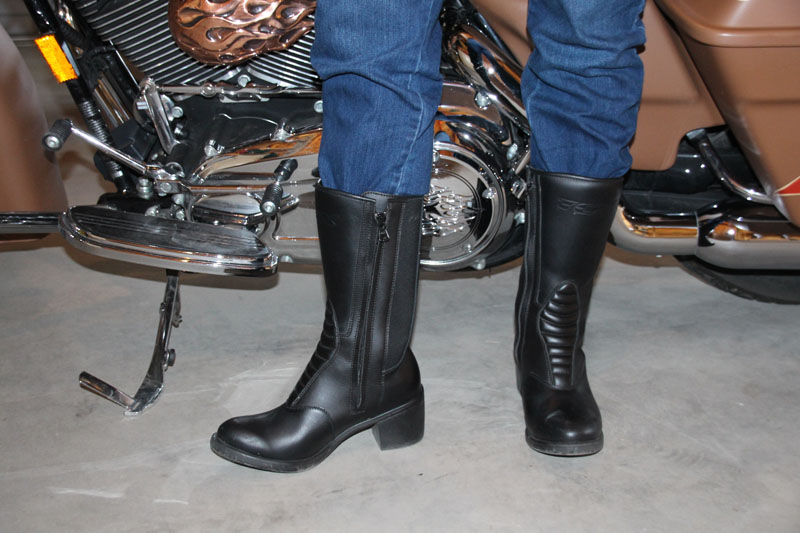 | | |
| --- | --- |
| A gusset inside the zipper prevents water from seeping inside. The boot is well constructed, sturdy, and keeps the water out. I wear my rain pants over my boots but with non-waterproof boots, water still seeps in from the bottom of the zipper from the constant splashing up from the road. This did not happen with these boots. | The full-length zipper, which runs along the inside of each boot, is covered by a flap of leather so it's not exposed, preventing water from getting in. My feet stayed dry. |
| The whole shaft of the boot is softly padded inside, which makes it so comfortable. The front has this accordion panel that provides flexibility and "give" when walking and riding in a sporty riding position, when the balls of your feet are on mid-placed footpegs that require you to bend your ankles. Without this feature, the Lady Classics might be a stiff boot. | More comfort comes from this stretchy panel on the inside rear of the boot, which allows it to "give" when taking a step. The elastic panel also means a variety of calf sizes can fit in them. There is a leather panel behind the elastic on the inside that's attached to the gusset to prevent water from soaking through the elastic to the inside here … in case you were wondering. |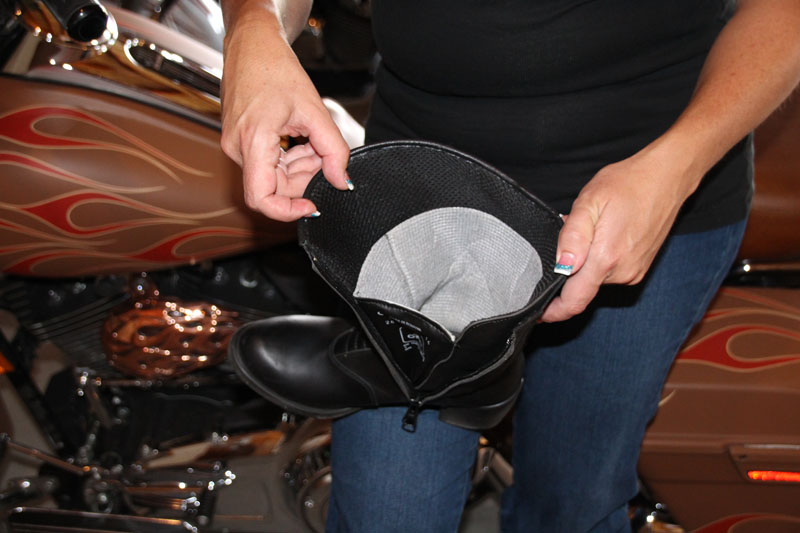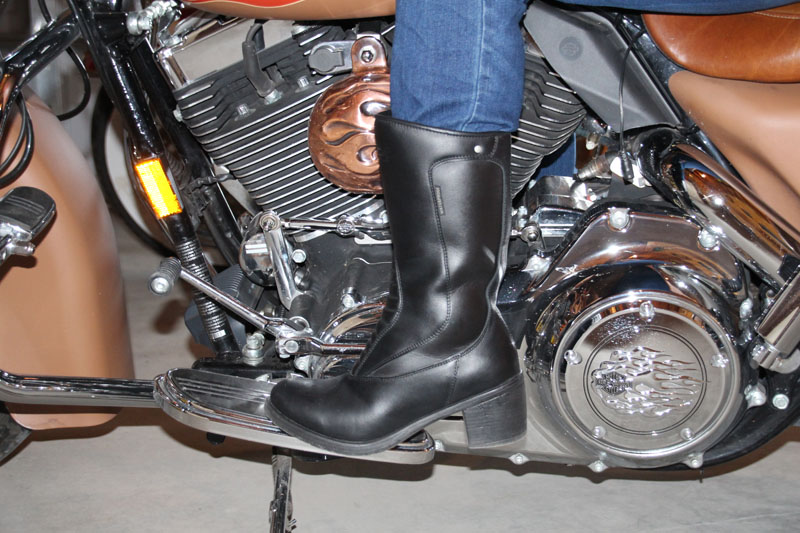 The only features missing from this boot that are present in most purpose-built motorcycle boots are a reinforced shifter area on the top of the left boot, and a bit more armor. An extra piece of leather on the shifter toe area would take away from the fashion factor that these boots are trying to attain. And while there's no formal armor, the sturdy padding and reinforcements in the toe and heel offer much more than a cowboy boot or other fashion-type boot with a heel that a lot of women like to wear while riding their motorcycles.
In my opinion, there's a fine line between a women's motorcycle boot being functional and practical, while being somewhat stylish. Most womens motorcycle boots don't achieve that balance — meaning style is sacrificed for function.
The TCX Ladies Classic finds that balance: The 2.5-inch heel provides the height and leg-lengthening look many women want in classic black leather. The boot will only look better as it breaks in and natural wear creases take hold — all while providing many of the functional features serious women riders like me demand: waterproofing, a reinforced toe and heel, sturdiness, and comfort.
U.S. sizes range from 5 to 9.5 but the boots are listed in European sizes. I normally wear a 9, and it was suggested I get a 41. I told the TCX rep that I wear a 40 in my Dansko shoes so send me a 40. A 40 ended up being too tight so the rep's initial suggestion of the 41 was right on. They fit me perfectly with a medium thickness sock. Price is $199.99. Visit RideTCXboots.com to learn more and to order online.
Thanks to my friend Leigh Dicks for modeling these boots for me. Gotta love her rockstar nails!
Related Articles
Waterproof Boots from Harley-Davidson