Do you have a story to share? Please send it to us, but read these submission guidelines first.
Great things happen in mid-life, like learning to ride a motorcycle.
Women Riders Now E-Newsletter
Stay up-to-date on all things motorcycle! Latest gear, bikes and products reviews. Travel ideas, great product giveaways, and more.
I've liked motorcycles since I was a young girl and have always been connected to riders. My brothers had motorcycles and would take me for rides. My boyfriend in high school raced dirt bikes and I enjoyed watching him race and always wished I could learn to ride even a small dirt bike. But throughout my life I was always told by my parents and partners how dangerous motorcycles were, therefore wasn't "allowed" to learn how to ride, much less own a motorcycle.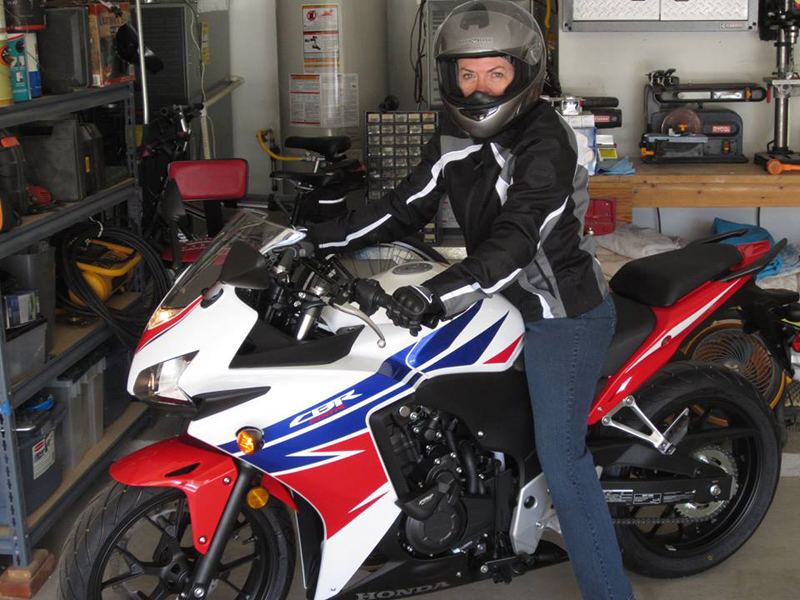 My life took a turn for the good in 2014 during a conversation with some coworkers who ride motorcycles. I loved hearing about their rides and the idea of being able to go out on the road and feel the wind in my face and mentally unwind as the road took me to various destinations. I started picturing myself on a motorcycle, but I was leery about learning to ride, especially when all the naysayers around me told me nothing but horror stories about riding motorcycles.
"The bike was heavy but I was managing it pretty well until I lost
my focus coming up to a corner."
I shared my hesitations with one of my coworkers, who happened to be a MSF (Motorcycle Safety Foundation) RiderCoach. She said the best way to be introduced to a motorcycle was to take the MSF's BasicRider course. SoI looked into some of the local courses and signed up that very day. The anticipation was overwhelming, but I was anxious to get on a bike and learn to ride safely and experience what my riding friends had been talking about.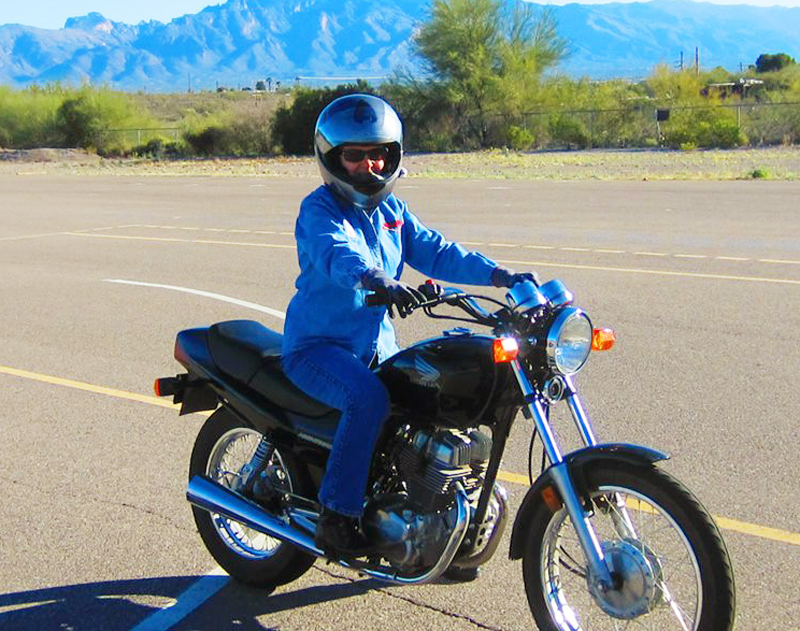 The first day of class was spent in a classroom with a textbook and videos. I couldn't wait for the next day when we would actually get on the motorcycles. But before we could get on the bikes, we had to pass a written test. I passed with a perfect score, which fueled my excitement for getting on a motorcycle.The next morning we met on the range (where the riding portion of the class takes place), and as we were told to go pick out a bike, I started to get a little apprehensive.I'm a petite, 115-pound woman at 5 feet 3 inches tall, and I was a little nervous about whether I would be able to hold up a motorcycle. But as we got acquainted with our 250s, I was surprised at how easy it was to manage the bike.
The class took us through a variety of steps, like starting, stopping, cornering, and avoidance maneuvers.I had a great time and learned a lot of respect for the motorcycle and for what riders have to be aware of when out on the street. I passed the course and had a greater sense of accomplishment and confidence in myself, which was what I needed.
Once I had my motorcycle endorsement I was anxious to get a bike. I sat on many motorcycles but didn't have a clue about what would work for me. I had great guidance from my friend but I was told that I had to feel comfortable. I really liked cruisers, but they felt a little big and bulky so I sat on some sportbikes, which were a little more to my liking.
"I couldn't get the grin off my face for several days."
Still undecided, my son met me in a large parking lot with a Harley-Davidson Sportster 883. I sat on the Harley and let my body get adjusted to its weight, which was quite a bit heavier than the 250cc motorcycle I learned on. I started it up and took off slowly, riding a couple loops around the parking lot. The bike was heavy but I was managing it pretty well until I lost my focus coming up to a corner. Needless to say, my eyes were on the curb, and that's where I went. I did not practice what I had learned in the course about looking farther ahead, not down at the road right in front of you. The Harley hit the curb and fell over with my leg caught underneath it. I wasn't badly hurt, just a little bruised.
Luckily my son was there to help me get the bike upright, because otherwise I would've been stuck. I got right back on the bike to do a few more loops around the parking lot. I didn't want that one incident to affect my attitude or my confidence. What it did do was encourage me to look at other kinds of motorcycles. So I started looking at sportbikes, and after sitting on several made the decision to buy a Honda CBR500R. The Honda sits you more upright and is lighter than the cruisers, which feels more comfortable to me.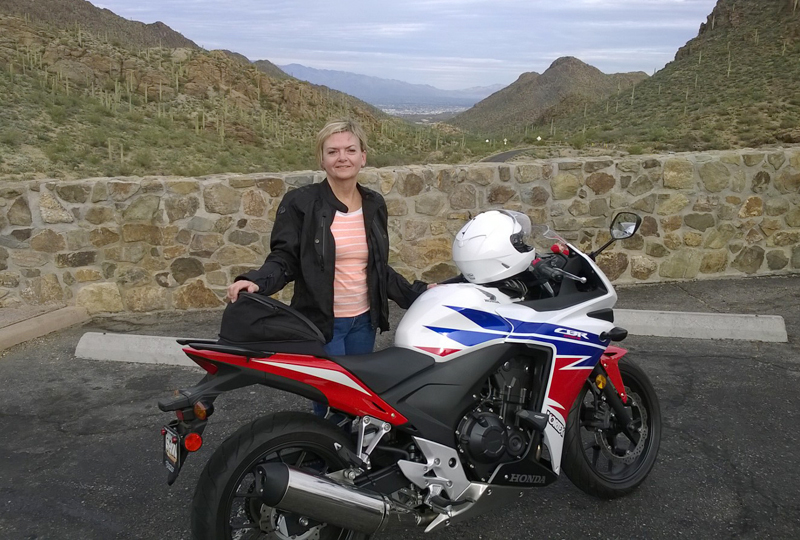 I was so excited the day my Honda was delivered to my house that even despite some strong winds, I took it out for its first ride. I couldn't get the grin off my face for several days. I continued to ride around my neighborhood to get more comfortable with starting, stopping, and parking. There was just one small issue. The bike was a little tall and I couldn't put my feet flat on the ground. This was a little unnerving at every stop, so with the guidance of a knowledgeable friend, I ordered a lowering kit and got help modifying the CBR. What a difference an inch-and-a-half makes, especially in my confidence level. Excess fear and a lack of confidence does not make for fun riding.
Not long after buying my Honda, I joined a motorcycle riding group called the STAR Touring and Riding Association. I've joined them on some great rides including a challenging ride through strong winds and my first heavy rain storm (with no rain gear.) I enjoy riding in a group such as this one, where there is support and the pleasure of visiting places together.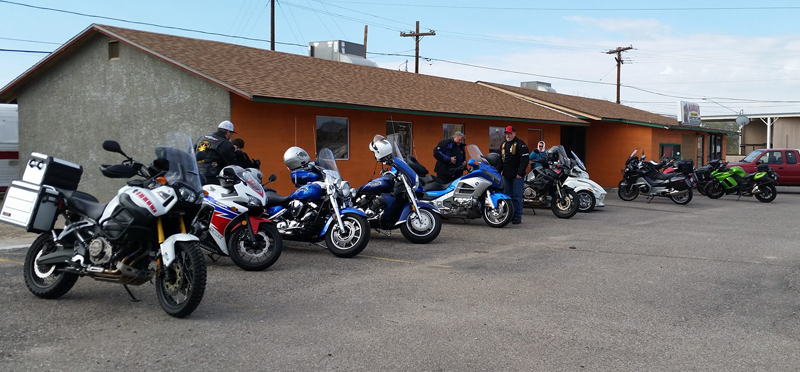 I'm looking forward to my first long trip from Arizona to Colorado soon. I need to add a few accessories to my motorcycle that will make the trip a little more bearable, like a larger windshield to deflect the wind and saddlebags to carry more gear. Having a motorcycle can be costly when you start adding accessories, but it's worth it to be comfortable and enjoy the ride. Who knows. Maybe down the road I'll consider buying a cruiser, but for now I'm having a great time with my sportbike.
Related Articles