Editor's Note: The new 2020 Chieftain Limited and Dark Horse are built with Indian Motorcycle's Thunder Stroke 116 inch engine which has replaced the Thunder Stroke 111 that powered earlier Chieftains such as the 2019 Limited reviewed here. (The 2020 base model Chieftain still comes with the 111 Thunder Stroke.) The 116 produces 126 foot pounds of torque and adds only three pounds to the motorcycle. Other updates to the 2020 Chieftains include a free two-year trial period of Indian's Ride Command with connected services on 2020 model year purchases. Ride Command also now includes traffic delays and weather. Up $2,000 from 2019, the starting base price of the 2020 Chieftain Limited is $27,999. Available colors are Thunder Black Pearl, Radar Blue, and Thunder Black with Graphics.
When our friends at Indian Motorcycles offered to loan Women Riders Now one of its touring models that is popular with women, a 2019 Chieftain Limited, I blissfully made room in my garage. WRN last reviewed the Chieftain Limited and Elite in 2017 and there have been many updates since. I would end up living with the long-term loaner through four seasons, using it as my personal motorcycle. I had the golden opportunity to ride more than 60 back road miles each day to and from work and occasionally on weekends and week-long trips to really get to know how the Chieftain fares when it's used as intended.
This is a unique opportunity for a real-world test rarely presented to journalists. Most often, we get to ride a new motorcycle model for a day—two if we're lucky—and the evaluations are limited to what we can learn in that short amount of seat time. We get to understand so much more about a bike when we have the opportunity to ride it daily, get it dirty, clean it, service it, gas it up, and so on.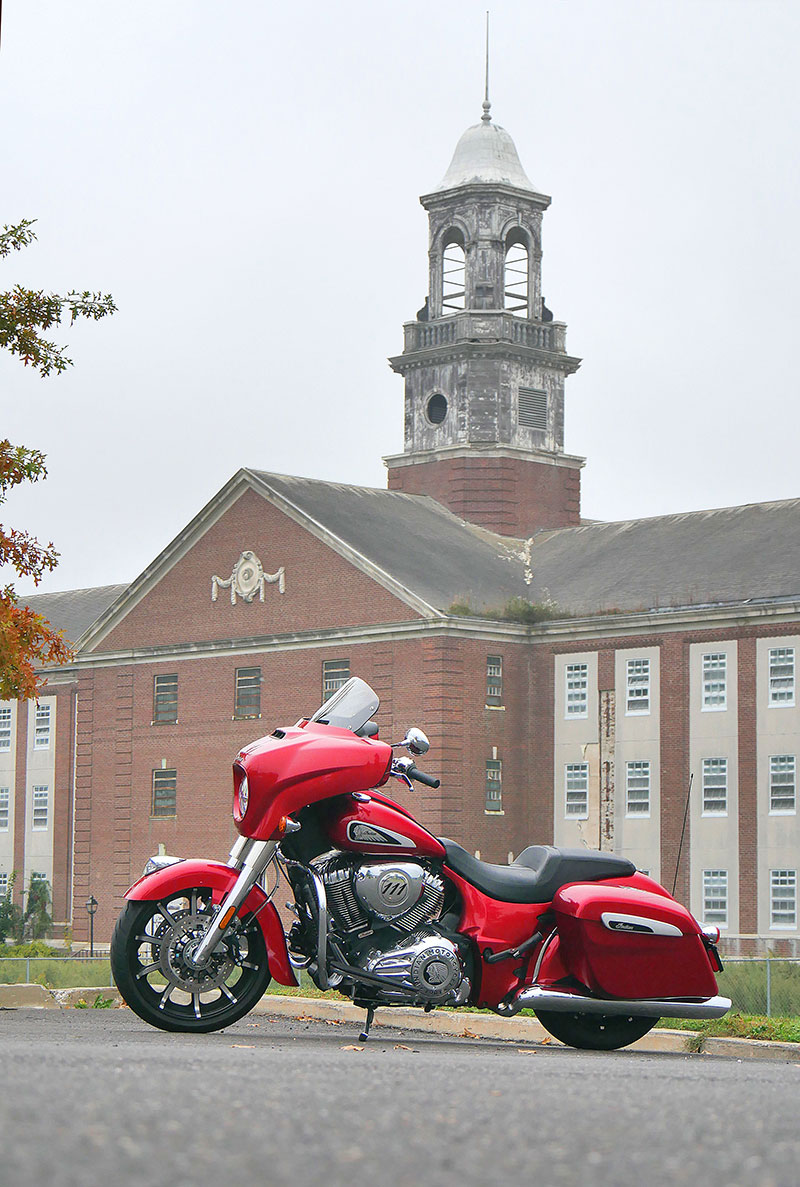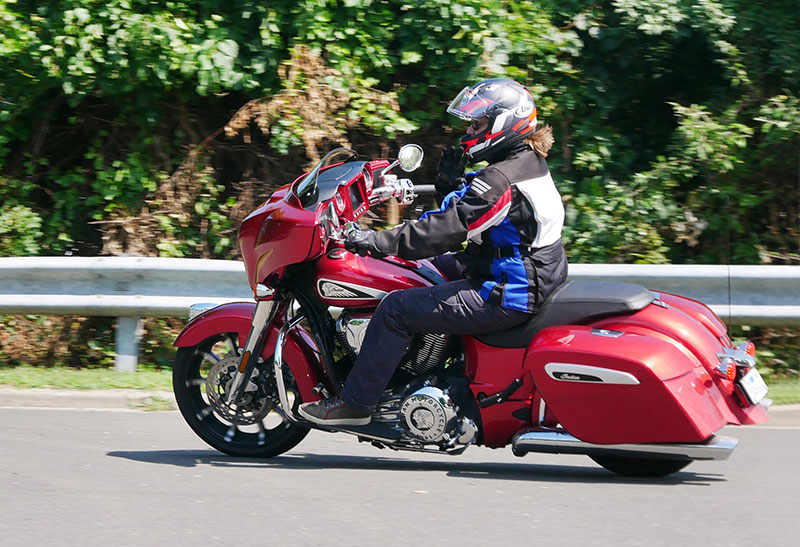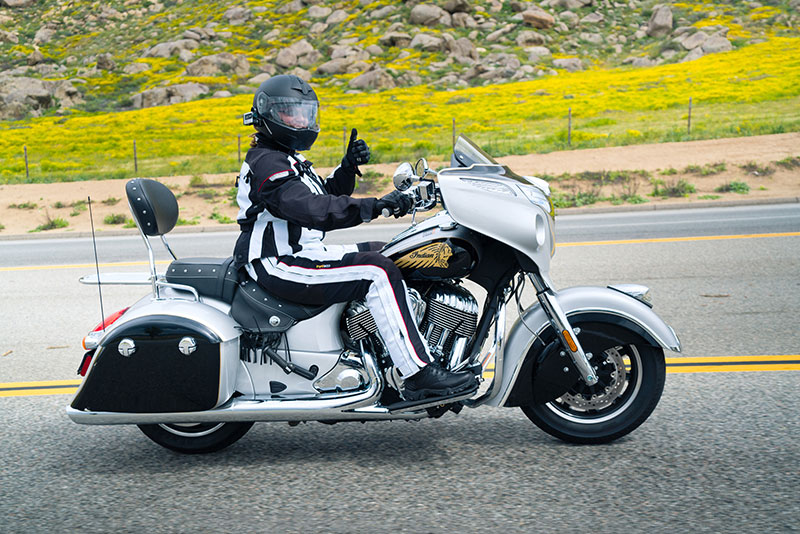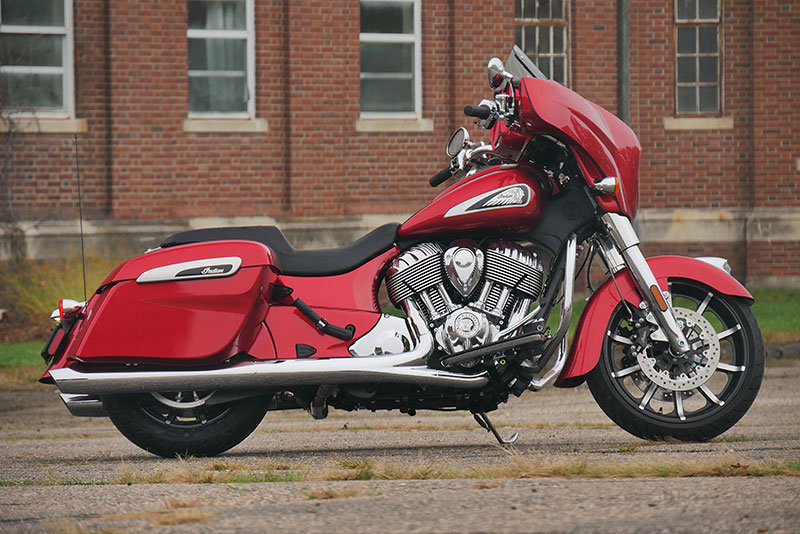 The 2019 Chieftains are all powered by the same huge Thunder Stroke 111 engine that is found in previous versions of the model. The 49-degree V-twin produces 119 foot-pounds of torque at 3000 rpm for quick acceleration in any gear. The big bagger weighs more than 800 pounds, but you don't notice this weight while riding as the center of gravity is way down low. That huge engine pulls this big bike effortlessly.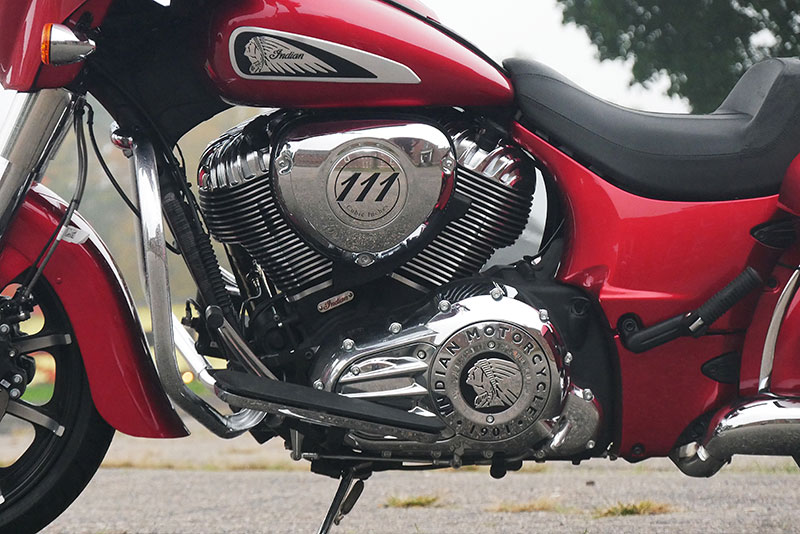 All Thunder Stroke 111 models are now equipped with Rear Cylinder Deactivation.When the engine reaches operating temperature and the ambient temperature exceeds 59 degrees F, the rear cylinder will automatically deactivate when the bike is at a standstill, resulting in less engine heat for improved comfort in slow-moving or stopped traffic. The rear cylinder instantly reactivates when the throttle is applied. You wouldn't even know the system was working if there wasn't an indication on the display screen.
To further refine the ride and offer a customized ride experience, the Chieftain now includes three ride modes—Sport, Tour, and Standard. The throttle map for each ride mode was designed with a specific application in mind, and switching to any mode can be done while in motion.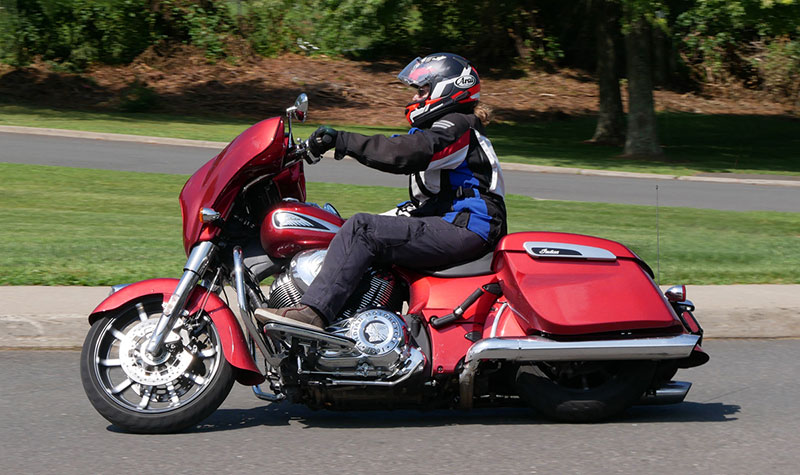 Standard mode offers the most balanced throttle response. There's plenty of power immediately available for passing, and taking off is smooth and quick. About 90 percent of the miles I put on the Chieftain were in Standard mode. In fact, I wouldn't mind if this was the only riding mode available on this motorcycle as I didnt find the other two modes necessary or even useful. But for the sake of good journalism, I did test them out.
I fully expected to enjoy Sport mode because I am a sporty rider and enjoy motorcycles with performance characteristics. But the "off" to "on" nature of the throttle response in this mode is jerky, even for veteran riders. The only time I enjoy Sport mode is in fast twisties when I am riding hard and am extremely focused. It takes concentration to maintain smooth fuel delivery in this mode. Indian's press materials call it "head-snapping acceleration." I would agree with this description!
I did use Tour mode on long highway jaunts thinking I'd get better fuel mileage, but I didn't actually clock any savings. I also preferred to use Tour mode when riding on wet roads since there's no "Rain" mode. A smooth, slower throttle response prevents you from taking off too quickly, keeping both tires grounded for the best traction. While skilled riders will naturally ride this way in Standard mode, a little extra assurance is nice when the blacktop is slick.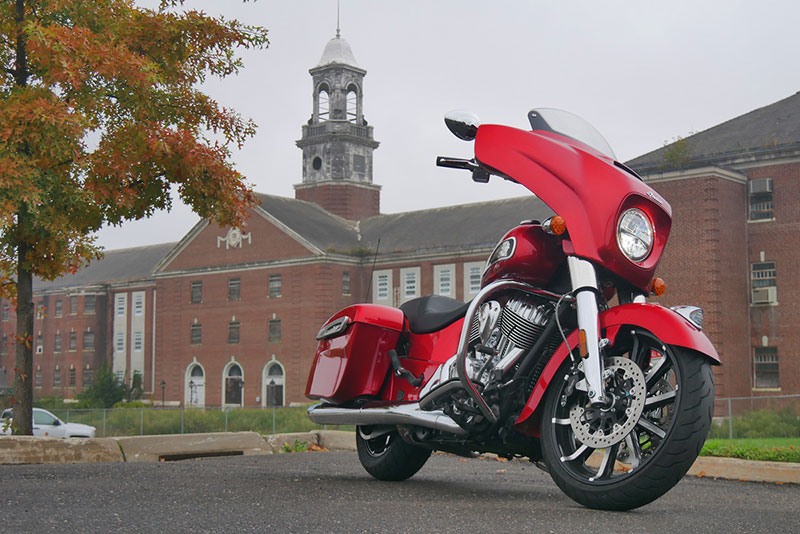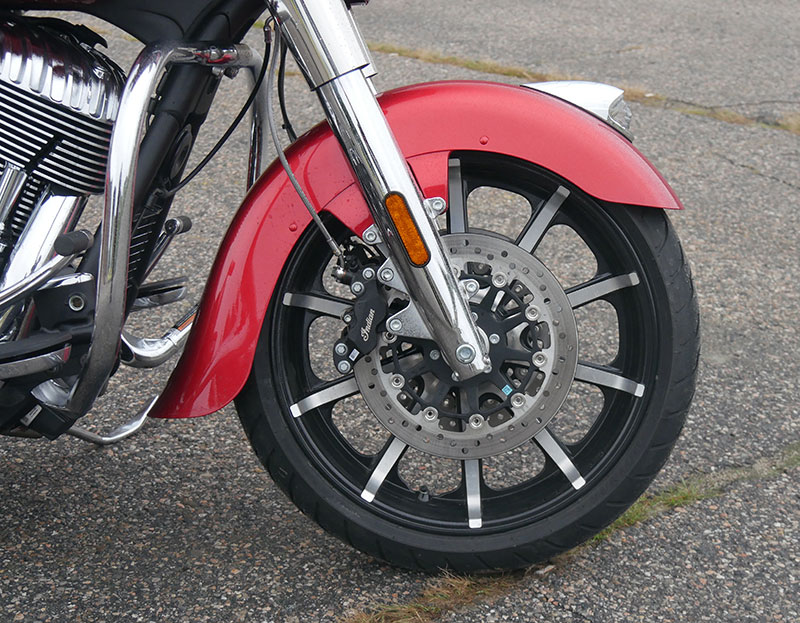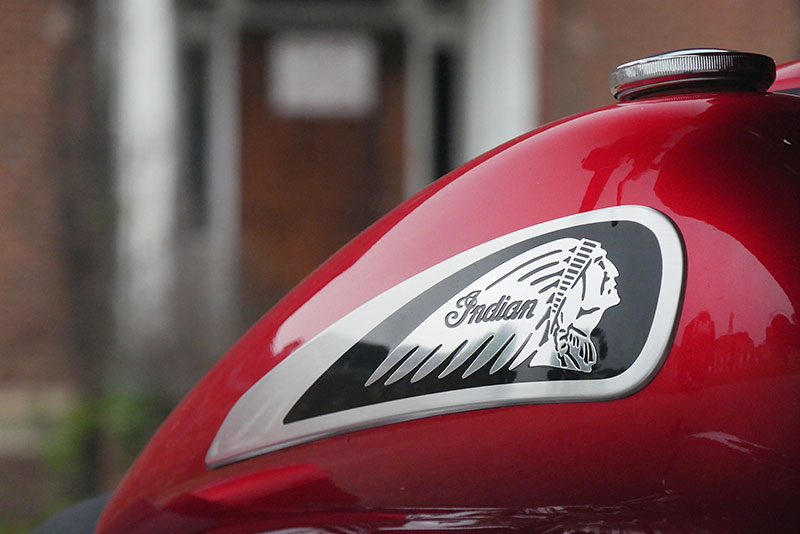 Enjoying music on the Chieftain Limited is a guilty pleasure. The bike comes with an AM/FM radio, Bluetooth, and an auxiliary USB connector. At cruising speeds, the sound quality is impressive. I'm not one to blast my music because I'm aware of how annoying it can be to others. But the fairing-mounted speakers work well so you don't have to blast the tunes to hear them. The equilizer works great at customizing the frequencies at different speeds, so I hardly had to adjust the volume at all.
If you find you need more than 100 watts of sound output, Indian offers an accessory upgrade called Powerband Audio. You can choose to upgrade to the existing speakers, saddlebag speakers, or add a trunk with speakers. Upgrading all three will increase volume by up to 50 percent.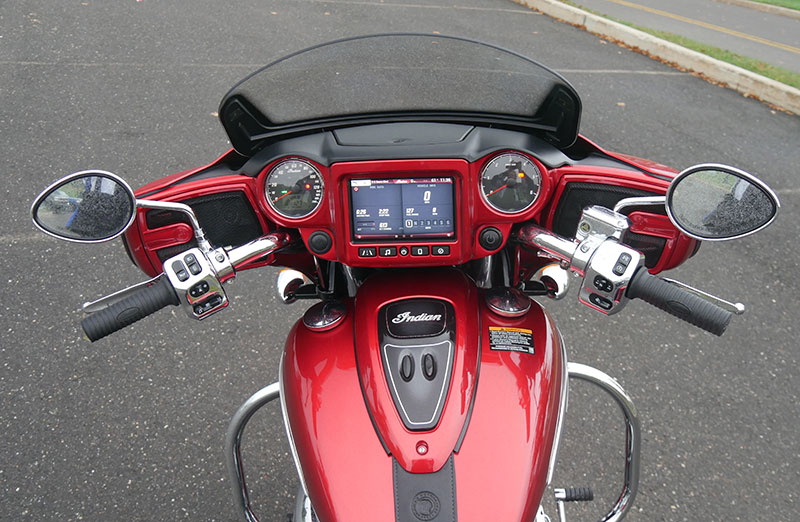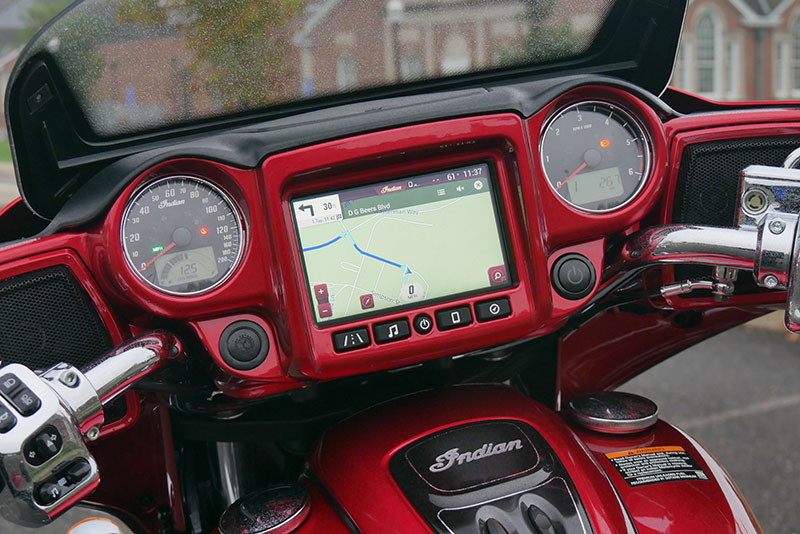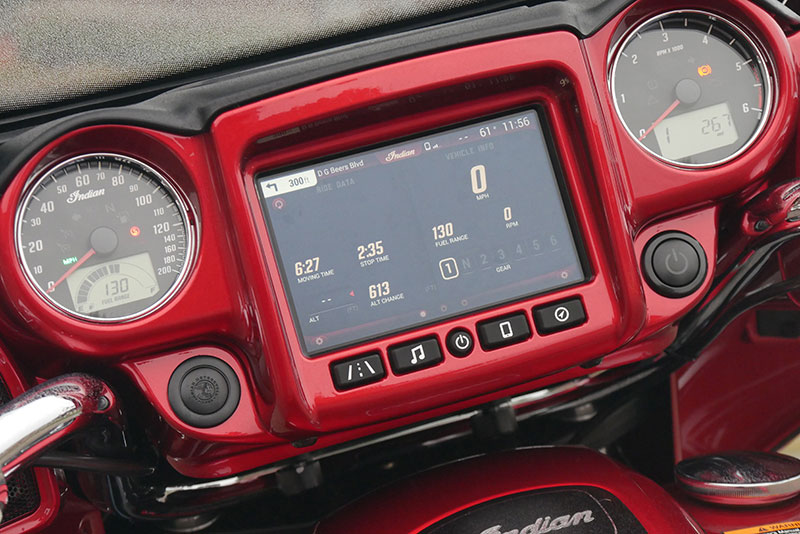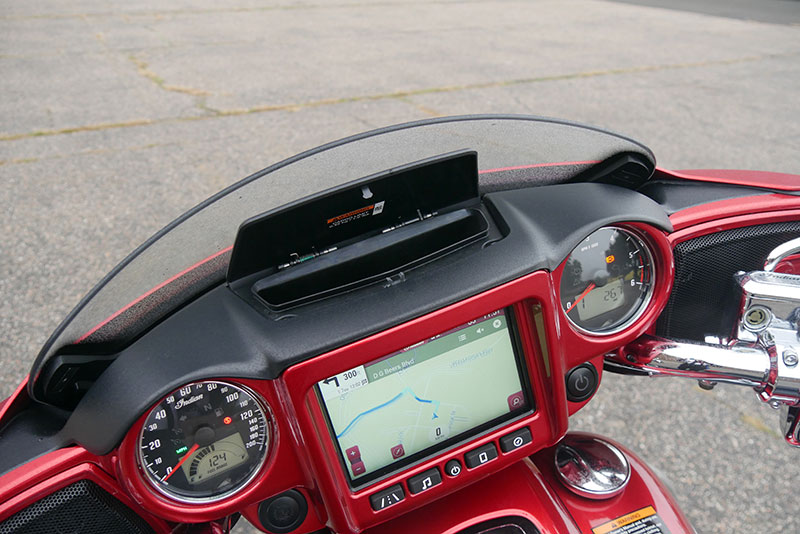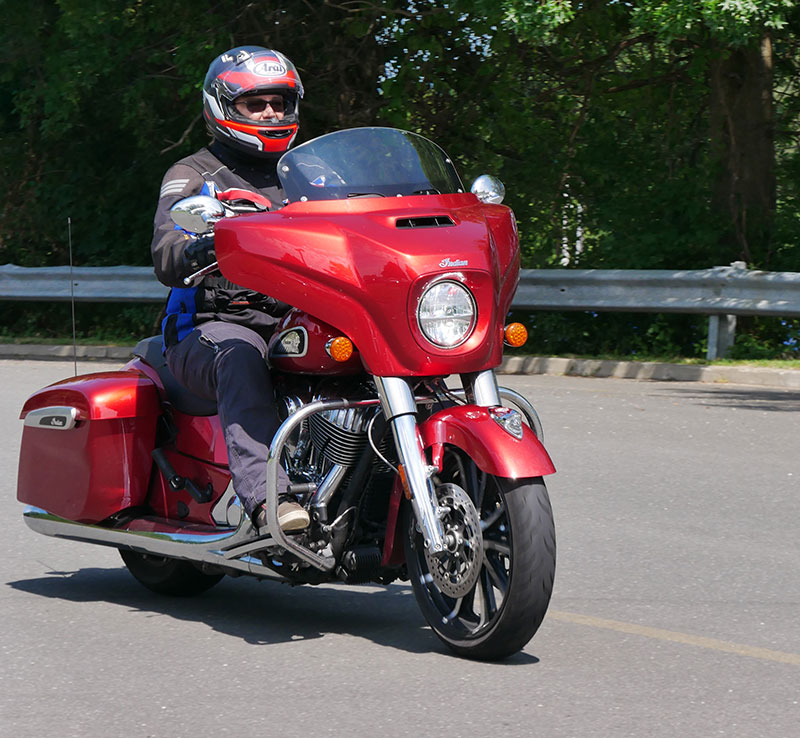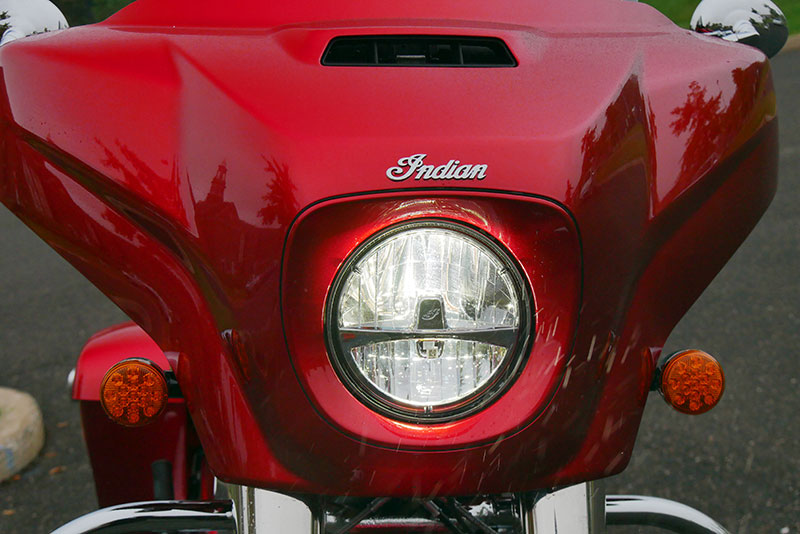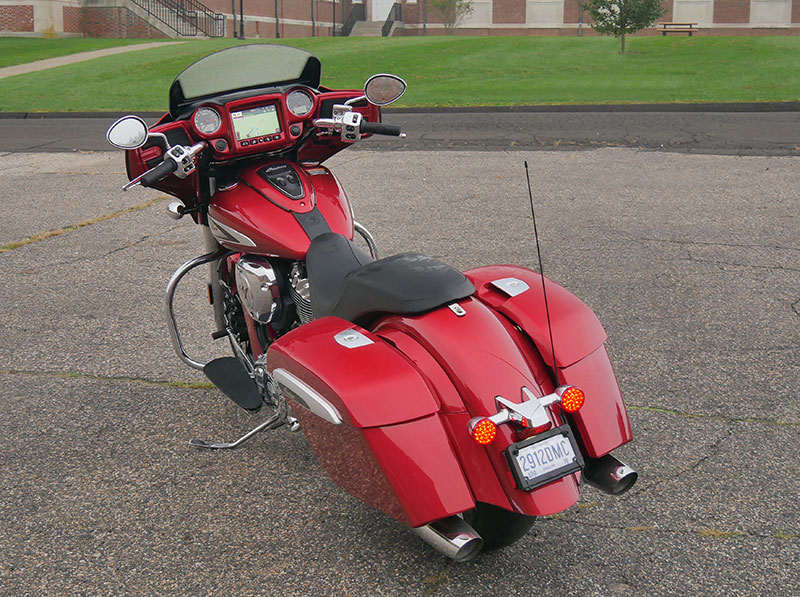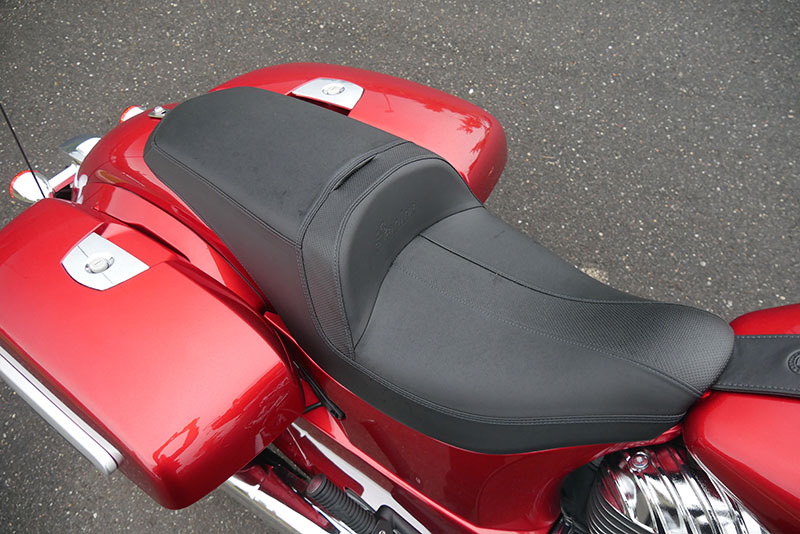 I was happy to ride the Chieftain Limited on both long and short trips, exploring several women's motorcycle events. I found some new remote back roads to and from work by just experimenting with the navigation map. To prepare for longer tours, I downloaded Indian's Ride Command app on my iPhone. When you sign up and log in online, you can easily plan routes on the site's easy-to-use mapping software. When you open the app on the smartphone, the route will show up and you can send it to the motorcycle for turn-by-turn directions.
Once moving, the navigation system works well and I am always happy to have a big map in front of me and voice guidance in my ear, telling me when to turn. On trips when I was staying in one place for a few days, I enjoyed plugging in my home base location as a favorite, then exploring routes from that spot without the fear of having to find my way back. As an old-fashioned map person, the Chieftain's idiot-proof navigation system totally changed me. I still carry paper maps with me, but I am a GPS-converted woman.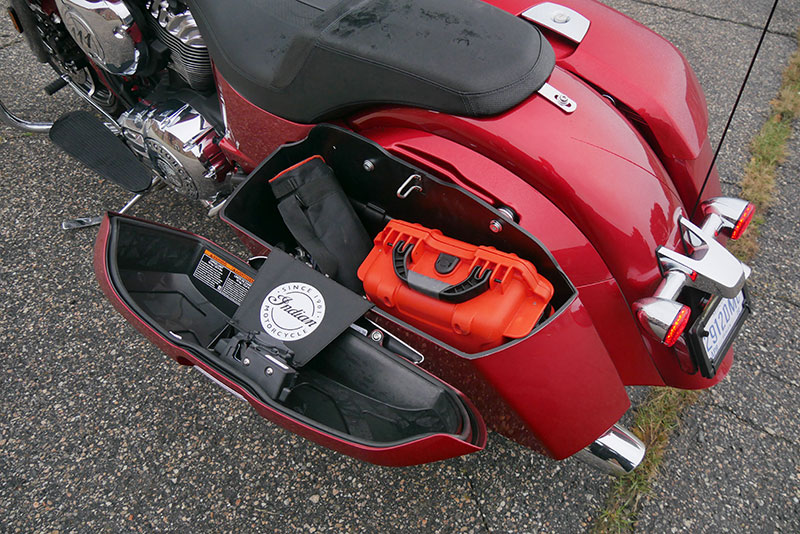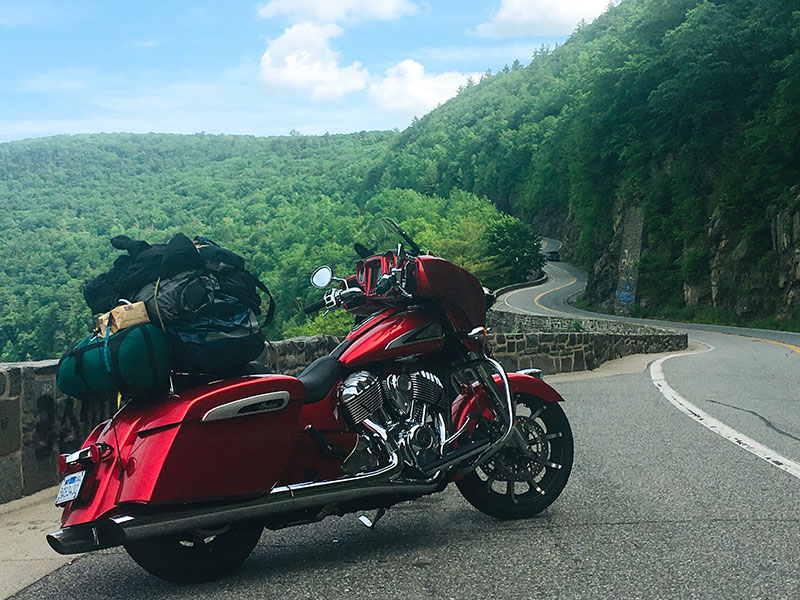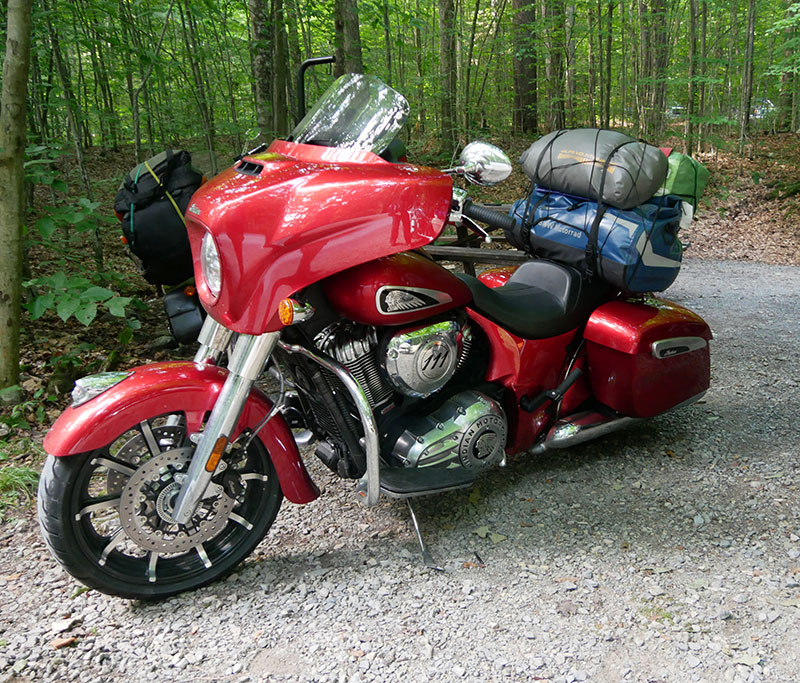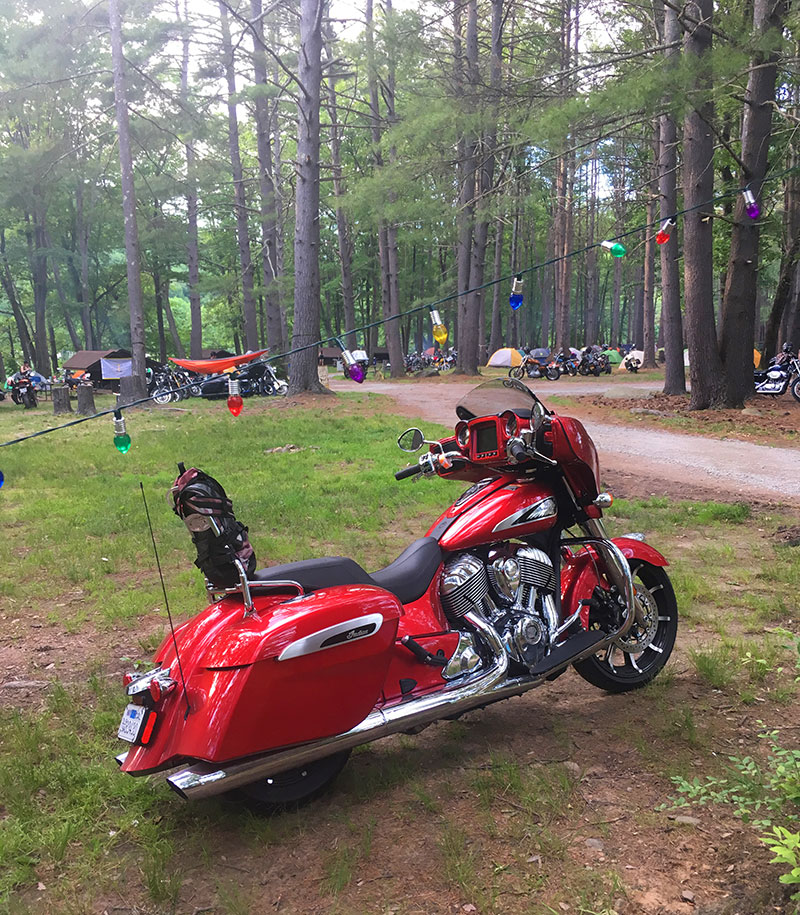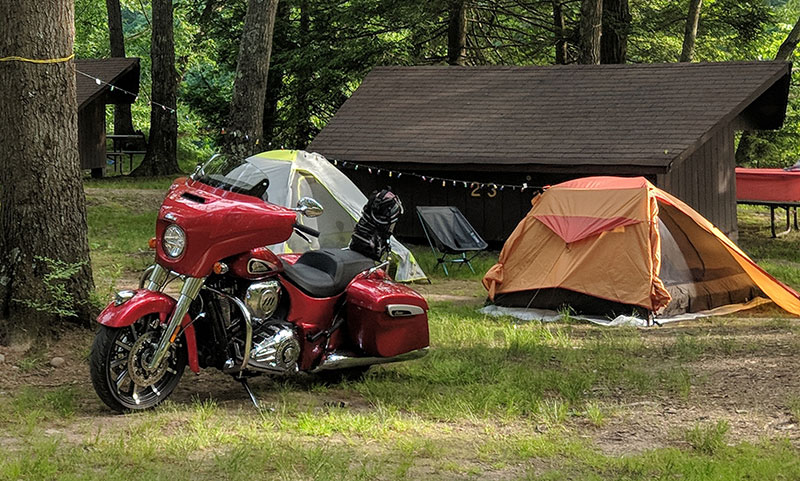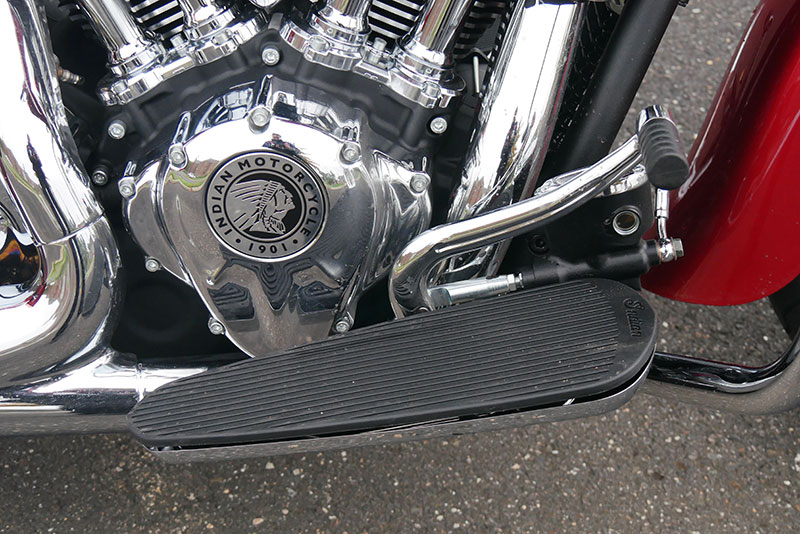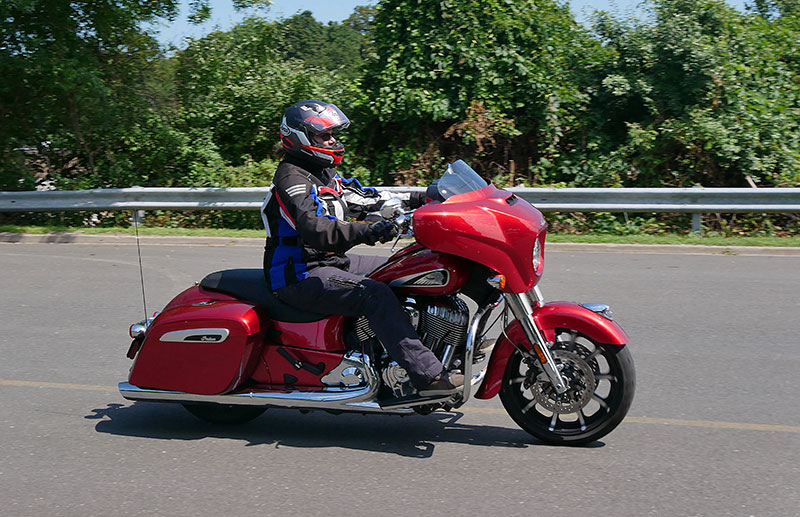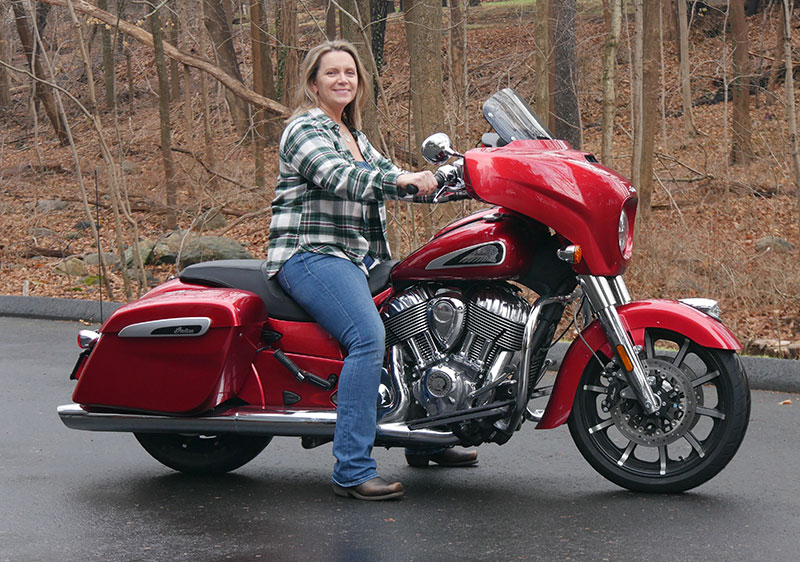 At almost 800 pounds without fluids, the Chieftain Limited is a heavy bike when it's not moving. Pushing it into and out of the garage is a chore, but once in motion, it's an effortless ride. With a comfortable reach to the handgrips, electronically adjustable windshield, lots of foot position options, and easy reach to the ground, it will accommodate most riders.
Swinging it around when making u-turns seemed to impress people, but truly, it's not difficult. The bike's low center of gravity keeps the weight where it should be, making for a stable, sure-footed ride.
Some maneuvers can be tricky though, as the fork-mounted fairing does add weight up front, similar to a Harley-Davidson Street Glide. I took the Chieftain to my Motorcycle Safety Foundation lot to practice the Experienced RiderCourse's offset weave maneuvers and had trouble pushing the handlebar fast enough to make it through the tightest weaves. Truth be told, I suffer from arthritis in my left wrist, and the combination of working the clutch while pushing the grips to turn the bar wore me out quickly.
The other problem I had practicing slow speed exercises on my loaned Chieftain was due to a subtle throttle hesitation. Revving the engine before easing out the clutch is something I'm used to doing with big American V-twins, but this Chieftain seemed to have a "hiccup" that makes me think is wasn't getting the perfect mixture of air and fuel to get it going smoothly. I suspect it's probably due to strict EPA regulations. If I bought my own Chieftain, the first thing I'd do is install a freer-flowing aftermarket air cleaner and exhaust system.
That being said, the decibel and rumble of the stock Chieftain exhaust is actually perfect for my taste. I don't like loud bikes, but enjoy a good rumble. And the Chieftain delivers a good V-twin sound at a level that won't annoy everyone around. Until you crank up the tunes, anyway.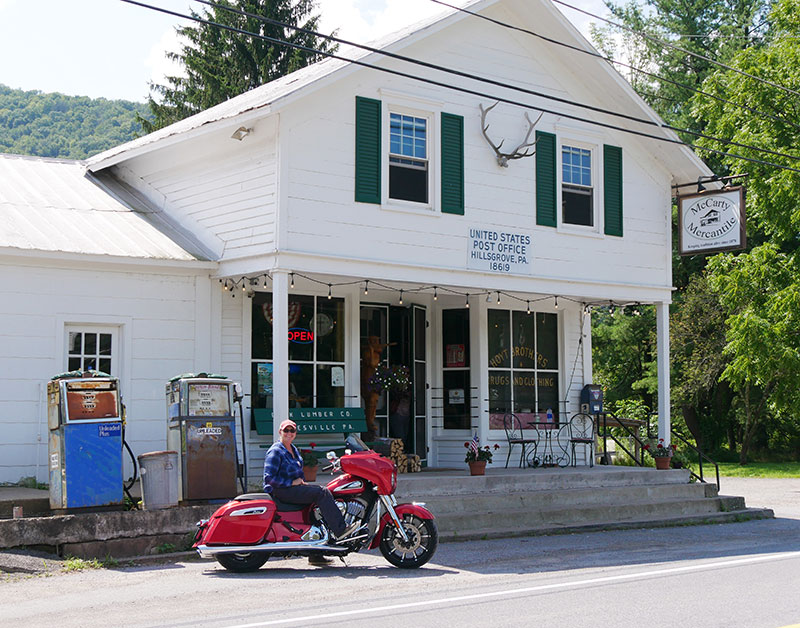 I was remorseful to return the Chieftain Limited at the end of the loan period. While I was happy to get some garage space back, I truly enjoyed the ability to ride this bike either sporty or laid-back, depending on my mood. I encourage women who are shopping for a larger motorcycle that can really be all things in one package to take a test ride on a Chieftain.
The Chieftain Limited's best features are definitely the navigation and infotainment system, huge locking saddlebags, and its beautiful shimmering paint and chrome. This bike received a ton of attention everywhere I rode from both riders and non-riders alike. The swoopy Indian fenders and streamlined aesthetics are undeniably attractive and seem to invite people to share their opinions with me. I'd love to hear yours. Please use the comments field below and if you ride a Chieftain, send us your pictures too!
Specs At A Glance: 2019 Indian Motorcycle Chieftain Limited
Engine Size: 111ci (1811cc)
Seat Height: 25.6 inches
Fuel Capacity: 5.5 gallons
Dry Weight: 795 pounds
Colors/MSRP: Thunder Black Pearl, $25,999; Ruby Metallic, $26,749; Dark Walnut, $26,749
Specs At A Glance: 2020 Indian Motorcycle Chieftain Limited
Engine Size: Base model: 111 ci (1811); Drak Horse and Limited: 116 ci (1901cc)
Seat Height: 25.6 inches
Weight: 798 pounds (dry); 830 pounds (wet)
Fuel Capacity: 5.5 gallons
Colors/MSRP: Thunder Black Pearl, $27,999; Radar Blue, $28,749; Thunder Black with Graphics, $29,249
Related Articles
Review: 2017 Indian Motorcycle Chieftain Limited and Elite
Top 5 Touring Motorcycles Women are Riding Now
More Indian Motorcycle Reviews
More Motorcycle Reviews