One of the most common questions we get asked is what motorcycles are women riding. We answered that last October when we published our list of the
top 10 motorcycles women are riding now
, with results generated from our latest reader survey.
Now we expand on that list and reveal the top five touring motorcycles women are riding now, according to that same survey where more than 1500 women responded to the question, "What motorcycle do you ride?"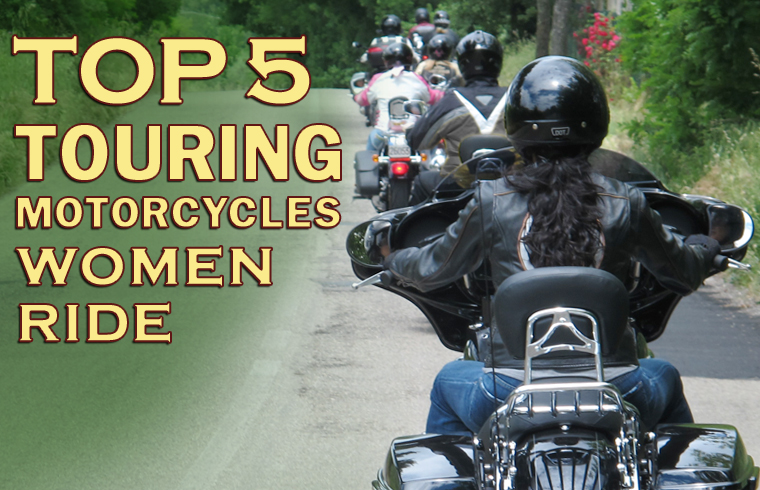 How We Came Up With The List
Lots of motorcycles are designated for touring, but for our purpose here because the results dictated it,touring motorcycleis defined as a motorcycle that is classified by its manufacturer as a heavyweight, and comes from the factory with a windshield and saddlebags already installed.
As the leading resource for on-road women motorcycle riders since 2006, we at
Women Riders Now
are confident this list reflects the most popular motorcycles ridden by females today,
popular
being the operative word here. We know there are other ideal touring designated motorcycles, but again our list reflects the bikes mentioned most often as the touring motorcycle women are riding now, a list that closely follows the popularity of touring bikes among the general motorcycling population. We even added an honorable mention that we were excited to see, and that motorcycle may surprise you.
The trend in riders choosing a "bagger" or "dresser" is not slowing down as more riders than ever before have the time, resources, and desire to explore the world on two-wheels. Over the years, we've seen more women among the general population of female riders choose a heavyweight cruiser as their motorcycle for long distance adventures.
If your touring motorcycle is not on the list, and certainly there are wonderful sport touring motorcycles that are ideal for long distance riding, please share it with us in the comments and include a photo. Remember, this list represents the most popular touring bikes among women today.
1. Harley-Davidson Street Glide
Harley-Davidson's super successful FLHX Street Glide, celebrating its 10-year anniversary in 2016, is the number one selling touring motorcycle in the U.S. so it's no surprise that among women riders this bike would be the most popular pick. The Street Glide is also the second most popular motorcycle among women overall, according to our
Top 10 Motorcycles Women Ride
list.
The Street Glide boasts the lowest seat height of any stock "bagger" at 26.1 inches making it easy for a wide range of riders to sit in the saddle flat-footed. And being able to plant both feet on the ground comfortably is the number one factor for women when determining what bike to buy, according to our survey. Because the bike doesn't come with a rear top case, it has a very low center of gravity that puts it above the others in our list for easy handling and maneuverability.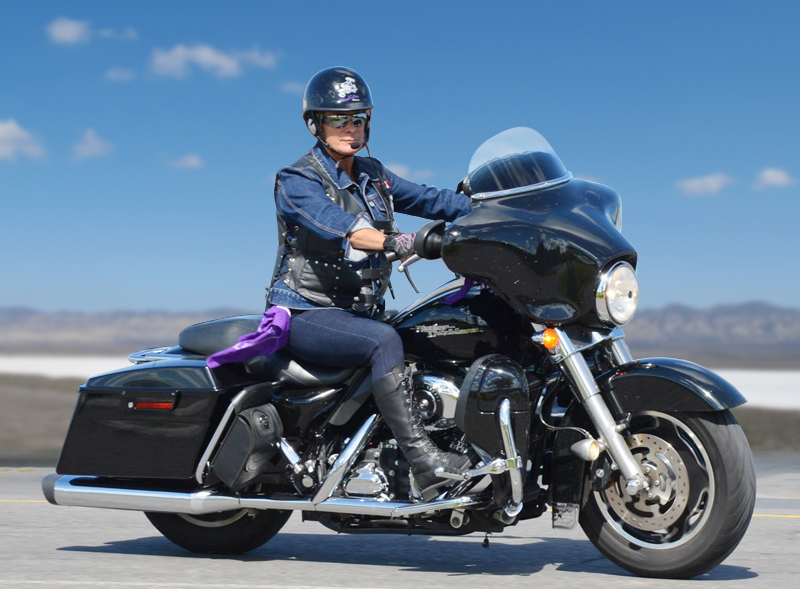 The Street Glide, as all the Harleys in this list, is part of the Motor Company's touring family of motorcycles, so riders can expect the more powerful engine making it even more appealing to riders who not only desire a bike that's easy to maneuver and comfy for long days in the saddle, but who appreciate lots of throttle power to command the highway. Since 2012, the Street Glide's powerplant is the Twin Cam 103 engine (1690cc).
Rounding out the list of enticing features is the cruise control, music options, and a big 6-gallon fuel tank allowing for longer off-the-beaten path adventures where gas stations are few and far between.
2. Harley-Davidson Road King
Before the Street Glide made its debut, the FLHR Road King was Harley-Davidson's easy-to-ride touring motorcycle so naturally it lands in the number two spot on our list. (It's also the fifth most popular motorcycle overall among women riders.)
The Road King is built on Harley's touring chassis (or frame) so like its bigger cousins, the Electra Glide Ultra Classic and the Ultra Limited, the Road King offers that smooth, cushy ride, but its absence of a front fairing and rear tour pack keep the center of gravity low with no top-heaviness that comes with some bikes that have a rear top case.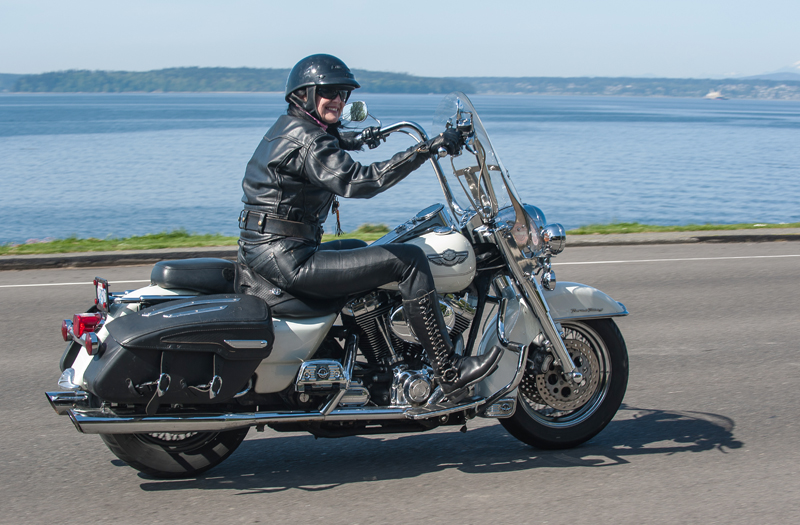 Aesthetically, the roots of the Road King go back to Harley's early touring motorcycles, but the Road King name and signature minimalist look—for a bagger—made its debut in 1994, and has essentially looked the same all these years.
And that simple, understated style is what makes the Road King appealing. Some riders don't want a full fairing with music, a navigational system, and cruise control, but they do want the comfort that a bike built on a touring frame offers. So the Road King boasts a low seat at 26.7 inches, a big windshield, decent-sized saddlebags, a wide light bar, and a large fuel tank—about all a touring rider needs to go long distances comfortably while keeping it simple.
3. Harley-Davidson Electra Glide Ultra Classic
We are excited to see Harley-Davidson's largest touring motorcycle, the FLHTCU Electra Glide Ultra Classic, fall into the number three spot. This shows that more women are appreciating the creature comforts of a larger motorcycle including extra storage, tunes while they ride, navigational and Bluetooth systems on the new models, and protection from the wind from the legs up to the face.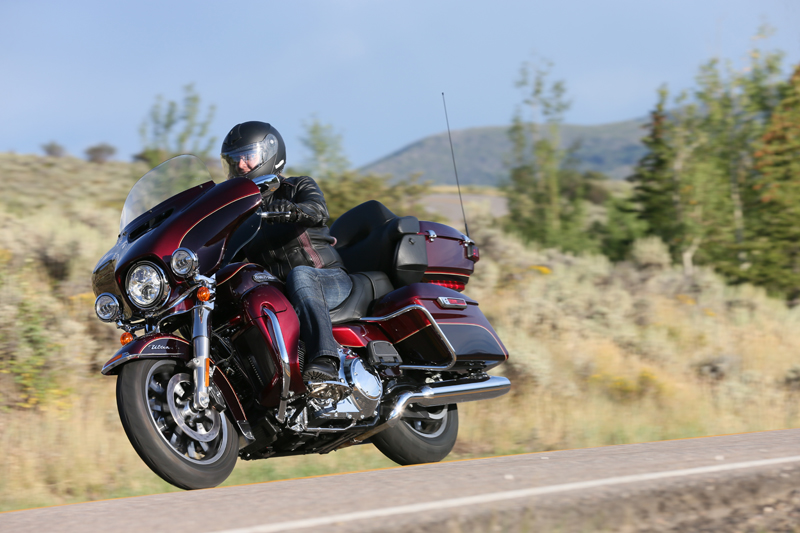 Seat height is not much higher than the previous two bikes on our list at 27.3 inches, but all the extra weight of this motorcycle calls for a rider to be strong and confident to feel completely in control in all situations.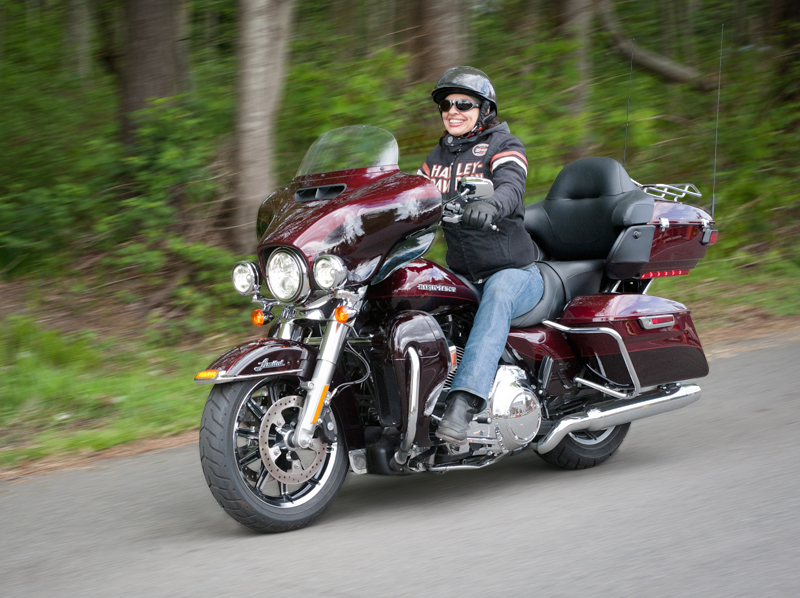 Knowing seat height is a big issue on big bikes for a lot of riders, in 2015 Harley-Davidson introduced a lower version of both models, the Electra Glide Ultra Classic Low, and the Ultra Limited Low, measuring almost two inches closer to the ground at 25.6 inches, nearly as low as the Street Glide. Woman or man, most riders can appreciate the extra control of having both feet on the ground.
4. Honda Gold Wing
If Harley-Davidson didn't dominate U.S. market share for heavyweight cruisers, the Honda Gold Wing might be a little higher on our list of touring motorcycles. Still, the powerful 1800cc Gold Wing did make our top five because it's perhaps the easiest of the biggest motorcycles to ride with superb balance and optimal center of gravity that it's often been called the "Cadillac" of motorcycles.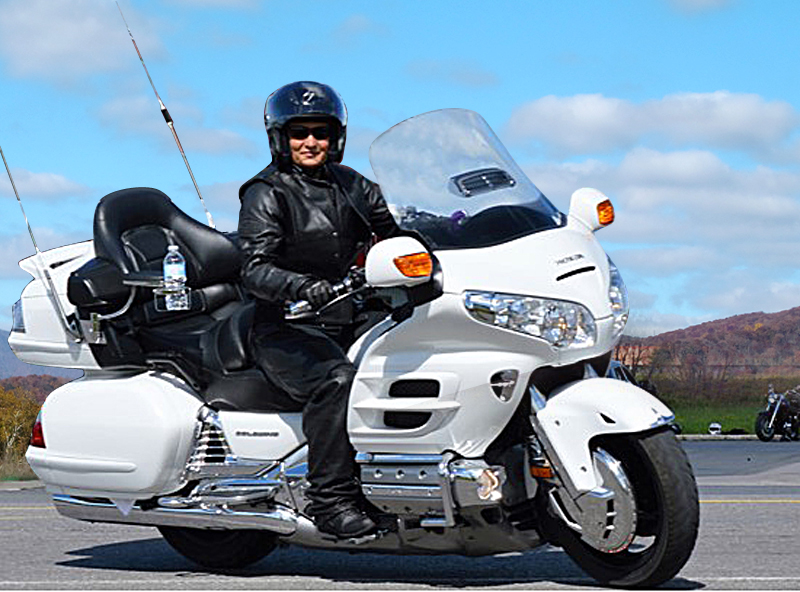 A test ride comparing the two showed me that the Gold Wing's suspension and smooth ride is superior to the Electra Glide Ultra Classic, and the women who call this beauty their own know this little secret. Bystanders gaze in awe as some of the smallest women handle a Gold Wing, but the rider knows if she can get past the bulk and hone into the weight distribution and the bike's wonderful handling characteristics, she soon becomes one with it.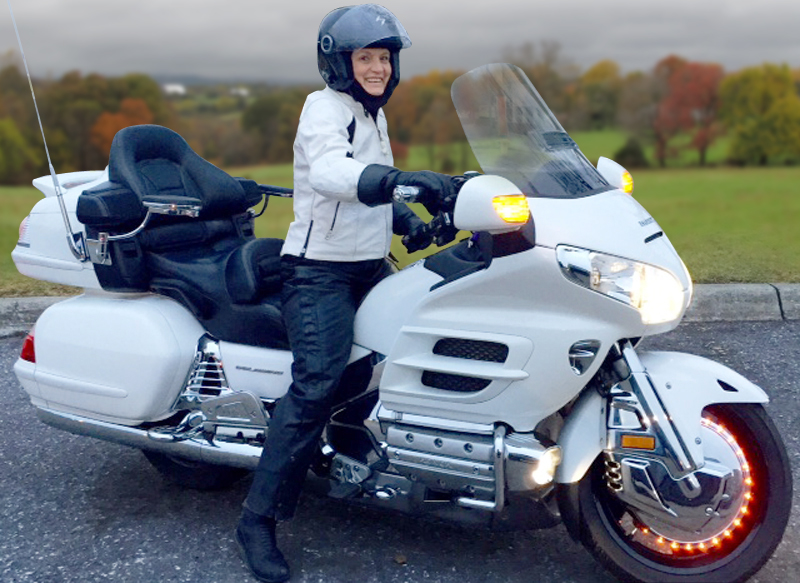 Honda doesn't publish the laden seat height, which is the measurement we always use when indicating the seat height of a motorcycle when a rider is seated on it. The Gold Wing's unladen seat height is 29.1 inches, but you could shave off about an inch once your seat hits the saddle.
The Gold Wing earns its Cadillac status because it was the first to offer heated seats and a navigational system putting it years ahead of the competition in creature comforts. Women who spend a lot of time in the saddle and want to be comfortable in almost all weather conditions choose the Honda Gold Wing.
5. Harley-Davidson Road Glide
The motorcycle with the "different" front end rounds out our list of the top five touring motorcycles women are riding today. The Harley-Davidson FLTRX Road Glide has a fairing that is mounted on the frame as opposed to the handlebars, like its Harley "cousins," so when a rider turns, the handlebars move but the fairing does not.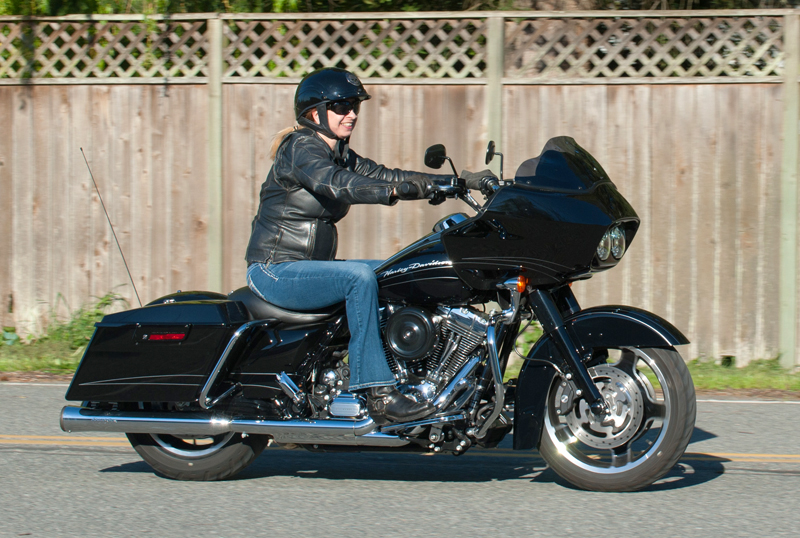 "People ask me if it bothers me having the fairing fixed to the frame," says Debra Neumann, shown in the photo above. "I reply by saying, 'Who looks at your handlebars when you ride?' The fairing blocks the wind and the bike cuts through some pretty decent gusts with ease."
The Road Glide shares the same seat height as the Street Glide, 26.1 inches, so a wide range of riders can plant both feet on the ground giving lots of women access to this bike's fun factor.
Large saddlebags, a full range of goodies on the dash including cruise control (which is standard on Harley's full fairing bikes), low profile windshield, 6-gallon fuel tank, and that Twin Cam 103 motor give a touring rider just enough comfort, power, and gadgets to keep her sharp without dampening the adventure with a super heavy bike.
Honorable Mention: BMW R 1200 GS
We added an honorable mention to our list of top five touring motorcycles because while this model is considered a touring bike (and a heavyweight by BMW standards) it has the ability to go off road, which in motorcycling classifications makes it an "adventure touring motorcycle," and there is a growing contingent of women, according to our survey, who get excited at the prospect of doing just that.
The BMW R 1200 GS is considered the icon of all adventure travel bikes, and with more women riding than ever before, it's natural they'd gravitate to the motorcycle that, for 32 years, has been defining this touring segment.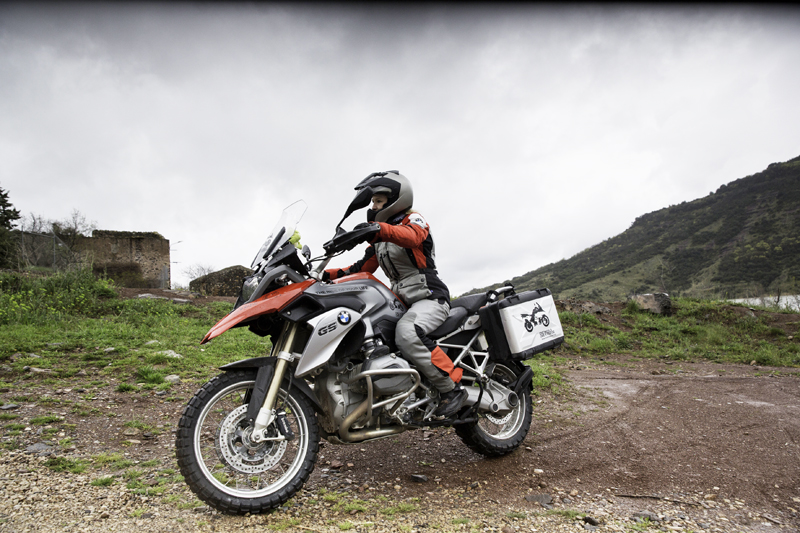 Among adventure touring motorcycles, the BMW R 1200 GS is considered the Cadillac of models because it led the charge early on offering comfort and safety features like ABS, heated grips, and different riding modes that make the bike adaptable to changing riding conditions.
Like our other touring motorcycles, a rider must be experienced and confident to handle such a large motorcycle. Because it's designed to go off road, the seat height is much higher to allow for ground clearance. Standard seat height is 33.5 inches, but BMW offers adjustments to as low as 31.5 inches.
The women that ride our honorable mention bike love the model so much that there's even a group called BMW GS Girls with an active Facebook page for members to share. The GS Girls goes beyond the R 1200 GS to include women who ride any of BMW's GS adventure touring models, motorcycles that were also mentioned in our survey.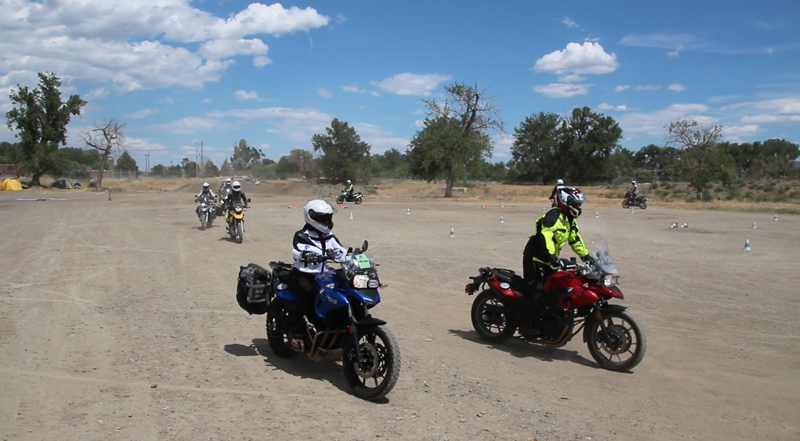 That finishes our list of the most popular touring motorcycles ridden by women today. Now please share yours with us and tell us why you like it in the comments below, and include a photo.
Related Articles