I've been writing about motorcycles for 25 years and have witnessed a lot of trends in motorcycle styles during that time. After enduring the boom of choppers with ultra fat tires and gigantic rakes in the early to mid-2000s, and then the onslaught of humongous-sized touring cruisers of the mid-to late 2000s, it's nice to see the majority of the new motorcycles being introduced for model year 2015 come back down to human-sized proportions.
Many of the models appeal to new riders—a large percentage of readers of Women Riders Now—as well as experienced riders seeking a vintage-y experience with some models resembling those of yesteryear.
Here's our list of motorcycles to get excited about for 2015! Wait til you see the last one, an honorable that we had to include.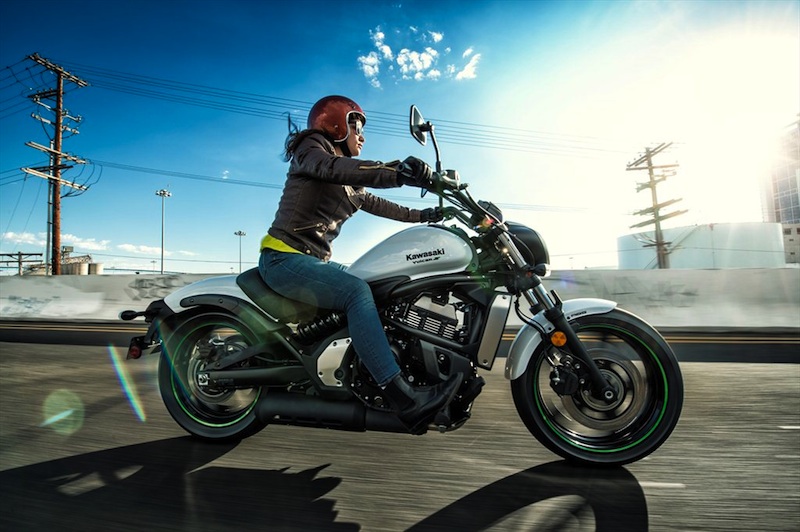 The most interesting motorcycle this year is the all-new Kawasaki Vulcan S, because it takes the term "ergonomically friendly" to a whole new level. The Vulcan S is designed from the factory to accommodate a wide variety of riders sizes with its five multi-adjustable components. Seat, handlebars, and footpegs, as well as hand levers and suspension are all adjustable multiple ways. Riders under 5-feet-5 as well as those taller than that can find an adjustment to fit them.
The Vulcan S, which looks nothing like its Vulcan predecessors, has aggressive cruiser styling with a sporty edge, as it's powered by a 649cc parallel twin engine that has sportbike-derived DNA. The fuel-injected motor has a 6-speed transmission and ABS is standard. Seat height is 27.8 inches. Price: $6,999.
Click to the next page to see the next motorcycle were excited about.
[page break]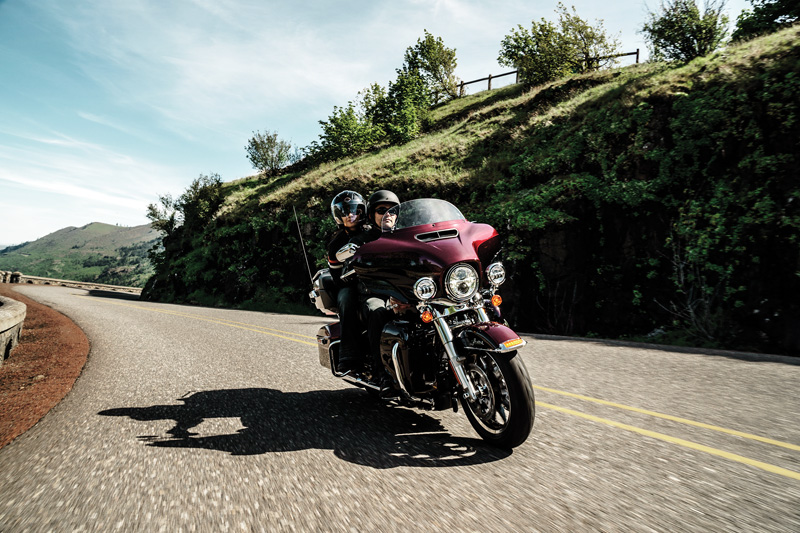 Harley-Davidsons big-size premium touring models are now accessible to a wider variety of people sizes as well because it slammed the suspension 1.7 inches lower to the ground for a seat height of 25.6 inches. Talk about low! Harley responded to customer input to develop a better fit for riders as short as 5 feet 5 inches on its Electra Glide Ultra Classic Low and the Electra Glide Ultra Limited Low. Plus, a new low-profile seat reduces reach to the foot controls, and premium front and rear suspension lowers the bike's center of gravity making it easier to lift it off the side stand. Women, shorter men, and couples (guys manhandling the extra weight of a passenger) will appreciate this noticeable difference! Both new models feature Project Rushmore enhancements that were introduced in 2013. Prices start at $23,249 and $26,999.
The other Harley-Davidson model that was brand new when it was introduced for model year 2015 that fits in with our list because it follows the trend of light and low is the Street 500 and 750. Im not giving the new platform a full entry here in our list because its hard to get excited about a motorcycle in 2015 that weve been talking about since last February! Thats when this 2015 model was first announced! I wrote about this model when it started rolling into dealerships in Septemberand included it in another of our list stories. Since then other motorcycles have been announced that pushed the Street to its "half" position in our list. Didnt want you to think we overlooked it.
Click to the next page to see the next motorcycle were excited about.
[page break]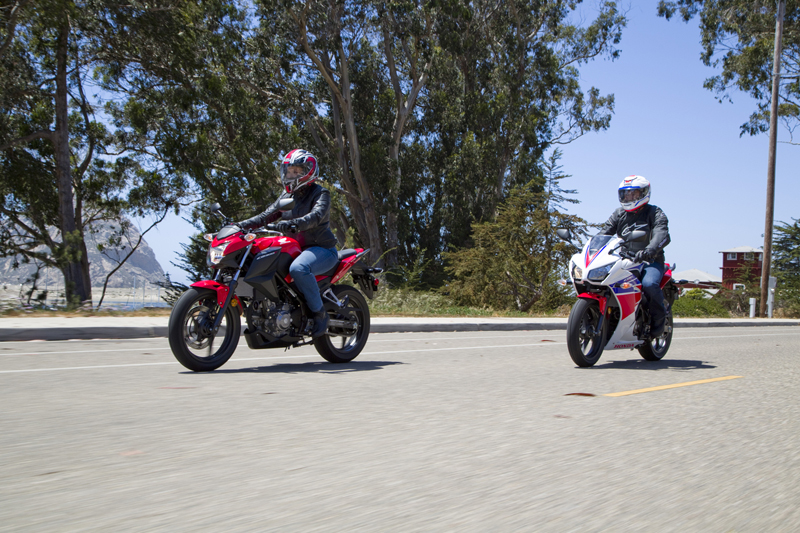 The 2015 Honda CBR300, announced last summer, is a redesign of the CBR250, and comes on the heels of another entry-level sportbike that upped its power from 250 to 300cc in 2013, the Kawasaki Ninja 300. While there's a 17 percent boost in horsepower from the CBR250 to the 300, all the features that make it appealing to new sportbike riders remain. Lightweight, nimble, and narrow with a manageable seat height of 30.7 inches. Two versions of the entry-level bike give riders options: the CBR300 has a fairing, while the CB300 does not giving the bike a "streetfigher" raw look. The single-cylinder engine is ideal for beginners still learning the clutch and throttle action. Honda says the 300's tested fuel economy was 70mpg! Price is $4,399 for the standard model; $4,899 for the ABS version.
Click to the next page to see the next motorcycle were excited about.
[page break]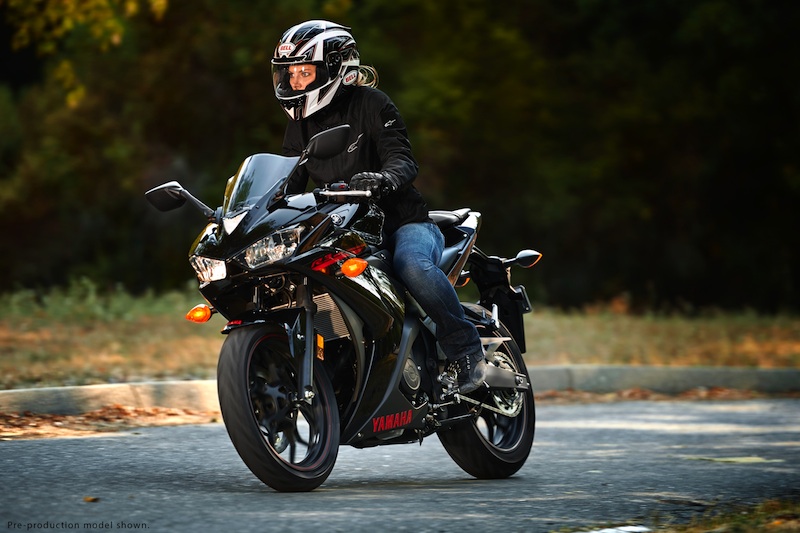 Yamaha is getting in on the 300cc entry-level sportbike act by introducing the YZF-R3 for 2015. The newly developed 320cc inline two-cylinder engine is liquid cooled, fuel injected, and along with the 6 speeds give this entry-level machine big bike grit, but all in a lightweight, low seat height (30.7 inches) package that's appealing to new riders who want to take to the twisties. Price is $4,990.
Click to the next page to see the next motorcycle were excited about.
[page break]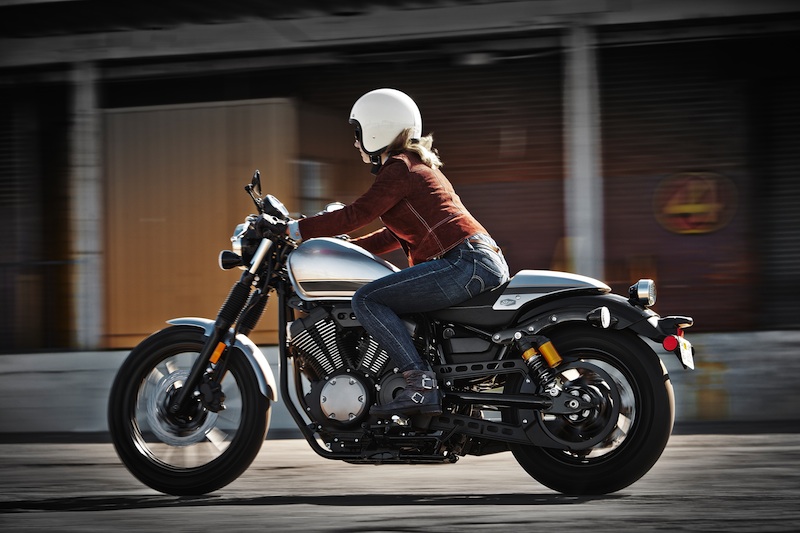 Yamaha hit a home run when it introduced the all-new 950cc Bolt in 2014, a modern day performance bobber. The Bolt was so unique when it was introduced that it was, and still is, helping to define a whole new market segment: urban riding. The Bolt R-Spec, a sportier version, rolled out a few months later, and now for 2015 Yamaha unveils the Bolt C-Spec, shown here. This café-styled Bolt features a forward riding stance with clip-on handlebars, traditional fork boots, a removable passenger seat cowl and sport café paint and graphics that tie it all together. There's now a Bolt for every taste. Lightweight and a low seat height (27.2 inches) make it appealing to a wide variety of riders, including women who want a little sass in their ride. Price: $8,690.
Click to the next page to see the next motorcycle were excited about.
[page break]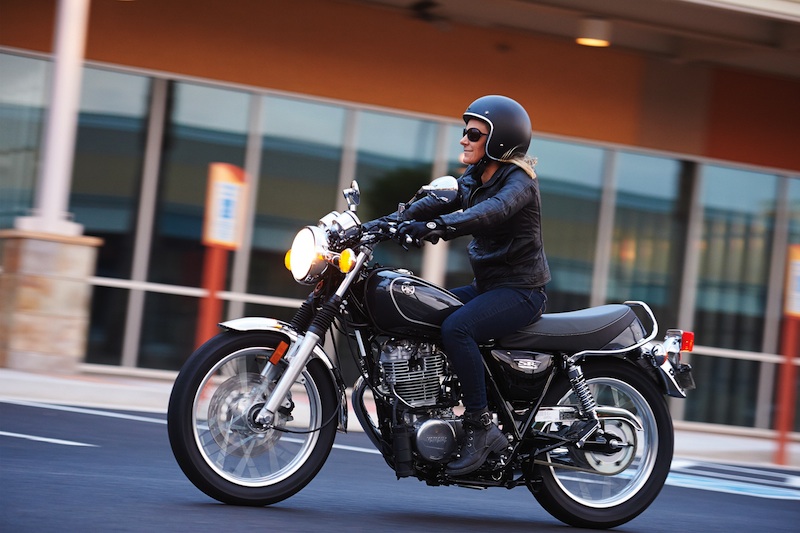 Knowing that a new generation of riders loves vintage or seemingly vintage motorcycles Yamaha brought back a classic, the SR400, a retro styled motorcycle with a single cylinder engine. Of course everything's new on the bike, except Yamaha retained the kickstarter, the only way to get the 384-pound lightweight going. We're told it's not like the old days where kicking it over was dependent on the crankiness of the carbureted engine. The air-cooled 399cc engine is fuel injected and is actually fun to get started—and likely to draw attention. This compact bike has a manageable seat height of 30.9 inches. Price is $5,990.
Click to the next page to see the next motorcycle were excited about.
[page break]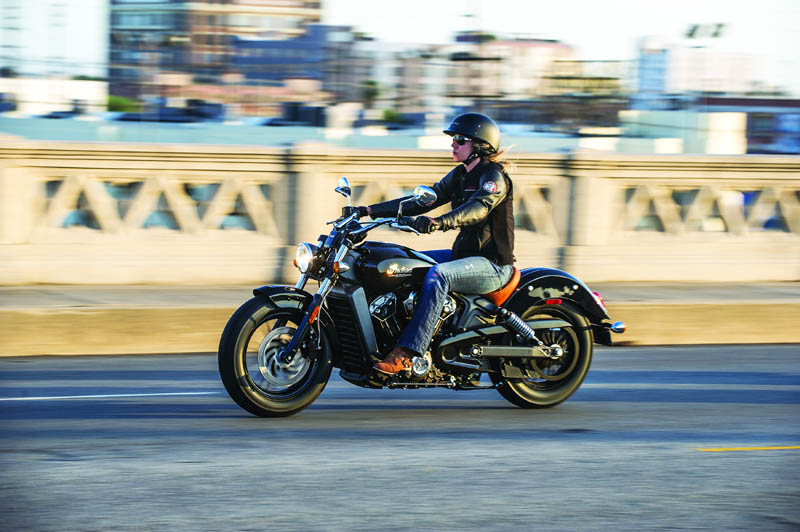 Women Riders Now was given the opportunity to have the first female journalist test ride the new 2015 Scout. Sash Walker did a super job and assessing this new classic, and judging by the comments from our readers, Indian has a winner on its hands, particularly among women. The Scout's powerful 1100cc engine packed iinto a middleweight, easy-to-manage package has women flocking to Indian dealerships to sit on the new motorcycle. Plus, the styling is so new and exciting that visually it beckons one to see what it's all about. Seat height is favorable 25.3 inches and price starts at $10,999. Read the WRN review here.
Click to the next page to see the next motorcycle we're excited about.
[page break]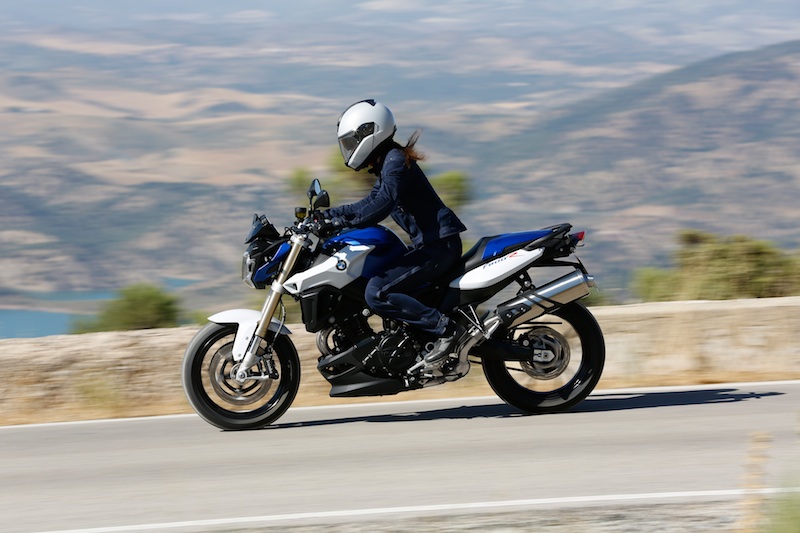 This popular "roadster" motorcycle from BMW just got better for 2015. The F 800 R now has more power, low seat options, is lighter and costs $650 less! Heated grips, so popular on the bigger bikes, are now standard equipment. Plus modified gear ratios for first and second gear mean the bike's easier to ride at slower speeds making this ideal for riders in an urban setting, as well as those getting used to slow speed maneuvers. The F 800 R's compact size and nimbleness make it easy for confident beginners and smaller riders to get their motorcycle mojo up to speed. Price starts at $9,950. Personally, I'm still drooling over the F 700 GS adventure bike that came out last year that my friend Estela Villaseñor bought as her first bike, below.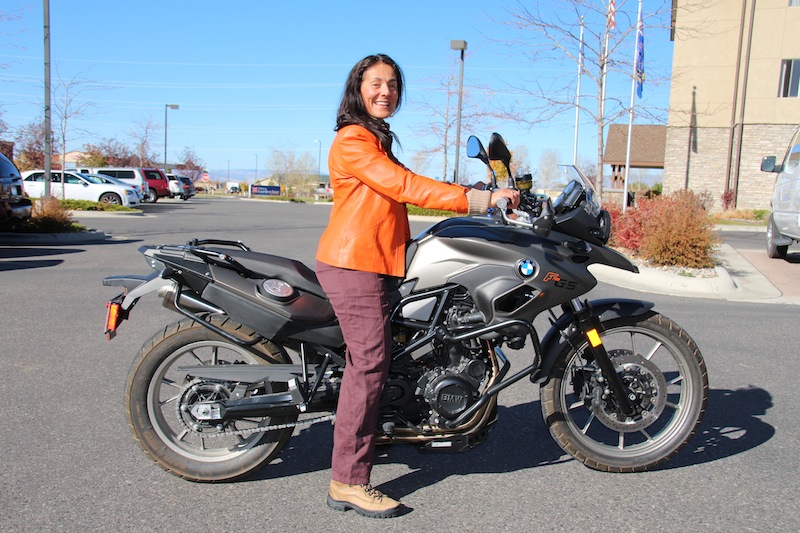 Click to the next page to see the next motorcycle we're excited about.
[page break]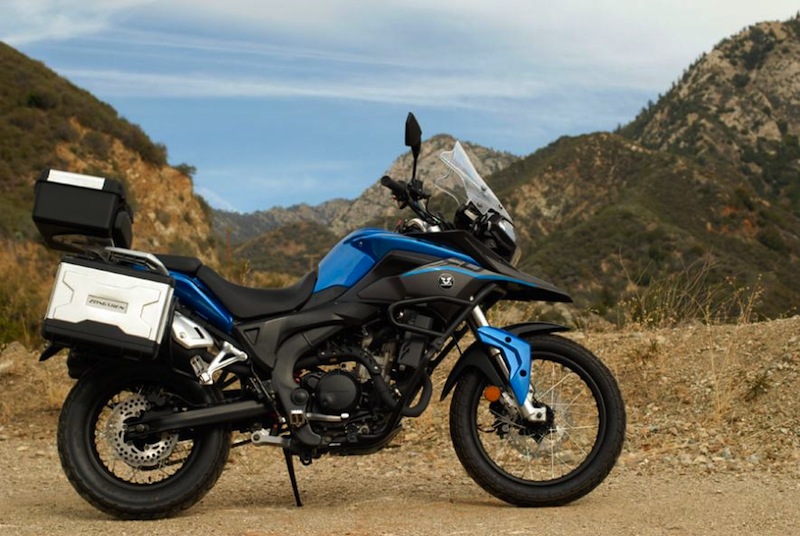 We're excited when a new player enters the market and CSC Motorcycles, the company we introduced to you to when I reviewed its Classic and Babydoll 150cc motorcycles, is now selling a 250cc adventure motorcycle called the RX-3 Cyclone. The adventure touring market is growing in popularity among men and women who want the ability to go off the beaten path, that is, riding on pavement and gravel. The Cyclone comes with everything you need to conquer that terrain: dual-purpose tires, engine guards, hard-sided panniers, and a windshield. A 6-speed transmission, a 4.2-gallon fuel tank, and an engine that's watercooled, fuel injected, and counter-balanced give this new entry into the market some fight. The CSC Cyclone is the only 250cc adventure tourer out there, and with an easy-on-the-wallet $3,495 price tag anyone interested can give this kind of riding a try.
Click to the next page to see the next motorcycle we're excited about.
[page break]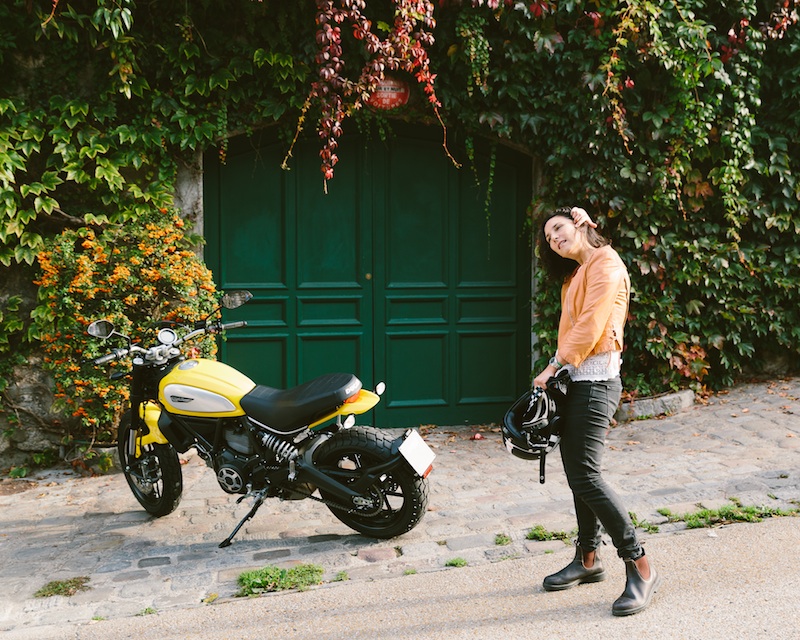 While it's a contemporary take on an iconic bike of the 1970s, Ducati says its new 2015 Scrambler is not a retro bike, rather "it's intended to be just how the legendary motorcycle would be if Ducati had never stopped building it." Light weight, low center of gravity and slightly knobby tires will keep you grounded no matter where you end up. The 800cc L-twin cylinder engine produces 75 hp, just enough to keep things fun. The low seat accessory drops you down to a manageable 30.3 inches (from 31.1 inches). The Scrambler is offered in four different urban edgy styles: the Icon, Urban Enduro, Classic, and Full Throttle; you're bound to fall in love with one of them. Price starts at $8,499. Now it will be hard for women to choose between the Monster (I reviewed the 696 here), which many really love, and the new Scrambler!
Click to the next page to see our honorable mention!
[page break]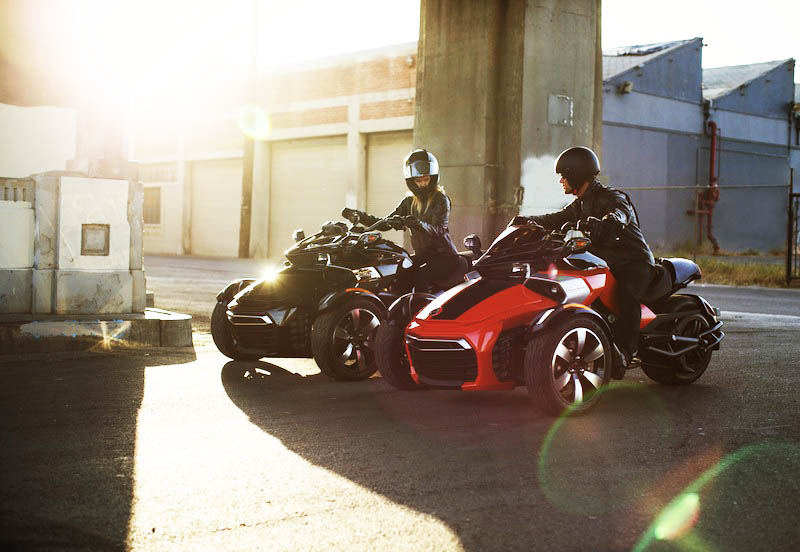 What a way to end our list of motorcycles to get excited about for 2015. The Spyder F3 from Can-Am doesn't get more exciting that this. But since technically it's not a motorcycle, we put it in our honorable mention category. I've test ridden two versions of the Spyder, the RS-S sport version, and the RT touring version. This new version, the F3, puts yet another spin on the two-wheels-in-front-one-in-back three-wheeler concept. It's a Spyder cruiser, a laid back riding style with feet kicked forward. The 1330cc engine ensures you have plenty of power and the 6-speed transmission with reverse makes it easy to back up. Price starts at $19,499.
There you have it! Tell us what you think in the comments section, and be sure to check out our other motorcycle list stories in the Related Articles below.
Related Articles
Top 10 Motorcycles for Women
5 Sexy Lightweight Motorcycles Just for Fun
Motorcycles To Get Started On