Pure fun—that's how I describe my time test riding CSC Motorcycles' 150cc bike. At first glance, you'd think the 240-pound two-wheeler is a scooter, but look again. It has a motorcycle-style frame (versus the step-through frame of a scooter) and a 5-speed manual transmission with a clutch that the rider must actuate to shift gears (versus the automatic transmission of a scooter). The beauty of such a small and light machine with motorcycle gearing is that new riders can practice the fine art of mastering the clutch and throttle action on a bike so light that it can't get away from them.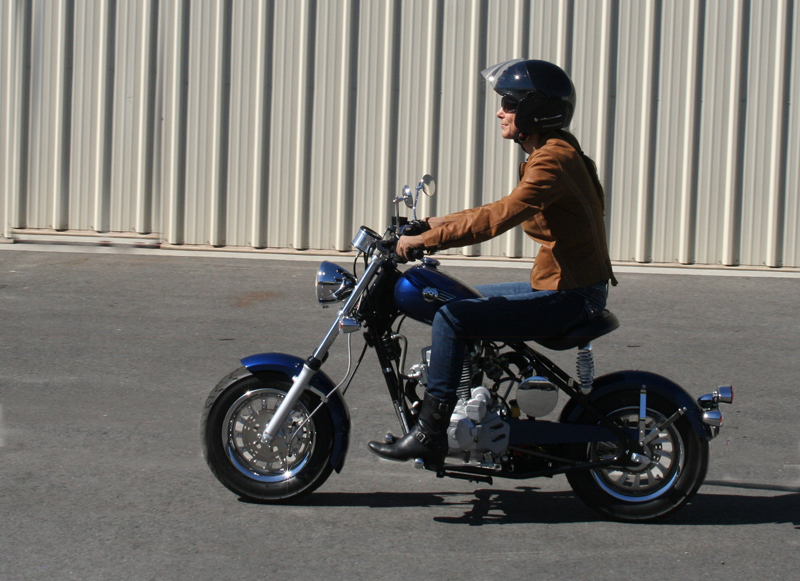 These motorcycles aren't just a hit with beginners—they're also popular with veteran riders who want a fun motorcycle to "scoot" around town on. You might be wondering why you've never heard of CSC Motorcycles. Well, you may have. Up until last year, the company operated under the name of California Scooter Company. It was started in 2008 under parent company Pro-One Performance Manufacturing, maker of high-quality motorcycle aftermarket parts and accessories and builder of custom motorcycles since 1989. Owner Steve Seidner grew up working in his father's motorcycle dealership, where he'd listen to stories about the old Mustangs—diminutive 125cc motorcycles manufactured from 1945 to 1963. As an adult, Steve purchased a 1953 Mustang and joined a group of collectors called the Mustang Motorcycle Club.
| | |
| --- | --- |
| Steve's 1953 Mustang parked in his showroom. He discovered the bike was a magnet. "Customers buying $40,000 performance V-twins would walk right past the big bikes to get a better look at the old Mustang," he said. | Old Mustang operation manuals and the Mustang Motorcycle Club newsletter in a showcase in the CSC showroom. |
Steve eventually met Jim Cavanaugh, who oversaw production of the Mustangs when they were being manufactured. The two became friends and collaborated on the development of a modern motorcycle that would take cues from the original Mustang. The word "scooter" in the company name, California Scooter Company, was intended as a slang word for motorcycle. The company's first pint-sized 150cc motorcycle caught on fast among all different types of buyers, but Steve soon realized there was confusion among potential buyers, who thought the company was making scooters because of the company name. So last year, he officially changed the name to CSC Motorcycles to more accurately reflect the product he's manufacturing.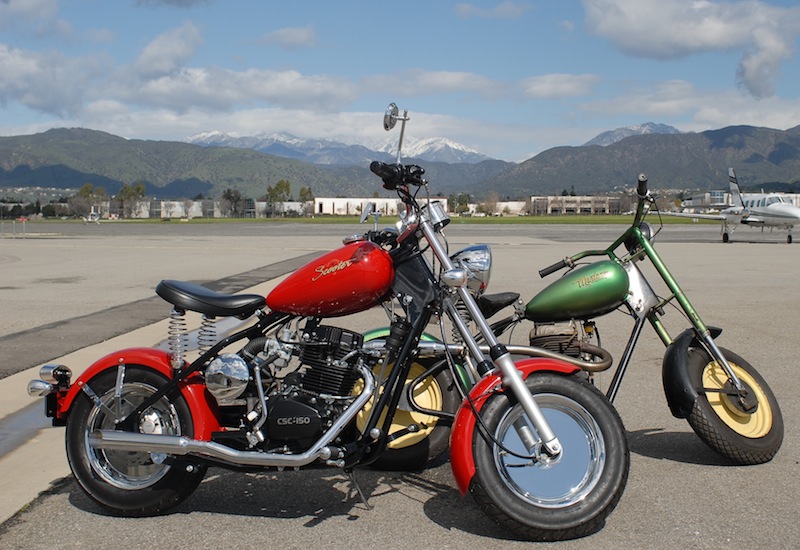 There are three models in the CSC Motorcycles family, with color and custom accents being the only difference between them. The Greaser model is flat black, the Babydoll is pink, and the Classic comes in red, blue and black. The latter is the model I'm riding in the video below, in which you can get my initial impressions and hear the sound of the bike with aftermarket pipes attached.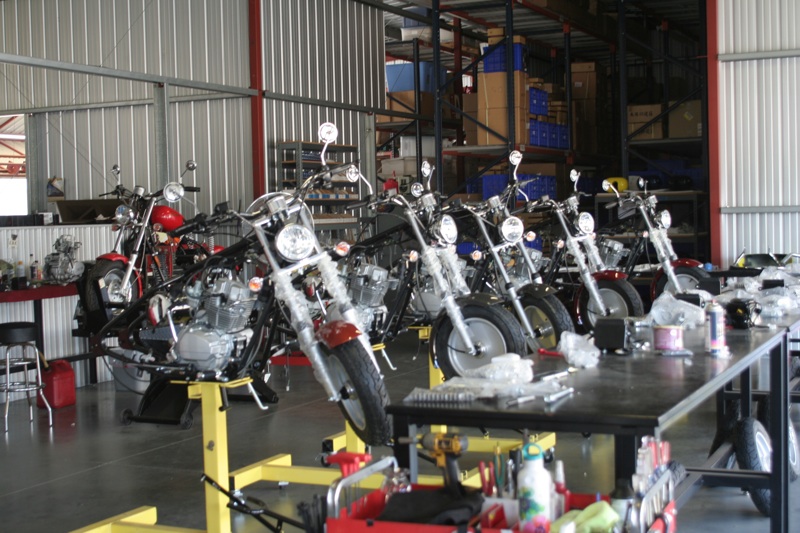 First, let's get to the features most women riders care about. Seat height is 27 inches, which is actually on the higher side when compared to some of Harley-Davidson's newer models, some of which measure in at around 24 inches. But straddling the CSC Classic is easy, even for small riders, thanks to the bike's light weight of just 240 pounds. Even if you're left with one leg dangling and one foot off the ground, you can easily balance the bike. It's light enough that most riders can pick up the back end with two hands and move it around.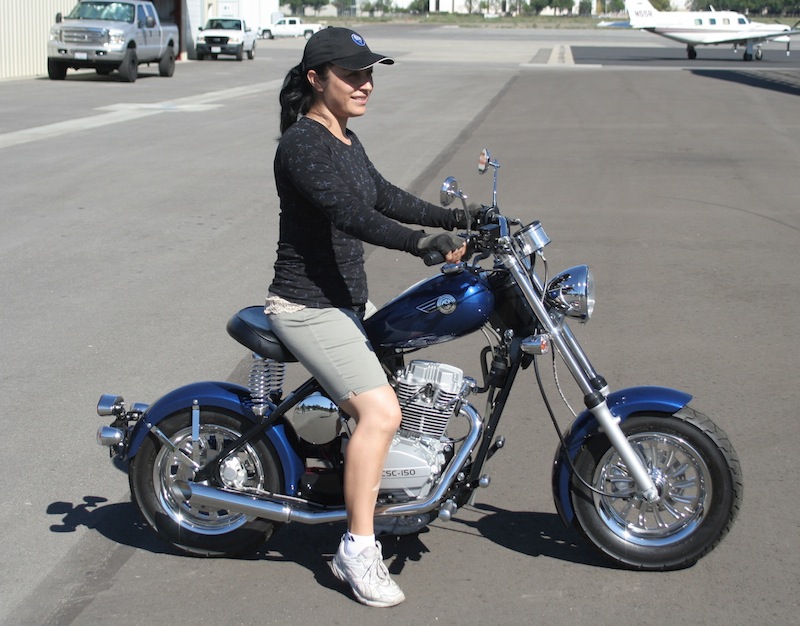 | | |
| --- | --- |
| WRN Editor Genevieve Schmitt is 5-foot-7. You can see how, as a taller rider, her feet easily touch the ground. | CSC Motorcycles Owner Steve Seidner straddles the Classic to demonstrate how a man fits on the bike. |
The 149cc engine is an air-cooled, 4-stroke single cylinder with a 5-speed transmission, capable of producing 13.3 horsepower and 9.1 foot-pounds of torque. How does this translate to real-world power? Well, the bike has some oomph to it, a testament to how its little engine is tuned. Out on the road, the CSC motorcycle feels nimble, takes tight corners and is zippy—it feels, dare I say, like a beefy scooter.
| | |
| --- | --- |
| Genevieve liked that the CSC bikes arent scooters, meaning you have to engage the clutch and crank the throttle exactly like you would on a motorcycle. | Steve and Genevieve ride staggered in suburban traffic, keeping their speed around 45 mph, though the bike can go faster. |
Top speed for the CSC is between 55 and 65 mph, depending on the weight of the rider. While the bike is designed for a single rider, I'm told a CSC motorcycle once carried a rider weighing 360 pounds and performed just fine.
| | |
| --- | --- |
| The gas tank, fenders and frame are all made of steel. You can see the kick-starter in this shot, as well as the forward controls. The bike has an electric start, too. A blacked-out engine is standard. | Both front and back wheels feature a solid disc design, a signature of the original Mustang. Red disc wheels are standard on the Greaser model, as are the 12-inch whitewall tires wrapped around them. |
There is an electric start and a kick-starter for those who want a truly nostalgic experience. The engine is carbureted, so there's a choke to engage when starting with a cold engine. It doesn't take long for the bike to warm up. The engine warmed up shortly after I got on the road, so I turned the choke off.
The fuel tank holds three gallons of regular unleaded fuel (that's 0.9 gallons more than the Harley-Davidson Sportsters peanut-style tank), and the bike is capable of getting up to 90 miles to the gallon.
| | |
| --- | --- |
| The "cockpit" of the Classic looks very much like your standard motorcycle setup, with the starter button and engine kill switch on the right handgrip. The headlight, turn signals and horn are on the left. | The rear is nicely styled. You can see the 7.5-inch stainless steel brake rotor—there's one in the front, too—paired with a single piston caliper that easily stops the motorcycle on a dime. |
The front suspension features a telescopic design and does a nice job of soaking up the bumps. The rear is a rigid frame setup—the only suspension you get is from the generously springed solo seat. For my 118-pound weight, the seat had a nice cushy "spring" to it. I was never jarred out of the saddle after hitting a bump in the road.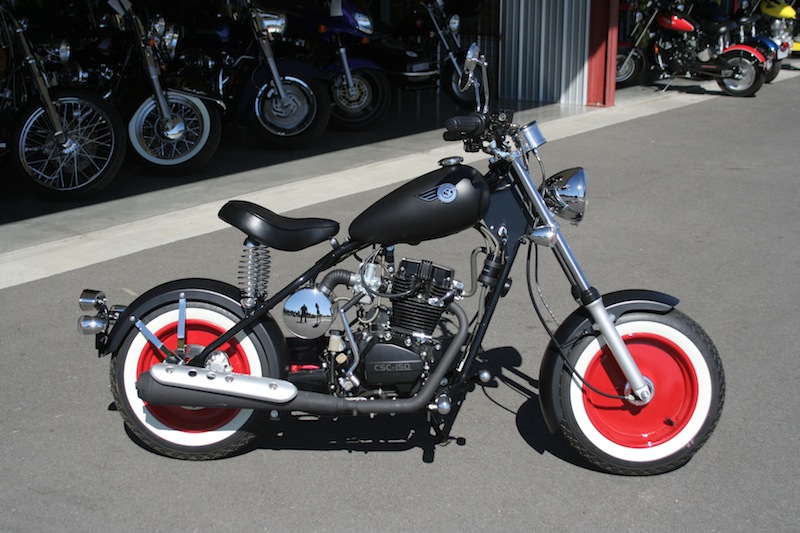 CSC Motorcycles has a long list of accessories designed to outfit your Classic, Greaser or Babydoll, including seats, handlebars, luggage racks, windshields, chrome parts and more. The Classic I am test riding in the video above has aftermarket pipes that add a rumbling sound to the exhaust note. I didn't notice a boost in power, though.
| | | |
| --- | --- | --- |
| Solid or metal-flake seat covers in vinyl or leather will make your CSC motorcycle stand out. | A decent selection of wheels is available, including chrome billet and billet flat black (not shown here). | These 15-inch ape hanger handlebars are available in black, red and chrome for those who enjoy riding with their arms high in the air. |
| | |
| --- | --- |
| CSC Motorcycles takes custom orders, and its showroom displays some custom-painted and accessorized motorcycles. | CSC also builds corporate customs. This one was donated to In-N-Out Burger and auctioned off for more than $8,000, all of which went to In-N-Outs charitable foundation. |
| A corporate, custom-painted and accessorized CSC Motorcycle for Arlene Battishill of GoGo Gear, the brand name of her women's and mens riding apparel. | Arlene riding her Classic in Mexico. She was part of a group that rode their CSC motorcycles to Baja, Mexico, from San Diego. |
To test the long-haul ability of the motorcycles, CSC Motorcycles outfitted a small group of riders with CSC bikes to journey 2,000 miles, from San Diego to Mexico and back. When youre finished reading this review, check out
the story of that ride
on WRN.
The Classic CSC model starts at $3,695—a fair price, I think, for all that you get. Sure, you can buy a full-size used motorcycle for that price, but there's no comparison. The CSC is in a class all its own and should be viewed as such.
While the company is a relatively small operation, Steve and his crew have been in the motorcycle business for 25 years and have a stellar reputation, always standing behind their work. They offer a one-year unlimited mileage warranty on all CSC models.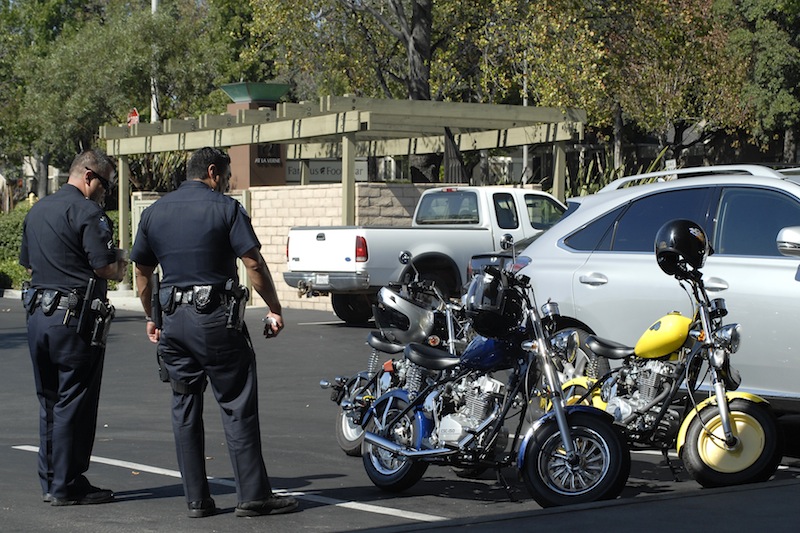 Who's buying these motorcycles? A variety of riders, but here are some specific types of riders that come to mind after riding one.
First, people who find that it's too difficult to hold up a full-size bike will love the light weight of a CSC motorcycle.This includes older riders and riders with health issues who aren't interested in a trike. A CSC motorcycle is an ideal bike to transition to if keeping your knees in the breeze on a two-wheeler is still exciting to you.

Beginners may also like these motorcycles. While the size doesn't exactly mimic a beginner bike—the tires are smaller and the profile is narrower—new riders can practice feathering the clutch with the throttle engaged without the fear that comes with practicing on a bike weighing twice as much. Be aware, though—falling in love with the CSC is a real possibility. You may not want to get rid of this "beginner" bike.
Finally, riders who don't feel a need to haul out a big bike every time they want to take a short cruise around town or ride over to a friend's house will find an ideal bike in the CSC motorcycle. This includes RVers who need something to buzz around on, motorcycle racers who need a pit bike, and college kids who need a motorized machine to get them across campus—the opportunities for using this bike are many.
To learn more and to purchase, visit CaliforniaScooterCo.com.
Specs At A Glance: CSC Motorcycles Classic, Greaser, and Babydoll Models
Displacement: 149cc
Seat Height: 27 inches
Weight: 240 pounds
Price: Starts at $3,695
Colors: Classic: Red, Blue, Black; Greaser: Flat Black; Babydoll: Pink
WRN Recommendation
To see what types of riders will like these bikes, read my scenarios at the end of the article. To summarize, if you don't want the responsibility that goes with owning, caring for and making room for a big cruiser but still want the feeling of riding a motorcycle, a CSC motorcycle is a good choice. If you've always loved scooters but want to shift gears and feel like you're riding a true motorcycle, you'll love a CSC. And if you're just curious, chances are you'll love a CSC, too.

Related Articles
To Mexico and Back on a 150cc Motorcycle
MOTORCYCLE REVIEW: Giving Kymco's 2012 Scooters a Whirl
MOTORCYCLE REVIEW: Honda Silver Wing, the Touring Scooter
MOTORCYCLE REVIEW: Suzuki Burgman 400