The newest member of Kawasakis popular Vulcan line is the Vulcan 900, and its available in three versions: the Classic, the Classic LT, and the Custom. I reviewed the Classic, and Editor Genevieve Schmitt reviewed the Custom in a separate story. The Classic LT is a touring version of the Classic.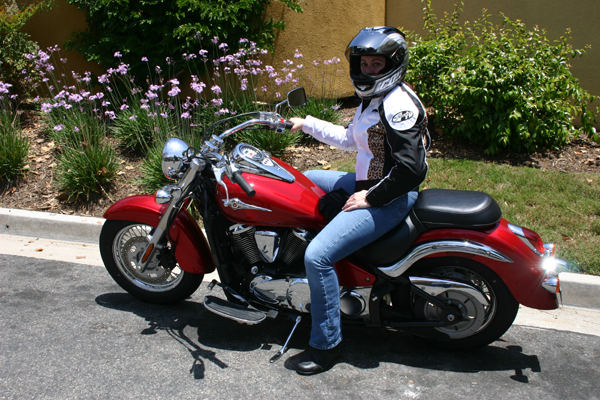 The Classic is an upgrade of the Vulcan 800, which was produced until 2004. Kawasaki took the 800 and made a host of improvements, including an increase in displacement from 805cc to 903cc, to match the bigger look of the 900. That "big bike" look is one of the first things you notice. While it may seem big and beefy with its longer 64.8-inch wheelbase and large front forks and fenders, the motorcycle is relatively lightweight at 557 pounds and easy to maneuver thanks to a low seat height of just 26.8 inches, a welcome feature for anyone, but most especially inseam-challenged riders.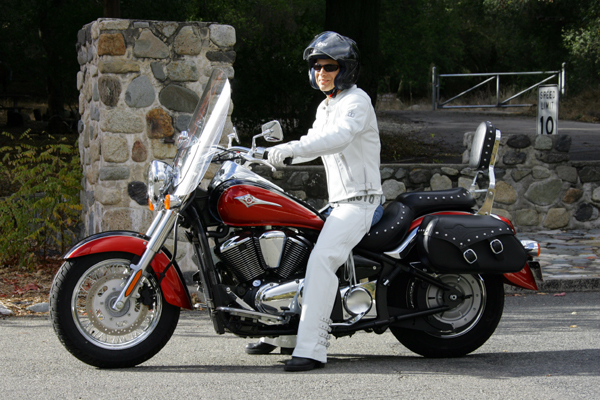 That extremely low seat allows the majority of riders to place both feet flat on the ground. While the seat is the wide bucket type, it does narrow substantially as it reaches the tank so shorter riders can scoot up to gain an extra half inch when placing their feet on down. The handlebars are wide and low offering relaxed riding position. For me, the ergonomics of the bars made parking lot maneuvers and u-turns easy.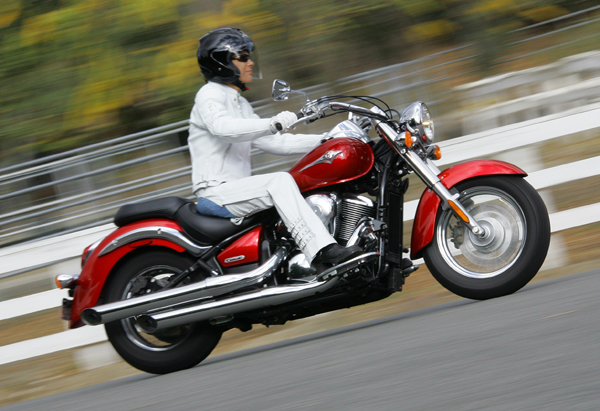 Using a fuel injection system developed for the Vulcan 2000, the 900 fires up easily at any temperature. Floorboards (rather than foot pegs) and a heel-toe shifter are standard. For some riders, a heel-toe shifter may take a little getting used to. Kicking down on the heel shifter increases the gears. Coming from a motorcycle with foot pegs and a toe shifter, I got a little confused at times if I should use my heel or toe. The heel shifter is really just a convenience for those who cannot get their boots under the toe shifter to go up in gears. In the end, I prefer floorboards as they make for a much more comfortable riding position and Ill just use my toe instead of my heel to change gears. Because the bike is so low, I did scrape the floorboards sometimes while pushing through some of the twisty roads, but overall the 900 handled solidly in these situations.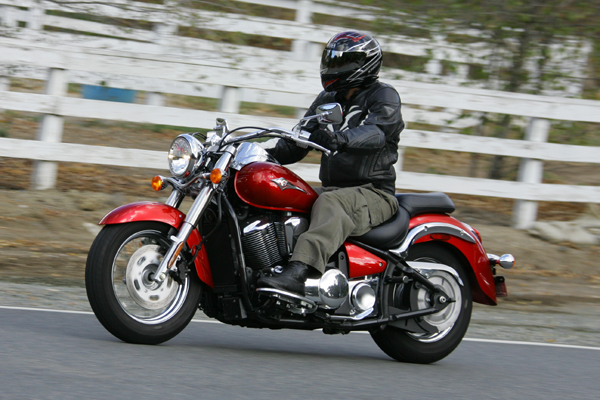 In fact, the Vulcan 900 handled great all the time, on the freeway at street legal speeds and then some. There was enough torque at both low and mid-ranges when I needed it, although at times I felt an urge to look for a sixth gear. An additional gear lowers rpms at highway cruising speeds by widening the power band, thereby reducing vibration and engine noise. Basically, the bike doesnt feel like its screaming to keep up at 70 mph and above.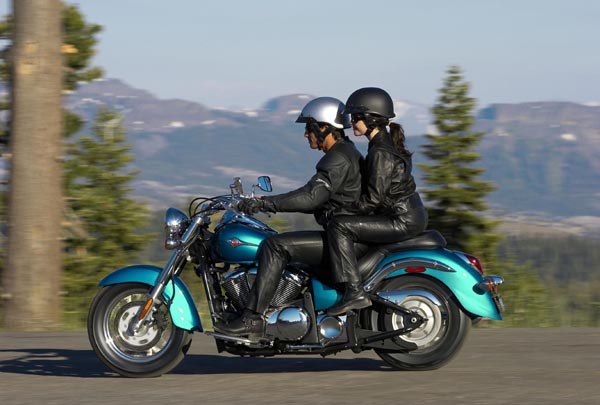 Speaking of vibration, it is minimal on this bike because of counter balancers mounted to the engine. Counter balancers counter weight the engine in the frame so the engine vibration is not transferred to the rider through the frame.
Improvements to the V-twin single overhead cam engine include increasing the bore and stroke for greater power. New gear ratios in the transmission widen the powerband to work with that extra power. The motor is liquid cooled for maximum performance, however there is an automatic fan that kicks on to air-cool the engine when heating up during stop-and-go traffic. The big 180-series tire in the rear provides a planted feeling as it hugged the pavement while cornering at various speeds.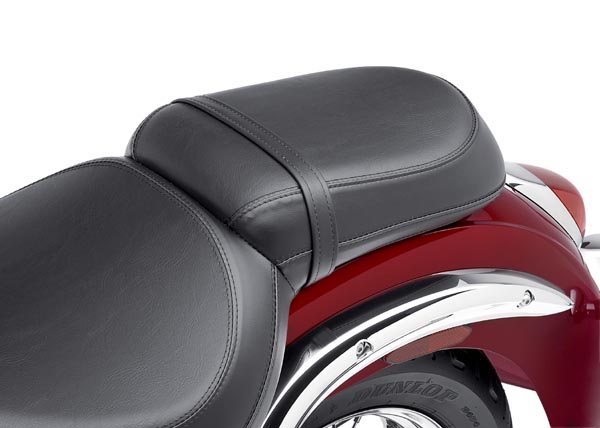 The Vulcans dashboard is mounted on the tank versus up on the handlebars. This means you must tilt your head down to read the analog speedometer, analog fuel gauge and digital trip meter. A green light below the speedo indicates neutral; there are indicator lights for the turn signals and the high beam.
The clutch lever was easy to pull in. Ive never had a problem with clutch effort on Kawasaki motorcycles. And finding neutral is always easy on Kawasaki bikes because of its "positive neutral finder." This makes locating neutral effortless every time by preventing the transmission from shifting from first gear into second while at a standstill, enabling the transmission to shift into neutral easily. Its a feature unique to Kawasaki motorcycles.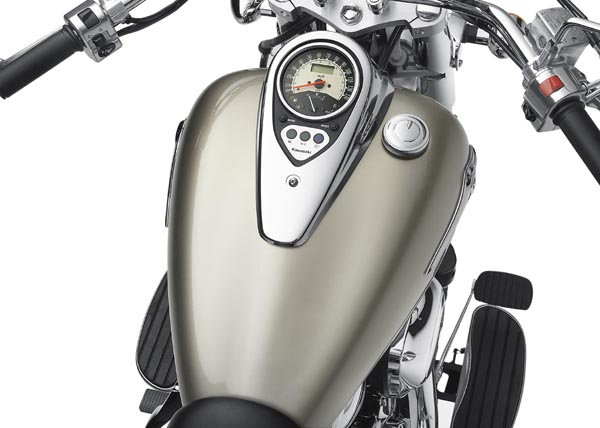 Another attractive feature of the Vulcan 900 is the belt drive. Its lighter than a shaft drive and requires less maintenance than a chain. For stopping power the Vulcan wears a 272mm disc in the front and a 242mm disc in the rear with twin piston calipers squeezing them to a stop. For styling, the 900 has larger fenders than its Vulcan 800 predecessor that come down low on the tires. This gives the bike a retro look.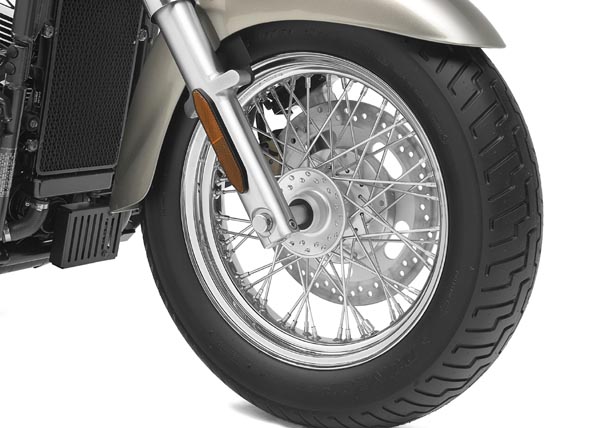 The Vulcan 900 Classic has a big touring bike feel for a bike thats under 1000cc. It has all of the ergonomic and comfort features of its bigger cousins but at an engine displacement intermediate riders can enjoy. Its reasonably priced at just $7,299. I think its a winner in style, performance and value in the middleweight cruiser category.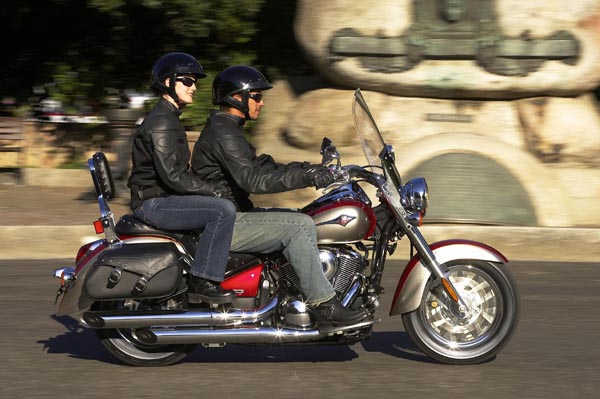 If you know you're going to tour long distances, you may want the LT version, essentially the same as the Classic but with a studded seat, saddlebags, a passenger backrest and windshield. Its just $1,200 more at $8,499. Buying the accessories individually would cost more.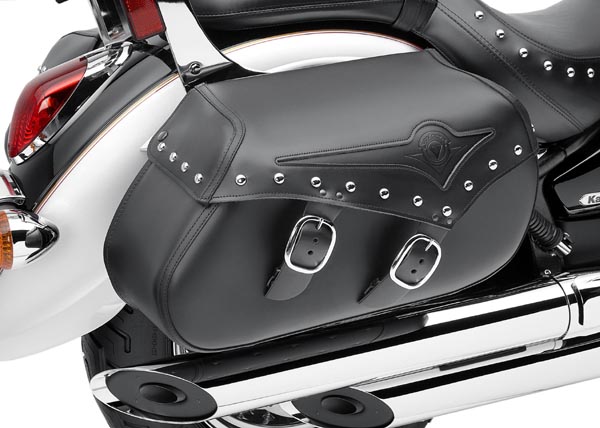 With a full line-up of Vulcans already available, we wondered why Kawasaki would introduce a new one. The new Vulcan 900 motorcycle platform is designed to appeal to a wider variety of riders because it has three different versions. Plus, having one platform is more cost effective for the company to produce and service than three different motorcycles the 900, 800 and 750 (2006 was last model year for the 750). Lastly, the 800 and 750 were outdated in performance and styling; instead of retooling those, Kawasaki decided to just combine the best of both bikes into one new platform.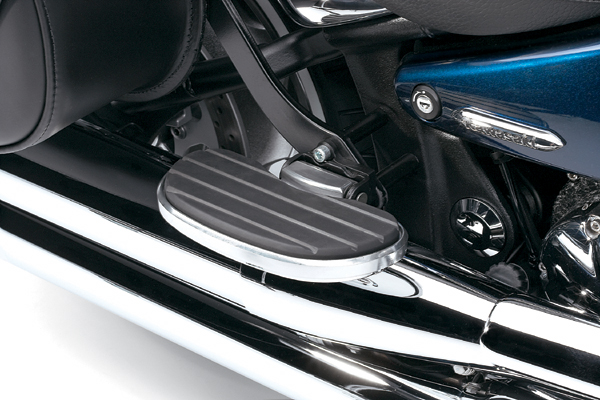 So, the current Vulcan lineup includes: 500 LTD; 900 Classic, 900 Classic LT, and 900 Custom; 1500 Classic; 1600 Classic; 1600 Mean Streak; 1600 Nomad; and the 2000, 2000 Classic, and 2000 Classic LT. For more information, visit Kawasaki.com.
The Specs at a Glance
Kawasaki Vulcan 900 Classic
Displacement: 903cc liquid-cooled V-twin
Seat Height: 26.8 inches
Fuel Capacity: 5.3 gallons
Dry Weight: 557.9 pounds
Colors: Ebony, Metallic Ocean Blue, Candy Fire Red, and Galaxy Silver
Price: $7,299
WRN Recommendation:
This bike is suitable for confident beginners who feel they can handle a bigger bike so long as they have both feet on the ground. Once you become comfortable on this motorcycle, youll find its a bike youll want to hold onto for a while as it straddles the middleweight and heavy-weight bike worlds. For that reason intermediate riders and expert riders will find this bike appealing, particularly because of its affordability $7,299 buys you a lot of motorcycle.
Teri Conrad is a freelance writer and motorcycle enthusiast who lives in Southern California. Some of her publishing credits include: Iron Horse, Ride Texas, Women Riders Now, Biker Ally, Friction Zone, Adventure Sports Outdoors, Portrait of Achievement, and Accelerate magazines. She can be reached at celebritywriter@cox.net.