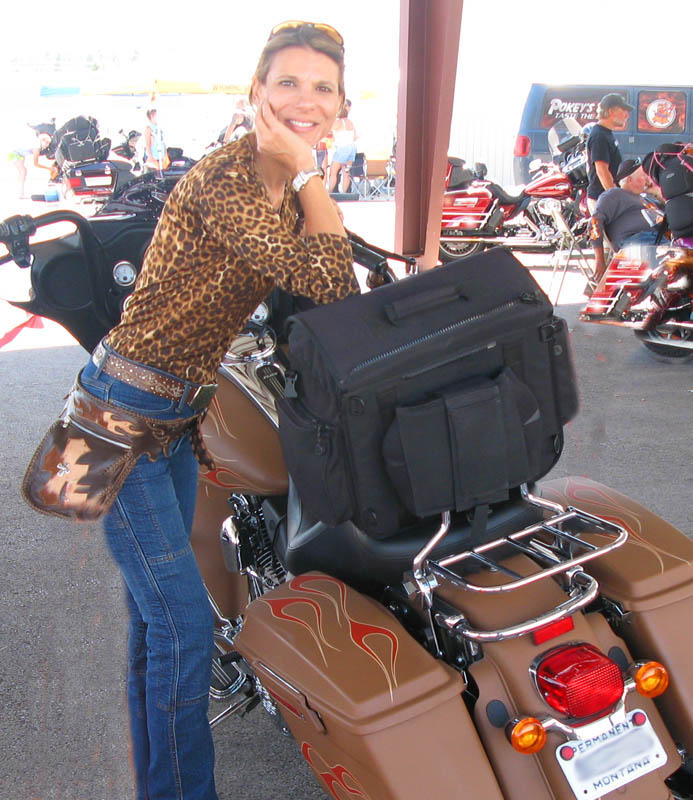 I remember the incident like it happened yesterday. I was test riding a Victory motorcycle during the Sturgis Rally one afternoon a few years back, cruising Interstate 90 to gauge the power and comfort of this new model. Suddenly, a rush of heat rises up from what seemed to be coming in the direction of the motor. I glance down to make sure the engine isn't overheating. All looks OK and the bike is running smoothly. A quick gaze upwards tells me it's not a blast of heat form the sun making an appearance through overcast skies. So what was going on?
Women Riders Now E-Newsletter
Stay up-to-date on all things motorcycle! Latest gear, bikes and products reviews. Travel ideas, great product giveaways, and more.
The warmth, I figure out, is inside my body—my torso to be exact—and now I feel it spreading north to my neck. The heaviness of the heat is like nothing I've ever felt before. My left hand struggles to grasp the zipper pull so I can vent my leather jacket. Ziiiiiiiiip! Ahhh!
My 57-year-old friend riding staggered behind me pulls up alongside motioning, "Is everything OK?" I nod a perplexed yes back to her. Moments later at a gas station my friend quizzes me further. I explain that I have no idea where all the heat was coming from. She grins and says, "Honey, the bike's running fine. I think you had your first hot flash!"
I didn't want to believe it. But she was right.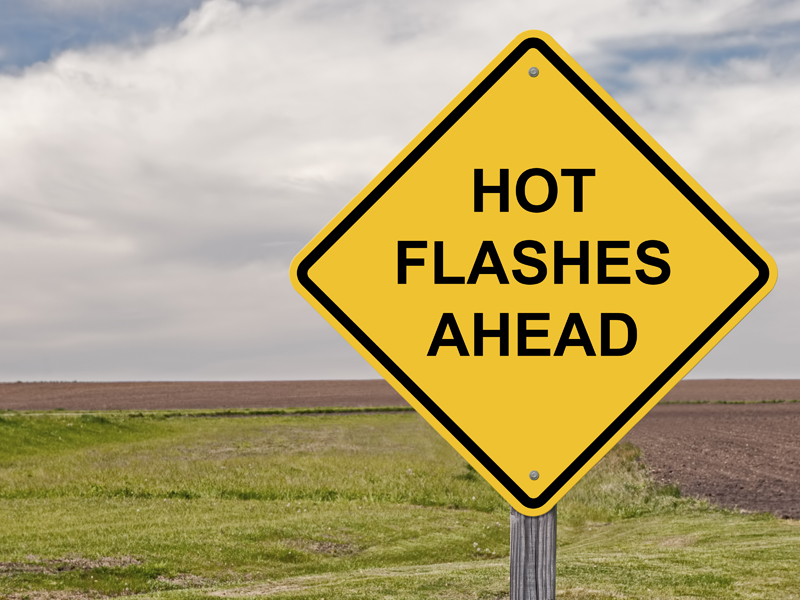 A month later while attending a Harley-Davidson new motorcycle launch in Milwaukee to members of the press I experienced my first menopausal migraine. The debilitating pain pounding in my head was far different than any other headache I'd had before, and my Excedrin wasnt working. A female Harley rep handed me a prescription pill for migraines she happened to have in her purse assuring me it would do the trick knowing I was suffering the signature symptoms of the super-duper of headaches.
I was 45 years old, and as the months and years ticked by I'd go on to endure (OK, suffer through) at least 20 of the 34 most common symptoms of peri-menopause and menopause listed on a website of the same name, 34-menopause-symptoms.com, including the aforementioned migraines and hot flashes, night sweats, insomnia, fatigue, joint pain, hair loss, memory lapses, irregular heartbeat, and itchy skin.
"Certainly I can't be the only female motorcycle rider suffering like this," I'd say to myself time and time again.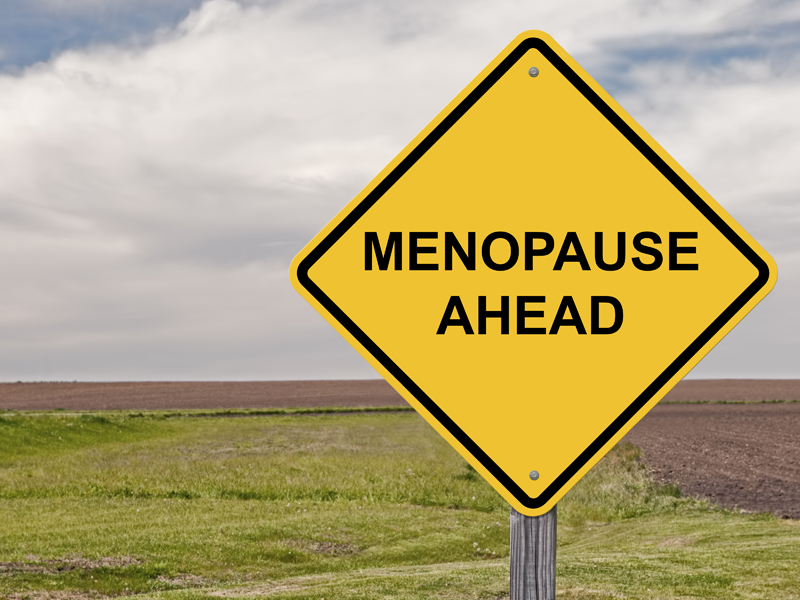 Menopause on the Highway!
While there's anew generation of younger women taking to the roadways on two wheels, statistics show that the majority of women riding motorcycles today, and taking it up for the first time, are between 35 and 55. Most women enter peri-menopause in their forties, then move on to menopause four to seven years after that for a total transition time lasting 10 years on average.
This means of the women riding motorcycles today a large majority are somewhere in that 10-year transition timeline. One out of three will sail through menopause symptom free. The other two will experience some of the long list of ailments that plague a woman when her body goes through "the change."
With these facts in mind it's baffling to me that a woman would choose to learn to ride a motorcycle in her forties—an activity that requires extra physical strength and mental focus—at a time when her body, as she knows it, is going through, or about to go through, drastic physical and mental changes.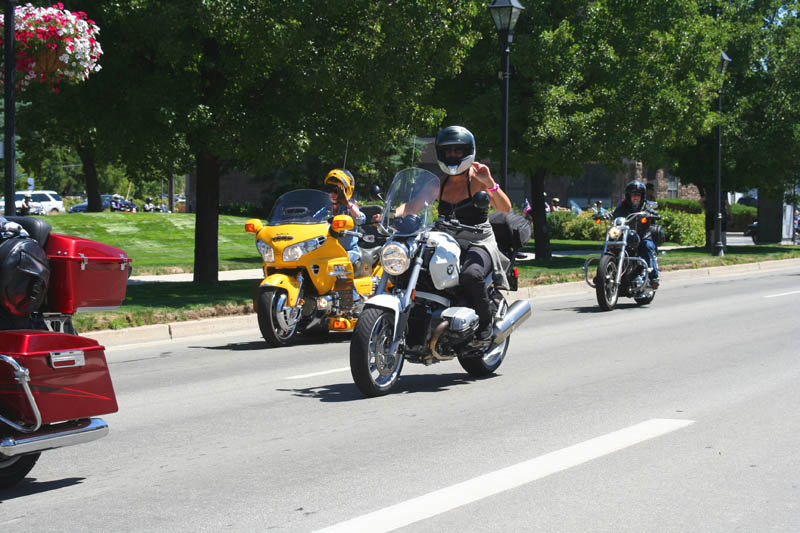 My Journey
My motorcycling life began when I was 26 years old so I cannot speak to what it's like to learn to master a motorcycle when one's clear, sharp mind has bouts of foggy-brain, a symptom of peri-menopause that starts when a woman's periods become irregular … let alone the loss of strength and fatigue that sets in for no apparent reason.
I can, however, speak to the emotional changes that occur when a woman hits her forties. For me, entering my fourth decade signaled a "coming into my own," feeling strong with who I was and about my place in this world.
| | |
| --- | --- |
| I started WomenRidersNow.com in my early 40s with an abundance of mental and physical energy and enthusiasm to fly all over the world test riding motorcycles, often being the first woman ever to test ride a particular bike. Here I am in 2005 riding the BMW's F 800 S in Hawaii. | In 2007 I was invited to Minneapolis to test ride the groundbreaking Victory Vision Street, the first female journalist to do so. |
Many women say the forties are a decade of claiming one's life back … back from years of doing for others at the expense of herself. Oftentimes the children have left the nest and a woman finds she has more time to do what she loves. This self-rediscovery often sparks the flame of long-held dreams deep within one's soul. One of those dreams for so many ladies is learning to ride a motorcycle.
This decade of self-realization pushes others to take stock of their life, evaluating what's working and what's not. This is why divorce is so common for people in this decade. Women finally have the emotional fortitude to walk away from relationships that aren't bearing fruit. Many ladies change careers in their forties, move to a new home, or escape from the rat-race. I did all three at age 40.
Full Steam Ahead in the Forties!
This decade of change is also where the phrase mid-life crisis comes from because the physical, mental, and emotional changes women go through can be so strong that they thrust people into "crisis" driving them to making drastic course corrections.
So, while this season of self-rediscovery, that includes learning to ride a motorcycle, is good for the soul, it's also a time of crazy changes for one's body and mind. Just how does a woman handle the hot flashes, mood swings, migraines, fatigue, joint pain, insomnia, and depression just to name a few of the debilitating menopausal symptoms, while embarking on one's newfound passion of riding a motorcycle?
My friend Ronna Snyder fought back with all her mental and physical might while the hormone rewiring wreaked havoc on her body. "As estrogen leaked out of me like a bad oil change, I realized I'd reached a fork in the hormonal road," she says. "I could cave to the aging process, or tackle the antithesis of that. An 800-pound motorcycle proved to be the perfect vehicle for doing so."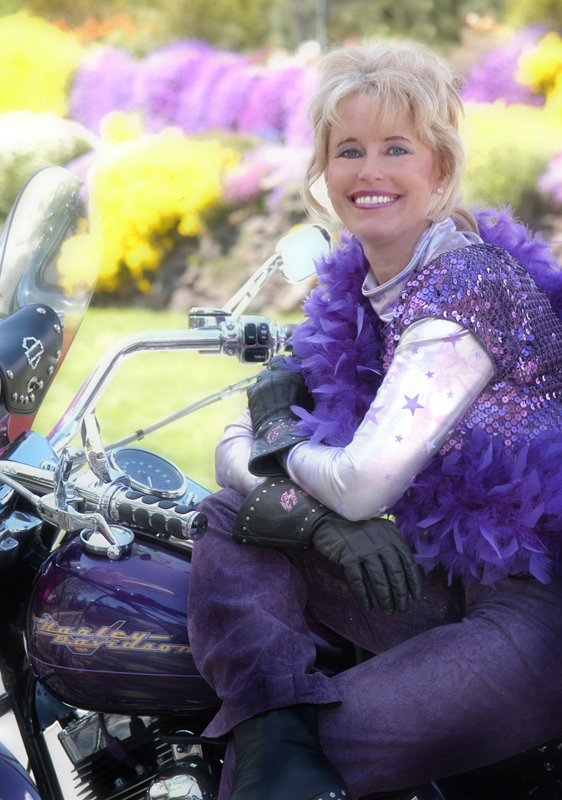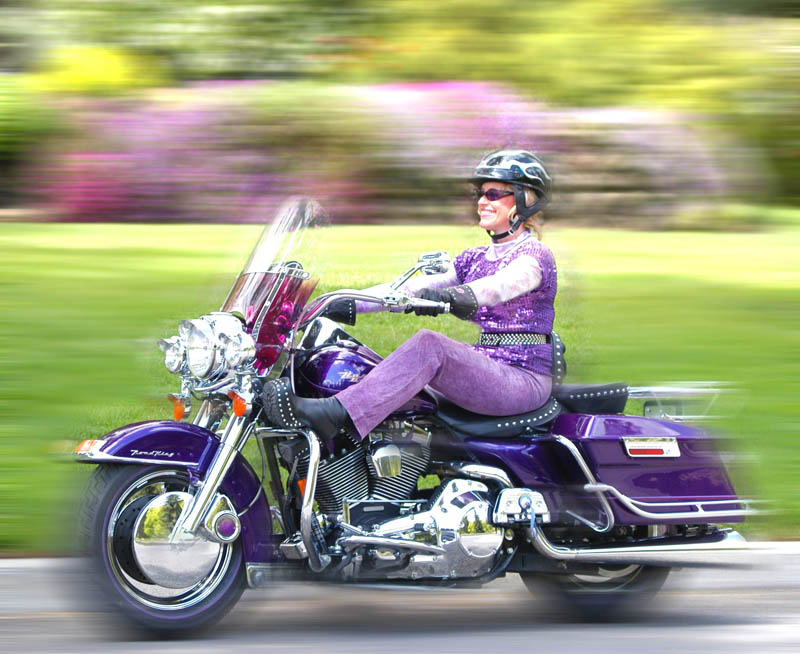 For me, stifling peri-menopause and menopause symptoms have dominated the last seven of the 10 years I've owned and managed this website, WomenRidersNow.com. Every test ride, every rally, and every event I've ever spoken at have all occurred during these physically and sometimes mentally challenging times. If I wasn't such an experienced rider and super-focused individual, I'm not sure how I'd have handled some of the instances where I was test riding an unfamiliar motorcycle when my hormones were at war inside of me.
Mixing Motorcycling and Menopause
So, just how do you mix menopause and motorcycling? Ladies? Men? I'm sure the male riding partners of women have their two cents to this question as well. For me, despite my best efforts at management and preparation, menopause and motorcycling came crashing into each other two summers ago on my ride home from Sturgis.
Leaving the rally, smiles still on our faces, my female riding buddy and I barreled along I-90 in an effort to cover the 450 miles back home in one day. Two hundred miles in, it hit me. The mental fuzziness and aura that precedes a menopausal migraine began to overtake my happy brain. My smile turned sour while I motioned to my friend to pull over at the next opportunity so I could take an Imitrex, the medicine that zaps these types of headaches in me. If I don't take the pill at the onset, it doesn't completely getting rid of the crippling pain.
I swallowed the Imitrex, that I never leave home without, and then rerouted us off the highway at the next town so I could sit for an hour and let the medicine go to work. Fortunately, my 60-year-old friend was sympathetic to my situation. An hour later, watching the clock, still feeling a little nauseated and "heady" I rallied to get back in the saddle of my loaded Harley-Davidson Street Glide and bolt the remaining 200 miles home.
I had to really dig deep mentally and physically the rest of that day to stay alert, focused, and physically strong on my motorcycle. Imagine my angst when the skies opened up the last 50 miles with a powerful rainstorm with winds to match. It was pure will and determination that kept me going safely … and my Pilates-breathing—in through the nose, out through the mouth—kept me calm. I slept for two days.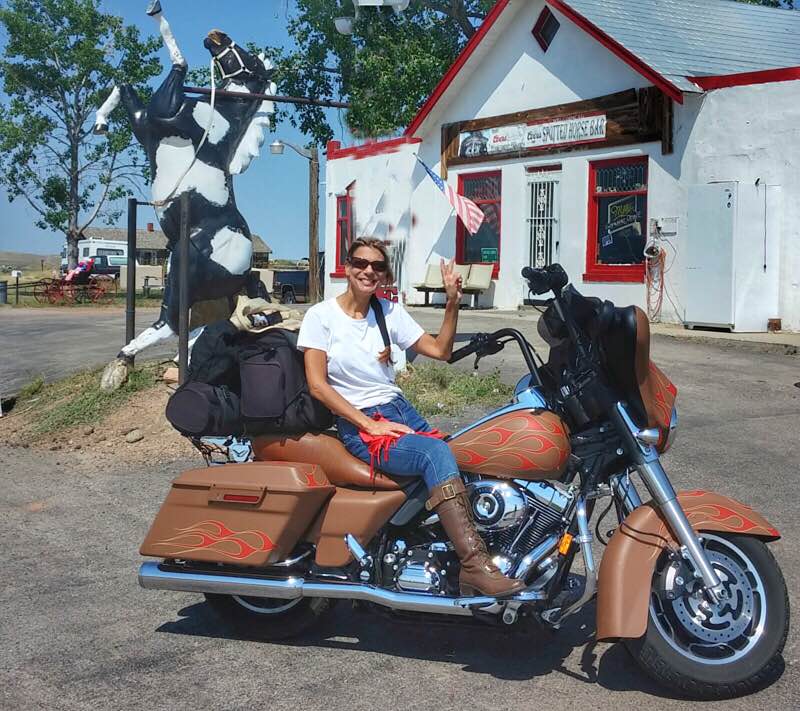 It's been seven years since that initial hot flash, the first physical manifestation for me of the rewiring job happening inside my body. I've been a fitness junkie my whole life so it was quite a shock that, in spite of my good health I still got hit with a long list of symptoms. Believe me, I fought back using natural remedies and alternative healing methods to alleviate the discomfort, in addition to lifestyle changes to accommodate my mind and body's new rhythm. I've always had hope, and I do see the light at the end of the tunnel.
My goal with opening up about my story is that I'm providing others the opportunity to share their experiences, and start a conversation I believe needs to happen. So please, I'd love to hear from you on this subject. What have you experienced with peri-menopause and menopause and motorcycling? Leave a comment below. Thank you.
Related Stories
The Strength and Fortitude of One Woman Rider
Everyday Miracles: Turning 50
You're Never Too Old to Ride a Motorcycle
One Way to Avoid Dropping Bike: Know When to Stay off Motorcycle
Turning 50 and Riding into my Fullness
So You Wanna Buy Your Wife a Bike
Stories on Couples and Riding