Everyday Miracles is a very personal column for readers who want to explore the deeper meaning of life
.
"Miracles happen everyday. Change your perception of what a miracle is, and you'll see them all around you."
I was surprised to find out that this profound quote was said by the hard-rock singer / musician Jon Bon Jovi. I guess I never expected such a thought provoking statement to come from a 1980s heartthrob rocker. But, it is a fitting quote for what I'm starting to write here.
I turn 50 this year. It's not that I dread the big 5-0, it's just for the last two years leading up to this milestone age, I've been going through a spiritual transformation. In the old days, it was called a mid-life crisis, but in this age of "spiritual enlightenment" that our world is experiencing, spiritual transformation is more descriptive of my mid-40s life journey.
"Anyone—woman, man, young or old, motorcyclist and non-motorcyclists—is invited to read this personal column of mine."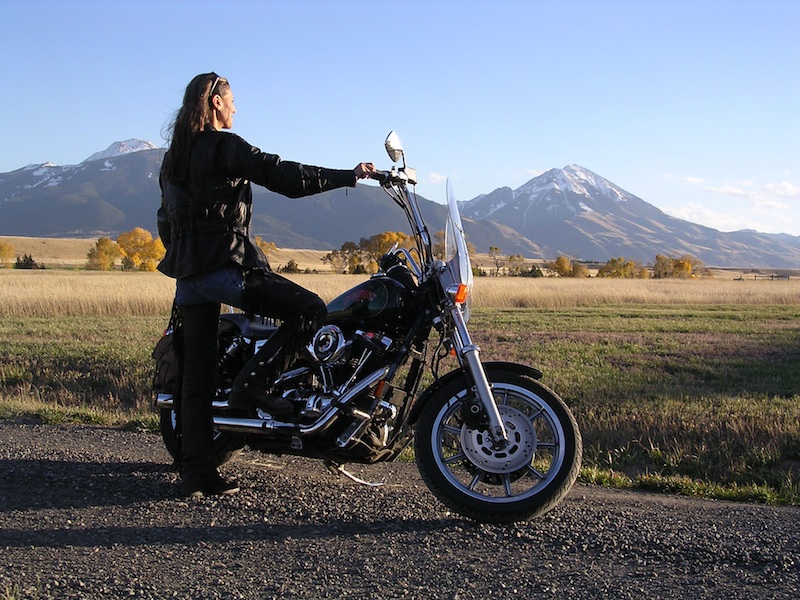 A lot of what I've been thrust into, mentally and emotionally, was brought on by the physical challenges of menopause. "The change" hit me earlier than the average age of 52, officially entering the next phase of a woman's bodily changes at age 48. No more periods. At 48! Fine by me! One in three women sail through menopause without any of the symptoms normally associated with it. I was not that one of the three. In fact, I experienced nearly every symptom noted in the lists we read about menopause in books and online. Not one slipped by me. I got hit full bore! That's fine. I'm a tough girl. I can weather this storm. And I have. And I still am. I am actually on the downside of it, having hit the peak about one year ago. Thank God.
Yes, thank the good Lord! If it wasn't for the life-altering decision to look up instead of down I may have never gotten through it sanely. In fact, back in those old days again, women like me, women in my previous state-of-mind, were relegated to the "funny farm." Remember that? It was a nice way of saying mental institution. I remember distinctly in my mid teen years whispering among my siblings that something had snapped in Grandma. She was no longer the sweet and generous grandmother we grew up with; she had turned nasty, snarly and short tempered. "What happened," we all asked ourselves?
Come to find out, it was menopause. Back then the women of my grandmother's generation didn't call it menopause. They called it "the change," and it was always mentioned in a whisper because it wasn't a good thing. I shudder to think of all the women who ended up in the funny farm because their hormones wreaked havoc on them and they had to endure it all alone in a state of confusion while the world whispered how crazy they were. I thank God that I live in an age where we don't hide these types of things anymore, that nearly everything we experience as people is out in the open.
"My heart and soul yearns for more. I know yours must as well."
I've been a journalist for nearly 30 years, and having been trained in professional broadcast and print journalism in college, I was taught to keep one's self out of the story. I'm merely the messenger, the reporter. I've loved this observational role. I love that I found my calling early, at age 16, when I so inclined to apply for a reporter position at the local CBS radio station in Kingston, New York, where I grew up, and get it.
When I transitioned to writing about motorcycling full-time, in the late 1990s, I continued with the rule of keeping one's self out of the story for the most part, a challenging thing to do in the ego-fueled world of motorcycling. As the Internet age dawned, more and more people called themselves writers while thrusting themselves into the ego-satisfying limelight it offered.
I did write a column for seven years in the leading V-twin motorcycle magazine,American Iron, written in the first person, but mostly it was my observations and insights about motorcycling, rather than writings about my personal life, thoughts and feelings. With WomenRidersNow.com (WRN), this online magazine I started nine years ago, I've managed to keep myself "out of the story" for the most part. I never wanted to be the story. I may have included myself in the story but the story wasn't about me.
I share all of this with you because for the first time—yes!—the very first time in all these years, I am actually going to write about myself because I believe I finally have something of value to share. As I approach my 50th year on the planet on the first day of spring this year I believe it may be time for me to open my heart to you and invite you in to explore life's big questions and the lessons we learn along the way.
My eyes have been opened to an alternative way of living, one that takes the focus off self, inward thinking and ego-fueled desires to one aimed at passing on God's love and light to the world. While I know I've helped a lot of people discover their love of motorcycling through WomenRidersNow.com, this child-less woman wants her legacy to be much more than that.
Motorcycling is a powerful activity in many women's lives; in fact
many start riding at the half-century age of 50
as a symbol of their breaking free—breaking free from the confines of a mundane day-to-day existence. Breaking free from restrictive societal roles. Even breaking free from parental influences that may have carried over into adulthood. Motorcycling makes a statement; it's a huge expression of freedom. What better way is there to throw off life's straightjacket than to don a leather jacket and hop in the saddle of one's own motorcycle?
I already ride a motorcycle
and have for nearly 25 years. Which begs the question: What am I going to do for my 50th birthday? Well, first of all, I'm celebrating my 50th for a whole year, not just a day, and I will share with you, in a later post, what
bucket list item
I'm going to check off my list on March 20. In the meantime, I believe I'm being called by God to share thoughts and observations I receive from studying His word, including unpacking the complicated things in life while learning to see and relish in everyday miracles—hence the name of this renamed section on WRN.
"…we'll let God have his own motorcycle…we'll just follow on ours"
Today, I've renamed the Editor's Section on WRN to Everyday Miracles in order to encompass all that I plan to share with you. I want this new column to enlighten you to the deeper meaning in it all—in motorcycling and in life—because there's so much more to two wheels and an engine here, if you haven't noticed. My future posts will be shorter than this, quick reads, and are intended for anyone—men, women, young or old, motorcyclist and non-motorcyclists."
My heart and soul yearns for more. I know yours must as well. I'm not sure how often I'll write; I'd love to write daily because each morning when I read my bible devotions I receive a nugget. Up until this point, I've felt the Lord telling me not to share—to just wait. You see, being a journalist my nature is to want to write… and share when I have a insightful thought. But for two years, I've been studying, learning and discovering deeper meanings to a lot of things. Instead of doing what I want to do, I've waited on God to direct my course. It's been a very freeing process.
Learning to surrender
will be a big theme. There's freedom—yes, true freedom—in handing over the reigns of one's life to the one who created us. Or to put it in motorcycling terms, there's freedom in letting God sit in the front seat of the bike, letting Him lead the way.
Gosh, did I just say that? Did the editor of a motorcycle magazine that's encouraged women all these years to move from the back seat to the front seat just say that? Yes, but we're talking metaphorically here. OK, we'll let God have his own motorcycle. We'll just follow on ours. How 'bout that?
It is not easy to surrender control (especially when many of us have fought to gain proverbial control all these years) and society has led us to believe that in doing so we're losing our life, giving up control and leaning on a crutch. This is one of the biggest misconceptions today. Take it from me, one who has tried to have it both ways: scooting God out of the front to the passenger seat or trying to share the front seat side-by-side with Him.
As one draws closer to God through prayer and faith, He begins to peel back the veil on certain things in your life. It's fascinating to step back and realize all that I've discovered through my spiritual journey thus far. I've just scratched the surface. While I've been on a spiritual quest my whole life, it's been sped up the last two years, brought on by the physical, mental and emotional changes I mentioned earlier.
The new title of my column was given to me from God so I know now is the time to start writing. If we step back, truly step back from the chaos, we start to see miracles in everyday life. Being able to love is a miracle. Francois Mauriac said "To love someone is to see a miracle invisible to others."
Albert Einstein said, "There are only two ways to live your life. One is as though nothing is a miracle. The other is as though everything is a miracle." I'll choose the latter, thank you. I'm tired of living otherwise. I hope you'll join me as we discover everyday miracles together.
If you're excited about what I'm doing here, join me in the conversation by signing up below to receive a discreet personal email from me each time I post a new column here. This is a separate email list from the
WRN Newsletter list
that promotes new stories on this site.
When you click on the Sign Up Now link below, you'll be signing up to receive a direct link to my latest Everyday Miracles posts. There's no obligation and you can unsubscribe anytime. And as always, your email address is kept private, never sold or rented.
Please, take the time to leave a comment below, I want to know what you are thinking. I edit the comments for typos and clarity so don't be dismayed when your comment doesn't post right away. You will receive an email letting you know when your comment goes live on this page, usually within 24 hours or less.
Thank you for joining me on this journey. God bless.
Want to know when I post a new Everyday Miracles story? Send an email to gschmitt@womenridersnow.com letting me know you want to be added to my Everyday Miracles mailing list.

Want to read future columns, click here.
About the Author

Genevieve Schmitt is the founder of WomenRidersNow.com. She was raised in a strict Catholic household, but in college the journalist in her starting asking questions of organized religion. By age 30 she developed a personal relationship with Jesus Christ and since then works daily to surrender her stubborn will and vain ego to allow the Holy Spirit to guide her life. She now considers herself a non-denominational Christian. In the summer of 2014, with guidance from God, she started expressing her faith journey in this column, Everyday Miracles. Feedback from WRN readers has been overwhelming positive proving that people crave so much more.
More Everyday Miracles Posts
Learning to Let Go
Limiting Distractions to Receive the Miracles
Related Article: Motorcycling and Menopause