Editors Note: An oldie but goodie! The original date of this article was in 2004 when I wrote it for Woman Rider magazine, the print publication I was the editor of for four years. Five years later, on June 27, 2009, I repurposed it to appear here, on WRN, after I ended up buying a dresser — a 2008 Harley-Davidson Street Glide — with the intention of sharing my thought process of that led to that purchasing decision. This story was very popular then, so Im digging it out of the archives, yet again, for a whole crop of WRN readers to learn from and enjoy.

If you ride a cruiser and enjoy touring with it, over the course of your riding life you may find yourself graduating to bigger and more powerful motorcycles, the choice of machine dictated usually by the level of riding experience you have and the type of riding you do. At what point do you stop moving up, though? Is a full-dressed motorcycle, the kind with hard-sided luggage, a top case and a full fairing, the end-all?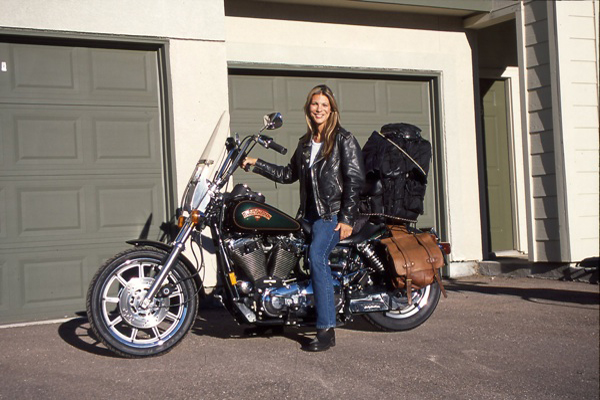 I have been contemplating trading in my 1994 Harley-Davidson Dyna Low Rider for a dresser. After 14 years in the saddle, I find myself riding mostly long distancesovernight trips that require lots of gear and accessories.
I took a 3,000-mile two-week trip two summers ago on a rented Harley-Davidson Dyna Wide Glide. I camped part of the way so there was the additional tent, sleeping bag and bedroll to be strapped to the bike in addition to my clothes and personal items. There was so much stuff to bungee and unbungee every day. Plus, if I didnt double and triple check that the bungee cords were secured properly and that the weight was distributed evenly I could be in big trouble.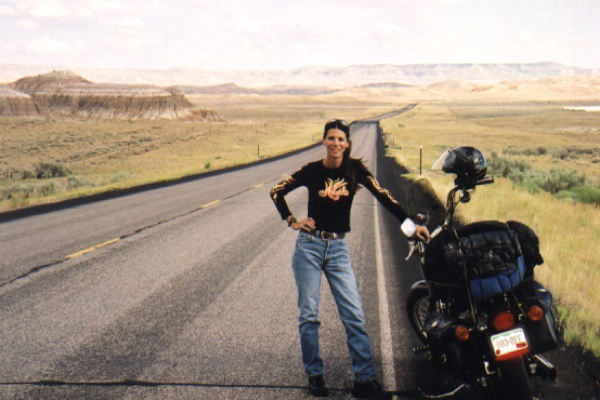 When it rained, even though the raingear was packed near the top, I still had to unbungee at least three bungees to get at the gear. After several days and several rounds of bungeeing and unbungeeing, I finally got the system down. Every colored bungee had its place. My riding partner on the other hand, my fiancée at the time, Norm, just grabbed any bungee every morning when he secured his stuff to his rented Road King using a different one each time. He wondered why hed end up one bungee short or have one left over. One day he reached over to grab one from my stash of bungees. "Dont touch my bungees," I hollered. "Ive got the perfect bungee system. Youll mess me up if you take one."
At the end of the first week, I was fed up with bungee cords. It was so tiring, rolling everything up, strapping things on oh-so carefully. My hands were taking a beating, too. Sometimes a bungee would accidentally retract back if I didnt secure it properly. "Wham!" that metal hook slapped my hands. It smarts! The constant pulling, slipping through hands, and crisscrossing of bungees left my hands chaffed and worn. Enough already! At that point, I was craving a motorcycle with large hard cases in which I could just dump everything. But Id never ridden a big touring motorcycle for any length of time. Would I be able to handle it? Would it be too much motorcycle?
The Big Leap
Carol Schmid of Bethel Park, Pennsylvania, found out the larger touring bike was perfect for her after shed had enough of bungee cords on her Kawasaki Vulcan 800. "I added nearly every accessory I could find trying to turn that 800cc cruiser into a touring bike." Logic dictated this 5-foot 2-inch 59-year-old relatively new motorcycle-riding grandmother should stick with the smaller, easier to handle bike. But most of Carols motorcycle rides were long ones. In the first 16 months of owning her Vulcan shed put on almost 12,000 miles. She was, however, frustrated with how she had to carry all of her gear. "I really didnt like having to bungee my suitcase on the back seat."
She says she finally gave in to her need for a larger motorcycle and purchased a 2001 Harley-Davidson Ultra Classic Electra Glide. "I wanted and needed the touring cycle with all the miles I travel." All her friends thought she was crazy to have bought such a big bike, but she says, "I had the suspension lowered and I wear thick soled boots to stand flat-footed." She even worked out with weights to increase her upper body strength so she could handle the heavier weight. She says the more shes ridden the bike the better shes gotten at handling it. Carols purchasing confidence came from knowing if she didnt like the bike or couldnt handle it she could always sell it. She adds, "I thought about a Road King, but knew I wouldnt be happy with it and Id move up to the Ultra anyway. So I just decided to eliminate one step.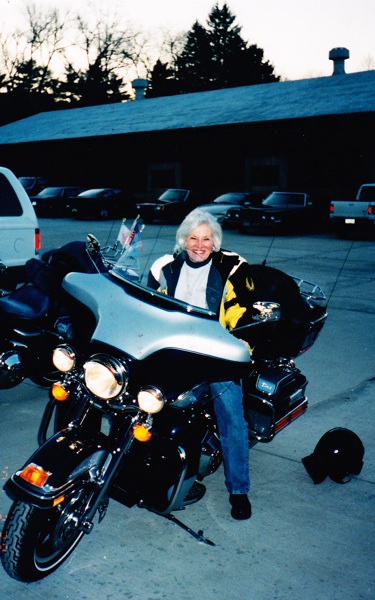 Good idea. I, however, am not so sure about the big bike thing so I took the opportunity spend a two-week road trip last summer with a Harley-Davidson Ultra Classic Electra Glide and a Honda Gold Wing.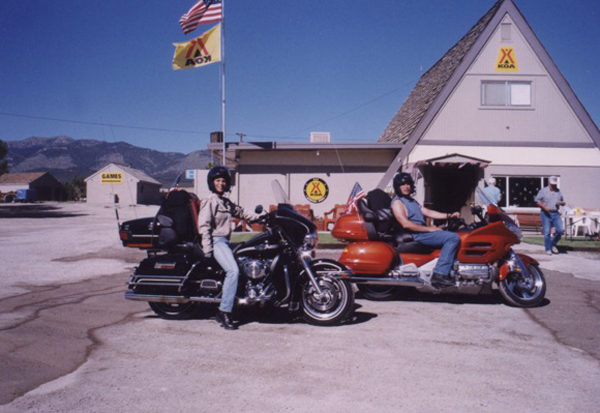 My first impression of having that much storage space available to me was incredible. I absolutely loved it. But I got a bit space greedy when I packed an extra bag. I did need a couple of bungees to secure it to the back seat (plus it worked great as a backrest), but lets just say the whole bungee business was bagged on this trip making life a lot easier.
Apples to Apples Comparo
I found that the Gold Wing and the Ultra are very, very different machines. The 1800cc Gold Wing is an amazing machine. The motorcycle is incredibly smooth and corners like a sport bike. Plus, there is so much power available to you. I loved cranking the throttle as I was passing a car and feeling the motorcycle catapult me forward. The big windshield (thats adjustable with the touch of a button) and incredibly wide fairing block nearly all the wind coming at me.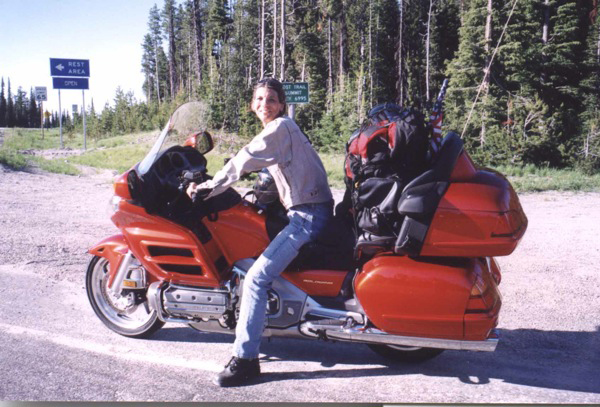 I traveled about 600 miles one day and didnt feel beat up at the end. My feet reached the ground with ease giving me a certain confidence, but I was still extremely careful when maneuvering the big bike in and out of parking lots, gas stations, etc. Even though the seat height is 29.1 inches, its not a bike you whip around. Its pretty wide and has a bulky feel to it. You want to be in control of it at all times.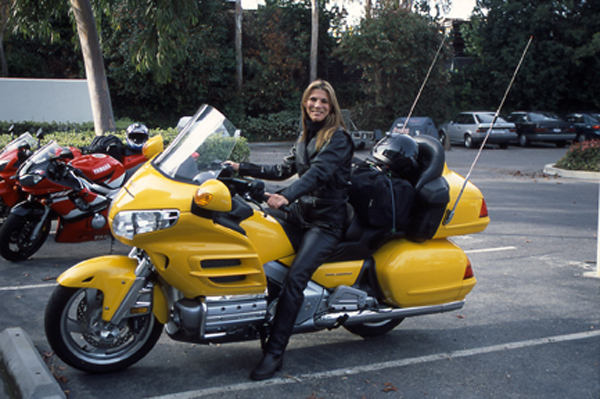 I enjoyed the "reverse" feature on it. With the flick of a switch, the bike moves backwards. This bright orange motorcycle also garnered a lot of looks, particularly when, me a woman, walked up to sit on the big bike
The 1450cc 2002 Harley-Davidson Ultra Classic Electra Glide also attracted looks but more because people were interested in looking at a big Harley-Davidson, rather than the fact that a woman was riding it. This bike sits much lower to the ground with 27.3-inch seat height giving me a bit more control of the bike. I found the ergonomics are completely different than the Gold Wing. The Harley has a very low center of gravity, one of the reasons Carol Schmid was attracted to it. While you sit low in the saddle, you do have a sense of the weight of the top pack mounted on the rear and the wide front fairing. The weight distribution is something youll eventually get used to, and is very noticeable the first few times in the saddle.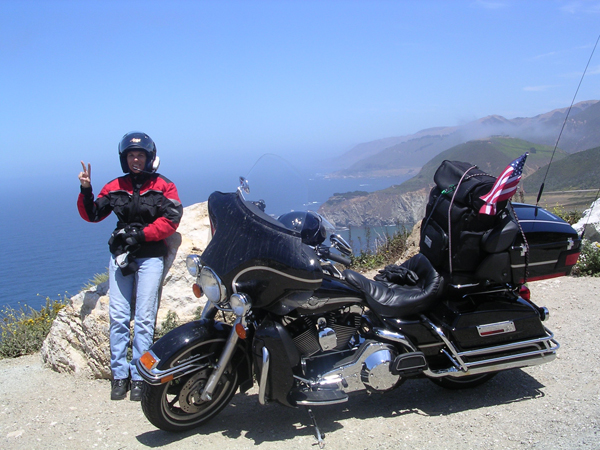 The bike has a lot more rumble that the Gold Wing, something I liked, but the smaller engine size wasnt able to beat the Gold Wing coming off the line. At freeway speeds though, both bikes are so easy to ride and very comfortable. Again, I liked the large top case and side bag storage compartments on the Harley. Both bikes had cruise control, a really nice feature on a touring bike that I got accustomed to using. I also got used to the AM/FM radio, which surprised me. I never thought I'd like that extraneous noise when riding, but it was nice to have a way to break up the monotony of some roads.
The Bottom Line
After my test rides, I'm not totally sold on a full-dressed motorcycle. Here's why. With that large of a motorcycle, I found I needed to be "on" 100 percent of the time. There is no room for missteps. There's no recovering from slipping your foot on some gravel, or accidentally leaning the bike over too far. Once it's over, it's over. There was no room for weariness with these bikes, at least for a woman of my strength and size. On my trip where I tested these bikes, some days we pushed it hard, rode long days–sometimes too long. Even on these perfectly tuned, long haul machines I would eventually get tired. In that state of growing fatigue, I found it took every ounce of me to maintain control of the bike when moving it around parking lots. If I were riding a smaller bike, I wouldn't need 100 percent of my mental and physical strength for control, allowing for some fatigue. Carol recognizes that with the large bikes, "There's a lot less room for error. I take extra time to find a parking spot I know I can get out of easily."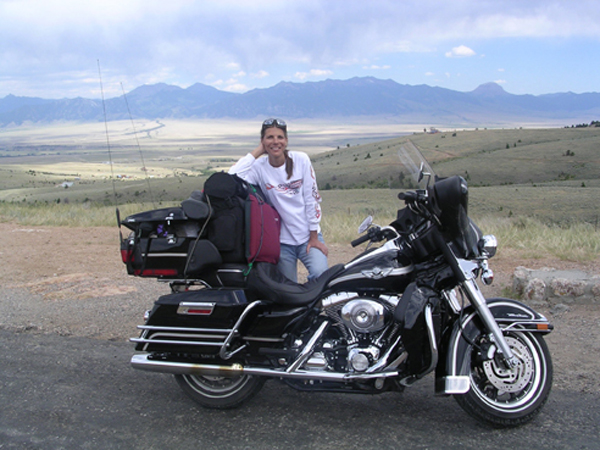 I'm kind of torn on what I should do. The extra cargo space is a strong motivating factor. All that room makes long trips a breeze. On the other hand one could argue that all those compartments are just too darn much space for one motorcyclist! I suppose I could do without a top case. I can learn to downsize. The heck with the cruise control, reverse and a radio. This is a motorcycle ride for heaven's sake! But boy, it sure was nice ditching those bungees – well at least some of them. I don't know what to do. Stay tuned.
Update June 27, 2009: I purchased a 2008 Harley-Davidson Street Glide after riding my Dyna Low Rider for a few more years. The little Evolution engine on my dated Dyna just couldn't keep up with the more powerful touring motorcycles my friends were riding. Plus, I was so ready for more comfort and packing space. I've never looked back. Here's a look at what I did to customize the motorcycle to fit me.
Related Articles:
Genevieve Joins The Bagger Brigade
Changing Your Motorcycle's Shocks to Get Lower
One Way To Avoid Dropping Your Bike