One of the most embarrassing times for a motorcyclist is the moment when he or she drops their bike. Since starting to ride a motorcycle in 1990, I can lay claim to this embarrassment twice. I wont bore you with the same old story of how befuddled I was when it happened, the subsequent discombobulation that ensues, and how I had to flag down nearby muscles to help me upright the mass of metal. (This was before I learned the technique on how to pick up the bike myself.) What I will share with you is something I learned to avoid dropping the bike in the future.
In the summer of 2003, my then fiance (now husband) and I secured a couple of press bikes (factory motorcycles made available to members of the media for testing) to embark on a two-week round trip journey from Los Angeles to Montanas Glacier National Park. We switched off riding a Honda Gold Wing and a Harley-Davidson Electra Glide Classic, two of the largest motorcycles available. I was up for the challenge of manhandling a little extra weight day in and day out on whatever road, trail, and parking lot surfaces I encountered.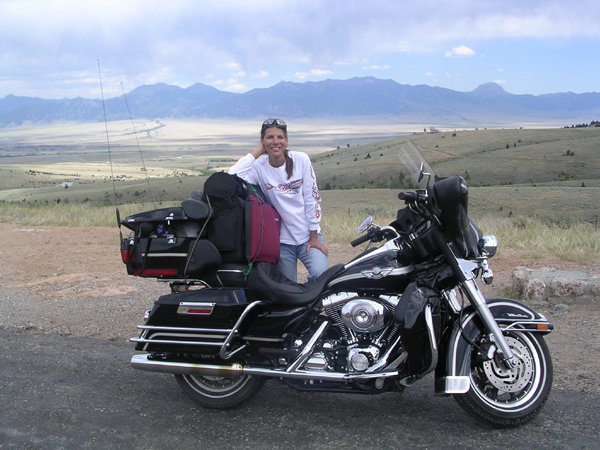 Id like to report that the trip started out great, but the first night into it as I lay in my tent pitched at a KOA campground in Ely, Nevada, I noticed my throat feeling scratchy and enflamed the way it does when a cold is creeping up. The next morning I awoke with a full-blown sore throat. I thought, no big deal. Im armed with vitamin C and a bottle of Echinacea with Goldenseal drops. Ill be OK. Trudge on. Most colds are bearable.
Long story short, this was the worst cold Id had in years and the sore throat was just the beginning. My head ached and my chest cringed. I monitored my temperature daily to make sure a fever didnt take hold. I managed to ride every day of our trip with only one day of rest. Each day though I grew wearier. My husband was having a hard time offering sympathy since I looked fine; I just rode a little slower as I was suffering through coughing fits in my helmet and wiping nose dribbles under my face shield.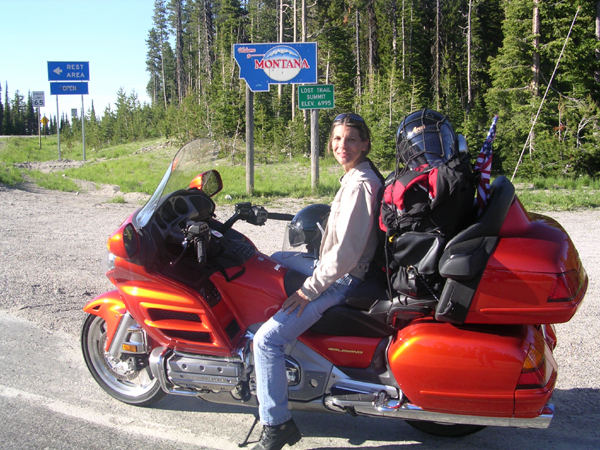 Lessons Learned
The lesson learned comes from knowing when to quit. Dropping the Electra Glide was my sign. After 500 miles in the saddle on about the eighth day we pulled into a steep gravel parking lot of a campground near Glacier. Stupid me stopped the bike on an uphill slope waiting for my husband to return from the registration office so he could tell me where to park. I got frustrated hanging there on an incline, brakes engaged, motor running so I attempted a hard downward right turn into a nearby parking lot. Battling exhaustion from being sick (but still trying to muster up enough mental strength to get through the day and not let my partner down), I failed to compensate for the sharpness of the turn and dropped the big, heavy motorcycle. Kerplunk! Actually, it was more like a ker-BLUNK!
If all of my physical energy was available to me and I was not mentally drained, I would have easily negotiated that turn like any experienced motorcyclist. But because I miscalculated my physical and mental abilities, I lost control of the motorcycle for a split second and down it went.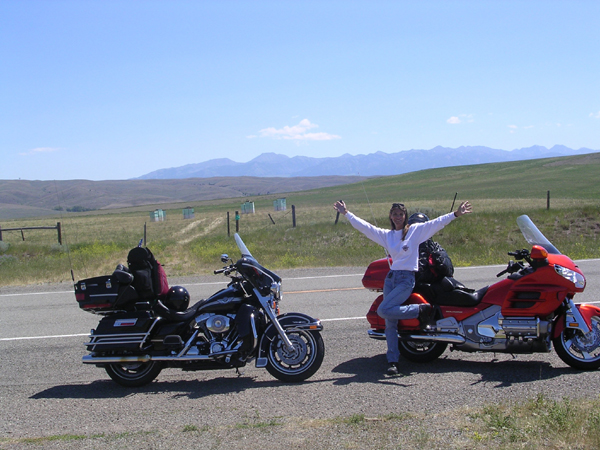 More than being embarrassed, I was mad at myself for not assessing my debilitated condition better. I was trying to be strong and tough and ride it out, as they say. I should have tried to build in a few rest days to our itinerary so I could regain my strength for the rest of the trip. That day, I learned a big lesson on when to put my foot down—both figuratively and literally—so I dont drop a motorcycle again.
RELATED ARTICLES
Technique To Lift A Downed Bike
Advice for Getting Back on Motorcycle After Dropping It
Trading Up to a Dresser, Plus Comparing Gold Wing to Ultra Classic
More Safe Riding Tips Articles
Genevieve Joins the Bagger Brigade