After a three-year hiatus, the FXDL Dyna Low Rider is now back as part of Harley-Davidson's lineup for model year 2014. The model was discontinued in 2010 while the company gave it a makeover.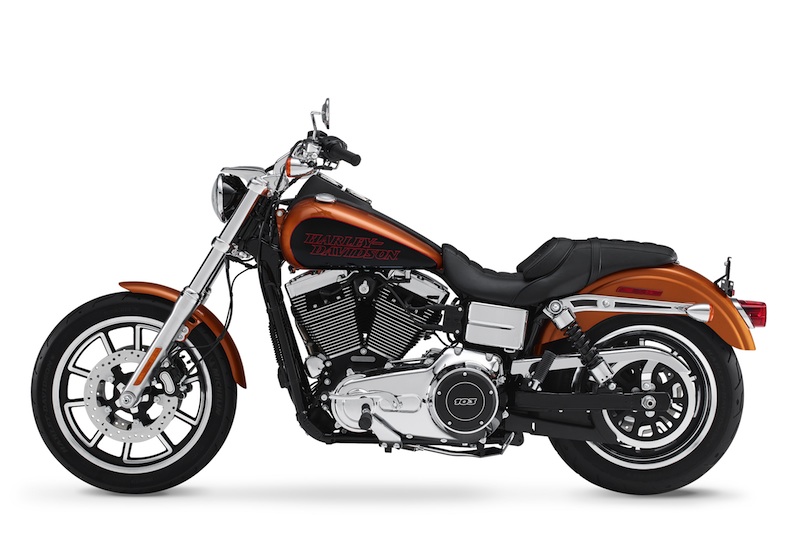 The Dyna Low Rider features the powerful Twin Cam 103 c.i. (cubic inch) engine, with Harley-Davidson's six-speed "Cruise Drive" transmission. This means the sixth gear is an overdrive gear that lowers RPMS at top highway speeds.
Seat height is a 25.4 inches,
low enough for many women and smaller men to feel comfortable
. Because The Motor Company knows this motorcycle is so popular with smaller riders who want to ride a Big Twin Harley-Davidson, there are several features built into the stock bike to ensure it fits a wide size variety of riders.
• The handlebar riser offers 2.4 inches of adjustment so the rider can move the handlebars closer if the stock reach is too far forward.
• A two-position ergonomic seat has a removable bolster, that when in place can "push" the rider forward in the seat enabling a shorter reach to the bars, and a shorter reach for the feet to the foot pegs.
Other favorable ergonomic features include mid-mounted foot pegs, which means they are not as far forward as forward controls and not right underneath the knees like on the
Sportster models
. The slightly forward position is an optimal placement for most average leg-length riders.
Weight is a moderate 666 pounds, not overly heavy but not light either. Remember, were not meant to lift our motorcycles, were just meant to be able to handle them, and fortunately the very low seat height of the Low Rider, one where you sit "into" the bike, gives it a low center or gravity so the Dyna Low Rider is one of the easiest Harley-Davidsons to maneuver around in parking lots. Additionally, the fuel tank holds a generous 4.7 gallons of gas.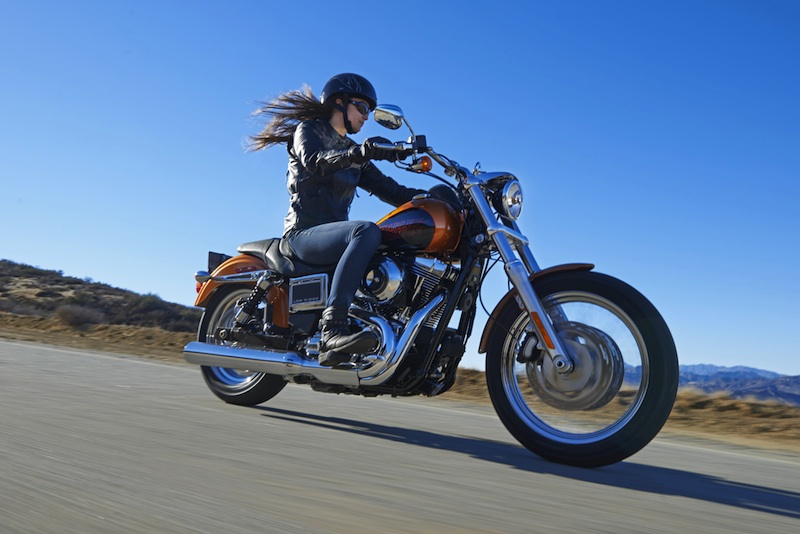 Touring Capabilities: The Dyna Low Rider can easily be outfitted with saddlebags, a windshield and even floorboards to make it suitable for touring, but if long days in the saddle is your goal, you might be more comfortable in on theDyna Switchback, a touring model in the Dyna family. The Switchback has a wider front end, which provides a more solid, "planted" ride at highway speeds. It also comes stock with a windshield and saddlebags. Just something to think about.
Options for the Dyna Low Rider include:
• Harley-Davidson Smart Security System with hands-free security fob
• Anti-lock Braking System (ABS)
• Chrome, steel lace wheels in select marks
The other Dyna models are: FXDB Street Bob, FXDC Super Glide Custom, FXDF Fat Bob, FXDWG Dyna Wide Glide, and FLD Switchback
Fun Fact:
In 1977, Harley-Davidson created a ride-it-hard, put-it-away dirty, make-your-own-boundaries custom motorcycle that became an icon—the Low Rider.
Editor's Note:
I owned a 1994 Dyna Low Rider and rode it for many years. I love this motorcycle. At 5-feet-7 I could handle this bike easily in all situations. I added leather saddlebags and a detachable windshield and put many, many touring miles on it. When I bought it used, it came with a fork brace, which I was told was there for added stability at top highway speeds.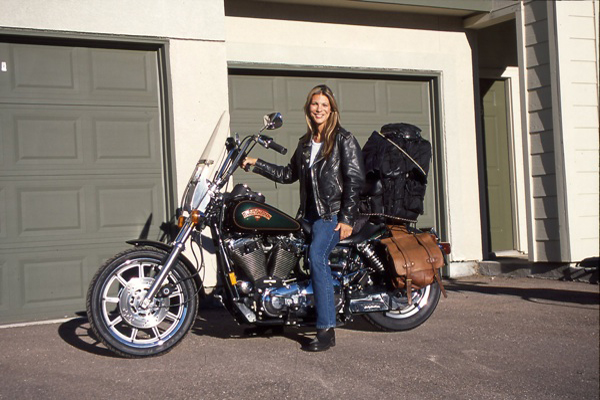 Inevitably, the 1340cc carbureted Evolution engine on my 94 Low Rider was showing its age. I had a hard time keeping up with the more powerful touring motorcycles I was riding with during the early-to mid-2000s. Plus the long distance rides just weren't as smooth for me as they once were for my aging bones. In 2008, I purchased a Street Glide so that I'd be able to tour more comfortably and have more packing space.

Now its your turn. Please share your experiences with the Dyna Low Rider in the comments below. If you have pictures, we invite you submit a reader review to our Your Reviews section on WRN. Thanks!
Related Articles
Motorcycle Review: Harley-Davidson Switchback
Trading Up to a Dresser: Should You or Shouldnt You?
Harley-Davidsons Exciting Dyna Models
Reader Story: Taking the Wheel, in Life and On the Road with a Dyna Low Rider